The Running of the Bulls
Puan Maharani's camp is putting pressure on Ganjar Pranowo who they see has ambitions to become a presidential candidate. Joko Widodo's supporters are lining up on Ganjar's side.
Edition : Monday, May 31, 2021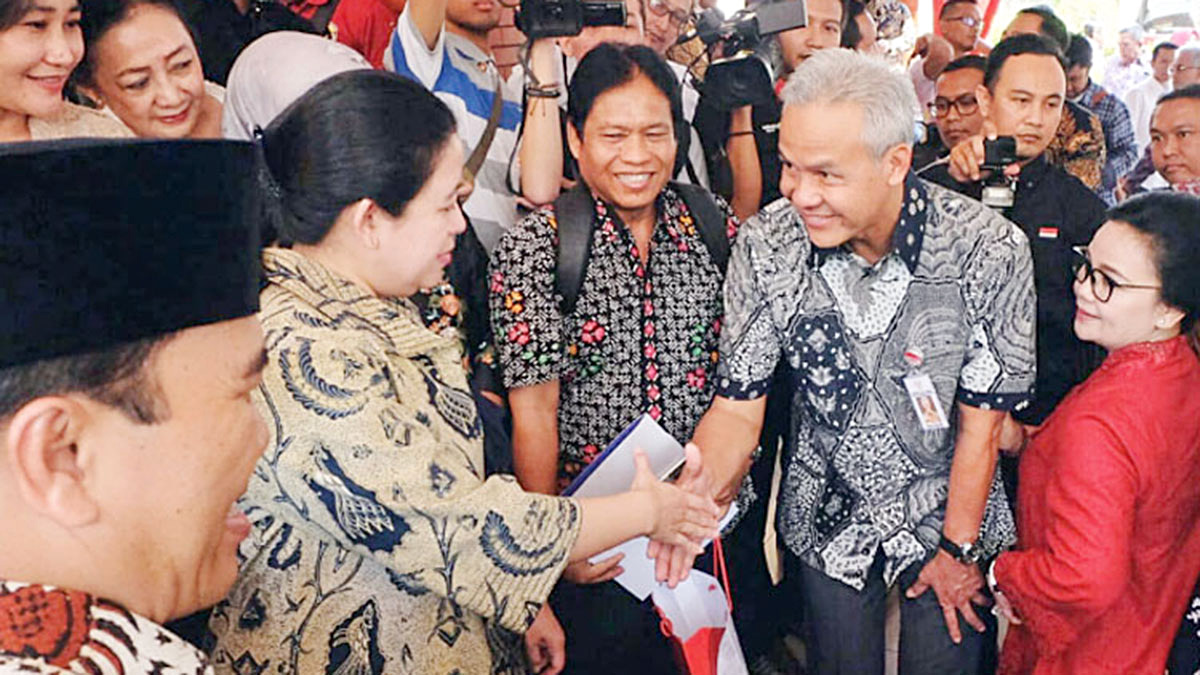 CARRYING an assortment of gifts, Ganjar Pranowo paid a visit to the residence of Indonesian Democratic Party of Struggle (PDI-P) General Chair Megawati Sukarnoputri in Jalan Teuku Umar, Jakarta, on Friday, May 21. The Governor of Central Java had brought some traditional batik fabrics, as well as some Paryanti fried chicken from Wonogiri, Central Java.
Ganjar said that his meeting with Megawati was made in the context of a traditional friendly visit for the post-fasting month Idul Fitri holiday. "I was doing halalbihalal," he told Tempo via text message on May 23. Ganjar also brought a painting by Djoko Susilo, a painter from Semarang, on his visit.
Contacted on May 26, Djoko said that this painting of Megawati surrounded by smiling little girls, was given to Ganjar last Ramadan fasting month, as a rolled-up canvas. At the time Ganjar promised to take that 150 x 150 centimeters painting to Jakarta. "I found out in a video sent by Ganjar that it had been framed and received by Megawati," said Djoko.
Read: Aid Packages for the Red Party
W251bGwsIjIwMjEtMDYtMjMgMDg6NDQ6MzQiXQ
Djoko uploaded Ganjar video of Megawati giving a greeting and thanks for the painting. In that 20-second video, that fifth president of Indonesia was smiling, saying that the painting was what she had wanted. According to Djoko, it was his interpretation of a letter Megawati sent to former Muhammadiyah Central Board General Chair Ahmad Syafi'i Maarif, regarding her desire to see some cheerful Indonesian children.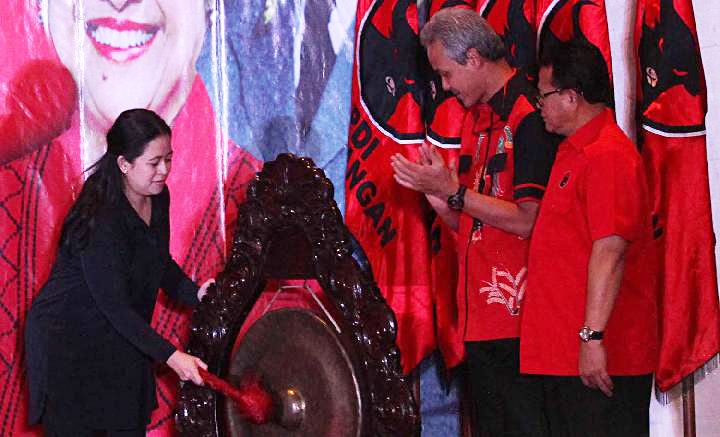 Puan Maharani hitting the gong witnessed by Ganjar Pranowo (second from right), opening the National Coordination Meeting for the Maritime Affairs of the Indonesian Democratic Party of Struggle (PDI-P) in Jakarta, April 2016. Tempo Doc./M. Iqbal Ichsan
A high-ranking PDI-P official familiar with the meeting said that Ganjar and Megawati met and talked for nearly two hours. Political issues and preparations for the 2024 presidential election were not discussed. When interviewed by journalists after a plenary meeting at the Regional Legislative Council (DPRD) of Central Java building on May 28, Ganjar said that the Speaker of the House of Representatives (DPR) who happens to be Megawati's daughter, Puan Maharani, was present during that friendly meeting. "We even joked a bit," he said.
Read: An exclusive interview with Puan Maharani: No One can Kick Me Out of Politics
A day after that event at Megawati's house, on May 23, PDI-P's Central Java Leadership Board held a consolidation meeting. They had invited regional government heads, members of the DPRD of Central Java, and PDI-P officials from all regions of Central Java. Ganjar was not among those invited to that meeting, which Puan attended. The day this meeting was held Ganjar was in Jakarta, bicycling with, among other people, Cabinet Secretary Pramono Anung.
Bambang Wuryanto, Chair of Central Java PDI-P, said that the consolidation meeting with Puan had been arranged a few days earlier. Puan was initially asked to give a speech via video teleconference from Jakarta. However, she said that she wanted to come to Semarang, Central Java, as long as the committee followed strict health protocols. That DPR Speaker was scheduled to give her speech on the afternoon of Saturday, May 22.
DPR Speaker Puan Maharani receiving the gavel from the DPR Leadership in the 2nd Plenary Session of the 2019-2020 Period at the Parliament Complex, Senayan, Jakarta, October 2019. Tempo/M Taufan Rengganis
The day before the event, said Bambang, Puan changed her time of arrival in Semarang to morning. To reorganize the event, Bambang invited the organizing committee and Central Java PDI-P officials to a meeting. He claimed that everyone who attended this meeting were in agreement to not invite Ganjar. "When I left the matter up to the participants to decide, they agreed to not invite him," he said. "So it wasn't me who arranged that."
Read: Three Birds of a Feather Riding the Shoulders of the Mighty Bull
Bambang later said that Ganjar was not invited because he is considered to be too ambitious to become a presidential candidate. PDI-P General Chair Megawati has not yet given any instructions regarding the general election to be held in three years' time. Bambang said that he sent people at least two times to caution Ganjar about his political maneuvering. He reprimanded him that his political plans ahead of the 2024 presidential election constitute inelegant behavior.
According to some surveys, Ganjar is among the top presidential candidates. The electability of this former deputy secretary of the PDI-P Faction in the DPR always does much better than Puan's. A survey conducted by Saiful Mujani Research and Consulting in February to March, for instance, found Ganjar had 12 percent electability, compared to 1.7 percent for Puan. The electability of that governor of Central Java was 20.2 percent according the Y-Publica research institution, while for Puan it was just 0.7 percent. However, in the same poll, Puan's electability as a vice-presidential candidate was 16.2 percent.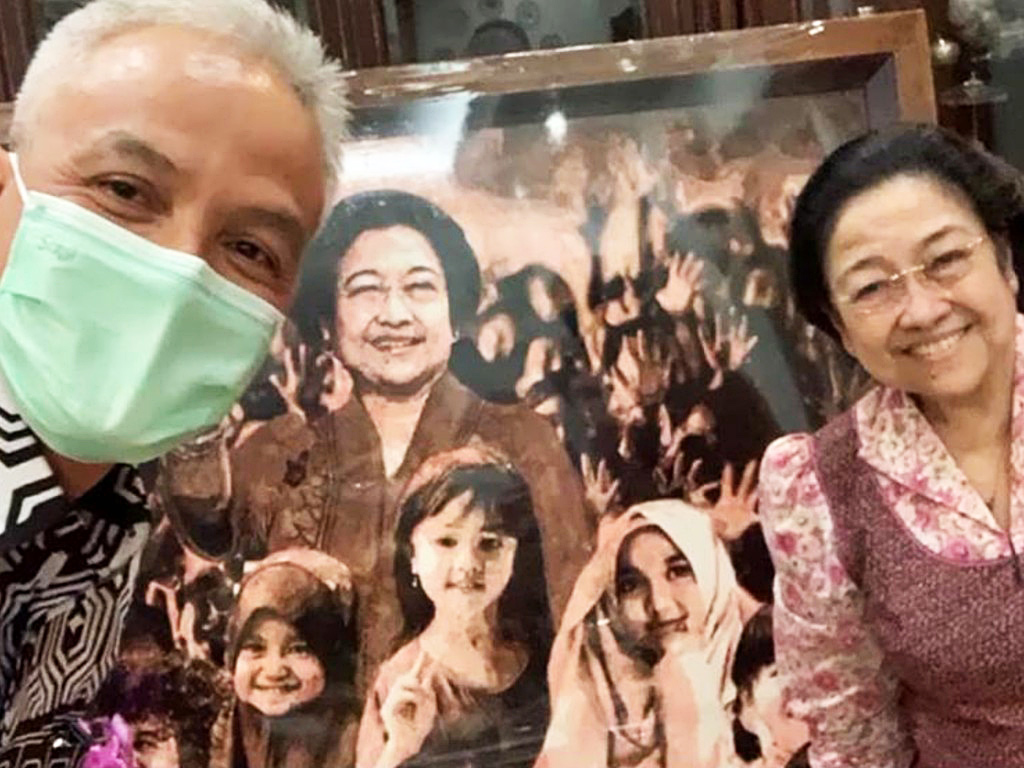 Ganjar Pranowo (left) handing over a painting by Djoko Susilo to Megawati Sukarnoputri at the latter's residence in Jakarta, May 21. Instagram screenshot from @djokosusilo_painting
Met by journalists after inaugurating the Regent of Demak at the Governor's Office on May 24, Ganjar denied the stories that he is making preparations to run as a presidential candidate. On a separate occasion a day earlier, he was also reluctant to react to the results of some surveys that listed him as a presidential candidate.
Bambang Wuryanto, who is also Chairman of PDI-P's Election Campaign Division, said that Puan's electability is still low because the party has not yet taken action to improve it. PDI-P general chairperson has not yet ordered anyone to run in the next presidential election. "There's no green light from her. If there is, I will be racing," said Bambang.
Komarudin Watubun, PDI-P Chair for Ethics, said that the party has not reprimanded Ganjar, even though he has been accused of actively campaigning on social media platforms. In his opinion, there is no party regulation which forbids people from promoting themselves. Later on, said Komarudin, the general chair will decide which party cadres are deemed to be suitable to step forward as presidential or vice-presidential candidates.
***
RADEN Zieo Suroto first met Central Java Governor Ganjar Pranowo at a mudik (homecoming) program event two years ago. An official from the Joko Widodo-Ma'ruf Amin National Campaign Team had asked him to find people from Central Java who live in Jakarta and wanted to be able to travel to their hometowns for free. That person from the campaign team is one of Ganjar's colleagues.
After sending off those people on their free trip to their hometowns from the Taman Mini Indonesia Indah (Beautiful Indonesian in Miniature Theme Park), Suroto had his first encounter with Ganjar. Speaking on stage, he asked Ganjar to run in the 2024 presidential election. Ganjar did not react seriously to that suggestion. As was imitated by Suroto, Ganjar clasped his hand and said, "What a thing to say. I have works to do first."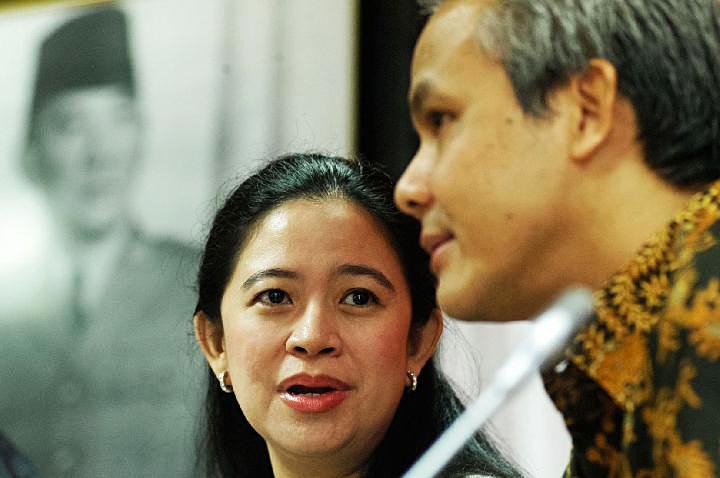 Puan Maharani (left) and Ganjar Pranowo at the MPR/DPR/DPD Building, Jakarta, September 2012. Tempo/Imam Sukamto
Despite politely declining the idea, Suroto never gave up supporting Ganjar. He set up a volunteer group called Dulur Ganjar Pranowo (Ganjar Pranowo Relatives—DGP). Suroto publicly launched the organization at the end of 2019. He called on Jokowi supporters, in particular those from the Barisan Relawan Pendukung Jokowi Presiden (Bara JP). Suroto is a former Bara JP deputy secretary-general. He claimed that DGP is established in 50 regions on Java Island, and has about 2,000 members. DGP's head office is in Cimanggis, Depok, West Java.
Suroto also invited Ganjar's older brother, Pri Kuntadi, to join DGP. A member of the Jokowi-Ma'ruf campaign team introduced Suroto to Pri. In the DGP organization, Pri has been named a patron of cooperatives and micro-sized enterprises. In news coverage, it was reported that Pri once appointed DGP officials for the Sukoharjo Regency in mid-February.
According to Suroto, their organization is currently focusing on introducing Ganjar to the public, in particular on social media platforms. He said that the polemic between Ganjar and the PDI-P over a presidential nomination has raised the popularity of the organization. "There are 300 people who have come in, from home and abroad," he claimed.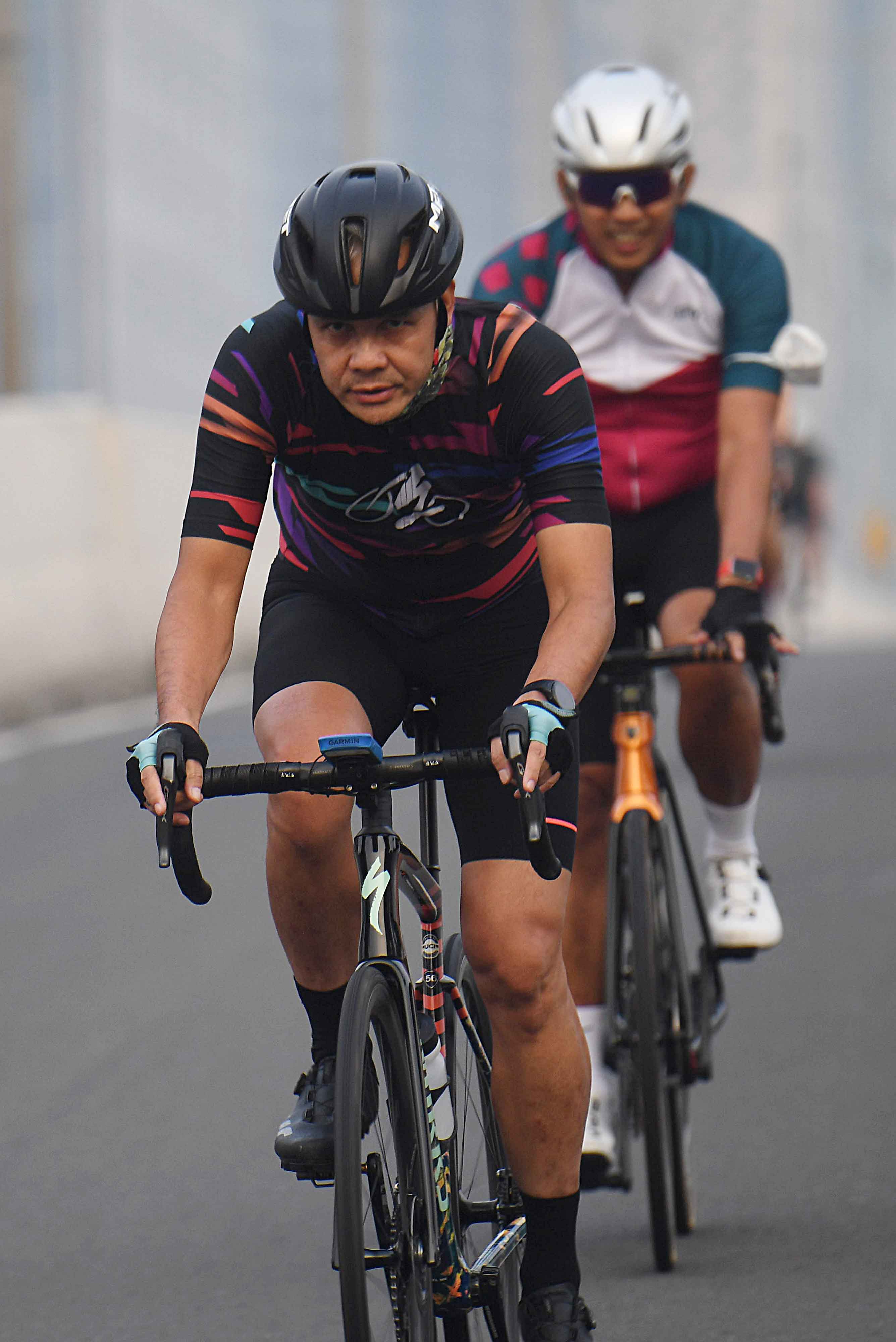 Central Java Governor Ganjar Pranowo (front) cycling with his colleagues for a trial of the newly-built road bike track on the Kampung Melayu-Tanah Abang non-toll flyover (JLNT) in Jakarta, May 23. Antara/Akbar Nugroho Gumay
In the Semarang City, the DGP's office is in Jalan Taman Hasanudin in the North Semarang subdistrict. A sign on the fence of the house there reads "Dulur Ganjar Pranowo Regional Command Headquarters, City of Semarang." Yohannes Rustanto, Chairman of the DGP of the Semarang City, said that the house in question belongs to a former PDI-P official for the North Semarang subdistrict. Some of the members of the DGP of the City of Semarang are former volunteers for President Jokowi in the 2019 General Election, including Yohannes.
According to Yohannes, Ganjar knows about the activities of DGP in Semarang. This is because, he said, one of his adjutants is in their WhatsApp group. However, Yohannes refuted the idea that their organization was formed based on an order from Ganjar. "This was our own initiative," he said.
The DGP is also found in the Regency of Kendal, Central Java. Rini, a DGP volunteer in Kendal, took advantage of the situation in Ramadan to introduce Ganjar by distributing food for breaking the fast. She also visited the homes of residents to inform them of the achievements of the working program of the Central Java governor. Mulyono, Chairman of the DGP in the Magetan Regency, East Java, also invited communities and his network to set up posts supporting Ganjar.
Ganjar said that he does not know about the activities of some groups which claim to support him. PDI-P Chair Komarudin Watubun knows of the movements of some volunteers or former party cadres who support Ganjar. "Ganjar is not a newcomer. He surely knows the how things are done in the party," said this member of the DPR's Government Affairs Commission.
RAYMUNDUS RIKANG, BUDIARTI UTAMI PUTRI, JAMAL A. NASHR (SEMARANG), ADE RIDWAN (DEPOK)