Striking a Chord with a Distant Cousin
An organization supporting Puan Maharani is growing in the provinces. There is support from the family of Taufiq Kiemas.
Edition : Monday, May 31, 2021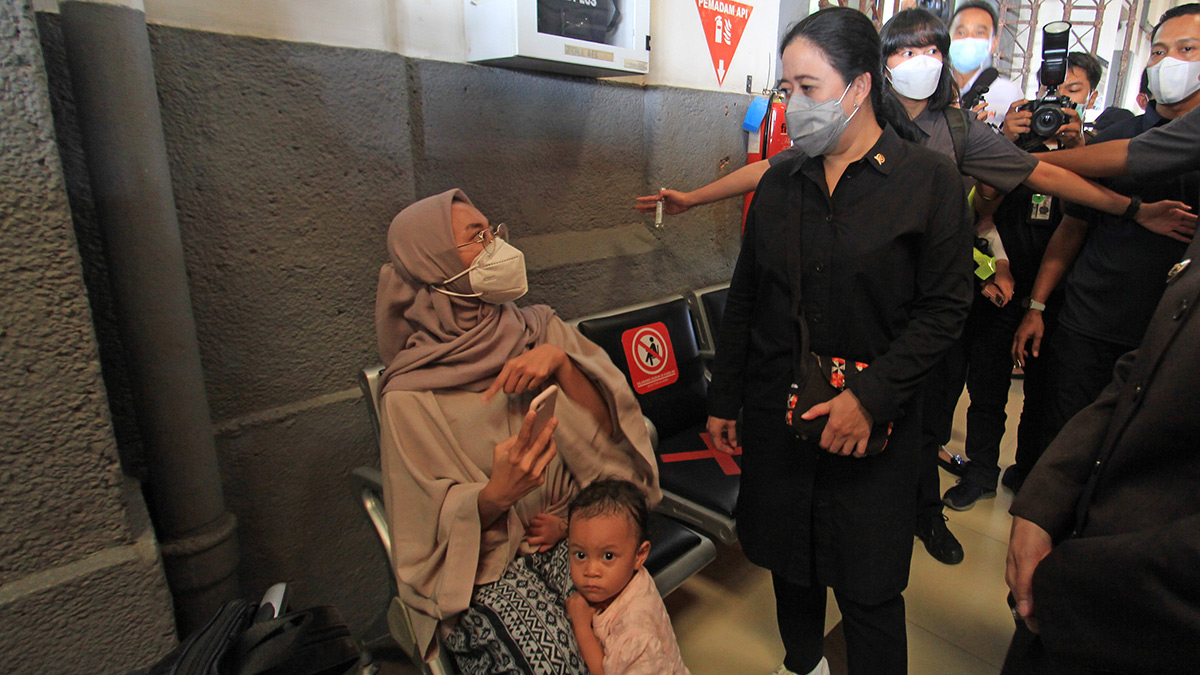 THE house with a yellow fence at Number 24 Jalan Tebet Timur IV in South Jakarta looked deserted on Friday, May 28. From outside, no activity could be seen at that two-story house. A large wooden sign with the words "People's Volunteers Communal House" sits on the porch.
The house' caretaker, Rohman, said that it has been the headquarters of supporters of House of Representatives (DPR) Speaker Puan Maharani. "This house is for volunteers of the Gema Perjuangan Maharani Nusantara," he said. According to him, not much happens there. Meetings are occasionally held there.
Ali Nugroho, Secretary of the Central Leadership of Gema Perjuangan Maharani Nusantara (GPMN), who is also one of its founders, verified that the house in question serves as the headquarters of their organization. He said that the house used to be an office for one group which supported the Joko Widodo-Ma'ruf Amin ticket in the 2019 presidential election. "It was lent to us by our seniors. They rented it out," said Ali, who was reluctant to mention anyone by name.
Read: Opinion: Patronage
W251bGwsIjIwMjEtMDYtMjIgMTQ6NDk6NTkiXQ
Ali said that this group which was established in August 2020 was initially called Gema Puan. It was started by some 1998 activists. It later changed its name to its current one. Ali said that he supports Puan because of her proven performance, from the time she was coordinating minister for human development and culture up to become DPR speaker.
Puan Maharani welcomes Gerindra Party General Chair Prabowo Subianto at Megawati Sukarnoputri's residence in Jalan Teuku Umar, Jakarta, July 2019. Tempo/Muhammad Hidayat
Despite supporting Puan, said Ali, this group does not accept assistance from that Chair for Political and Security Affairs in the Indonesian Democratic Party of Struggle (PDI-P). Funding for all their activities comes from the personal funds of its members. He cited that those who want to form regional chapters of this group are first obligated to make banners with pictures and words of support for Puan. After this they must make a video declaring their support, which is then disseminated on social media platforms.
Puan is being taunted as a potential presidential candidate for 2024. However, her electability is still low. In a number of surveys, her electability is lower than some other PDI-P figures, such as Central Java Governor Ganjar Pranowo and Social Affairs Minister Tri Rismaharini. A survey conducted by Saiful Mujani Research & Consulting from February 28 to March 8 found that Puan's electability was just 1.7 percent. The electability of Ganjar and Risma was 12 and 5.2 percent, respectively.
To improve Puan's electability, the GPMN often promotes her in the field and on social media. According to Ali, GPMN's network extends to 120 cities and regencies in Indonesia. GPMN Chair of East Java Marsiswo Dirgantoro claimed that the organization has formed 38 branches at the cities/regencies in his area. Marsiswo said that in regions which are bases of support for the PDI-P, such as Madiun, Ngawi, Kediri, Ponorogo and Blitar, the organizational structure reaches down to the district level.
However, in the eastern edge of Java Island, known as Tapal Kuda or horseshoe, they are still having difficulty forming organizational branches down to the district level. "Tapal Kuda is known as a 'green' (Islamic political party) region. So it is difficult for us to find people to be organization officials there. In the areas of PDI-P supporters, in the 'red' areas, many district party cadres volunteer to become officials," said Marsiswo, who was active in the student movement in 1998.
According to Marsiswo, each organization official must spread positive news on their social media accounts. This includes news about Puan Maharani's performance and pro-people government programs. Examples of this include social assistance programs and assistance for micro, small and medium-sized enterprises given by the ministry of cooperative. The GPMN, said Marsiswo, also recommends people who are deserving of such assistance. Some of them are helped by the government. "This is our entry point to promote Puan as a presidential candidate," he said.
Read: Puan's Close Call
Agus Supriyadi, Chair of the Central Java GPMN, said that the organization now has officers in four areas, namely the City of Semarang, the City of Tegal, the Pemalang Regency, and Brebes. Agus said that their organization actively promotes Puan by helping the public access government programs. According to Agus, the GPMN central management board instructed them to interact with the public directly.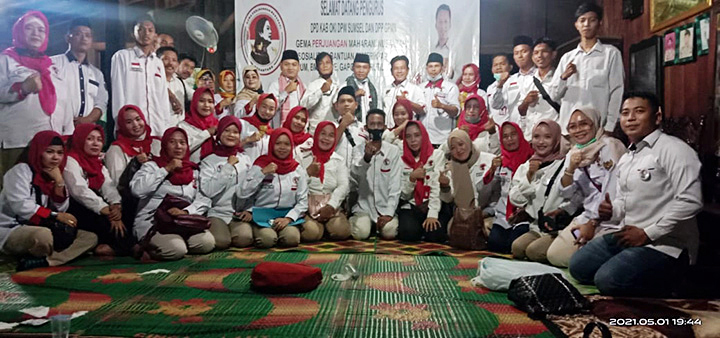 The formation of the Regional Executive Board for the GPMN South Sumatra in Palembang, May 1. Personal Doc.
While some members of the GPMN were reformasi activists in 1998, others are PDI-P cadres. In Gunungkidul, Yogyakarta, for instance, Sugito, a member of the Regional Legislative Council (DPRD) from the PDI-P Faction in that regency, became chairman of Gunung Kidul GPMN. Sugito was Gunungkidul Regency secretary from 2002-2005. He was reluctant to comment further about his involvement in the GPMN. However, he did say that he was appointed by the GPMN Central Management Board Chairman Dady Palgunadi in order to lead the organization in Gunungkidul.
Even though some PDI-P cadres are present, Dady and other officials refuted the idea that the GPMN works based on party instructions. Ali Nugroho, GPMN's Central Management Board Secretary, said that the movement is supported more by the family of Taufiq Kiemas, Puan's father. "It is a moral support, not a material support," said Ali.
Support has come from Erwin, a member of the family of Taufiq Kiemas. In the group's organizational structure, Erwin is a patron of the movement. He is a nephew of the late Taufiq Kiemas. He is a distant cousin to Puan. "I have a parent who is a younger cousin to Taufiq," said Erwin.
He claimed that he never provided financial support, and is just there to add enthusiasm. He first met the GPMN when attending an event in the Majalengka Regency in West Java, a year ago. Dady Palgunadi met Erwin there at one hotel and talked about GPMN's activities. Erwin was appreciative of their movement.
Erwin, who is also Deputy Commander of the Cakra Buana Task Force in the West Java PDI-P, was once chairman of Sahabat Muda Puti, a volunteer group that supported Puti Guntur Sukarno, the granddaughter of former Indonesian President Sukarno, before an election for West Java governor. Later, Puti became a candidate for deputy governor of East Java. According to Erwin, he has pulled Puti supporters to now support Puan.
Other relatives of Taufiq Kiemas have joined the GPMN. Agus Supriyadi, Chairman of the Central Java GPMN, said that one of Taufiq Kiemas' younger siblings has a position on their Board of Patrons. Agus said that in the near future the organization's officials are going to send a letter to PDI-P's regional executive board in Central Java in order to create synergy. This cooperation will be aimed at raising Puan's popularity. "In any case, Puan is from the Sukarno family," he said.
DEVY ERNIS, SHINTA MAHARANI (YOGYAKARTA), JAMAL A. NASHR (SEMARANG), KUKUH S. WIBOWO (EAST JAVA), IQBAL LAZUARDI