Garuda's Bitter Pill
A massive financial crisis is forcing Garuda to downsize its workforce. Many expenses can be reduced.
Edition : Monday, June 7, 2021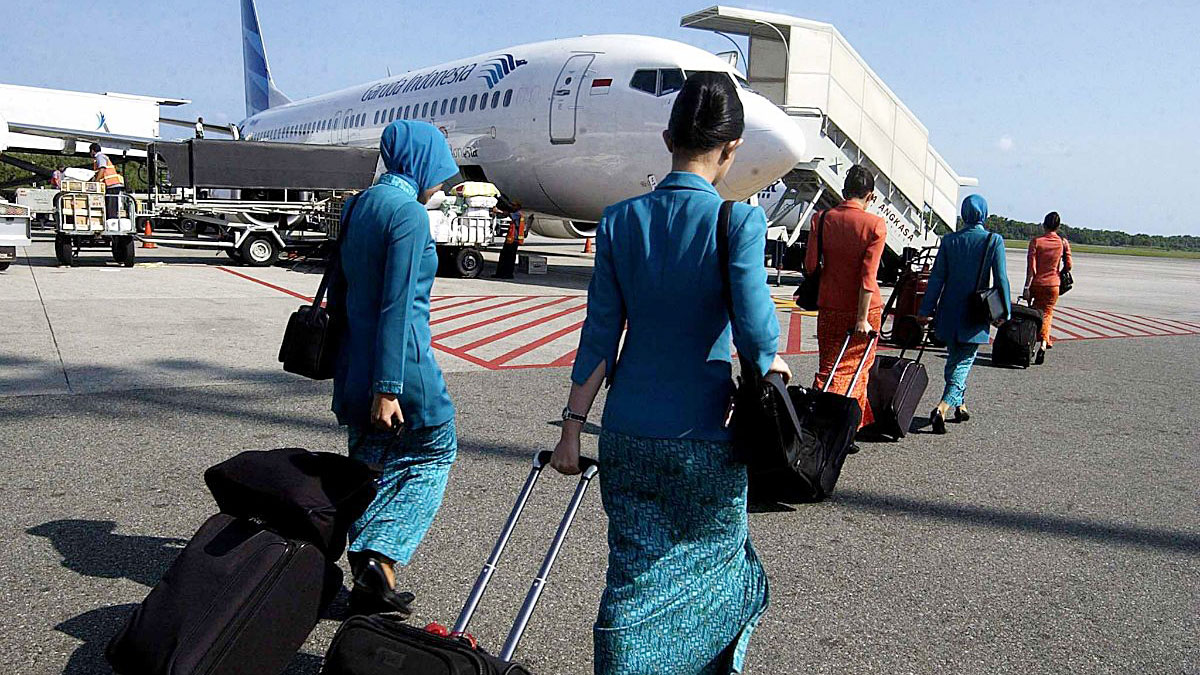 BY the end of May, employees of Garuda Indonesia could finally breathe a sigh of relief. Their wages of the month arrived in their bank accounts intact, down to the last rupiah. There was a bit of anxiety because payment took longer than usual.

"It was slightly delayed. In this situation, the employees do not mind," said Garuda Indonesia Trade Union Chair Tomy Tampatty to Tempo on Saturday, June 5.
A number Garuda employees confirmed that they received full salaries in May, although some payments that were delayed last year have not been paid entirely by the company. Other employees said their wages arrived late by several days.

Concerns about the delayed payment of Garuda employee salaries had been circulating within the company since mid-May. It all began after Garuda Indonesia Chief Executive Officer (CEO) made an announcement about the company's worsening financial situation. Irfan delivered the news in a big meeting attended by all employees. At the time, Irfan also warned that the company was still working on the payment of wages due the coming week.
During that meeting, Irfan offered an early retirement program for employees. All employees, regardless of age and period of employment, are eligible for the program. "It is voluntary," said a Garuda employee who was present in the meeting.
Garuda's management had actually offered a similar program to employees last year. That time, around 2,000 employees opted into the program. Around 700 of them were contract workers, while the rest were either nearing their age of retirement or voluntarily made the decision to accept the offer.

Early retirement is one of the options Garuda's management had to take in order to survive its financial crisis. Current debt of the state-owned company stands at US$4.9 billion or around Rp70 trillion. That number increases by Rp1 trillion every month during the payment delay period to creditors and aircraft owners.
W251bGwsIjIwMjEtMDYtMjIgMTQ6Mzk6NTAiXQ
Like many other airlines, Garuda Indonesia's woe is partly due to the Covid-19 pandemic. After showing improvement late last year, the state-owned company suffered a financial setback in early 2021.
The problem is, Garuda is not only burdened by that. Deputy State-Owned Enterprises (SOEs) Minister Kartika Wirjoatmodjo admitted that the national flag carrier is also suffering from questionable business decisions in the past. There is the issue of too many different types of aircraft, and also unprofitable flight routes. "Garuda's main problems occurred in the past: the efficiency is problematic," said Kartika during a meeting with the SOEs Commission of the House of Representatives (DPR) on June 3.
Since Garuda was struck by the pandemic in early 2020, there have been four major expenditure items, namely aviation fuel or avtur procurement, aircraft lease, aircraft maintenance, and human resources. It is most difficult to cut cost in the aircraft lease sector because it involves agreements with private companies. "We have begun the negotiation process with aircraft lessors," said Irfan. The effort saved the company up to US$200 million.

Garuda's management had high hopes when the government approved the issuance of mandatory convertible bonds in December last year. The total value amounted to Rp8.5 billion. Disbursement is carried out in stages in accordance with the achievement of the company's performance target. In early 2021, the first stage of fund of Rp1 trillion was disbursed. It was immediately used to pay bills from Pertamina, as well as Angkasa Pura I and II. "There was none to pay off debt. It was all spent on those three," said Irfan.
Unfortunately, the positive trend fell apart later on. All projections of corporate performance for the first months of 2021 had missed by large margins. The number of passengers, which momentarily climbed in late 2020, went downhill in early 2021. The situation has reversed to resemble that of September to October last year, when the pandemic was at its peak. A source speaking to Tempo said that Garuda's passengers now amount to only 20 to 25 percent of the number before the pandemic.

Efficiency measures, therefore, became the main option. The company has to tighten its belt while rearranging the payment schedule of various obligations that are falling due. Irfan explained that he and his team had to recalculate and reduce production, and postpone a number of obligations, including debt repayment. "But revenue is still not showing signs of improvement," he said.
Reducing production cost is not without its own challenges. Although the early retirement program could significantly reduce the burden of salary, Irfan admitted that the strategy is unpopular and prone to triggering resistance from pilots and cabin crews.

Moreover, since 2015, Garuda's management has agreed on a special contract model with pilots. The agreement gives every pilot a guaranteed hour allowance of 60 hours each month. This guaranteed income for pilots outside of the basic salary is inflating the company expenses despite major cuts to the flight routes.
The number and composition of employees in Garuda had never been tampered with before. For years, there was no evaluation of employee competence and suitability of quantity. According to a Tempo source, in some cases, people are employed simply due to familial ties.

Garuda management once requested an employee who had familial ties, such as husband and wife, to resign from the company. However, rather than terminating their contracts, Garuda instead harbored them in Gapura, a joint venture company established by Garuda, Angkasa Pura I, and Angkasa Pura II. "So, the workforce efficiency policy back then was inconsistent due to lack of firm action from the management," said Dewo Daryanto, former strategic business unit director of Garuda Aviation Training, on June 5. Management mistakes such as this continued to accumulate, further adding up to the increase of employee salary cost in Garuda.
Within Garuda itself, the strategy to achieve efficiency through early retirement program is not unanimously supported. Commissioner Peter F. Gontha is among those in disagreement. According to him, it is better for the management to adjust the amount of employees' salaries, particularly pilots and cabin crews, without reducing their number.
"At least they get to eat, pay the electricity bill at home. Those who fly get paid, taking turns," said Peter on June 2. He explained that the scheme could cut expenses for salaries by up to 50 percent. The cost of the early retirement program, he continued, weighs more on the company.
Another Commissioner, Zannuba Ariffah Chafsoh, has a different suggestion. Since last March, Yenny Wahid—as Zannuba is commonly called—has been asking Garuda directors to map out restructuring and downsizing plans of the company. Among other measures, she said that cost saving may be done by replacing the passengers ticket booking system technology currently in use.
Like some other airlines, Garuda has been using the global distribution system for the purpose. This system manages transactions between the service providers and travel agents. Garuda pays an annual fee of Rp1.3 trillion to lease the computer reservation system from Amadeus IT Group based in Madrid, Spain.
Yenny suggests that Garuda builds a system based on new distribution capability developed by the International Air Transport Association (IATA). This system, according to her, has been adopted by numerous airlines. Aside from being more economical, the system will enable Garuda to access consumer data, which could then be used to study customer behavior.

Yenny is asking Garuda management to seriously undertake technological transformation and formulate the right business strategies. "This is the way to (make Garuda) beautiful, slim, through system migration," she said. Indeed, Garuda has no other option: in order to return to the skies, it has to swallow the bitter pill of various efficiency strategies.
AISHA SHAIDRA, RETNO SULISTYOWATI