Last Year's Pandemic Impact was Insane
Hit by a storm of crisis, flag carrier Garuda Indonesia's revenue has fallen drastically during the pandemic, with mounting debts to aircraft lessors and banks. To Tempo, Garuda Indonesia CEO Irfan Setiaputra reveals the roots of the airline's problems, and what the management is planning for debt restructuring.
Edition : Monday, June 7, 2021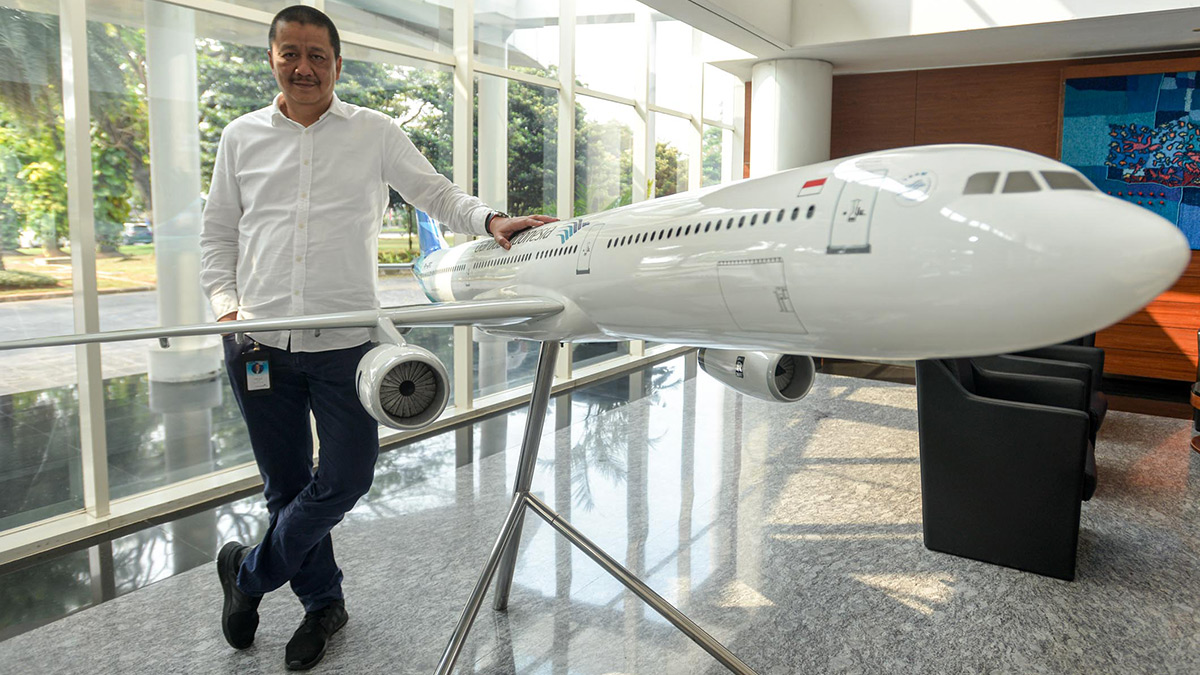 THE burden on Irfan Setiaputra's shoulders is heavy. State airline Garuda Indonesia, which he has been helming since January 2020, is hit by a severe crisis. Since the Covid-19 pandemic began, revenues have fallen, debts to aircraft lessors have piled up, while bailout funds from the government—one that had only been disbursed once—might not continue. "We need to do more efficiency," Irfan told Tempo's Retno Sulistyowati, Khairul Anam, Aisha Saidra, and Francisca Christy Rosana at Garuda Indonesia's headquarters in Cengkareng, last Friday, June 4. As he strategizes on efficiency, Irfan is racing with time to seek renegotiation over the aircraft charter costs and debt restructuring that continue to mount.
How deep is the pandemic's impact on Garuda's operations?
Last year's pandemic impact was insane. Our income dropped by 90 percent.
How does the management mitigate the situation?
W251bGwsIjIwMjEtMDYtMjIgMTU6MTU6NTQiXQ
We seek to convince the public that flying with Garuda is safe. We also seek to raise income from cargo, now it's more than before the pandemic. We are doing all of that while trying to keep costs at bay.
What are the biggest costs?
Our costs comprise of four elements: aviation fuel, aircraft maintenance, aircraft lease, and human resources. Did you know, we let go more than 20 percent of employees? Some went on early retirements, others have their contracts cut short. No other state-owned enterprises did that (cut jobs).
Is it because their conditions are not as worse as Garuda?
Are you sure? Some have bigger debts, you know, hundreds of trillions.
Do you mean state power company PLN?
I don't know.
What other efficiency measures are you implementing?
We heavily negotiated for the cost of the aircraft lease. Last year, we were able to save up to US$200 million. We also had discussions with shareholders, and eventually reached rescue options. The government then gave a mandatory convertible bond (MCB) options (up to Rp8.5 trillion), considering Garuda is a public company. Our conditions were improving up until December 2020, we were doing very well. When we sent our projections to the state-owned enterprises (SOEs) ministry of, they were optimistic that we would exceed the targets. The disbursement of MCB must be based on key performance indicators (KPI) that were designed to meet the existing agreement and optimism.
What happened then? Why things are worse now?
Unfortunately and unexpectedly, in January 2021 the passenger flow plummeted. (There were) the new rule that requires passengers to take the antigen test, the tightened large-scale social restrictions, or because it was a low season. Plus the homecoming ban. I did not refuse all that. To us at Garuda, the sooner people become healthier, the faster we recover.
Did that lead to problems for the second MCB disbursement?
Our performance did not reach the projected requirements for the next MCB disbursement. So, under today's conditions, the MCB agreement cannot be executed, even though Garuda needs it. We don't want to say who's at fault.
It was reported that the KPI for disbursing the next installment of MCB is being discussed, readjusted according to the latest conditions.
Everything is being discussed. We would feel very helpful if the shareholders would help. However, we understand the complexity of the problems that exist in the government. I always tell my friends at Garuda that there are a lot more important matters, and there are others who need funds more than us. We also have to understand each other, since buying vaccines requires a lot of money.
Have you mapped out the preparations for the debt restructuring?
We are making a list of what we want to do. I owe a lot of money, therefore I cannot have too many demands. Wouldn't you hate it if someone who owes you money act up? However, if I'm being nice but the other party is angry, then let's settle it in court. We all know that every aviation player is in deep trouble.
How many lessors are not cooperating?
A lot. We have a total of 36 lessors. We continue to make reviews. It is important to see who your friend is and who is not.
What about credit restructuring, are there key creditors who are cooperating and making a deal?
Many are supporting us. Let's do it properly and fairly. Do not use means allowed by the rules, such as delaying debt repayment obligations, but negotiating behind the scenes. That's not fair.
Have you made deals with state-owned banks?
Himbara (State-owned Bank Association) (laughs)...These are our friends too. Please don't pressure me, because there are so many considerations. People will remember how we get through this.
For now, overseas flight routes are not economical. Will you shut them down?
Pak Erick Thohir (SOEs Minister) spoke about it when he first invited me into Garuda. I made a promise at that time. I decided to close the Jakarta-London and Jakarta-Nagoya routes. We could see that the situation is up and down. So, now we focus on cargo. Our calculation basis for now is cargo (fights). If we don't get enough income from cargo on flights, we will cut more. If we can generate profit, we continue. The important thing is to be in-check with reality, know your limits.