Turmoil at Krishna's Shrine
Hare Krishna's followers in Bali suffer from intimidation, which was supported by Governor I Wayan Koster.
Edition : Monday, June 7, 2021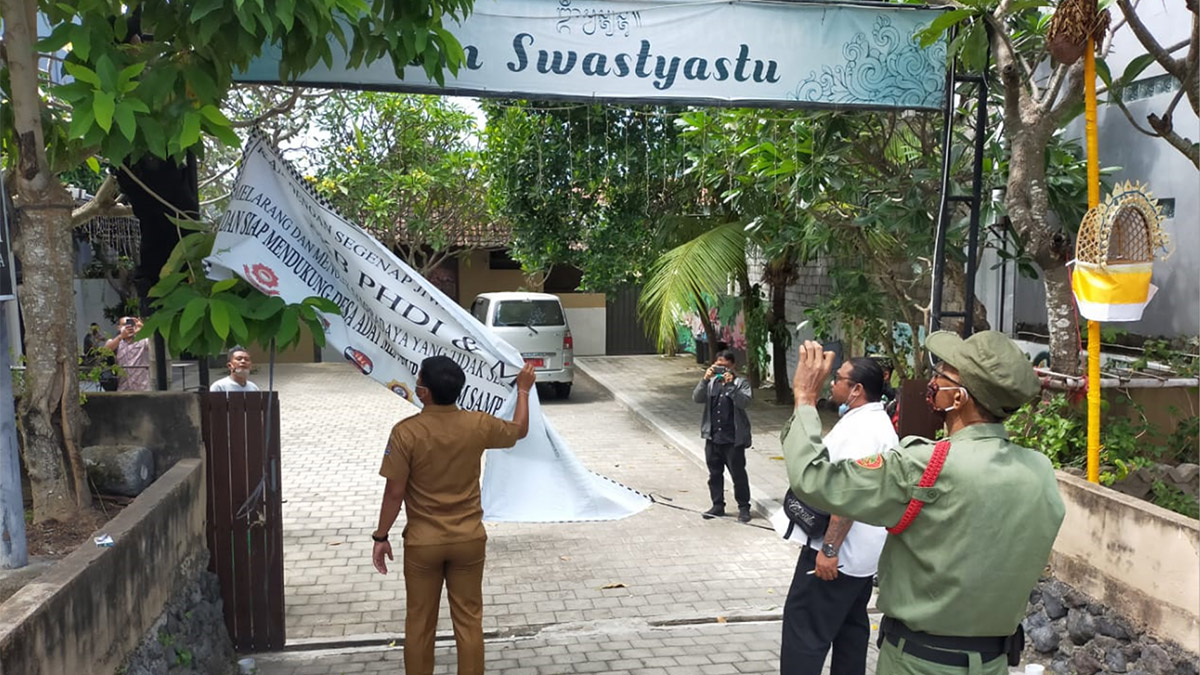 A BIG signboard with a picture of Krishna, one of the most revered Hindu gods, is seen in front of a home on Jalan Tukad Balian No. 108X in Sidakarya village, South Denpasar, Bali, on Thursday, June 3. Underneath the sign is the organization's name: the International Society for Krishna Consciousness (ISKCON). This is one of the educational institutions that also functions as an ashram (a Hindu worship place) for the Hare Krishnas, a Hindu branch that worships Krishna and his incarnation as God.
The ashram appeared quiet on Wednesday, June 2. Its gate was locked from the inside, and no activities were detected. Mahadri, ISKCON Ashram's Secretary in Denpasar, said this place of worship was sealed off by a group of people on Friday, May 7. "They put a banner on the gate, saying our activities were banned," Mahadri told Tempo. A few days after the banner was put on, the village head took it down. The village head, Mahadri continued, did not want his area to be infiltrated by mass organizations, especially those that execute unilateral prohibitions.
Read: The Reading of Rites
Mahadri said that on May 7, dozens of people from a number of mass organizations came to the ashram. They put on the banner supporting a joint decree released by Bali Province's Indonesian Hindu Dharma Association (PHDI) and the Balinese Indigenous Village Assembly (MDA). In the middle of December last year, the two organizations prohibited all Hare Krishna activities. The PHDI and the Balinese MDA consider Hare Krishna as deviating from the Hindu teachings, and not fitting into the Balinese society's regulations and guidelines.
W251bGwsIjIwMjEtMDYtMjIgMTU6MDY6NDEiXQ
One of those sealing off the ashram came from the Sandi Murti group. The group's leader, I Gusti Ngurah Harta, confirmed that his group closed the Hare Krishna ashram. He said he did it because the Hare Krishnas do not recognize ancestors, and only worship Krishna. "We don't want them to grow," he said.
Parisada Hindu Dharma Indonesia Bali Secretary I Putu Wirata Dwikora said the Hare Krishna group is seen as deviating because they do not adhere to local traditions. He gave the example of the Mecaru ceremony, done to maintain harmony between humans and the environment, where animals like chickens are slaughtered. The Hare Krishnas, Putu said, do not acknowledge animal slaughter. "They are vegetarians, and do not consume meat or poultry," he said.
Putu Wirata contends that this teaching would erode local traditions if it were to grow. He gave an example of a video circulating in the middle of last year, showing some people teaching songs believed to be related to Hare Krishna at a secondary school in Bali. Also, there are religious books believed to contain Hare Krishna teachings. After those cases made the news, the PHDI and MDA met to formulate their stance, which was then put into the joint decree.
The decree issuance sparked a wave of Hare Krishna ashram closures throughout Bali. ISCKON Indonesia Chairman I Wayan Sudirasa said his organization has a number of ashrams in Badung, Gianyar, Klungkung, Jembrana, and Buleleng. According to him, groups of people visited almost all of those ashrams to seal them off. He further said that some ashram caretakers in Buleleng were forced to sign a statement saying they would obey the joint decree.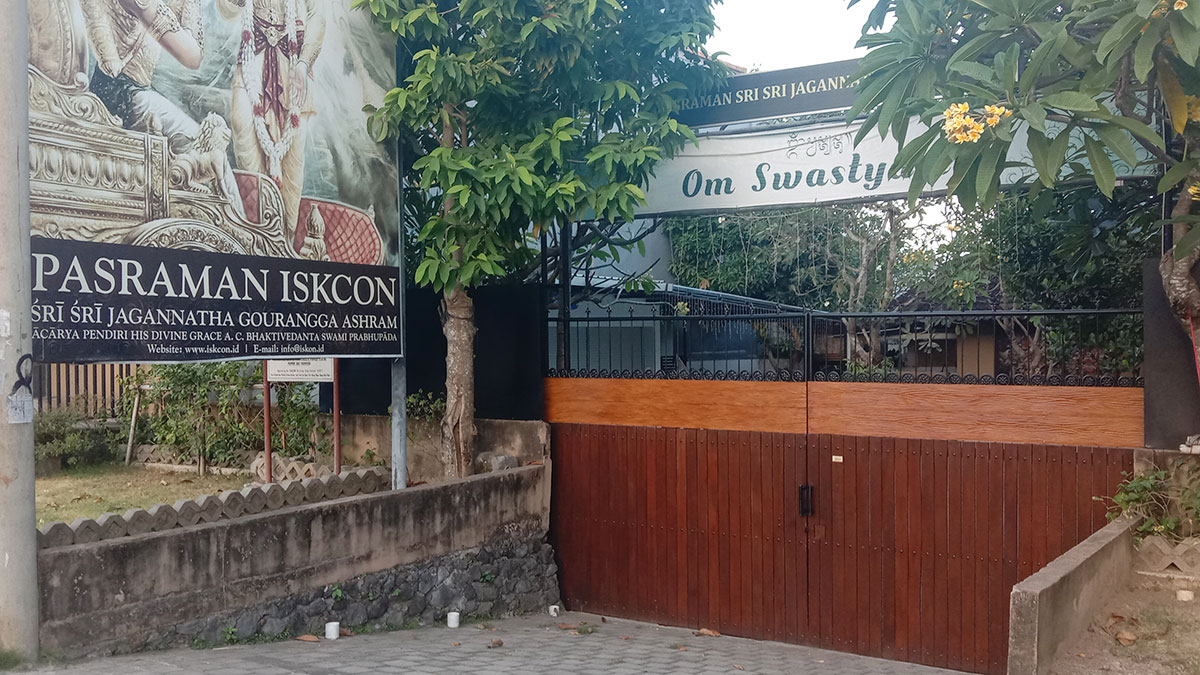 The ISKCON Ashram, Sri Jagatnatha Gourangga in Jalan Tukad Balian Number 108 X, Sidakarya village, South Denpasar, Bali, was closed on June 3. This ashram received intimidation from a number of mass organizations on May 7 who put on a banner to force its closure. Tempo/Made Argawa.
Wayan Sudirasa said that Hare Krishna followers in Bali number some 3,000 people. He denied that it has deviant teachings, and that the sampradaya or the religious system of Hare Krishna erodes Balinese tradition. He said many Hare Krishnans still carry on local traditions. "I have already been a Hare Krishna for 40 years, and I continue to follow traditions. It's just that we don't eat meat, don't drink alcohol, and refrain from gambling," he explained.
Hare Krishna, he continued, teaches four principles: cleanliness, empathy, self-control, and honesty. ISKCON members also set up hospitals, schools, and campuses, and are involved in free food distribution projects as a realization of their love for God and humans.
Started in India some five centuries ago, the Hare Krishna teaching was introduced by Sri Chaitanya, a Hindu mystic. The Hare Krishna belief entered Bali in the early 1980s. In tandem with its growth, it has suffered constant pressure. In 1984, the Attorney General's Office banned the teachings. Further disharmony occurred in 2001, when the chairman of the Hindu Dharma Indonesia Forum, I Dewa Ngurah Suastha, conveyed worries about Hare Krishna's growth in a local newspaper. He was worried, that Hare Krishna followers would use worship places like the revered Pura Besakih in the Karangasem Regency in eastern Bali.
The current sealing of the sampradaya ashram—considered to be incongruous with Balinese dresta (conventions)—is even supported by Governor I Wayan Koster. During a speech at the inauguration of the Indigenous Village Assembly Building of Denpasar on May 26, Wayan Koster openly supported PDHI and MDA's joint decree. He asked indigenous villages to close Hare Krishna ashrams in Bali. "I am not afraid. I am only afraid of (our) ancestors and Ida Batara (God)," said this politician of the ruling Indonesian Democratic Party of Struggle (PDI-P).
Koster said he has already spoken to Bali Police Chief Insp. Gen. Putu Jayan Danu Putra regarding the handling of the sampradaya ashram in Bali. He believed sampradaya damages local tradition in Bali. Bali Police Public Relations Chief Sr. Comr. Syamsi did not answer Tempo's questions about how his institution is handling the sampradaya ashram.
Mahadri, ISKCON Secretary in Denpasar, pointed out that the governor's statement has frightened Hare Krishna followers. Mahadri said while they still visited the ashram when the joint decree was issued, they now no longer do it after Governor Koster made that statement.
Kadek Vany Primaliraning, Director of Bali's Legal Aid Institute, believes Governor Koster has abused his authority. She further said that Koster's attitude and the ashram closures violate human rights. "This is legalizing thugs," she said. "This is persecution against a belief, Bali's sampradaya non-dresta, and this has become a crime against humanity."
DEVY ERNIS, MADE ARGAWA (BALI)