Just a Holiday Kick
After learning how to play futsal—indoor soccer—in just two months, the Indonesian team joins the Asian Championship.
Edition : 29 October 2002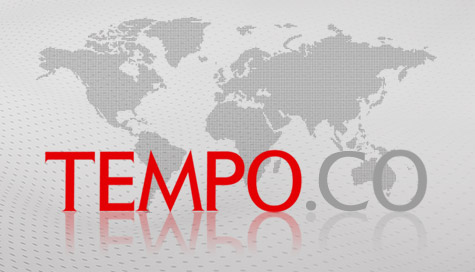 TO forget his annoyance, Vennard Vonarza, an Indonesian futsal player, carried his friend's baby, just for fun, into the changing room. A Kuwaiti player, Hamad Alothman, reacted to this unusual scene. He approached Vonarza and kissed the baby. Responding to his former opponent, Vonarza pretended to look irritated and wiped the kiss away with his handkerchief.
Alothman didn't give in, though. He showered the baby with kisses. Four other Kuwaiti players looked on and roared with laughter.
This scene defused the tension that had been palpable in the Senayan Sports Stadium, Jakarta, a few minutes earlier. When the Indonesian team faced the Kuwaitis on Thursday last week, they were close to getting into a fight after the referee sent off Komang Adinyana. As a result, Indonesia lost 2-6 to Kuwait.
Was the referee unfair? It must be admitted that the Indonesian team, comprising former soccer players, was still awkward playing the new hybrid game. They were not used to the narrow indoor field. Some made unnecessary mistakes, like a kick-boxer forced to box.
Adinyana was not the only one to commit a violation. Paulus Anton Krey, formerly playing for Semen Padang soccer club, was also sent off by the referee when the Indonesian team faced the Japanese. He made just a minor mistake: practising sliding, a technique prohibited in futsal. In this match, Indonesia lost 1_5 to Japan.
As the host, Indonesia was yet to make its mark in this 4th Asian Futsal Championship. Compared to the other 14 teams, the Indonesian team was still in the lower ranks. This is the first time Indonesia took part in an international futsal championship. "Our class is still below the others," said Sartono Anwar, the coach.
Strong teams like those from Iran, Thailand and Japan well-prepared players, who have trained at futsal since they were children. Japan is even now preparing for a professional futsal league competition.
What about Indonesia? There isn't even a futsal club here yet, let alone a competition. That's why the Indonesian team was set up overnight, drawing on players from soccer clubs. They practically learned to play futsal only in the past two months.
Although similar to soccer, futsal needs different strategies and techniques. The players must move fast and must be skilful at making short passes in an area the size of a basketball field. Unlike soccer, the futsal team comprises only five players, including a goalkeeper.
Played in two 20-minute halves, futsal demands intense concentration. In such a narrow arena, blitz attacks are often launched. Unfortunately, the goalkeeper cannot stall because he can only keep the ball for a maximum of four seconds.
Higher ranking teams like the Japanese and the Kuwaitis are equal to the requirements of a futsal game. They almost never stand still. When they attack, they rotate quickly so that the defenders become confused.
Indonesian players, on the other hand, still have to learn how to launch a fast attack to put their opponents in difficulties. When they are attacked, they often return to their part of the field too late. The team, still used to playing soccer-style, tends to rely heavily on defence.
Of all the Indonesian futsal players, only Stanley Mamuaja has adapted well to the futsal environment. Formerly playing for Persma Manado club, he moves fast. Still, he said he found it difficult to play with the futsal ball because it is heavier and softer than a soccer ball. "I often get caught with the ball and fall," he admitted.
Generally, the players that TEMPO met, considered that playing futsal was just for fun. They took up futsal as a stop-gap measure, before joining their regular clubs for a routine competition, the Indonesian league competition, which will not start until early next year. Besides, they get Rp1.2 million a week. "Well, not bad while we're waiting for the league competition to start again," said Mamuaja.
Of course, you cannot expect great things from any activity pursued just for fun.
Agung Rulianto