Minister of Foreign Affairs Retno Marsudi: We Had to Work in Silence
ASEAN leaders finally came to a number of consensus, such as finding a peaceful solution through dialogue and sending a special envoy to Myanmar. Further steps are still needed. Tempo interviewed Indonesian Minister of Foreign Affairs, Retno marsudi.
Edition : Monday, May 3, 2021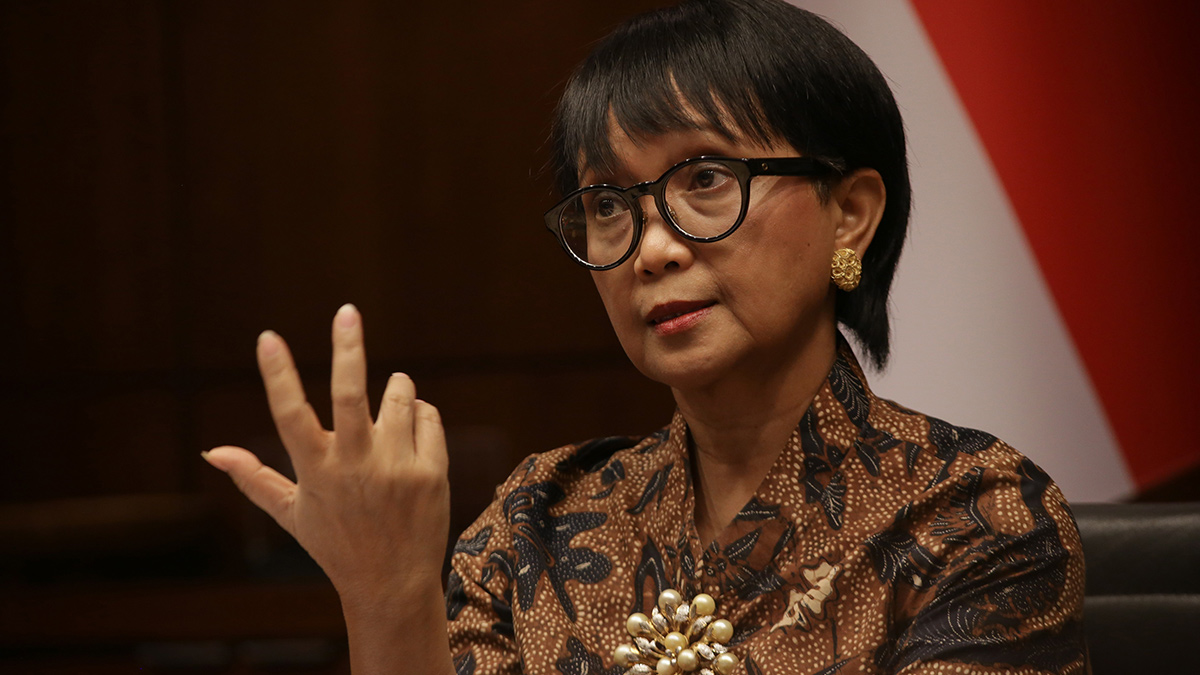 SIX heads of state from Brunei Darussalam, Indonesia, Cambodia, Malaysia, Singapore and Vietnam gathered in Jakarta on Saturday, April 24. The meeting at the Secretariat of the Association of Southeast Asian Nations (ASEAN) was also attended by the Ministers of Foreign Affairs of Thailand, the Philippines and Laos. Held in the midst of the Covid-19 pandemic, this was the first face-to-face meeting of ASEAN leaders to discuss the Myanmar crisis. The leader of the Myanmar military junta, Gen. Min Aung Hlaing, was also present.
ASEAN leaders came to a few agreements, such as finding a peaceful solution through dialogue and sending a special envoy and humanitarian assistance to Myanmar. "Many were pessimistic at first, but in the end we saw the results like that," said Indonesian Foreign Minister Retno Marsudi in an online interview on Thursday, April 29.
To Tempo journalist Purwani Diyah Prabandari, Mahardika Satria Hadi, Gabriel Wahyu Titiyoga, and Istman Musaharun Pramadiba, Retno recounted the process of preparing for the meeting, the consensus, and the next steps to help resolve the conflict in Myanmar. "The most important thing is to stop the use of force. If that doesn't happen, victims will continue to fall," she said.
How did the ASEAN summit come to form?
W251bGwsIjIwMjEtMDYtMjIgMTQ6NDY6MDkiXQ
It was a long, energy-consuming process and required diplomacy that does not use megaphones. In such conditions, we had to work in silence because there were so many sensitive issues.
It all started on February 1 when the military took power in Myanmar. On February 5, Malaysian Prime Minister Muhyiddin Yassin visited Indonesia. President Joko Widodo and Prime Minister Muhyiddin assigned foreign ministers to meet. On March 2, ASEAN foreign ministers held an informal meeting. The main message was to stop violence and restore democracy in Myanmar through dialogue.
How did that develop?
From March 2 there were no steps taken. On March 23, the President (Joko Widodo) called the Sultan of Brunei (Sultan Hassanal Bolkiah), who is also the Chair of ASEAN, and said that it was time for ASEAN leaders to meet to discuss the political crisis in Myanmar.
How were preparations made before the Leaders' Meeting?
On April 23, I invited the foreign ministers of ASEAN member countries for a working dinner. The situation was relaxed. We didn't want the leaders to meet without a prior idea of what to do. For two and a half hours we talked openly, argued, and so on. In the end we were able to funnel some ideas.
How did the five points of consensus come about?
It revolved on what was discussed at the working dinner. What was easier to pin down was the issue of special envoys and humanitarian assistance. But I also said that ending the violence is more important. If that doesn't happen, victims will continue to fall. For Indonesia, that is the red line, there must be one. We then argued some more and arrived at those points, not far from five points of consensus.
The consensus did not mention the release of political prisoners.
The issue of releasing political prisoners was mentioned in a statement by the ASEAN Chair. When it comes to Indonesia's stance, that is very clear. The President emphasized the importance of releasing political prisoners. It would have been impossible to have an inclusive dialogue if political prisoners are not released.
In the meeting, how did Gen. Min Aung Hlaing react to the consensus?
Responsive.
What is ASEAN's true stance regarding Myanmar?
Many have said that by inviting the Tatmadaw—Myanmar's military—ASEAN recognizes the Tatmadaw. That is not true. We are engaging with them, yes. We can communicate what we want and the Tatmadaw is the one which can change the situation. They're the military, armed. We want Tatmadaw to be part of the solution to this problem. But it is just as important to engage with other parties and Indonesia has done that. So, once again, we are not talking about the issue of recognition, but about engagement so that this process moves along.
On the Indonesian Presidential website, Min Aung Hlaing is referred to as the Myanmar military commander. Is he going to be referred to as such going forward?
We simply try to be correct.
The conflict in Myanmar is still ongoing and continues to worsen. Are these developments being discussed within ASEAN?
The five points of the consensus is not a magic trick that can magically make everything stop. There are still many challenges. We have taken one important step and should be grateful that the results are good. But that does not mean that the task is completed or the challenges become fewer.
Communication among ASEAN foreign ministers must continue to begin mapping out what to do next. Otherwise, I am afraid that this momentum will disappear and the situation will worsen. If the situation gets worse, it will be more difficult to help them (the people of Myanmar).
What about communications with the National United Government (NUG), which is in opposition to the military junta?
I don't think ASEAN has made contact yet, but it will soon. Indonesia has commenced communications. We tried to communicate with stakeholders in Myanmar, including at that time with the CRPH (Myanmar Parliamentary Representative Committee), then with the NUG.
Did Indonesia deliver the results of the communication at the ASEAN leaders meeting?
The NUG sent a letter to the Secretary-General (ASEAN). So the NUG has officially contacted the Secretary-General.
Are the special envoys a necessity?
Before the dialogue and humanitarian aid processes can take place, there must be a visit to Myanmar first. The path must be opened. When talking about inclusive dialogue, has there been any communication with parties other than Tatmadaw, for example with the NUG, at the official ASEAN level? Not yet.
Humanitarian aid cannot just be sent. We need a team to see what is needed and determine a mechanism. This is an important point because we want the assistance to reach the target and be fair.
What are Indonesia's considerations to get involved in solving the Myanmar crisis?
We feel obligated to make this region peaceful and stable. Now we have to fight to overcome Covid-19. If this Myanmar issue is not handled quickly, it will affect stability and inevitably have an impact on the economy, society and others.
What steps should be taken so that the situation does not worsen?
In the short term, ASEAN communication must continue. In my mind, virtual communication comes first, to collect input. If we meet in these conditions, someone might get quarantined, it would not be effective. The pandemic is a challenge in keeping up efforts to help Myanmar. The most important thing is not to lose momentum, continue to maintain communication, so that ASEAN can get complete input to determine the next steps.
The Rohingya Fact-Finding Team led by Marzuki Darusman had difficulty entering Myanmar. Are you sure the situation today could be different?
I am an optimistic person. On April 24 everyone was pessimistic, even for this meeting itself. Never mind (meetings) in private, people had various assumptions even for the online meetings. But in the end, it can still be optimal. The face-to-face meeting at the summit level gained results. We cannot breathe a sigh of relief yet, as there are still many works and challenges.
How are the conditions of Indonesian citizens in Myanmar?
We continue to communicate with the ambassador and his team, as well as with Indonesian citizens. We are also in contact with the private sector which has a good business relationship with Myanmar. Currently there are 276 Indonesian citizens in Myanmar. Indonesian citizens who were previously in a shelter at the Indonesian embassy in Yangon can now return to their respective homes. There were 210 to 220 Indonesian citizens who returned through independent repatriation.