Malaysian Advocate of Indonesian Migrants
Alex Ong has supported migrant workers in Malaysia for 20 years. He sold his company in order to focus on helping workers from Indonesia. 
Edition : Monday, January 25, 2021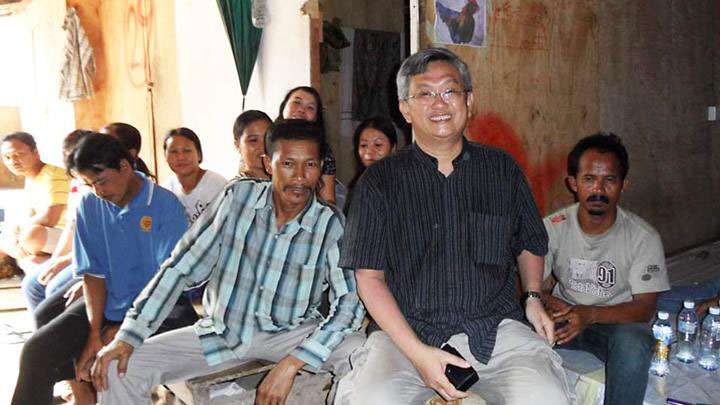 ALEX Ong concluded 2020 by accepting the Hassan Wirajuda Award from Indonesia's foreign affairs ministry. Alex is a Malaysian national who is the coordinator of Migrant Care Malaysia. He was one of the two foreign recipients in the category of civil society abroad. He has helped many Indonesians who are in Malaysia as migrant workers during the pandemic. "This award will motivate my friends, particularly my team, and boost their spirits," said Alex, 61, on Wednesday, January 13.
When the Covid-19 pandemic struck, many countries restricted people's movements, including Malaysia. Since the middle of March 2020, that country ordered the closing of all businesses except for those providing vital services. Millions of Indonesians are migrant workers in Malaysia, the majority of them with no official documentation and earning very low wages.
More than 37,000 people decided to return to Indonesia when the restrictions were imposed. However, the majority chose to stay, hoping the pandemic would end soon. "They could not work, so how could they survive?" said Alex. Nahdlatul Ulama Malaysia estimated in April 2020 that a million Indonesian migrant workers were going hungry.
Alex, who has stood up for Indonesian migrant workers for the past 20 years, compiled data of the unemployed Indonesians who needed assistance. He sent daily basic needs to more than 2,300 of these migrants, with the majority of the funding coming out of his own pocket. "That was actually my savings for my retirement," said Alex. The rest came from some of his entrepreneur friends who sympathize with migrant workers' conditions.
W251bGwsIjIwMjEtMDUtMTMgMTk6NDk6MjkiXQ
Currently he is focusing on helping mothers and babies. Alex pointed out that there are more than 170 babies in their database. They are threatened with malnutrition due to the pandemic.
Prior to joining Migrant Care, an Indonesian non-governmental organization concerned with overseas workers, Alex was a businessman. He owned several companies, including in property, logging, mining, and trading, spread throughout Malaysia, Indonesia, China, Thailand, and Vietnam. Alex was already a regular visitor to Indonesia since the 1990s, conducting his business. He then married Jakartan Sandra Herawati, and resided in Surabaya, East Java.
Alex first came into contact with Indonesian migrant workers in 2000. Alex, who at the time lived in an apartment building, was approached by one of the cleaning personnel. That person asked Alex to look for the person's older brother who was working in Malaysia. The brother had already disappeared for six years, and had never returned home or sent any news to the family. "Their mother was ill, and wanted to see her son. The in-laws who were taking care of the sibling's children had passed away," said Alex.
Alex Ong receiving the Hassan Wirajuda Award 2020 in the Overseas Civil Society category, last December. Migrant Care Doc.
Alex proceeded to look for the person when he went to Malaysia. He only found the man on his second visit home, and tried to persuade him to go home, but to no avail. The man turned out to be an illegal migrant worker with low wages. He did not have enough money to pay for fines and organize his return to Indonesia. "I felt like he already had such a hard time, and things are made even harder for him," said Alex. The man ended up not returning home for his mother's death.
Alex became more involved after he met activists Munir Said Thalib and Poengky Indarti in 2000. At the time, Munir and Poengky gave legal assistance to workers who were fired from their jobs, one of them related to Alex' family. Alex started exchanging stories with the activists. He told them about the immigration problems, while Munir told him about his efforts in looking for missing persons during Indonesia's New Order era. "This person is crazy, laying his life on the line for others," Alex described how he thought about Munir at the time.
Their friendship continued to grow. Munir introduced him to Wahyu Susilo, an activist supporting migrant workers. Wahyu even asked Alex to be a speaker on labor issues from the point of view of businesses in Jakarta. Since that time, he became friends with Wahyu, who loves to read, and often gave Alex books, particularly those having to do with humanity issues. "Those books that Wahyu gave me were a big influence on my views," said Alex, who graduated from the University of Oklahoma in the United States.
When Alex' father passed away in March 2002, he decided to return to his native land. He started assisting Indonesian migrant workers in Malaysia by relaying information about abuse towards them to Wahyu and other activists. The Malaysian government at that time were deporting illegal migrant workers on a large scale. Alex went to places including Sabah and Nunukan, Northern Kalimantan, to find pockets of Indonesian migrant workers, or TKI. "I saw them being hunted like animals every day. I was angry and sad. I felt like I needed to help them." Alex then decided to sell his businesses in order to focus on his efforts helping migrant workers. His mother was against this, but Alex persevered.
When Wahyu, together with Anis Hidayah, set up Migrant Care in 2004, Alex became the organization's Malaysia representative. Wahyu said that Alex was one of the co-founders of Migrant Care. However, since Alex is not an Indonesian national, he was only registered as the representative in Malaysia.
As a former businessman with an expansive network, Wahyu continued, Alex was a great help for the organization. He has a lot of contacts both in business and government circles. "Pak Alex has a very strong lobby. He is trusted in his country. We receive the most current updates regarding Malaysia's political situation," said Wahyu.
Alex helped out a lot in advocacy, including in the case of Adi bin Asnawi, a migrant worker from Central Lombok, West Nusa Tenggara, who was accused of murdering his employer in 2002. Alex and the Migrant Care team made sure news about the case was made public, so that the Indonesian government was moved to handle the case.
Alex made his house available for the activists, Adi's family, and reporters. To Adi's parents, Alex promised that should Adi be freed, he would assist in getting Adi home to Lombok. However, if Adi gets the death penalty, he would transport his body home. "The Indonesian embassy (KBRI) in Malaysia was even angry at me because they saw me as meddling into their business. I was reported to the police," he said.
Adi was finally acquitted in 2008 on the basis of unstable mental conditions.
Alex also assisted in handling the case of Wilfrida Soik, a migrant worker from East Nusa Tenggara accused of killing her employer in 2010. He pushed the Indonesian embassy in Malaysia to hire a skilled lawyer. Through Alex' network, the lawyer showed the courts that Wilfrida was underage when the case occurred.
He found a church in Wilfrida's village that registered birth dates of local residents. The Indonesian government then brought over a priest from that church to testify. Data from the church differed from that on Wilfrida's passport, which said she was already an adult. "She was a victim of human trafficking, and had mental problems," said Alex. Based on the proof presented, Wilfrida was freed in 2016.
Father Chrisanctus Paschalis Saturnus is one of the activists who often come to Alex for help in returning migrant workers home, especially those who were victims of human trafficking. Alex is prepared to pick up these workers and return them home. "He goes to them directly. He is willing to do it in person," Paschalis said.
NUR ALFIYAH