The Bright Dian
Dian Andyasuri has become one of the few women to reach the top of a multinational company in Indonesia. At her position, she makes sure her employees are well taken care of.
Edition : Monday, February 1, 2021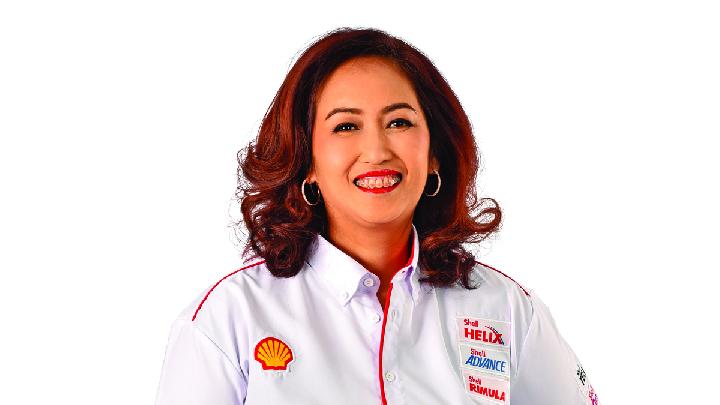 WITHIN the first year as Chief Executive Officer (CEO) and Country Chair for Shell Indonesia, Dian Andyasuri never stopped thinking about the impact of the Covid-19 pandemic on Shell Indonesia employees. Shortly after the pandemic began early last year, Dian crafted safety policies that made sure Shell employees could work safely and comfortably during the pandemic. "We're currently looking into how we can reduce stress, because after 10 months of working from home, of course our mental endurances have changed," said Dian on Tuesday, January 19.
Dian, 49, was appointed to her position at the Netherlands-based company on January 1, 2020. She became the first woman to occupy the company's highest position in Indonesia. She is also still the Managing Director of Shell Lubricant Indonesia, a position she assumed since January 2016. "I am quite a senior at Shell. So, when there was an opportunity to become CEO and Country Chair for Indonesia, my name was entered and I followed the selection process," said Dian, who has worked for this energy company for 13 years.
Dian originally worked on financial matters at a British water company, Thames Water. Afterwards, she moved to a telecommunications company which is also from England, Three. She then applied for a job at Shell Indonesia after giving birth to her only child, Sophie, in 2007. In January 2008, she was accepted as a retail finance manager in charge of Shell's new gas stations in Indonesia where she was responsible for making financial analysis to help plan expenses or investments. "The three years I was there, the number of gas stations has grown rapidly," said the Brunel University London graduate.
After her role in business and finance, Dian was offered a new position at the company's Singapore office as a senior strategic consultant. Naturally, Dian had to move to the neighboring country with her daughter Sophie, who was four years old at the time. Her husband, who has a career in Jakarta, stayed in the capital city.
W251bGwsIjIwMjEtMDUtMTMgMjA6MTA6NTQiXQ
In Singapore, Dian worked with a small team from various countries to analyze Shell's businesses in various regions. The team was given three months to find issues and provide solutions for them, as well as developing new ideas that will further develop the business. Among other things, Dian was assigned to solve problems in Thailand, China, Australia, and the United States. She was often swamped by new assignments that needed quick assessments. Moreover, the job made her often have to part with Sophie, who went to school in Singapore. "There have been times when I felt really tired," she said.
But Dian powered through, and she was finally re-assigned to Indonesia as marketing manager for Shell's lubricants business in June 2014. This new assignment led her to visit workshops selling Shell lubricants. According to Ghiandi Utoyo, who was Shell's National Route-to-Market and Indirect Channel Excellence Manager at the time, Dian traveled to almost all regions of Java to meet directly with sellers and hear their stories. "I have not found a leader who often meets sellers like her," he said.
Ghiandi said that Dian was very diligent in her work. According to Ghiandi, Dian dissected all the sales figures and discussed with all her subordinates to improve marketing. Her subordinates were motivated to better understand their work. "I have to know better than her," said Ghiandi. Within two years, their business had more than doubled. Dian was then promoted to become Managing Director of Shell Lubricant.
Under her leadership, Dian not only made sure that every job assigned to her team was completed with flying colors, she also paid close attention to each of her subordinates. She routinely took her time to guide them one by one. According to her, humans are the most valuable resource in any organization, including companies. "When people work passionately, naturally the company will develop well," she said.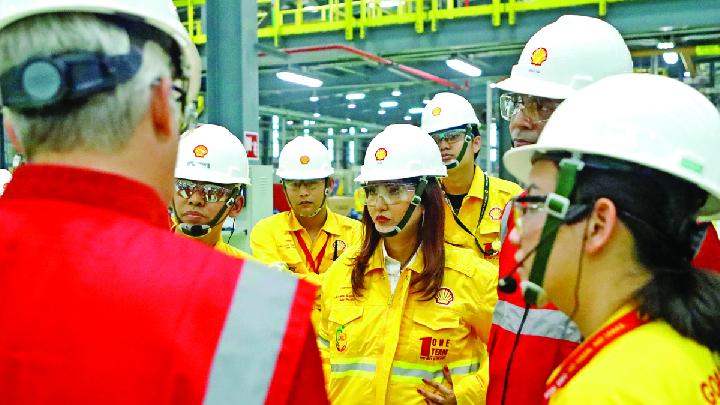 Dian Andyasuri, CEO and Country Chair, Shell Indonesia (center) during the inauguration of its factory expansion in Marunda, Jakarta, February 2020. Shell
Dian remembers her experience at the beginning of her career at Thames PAM Jaya, Jakarta, as a business analyst. At that time, she was assigned to work on a billing system update project. Its CEO, Pierre Jacobs, seeing that she was having trouble completing the task, stepped in to provide guidance.
Every week or two, Jacobs would give Dian reading material and invited her for discussions, and gave advice. One advice that stood out was about the duties of a leader. "A leader who does not give his/her time to develop the team or give time but does not see significant development from the team means he/she still has homework to do," said Dian.
Dian has held that advice close until now. Making sure every member of her team is developing and well taken care of. She looks at the potential of each individual and designs their career plans one by one, including suggesting the training they should follow. She also takes her time each week to give directions or just chat with them. "She is a person who never stops telling us to learn more," said Kartika Indah Pelapory, who had worked with Dian in the marketing division.
According to Indah, Dian connects her subordinates with people who are good at their fields. Indah, for example, has been introduced to several mentors, both in Indonesia and abroad. "Mbak Dian really pays attention to both the personal and professional affairs of her subordinates," she said.
When she feels that her subordinates are ready for the next challenge, Dian will encourage them to take more roles, including promoting them to global Shell leaders. Several former team members have worked in the Asia-Pacific region, England and other countries. "I want Indonesian talents to go global," said Dian.
Ghiandi Utoyo was one of the employees she promoted to Shell headquarters officials. Ghiandi was pulled to San Francisco, United States, to build a Shell marketplace for 2019-2021. However, after only a year in the US, the pandemic hit. He had to rush back to Indonesia with Dian's help. "She made sure I could return to the country in good health," said Ghiandi.
NUR ALFIYAH