The Mathematics Expert Who Changed a Village
Munaldus Nerang grew up in an ultra-poor community. He established a village credit cooperative to improve his neighborhood.

Edition : Monday, March 1, 2021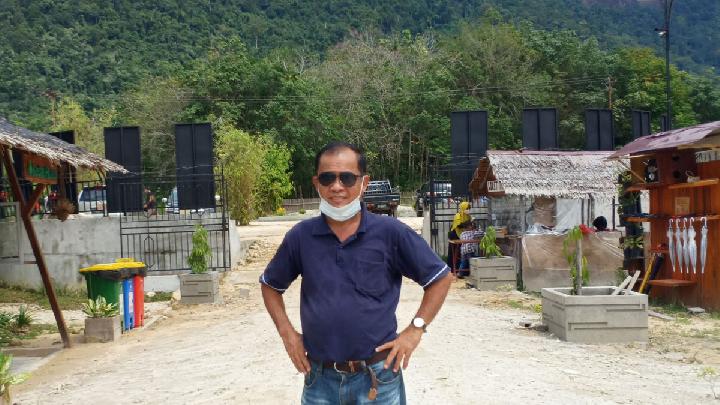 THE three-storey shop-house is not big. Its width is less than five meters across. An automated teller machine (ATM) stands in front of the building which houses the Keling Kumang Credit Union Pontianak Branch. This office is one of 65 Keling Kumang Credit Union branches. The other units are dotted all over the eastern part of West Kalimantan.
With 187,631 members, the cooperative now boasts assets totaling Rp1.6 trillion, with monthly new loans worth some Rp40 billion. Besides running a credit union, the enterprise also opened a hotel and several cooperatives selling seeds, fertilizer, and basic daily needs; it runs a secondary school and an educational institute; and manages a nature park tourist destination. "I never dreamed Keling Kumang would grow this big," said its 58-year-old founder, Munaldus Nerang, on Wednesday, February 24.
The journey of Keling Kumang Credit Union started in March 1993. Munaldus, who was teaching mathematics at Tanjungpura University in Pontianak, was worried about his fellow villagers in his neighborhood. He grew up in Tapang Sambas village, in the Sekadau Hilir subdistrict—now part of the Sekadau Regency. The village lies some 300 kilometers from Pontianak, and was ultra-poor. "My family were also very poor. Once, we only ate rice porridge for two whole months for not being able to afford anything else," said Munal—as Munaldus is usually called.
The majority of Tapas Sambas villagers worked as rubber tappers or vegetable growers. None had any schooling, including both Munal's parents. Their home was made of board and wood bark, and they had no electricity. The community owned vast tracts of land, but most of the plots were left fallow for lack of capital. Several members of the community elected to sell their land to oil palm companies that had begun to encroach into the village. Worried about this situation, Munal sought for a way for people not to sell but to work their lands and earn an income so they could send their children to school.
W251bGwsIjIwMjEtMDUtMTMgMjA6MjM6MTkiXQ
Prior, Munal had taken part in establishing the Pancur Kasih Credit Union in 1987, whose members were teachers in Pontianak. That credit union still flourishes to this day with 50 outlets. According to Munal, ever since the idea was first brought up in Germany in the19th century, credit unions have become a solution to combat poverty in many parts of the world.

At the time, Germany was buckled under by an economic crisis brought about, among other things, by heavy snowstorms and the industrial revolution. The mayor of Flammersfeld, Friedrich Wilhelm Raiffeisen, sought for a way out to overcome the dire poverty. He gave out cash loans and food aid, but these did not resolve the problem. He concluded that poverty could only be solved by the poor people themselves if they pooled their resources. The pool of cash could then be loaned to fellow citizens for productive activity. The townspeople of Flammersfeld overcame their poverty. "It was the poverty mentality that had to be changed. This was what I wanted to try out in my village," said Munal.
He gathered his neighbors in Tapang Sambas and Tapang Kemayau villages, and presented the concept and the history of credit unions. Some villagers resisted the idea, thinking money from sales of land to oil palm companies sounded more enticing. They were also suspicious that Munal would run away after pooling the money.
Munal announced that he would have nothing to do with the cash. The credit union members themselves had to elect a team to handle the money. "I will merely teach you the system, and it is you who will operate the money," he said.
Eventually, 26 relatives joined as credit union members. The amount pooled was Rp260,000. In time, the number of members increased. By the end of 1993, there were 109 members holding an asset total of Rp8 million. The members had to attend classes, most of which were about shifting their mindsets. Subjects included how a credit cooperative worked, managing capital assets for productive activity, and encouragement to give their offspring an education to improve the family's situation.
As it was, in the early years of the Keling Kumang, most of the members, including Munal's own parents, took out loans for consumptive needs like purchasing daily necessities and to renovate their houses. His father, Rurut, took out a loan in 1995 to build cement walls for their house. "At the time, homes with cement walls were a luxury in the village. People in neighboring villages were induced to join Keling Kumang upon seeing my parent's home," he said.
At their insistence, Munal had to bow down to the request for allowing other villages to join up. Slowly, the lending habits of the members began to shift. They took out loans to work their land or to put their children in school. Keling Kumang continued to branch out to surrounding villages, eventually having scores of branches. The economic situation of the community improved. Faith in Keling Kumang grew strong.
Bambang Marius was one who believed in the credit union. The resident of Sepulut village in Sintang Regency, West Kalimantan, signed up in 1999. He joined the credit union so he could send money to his children at school in town. At the time, the village had no bank. "The only entity that offered a cash transfer facility from the village to town was Keling Kumang," he said.
In their 2006 annual consultation, members decided to establish a program to induce every family to have at least one college graduate. Munal told how the members requested that Keling Kumang initiate establishment of a secondary school and an institute of higher learning.
One year later, they founded the Keling Kumang Foundation, which has now become the Keling Kumang Education Foundation. The plan to found a vocational secondary school came to fruition in 2015. The vocational subjects were adjusted to the community's needs, including entrepreneurship and farming. Today the school has 1,200 students. Keling Kumang launched the Keling Kumang Institute last year and began accepting students this year.

In every annual shareholder meeting, new ideas keep surfacing, such as the members need to fulfill daily necessities and to buy seedlings, fertilizers or plants to replace the oil palm trees whose prices dropped at one time. And so they founded a cooperative for daily needs, a farming cooperative, a services cooperative, a self-service store, a farming store, a hotel, an agro-tourism site, and a cocoa and coffee sapling nursery. "Because we now had several entities, in 2012 we established the Keling Kumang Group as the umbrella organization to encompass all the units and become the initial body towards a holding cooperative," said Munal.
•••
MUNALDUS Nerang is the third child of nine comprising four boys and five girls. As with all the other villagers, his parents, Rurut and Theresia Ina, never went to school. But Rurut always advised his offspring to create a better life for themselves. This one instruction pushed the nine youngsters to fight hard to overcome their poverty. Munal and his siblings struggled to achieve the highest education level they could attain. Of the nine, three hold graduate degrees and one has a post-graduate degree.

Munal was the first to have a degree in his village. Obtaining a degree in mathematics in 1987, his alma mater, Tanjungpura University, immediately offered him a teaching post. He continued his graduate studies at Ohio State University in the United States, and finished in 1996. "People look up to those with an education and/or those who are rich," he said.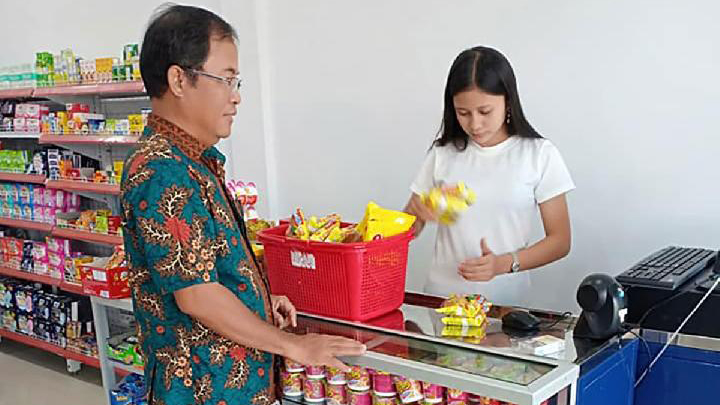 Munaldus Nerang at the Keling Kumang Union store, in 2018, in Sintang, West Kalimanatan. Private Doc.
The land surrounding Tapang Sambas and Tapang Kemayau are now productive tracts. The children of the two villages all attend school and many have completed tertiary education, some holding graduate and post-graduate degrees. "When Keling Kumang was founded, there was only one motorbike in the whole village, owned by the elementary school headmaster. Now, some families own three motorbikes and some even own cars," said Munal.

In the other villages with Keling Kumang branches, the education levels of the community also soared. According to Adil Bertus, Director of the Keling Kumang Educational Foundation, in the period 2009-2012, some 70 percent of the Keling Kumang staff members had completed high school. "Now, 70 percent of our staff members hold undergraduate and graduate degrees," he said.

Munal wishes to see Keling Kumang continue to grow for the benefit of the community. He hopes the holding cooperative will continue to expand. "Like the Mondragon holding cooperative in Spain," he said, pointing to the laborer cooperative which has now grown into a huge business enterprise with operations in several countries.
Munal has written 11 books about credit unions. He has also published four novels. He wrote about his life story in a novel Mimpi Dunia Lain (The Dream Of Another World, 2018). For his pen name, Munal used Liu Ban Fo, the name given to him by a Chinese family in Sekadau.
NUR ALFIYAH, ASHEANTY PAHLEVI (PONTIANAK)