Julia and Feminism
Julia Suryakusuma received an award from the Kingdom of Belgium for her struggle to voice human rights through writing. She is uncomfortable with being called a feminist.
Edition : Monday, April 12, 2021
"JULIA, have you ever been decorated?" asked the Belgian Ambassador to Indonesia, Stéphane de Loecker, to Julia Suryakusuma in early 2020. Hearing the word "decorated," she imagined rows of colorful lights. Jokingly, Julia answered her friend's question. "You mean decorated like a Christmas tree?" said Julia, recounting her conversation with De Loecker, last Tuesday, April 6.
De Loecker shook his head. He then explains "decorated" by means of being given a medal of honor by a king. De Loecker, who often reads Julia's opinion articles in The Jakarta Post, intends to propose Julia as the recipient of the De L'ordre de la Couronne service star from the Kingdom of Belgium. He considers Julia's writing a beacon for democracy, human rights and gender equality.
The conversation continued with Julia's interview by the Belgian embassy team, but the process was interrupted due to the pandemic. Julia only heard the news after the Belgian Foreign Minister Sophie Wilmès signed the award certificate on September 30, 2020. "Because they waited for International Women's Day, the award was given in March 2021," said Julia, 66.
The award ceremony took place at the Belgian Embassy in Jakarta, on March 10. De Loecker, in a speech, explained why it was Julia's name that he proposed. He was impressed by Julia's writing, combined with her experience, observations and incisive analysis. And, more importantly, he added, what Julia was fighting for through her writing was in line with the values recognized by the Kingdom of Belgium. "Even before empowering women became a priority for Belgium and many other countries, you were already active here in Indonesia," he said.
W251bGwsIjIwMjEtMDUtMTMgMTk6MDI6MzEiXQ
Julia has been a regular columnist for the English-language newspaper since 2006. However, long before that, her name was known as a pioneering feminist activist in the country. She was one of the women who spoke out loudly against the New Order government. Her thesis research, which was later published as a book with the title Ibuisme Negara (2011), is one of her criticisms of the New Order government which tried to control the people through ideology, in this case the social construction of women who were only considered as companions of their husbands. She also wrote other books, namely Sex, Power and Nation (2004) and Religion, Sex and Power (2012), and Julia's Jihad (2013), which is a collection of selected columns in English from 2006-2013.
A teaching assistant at the department of archeology and anthropology at Binghamton University, United States, Farid Muttaqin, said Julia's voice remained strong even though the New Order had collapsed. She has remained consistent in exposing taboo and sensitive matters during her decades as an activist. "Some people choose to make friends over opponents when they get older. However, Julia still uses her personality to write criticism," he said.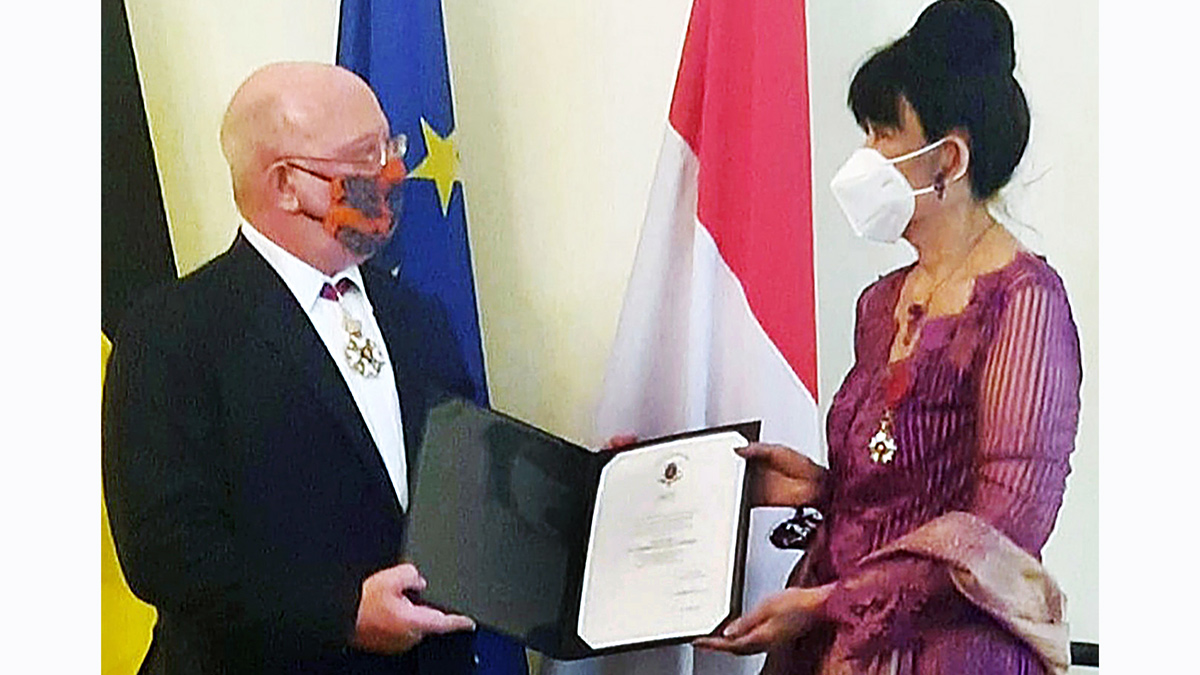 Julia Suryakusuma receiving the Order of the Crown award from the Belgian Ambassador to Indonesia Stéphane de Loecker at the Belgian Embassy in Jakarta, March 10. Embassy of Belgium
Julia has chosen to be a regular critic of the government. In a column published on March 3, for example, she criticized the Coordinating Minister for Political, Legal and Security Affairs Mahfud Md., who repeatedly made misogynistic statements. The most recent was his remarks at the National Police leadership meeting on February 16 regarding restorative justice. Mahfud said that restorative justice is a tool to build harmony and togetherness. Therefore, said Mahfud, trivial matters should not be brought to court, such as cases of theft of chickens and rubber sandals and rape.
Julia, rightfully insulted by the statement, asked Mahfud to consider the victim's feelings. She quoted criticisms made by institutions that focus on legal studies and sexual violence, such as the Institute for Criminal Justice Reform, the Institute for Independent Judiciary Research and Advocacy, Amnesty International Indonesia, and the Legal Aid Institute for the Indonesian Women's Association for Justice, for Mahfud's statements that diminish sexual violence.
She asked Mahfud to apologize publicly to the victims of rape and the wider community. Julia also supports the Sexual Violence Eradication Bill. "Pak Mahfud, please don't relapse into your old habit of making misogynistic statements, okay? The Covid-19 pandemic has tormented us enough!" she wrote at the end of the column.
Echoing De Loecker, Franz Magnis-Suseno, a Catholic scholar and clergyman, liked Julia's writing style. According to Magnis, Julia is able to address injustice in a critical way, sometimes accompanied by humor and irony. "In Indonesia there is rarely something like that, especially by women," he said.
•••
JULIA Suryakusuma's career as a writer began when she won a literary essay writing competition in commemoration of Jakarta's anniversary. She was 18 and still in high school. At that time, Julia, who is the daughter of a diplomat, had only lived in Indonesia for two years. She previously moved around following her parents' duties. Julia was born in New Delhi, India. Her family had moved to England, Hungary and Italy. In Italy, Julia attended an American school.
Julia's homecoming to Indonesia frustrated her. Accustomed to schools in Europe, Julia was confused when she first encountered the Indonesian education system. "In American schools, students are taught to be critical. We were also regularly assigned to review books. But in Indonesia students are only taught to listen, take notes and memorize," said Julia.
She often ended up spending energy on activities outside of the classroom. Among other things, she was active in school extracurricular organizations, such as wall magazines. She also modeled for batik designer Iwan Tirta and worked as an English teaching assistant. She won the Jakarta anniversary literary essay competition two years in a row. "Since I was a child, I've been a bookworm, and writing has kept me learning," said Julia, who received a master's degree in developing societal politics from the Institute of Social Studies in the Netherlands in 1988.
Julia was discriminated against as a child by her family—her mother loved her younger brother more—which led her to write and speak out for truth and justice. The difference in treatment she experienced as a child made her more empathetic towards the suffering of others who were treated unfairly. "My anger pushed me to become a feminist, and then a pro-democracy activist, LGBTIQ+ (Lesbian, Gay, Bisexual, Trans, Intersex and Queer) loyal supporter, and other marginalized groups," said Julia who also often writes about corruption, democracy issues, indigenous peoples, as well as the Covid-19 pandemic.
The variety of topics that she discusses in her writing makes her uncomfortable to be categorized as a feminist. According to Julia, the divisions could lead to a "us" versus "them" mentality. "Where 'we' are always better than 'them'," she said.
Julia felt no better than anyone. She is willing to learn and discuss with anyone, including those who are younger. When writing about Mahfud's statement, for example, Julia asked her discussion partner, feminism activist Nadya Karima Melati, 27 years old. "As a senior feminist, she also really cares for young people like us," said Nadya.
NUR ALFIYAH