Ondel-ondel
The ondel-ondel, which people say used to be part of high-class ceremony in old Jayakarta, is nowadays part of the life of the impoverished, who know they are not in the limelight.
Edition : Monday, February 8, 2021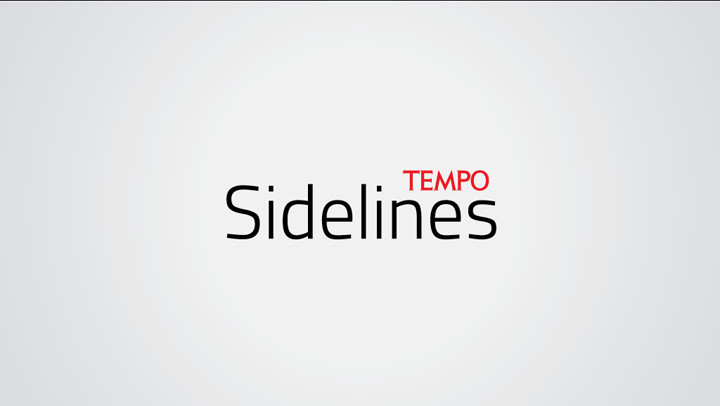 ALMOST everyone ignores it. The ondel-ondel (giant puppet representing benign spirits and deceased ancestors in the Betawi culture—Ed.), which people say used to be part of high-class ceremony in old Jayakarta, is nowadays part of the life of the impoverished, who know they are not in the limelight.
But, like many things in life, the ondel-ondel's appearance before us is not one-sided.
It marks ongoing tradition but also changing narrative. Formerly, its face was grotesque, with fangs and bulging eyes, like part of an exhibition of strength and power. These days it brings simple humor without laughter, signifying warm welcome to guests without actually extending one's hand.
On the street, the ondel-ondel is at once visible and invisible. Implicit is the illusion that, as a puppet that imitates humans, it can walk and even dance by itself. But the presenters know that only small children believe this. The ondel-ondel, with its crude decoration, its arm-less body and mute mouth, does not attempt to hide its 'puppetness'. But it is hiding someone who makes it walk—just like a Volkswagen that 'hides' its engine in the back. People do not care. Like watching lenong (Betawi traditional theater—Ed.) performances, people know that Bang Juki performing on stage is Bang Juki who lives in Kramat Sentiong, and not the character Si Pitung.
W251bGwsIjIwMjEtMDUtMTMgMTg6NDY6MDEiXQ
The puppet is a toy. But it is also a game, like Banyamin Sueb's endearing, funny songs. It is a product of collective imagination. It is not clear who produced it or what for. With its odd form, it is an intermezzo seemingly incidental in life that is routine and without imagination. But it also has a practical purpose: as a way of earning a living.
Even so, we cannot say whether the money the ondel-ondel group receives can be called 'pay'. But neither can we call the money 'alms', if we remember that they—like the buskers in front of Kedai Barokah who give a wonderful rendition of Hey Jude—are not just beggars in rags and woeful expressions.
And people give. It is never a lot: probably the money is just a sign of 'mutual understanding', a kind of expression of solidarity that takes place automatically among people of lower ranks in society. Or it is the process of sharing limitations: the one thousand rupiah that Neng Salmah gives to the ondel-ondel group is not going to make her poor, but it can mean a lot to the recipients. At that moment what is going on is not calculation and exchange. What is happening is acceptance.
It seems that the ondel-ondel cannot be categorized, like many things in everyday life.
Administrators and formulators of public policy and cultural advocates have tried to eliminate the ondel-ondel from the streets, reasoning that the puppet walking around the streets is an object of Betawi cultural heritage and as such should not become a beggars' prop. But it is not so easy to call the ondel-ondel 'cultural legacy', and the adjective 'Betawi' has always emerged within an eclectic process, like tanjidor music which adopts elements from all over the place: Dutch, Portuguese, Chinese, Arab, Malay and much else besides.
Just as important, the ondel-ondel is marked by street behavior: like many everyday things, it always escapes the strategy of those at the top wanting to control everything. It does not mark any one 'location', and is not controlled with limits and the logic of proximity. The ondel-ondel, at least these days, traverses a 'place'. A 'place', and here I use Michel de Certeau's terminology in The Practice of Everyday Life, is a practical place, a concrete world that is experienced, gone through, is always changing and possesses something unpredictable. A Lebenswelt—not an area seen from above like a drone. Not an abstract space formulated geometrically.
This is why, as I said above, it always escapes. It is playing, it is joking, it is transgression, it is life. Benyamin Sueb's song that starts out calling us to watch the ondel-ondel, ends with a story about the hand of a tease sticking a cigarette butt on the head of the ondel-ondel kid, setting its hair on fire:
Anak ondel-ondel jijikrakan — krakkkk
Kepale nyale berkobaran — bullllllll
Yang ngarak pada kebingungan — ngunggg
Disiramin air comberan — byurrrrrrr....
The ondel-ondel kid jumps around — juuuump
His hair is on fire — fizzzzzz
His friends don't know what to do — whaaaat? ­
They pour ditch water on his head — whooosh