Taman Mini
Taman Mini reflects the view that life is only the status quo—as though in every phenomena, every difference, there is only the everlasting.
Edition : Monday, April 19, 2021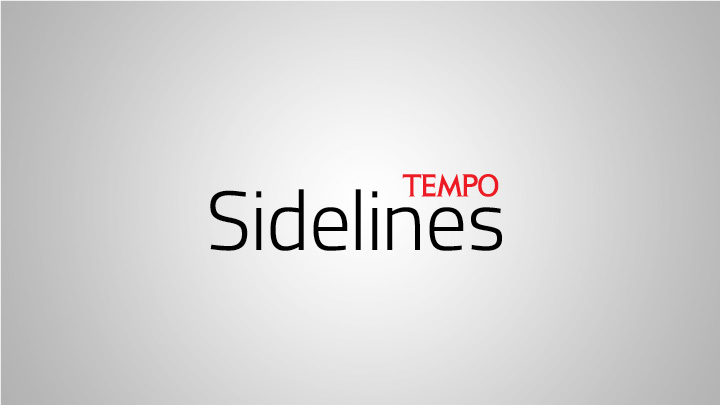 I HAVE never been to the Beautiful Indonesia in Miniature Park, known as Taman Mini. Let me correct that. In my entire life, I have been there only once, at night, to attend a wedding reception. I finally saw a part of Taman Mini up close. That was in 2016, almost two decades after the collapse of the New Order.
In 1971 when the 'park' was built, I vowed never to go there as long as the New Order was in power…
Taman Mini's construction had been accompanied by protest—a series of protests that were stopped with violence. Students and some other citizens felt that this ambitious plan was a huge waste of national funds (Rp10.5 billion in the early 1970s) for something that had no clear benefit to people in far-flung areas, yet had to be built because it was the president's wife's idea, and therefore could not be refused. The protests were brutally shut down. Forces semi-covertly attacked students who joined in opposition. Some were hacked, some were shot, and some were arrested, including Arief Budiman.
The protests failed. Taman Mini's construction proceeded smoothly.
W251bGwsIjIwMjEtMDUtMTMgMjA6MDc6MjIiXQ
True, since then the park has provided pleasure to millions of people. But I still did not want to go there. I could not help but see it as monumental kitsch. Kitsch: something with pretensions to be 'classical' but is in fact the product of bad taste.
At Taman Mini, this product of 'culture' is bad indeed: that night, as I left the wedding reception I went over to the 'Central Java' pavilion. I saw a replica of Borobudur: awkward and cramped in a narrow yard—an unnecessary affix. The whole construction was striving to look exotic, being super Javanese, but felt shrunken and false. Meanwhile, a gateway like the one at Fairytale Palace in Disneyland had been constructed in bright orange. Kitsch of the world unite. And like other products of bad taste—television soap operas for instance—it can please many people, but is basically empty glitz.
Kitsch, yes, also a cliché. The concept behind the construction of Taman Mini was repetition of frozen diversity. It was a continuation of the way Dutch rulers viewed the diversity of the 'Dutch East Indies'. With the colonial gaze, with the desire to dominate effectively, the population of the archipelago was arranged into stable ethnic unities.
There was the divide et impera impulse in that construction. But it was also part of the rationalism of bureaucracy. To govern is to control, and to control is to create 'manageable' objects. Rulers make categories, taxonomies, 'classifications' from existing differences. In classification there is abstraction. In abstraction, diversity or concrete 'difference' is turned into neat packaging—with no conflict or hybridity, without mutation.
And we perpetuated the old cliché that Indonesia is a nation made up of 'ethnicities'. But I do not know (and probably you also do not know) when this understanding of 'ethnicity' began, how an 'ethnicity' is formed, what the word means, where an 'ethnicity' gets it name from, and from whom.
I was most impressed by the research by Daniel Perret from the École française d'Extrême-Orient which has been published in book form in Indonesian translation as Kolonialisme dan Etnisitas: Batak dan Melayu di Sumatra Timur Laut (Colonialism and Ethnicity: Batak and Malay in Northeast Sumatra) (Jakarta 2010).
Perret discusses the term 'Batak'. In the 18th century, British officials and authors referred to 'Batak' as a 'nation'. A century later the Dutch term used was 'volk'. But even this concept was considered inadequate to encapsulate the reality of plurality; so the plural word 'volken' came about. The words 'the Karo people' also did not reflect the plurality in the field: behind this more or less coherent unit was "concealed a diversity of ethnicities coming from various areas." So 'Batak' ethnicity was actually 'Batak ethnicities'. It was even debated whether the 'Batak religion' was one.
As Perret shows, this is probably why the term 'Batak' does not exist in pre-colonial literature. The Pustaha Kembaren and Pustaha Ginting which were published in the late 1920s did not mention the word 'Batak' or 'Karo'. Only the names of marga (clans) are mentioned. In Toba and Simalungun texts, the word 'Batak' is not found. An anthropologist who visited the Lake Toba highlands in the early 20th century noted that all the people in 'Batak Lands' always "referred to themselves according to the name of their tribal designation." The term 'Batak' was used to mean everyone from other 'tribes', without exception.
But now we forget this. We want things to be simple. The administration of territory, the mass media and the census ignore the complexities of identity. People want things to be practical. So the meaning of 'Batak' became simplified, synonymous with 'not-Malay', 'not-Acehnese'… and so on. Perret, in deconstructing this, shows identity as process; its meaning always demands deferral. There is no definition that operates eternally, there is no basic 'Batak' character, or 'Aceh' or 'Java'… We only ever understand 'Batak' in différance.
But Taman Mini does not understand this. Differences are symbolized with something fixed: houses. According to the wishes of the people who built the park, identities had to be clear. If necessary by ignoring others: the joglo style house represents Central Java, while ignoring Kudus houses; the gadang-stye Minangkabau house makes us forget there is Mentawai in West Sumatra. Taman Mini reflects the view that life is only the status quo—as though in every phenomena, every difference, there is only the everlasting.
But we know that the status quo is just false stability. Times change. The 'New Order' collapsed. Taman Mini became banal. Even though kitsch and cliché go on, and we—following our own individual bad tastes—still see national diversity fixed like the pavilions at Taman Mini.