Amazement In Anaheim
History was made in Anaheim, California. Indonesia has reclaimed the World Badminton Championship title for mixed doubles.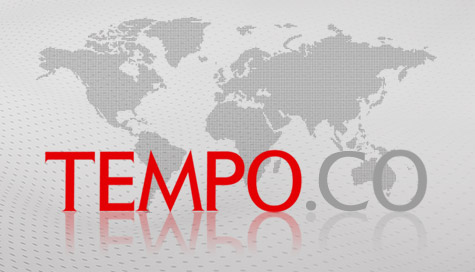 THE sound of strained shouts was often heard coming out of the house. The attention of its inhabitants, a husband-and-wife couple and their daughter, was transfixed on the television screen. Their faces were tense. The name of God was mentioned repeatedly.
A moment later all three fell silent. Only the sound of the television was heard. Then, suddenly they all shouted in unison. The wife jumped for joy. The husband punched his fists in the air. His face was elated. Their daughter followed suit, caught up in the emotion of the moment.
This was the scene at the family home of Lilyana Natsir in the city of Manado, on Sunday two weeks ago. The enraptured were Lilyanas father, mother and older sister. The three were watching Lilyana compete in the final mixed doubles match for the World Badminton Championships in Anaheim, California, United States. They were in high spirits after the mixed doubles team of Nova Widianto and Lilyana defeated the Chinese pair of Xie Zhongbo and Zhang Yawen, by a score of 13-15, 15-8, 15-2. Neighbors started arriving. Relatives called to say congratulations, said Olly Maramis, Lilyanas mother.
The mood was different at Nova Widiantos family home in Klaten, Central Java. His father, Santoso, could not sit still while watching the final match. Neither could Novas younger brother, Jarot Pamungkas. In fact, Anik Triyatni, his older brother, could not watch Nova play for very long. He was afraid that Nova would lose, so he only watched a few minutes at a time, said Santoso.
In addition to becoming the champions for mixed doubles, Nova and Lilyana made history. After Christian Hadinata and Imelda Wiguna won the world championship for mixed doubles in Jakarta in 1980, it was as if no Indonesian pair could match their achievement. But now Nova and Lilyana have proven their ability to repeat what their seniors accomplished 25 years ago.
In California, Taufik Hidayats performance was also a source of pride. This winner of an Olympic gold medal was able to defeat Lin Dan from China in the mens final. He holds the titles of Olympic and World Champion.
The pair of Candra Wijaya and Sigit Budiarto were able to come away with a silver medal in the competition. They were defeated by the American pair of Tony Gunawan-Howard Bach. Tony was an Indonesian athlete before he moved to America. This is the first time a former Indonesian athlete has won a championship title for another country.
Nova and Lilyana were able to make this spectacular achievement despite only having less than a year to work together. Nova had been paired with Vita Marissa. Vitas hand was injured after competing in the 2004 Athens Olympics and had to take a year off. It would be unfortunate if Nova also had to take a break, said Richard Mainaky, the mixed doubles coach.
Lilyana, who at that time played womens doubles with Eny Erlangga, attracted Richards attention. Even though Lilyanas age and experience are less than Vitas, it was felt that this girl born on September 9, 1985 could complement Novas game.
Making their debut in the 2004 China Open, the duo of Nova-Lilyana made a splash by making the semifinals. In fact, in the 2004 Singapore Open, the pair took the championship title. Opponents became increasingly aware of their capability. In each competition they played in, they would always make it to the final eight or semifinals. It comes as no surprise that the International Badminton Federation (IBF) ranks them fourth in the world.
It was as if the door to the championship had opened wide when Nova and Lilyana first arrived at the Anaheim World Championship. In the first round, they were given a bye. Moreover, a strong contender from China, the pair of Zhang Jun-Gao Ling, who were the champions of the Sydney and Athens Olympics, had not made it into the final eight.
In the next round, Nova and Lilyana had no difficulty facing teams from Slovenia, Denmark, and Sweden. Their first close match was in the semifinal round against Sudket-Saralee from Thailand. After winning the first set, the Indonesian pair gave up the second set by a score of 3-15. Fortunately, in the third set, Nova-Lilyana were able to recoup their game and win the match with a score of 15-10.
Nova comes from a family of badminton enthusiasts. According to Santoso, all of his children are talented badminton players. However, he did not want all of them to take up the sport at a professional level. If all of them became athletes, us parents would get lonely at home, he said.
Born on November 10, 1977, Nova was toting a badminton racket at the age of 9. This second of three siblings joined the Kusuma Klaten badminton club when he was in the third grade. After finishing elementary school, he moved to Jakarta to join the Mandala Tangkas club (now Tangkas Bogasari). From this club, Nova was placed in the badminton national training center (Pelatnas) in Cipayung, Jakarta.
Lilyana started playing badminton when she was a small child. She started her career during the Sports and Arts Week (Porseni) in Manado, when she was in the fourth grade. After walking away with her first championship title in the Porseni, this youngest daughter of Beno Natsir then joined the PB Pisok Manado badminton club. She moved to Jakarta in 1997 and joined the Tangkas Bogasari club, until finally going to the Cipayung Pelatnas.
For the first three months in Jakarta, she would cry every night, because she said she missed her mother, said Kalista, Lilyanas only sibling. Only Lilyanas determination to become a professional badminton player kept her going. In fact, she did not continue her junior-high school education because she wanted to concentrate fully on badminton.
Christian Hadinata praised the success of Nova-Lilyana to reclaim the championship title for mixed doubles. Nova and Lilyanas game is better than mine used to be. Moreover, the level of competition in mixed doubles these days is much higher than it was then, he said.
Novas father is proud of his sons achievement, as he has raised the name of his country and people. However, Santoso is worried about his sons future. Many veteran athletes live a life of limited means because they do not have a fixed income. Looking for other work will not be easy. Even though they have performed a service for their people, an athletes future is still dismal, he said.
Suseno
---
Between Two Powerhouses
IN the World Badminton Championships in Jakarta in 1980, the Indonesian team almost made a clean sweep of the gold medals. At that time, Rudy Hartono was the mens singles champion, and Verawaty was the womens singles champion. Even in the doubles competition, Indonesia was victorious. The mens doubles pair of Ade Chandra-Christian Hadinata won the gold, as did the mixed doubles pair of Christian Hadinata-Imelda Wiguna. The womens doubles championship slipped through the fingers of Imelda Wiguno-Verawaty. In the final, they were defeated by the British pair of Nora Perry-Jane Webster.
Ever since, the performance of Indonesian mixed doubles teams has steadily declined. The only mixed doubles team to make a good showing was the pair of Eddy Hartono-Verawaty Fajrin. In the world championship in Jakarta in 1989, they were able to make it to the final round, but were unable to defeat the Korean pair of Park Joo Bong-Chung Myung Hee.
In mixed doubles, Indonesia has mainly been defeated by the two badminton powerhouses, Korea and China. Here are the winners of the world championships for mixed doubles for the past 10 years:
Lausanne, Switzerland, 1995Thomas Lund-Marlene Thomsen (Denmark)
Glasgow, Scotland, 1997 Liu Yong-Ge Fei (China)
Copenhagen, Denmark, 1999 Kim Dong Moon-Ra Kyung Min (Korea)
Seville, Spain, 2001 Zhang Jun-Gao Ling (China)
Birmingham, England, 2003 Kim Dong Moon-Ra Kyung Min (Korea)
Anaheim, California (US), 2005Nova Widianto-Liyana Nastir (Indonesia)
Suseno (from various sources)