Bra Straps, Batik, and Gucci
Aiko Urfia Rakhmi held a photo exhibition about laundry hung out to dry: a simple idea rich in possibilities, once the technical skills were achieved.
Edition : 26 January 2010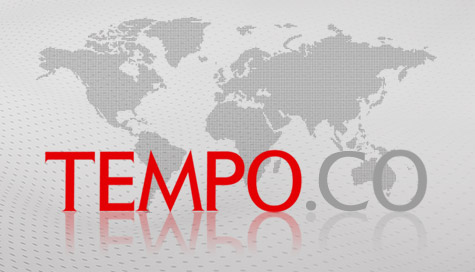 A BRA strap, batik cloth, a Gucci towel, a kapok mattress, underpants and a sarong. Laundry hanging out to dry under the rays of the sun is something that happens every day in a tropical country. It's a daily activity, like other basic human needs such as going to the bathroom, eating, and trying to make a living. But why only now has someone thought of drying laundry as an interesting object?
This someone is photographer Aiko Urfia Rakhmi, student of the Photography Department of Jakarta Arts Institute who has captured this daily activity of people in the tropics and successfully held her first solo exhibition at two locations: Japan Foundation and Antara Photo-journalism Gallery, last December and January 2010. Some 35 photos are exhibited showing laundry-specific installations in various places.
People who visited the exhibition titled, Maling Jemuran (The Laundry Thief) were taken aback. Choosing drying laundry as a theme is an ingenious idea. The level of difficulty is low, because usually people have no problem with their laundry being photographed; hunting for good shots must be done in the morning hours (the best time for drying as there's an abundance of sunlight; another benefit when taking photos) and like a snowflake, throughout the world there will never be two that are exactly the same.
"I believe that laundry is an innocent and honest art installation. Through the signs it gives, it engages in a kind of dialectic," Aiko wrote in her exhibition introduction. Aiko funded the exhibition herself, including her travels in search of laundry. The catalogue costs Rp5,000. A beautiful book with the same title as the exhibition containing the photographic work digitally copied and printed in only 100 copies costs Rp750,000, and bookmarks are available at Rp2,000.
l l l
WHO is Aiko? This young woman was born in Tokyo in 1977 and spent the first four years of her life in Japan. She lived from early childhood through high school in Jakarta. Then she went to college at the Jakarta Arts Institute (IKJ). Before completing one semester, Aiko went to Adelaide to study at Tafe South Australia, in the interactive multimedia department. After graduating, Aiko returned to Jakarta and studied animation at the Digital Studio College for 16 months. Now Aiko is back at IKJ completing her bachelor's degree.
Aiko says that since she was little, she had a talent for drawing and she loved visual arts from an early age. In junior high school at Al-Azhar, she studied photography as an extracurricular activity with Fendy Siregar, a lecturer from IKJ. Since then, she has considered Fendy her guru and inspiration, although they didn't meet for a long period. Fendy is the one who urged her to exhibit her work and to choose a special theme.
Choosing laundry as a theme, says Aiko, happened unconsciously. "Eh, isn't it embarrassing? Old underpants, bra sizes showing everywhere, holey undershirts," she said. But then she realized, for all groups of people, all ages, races, and genders it's a basic need. "Starting from underwear to outerwear, bed sheets, pillows and mattresses, sofas, dolls, batik sarongs, clothes for praying, baby diapers, shoes and socks, and everything that people wear and get sweaty must be washed clean so they become free of dirt and smells," she wrote.
So for two years, she hunted for laundry hanging out to dry traveling to Palembang, Bangka and Belitung, Bandung, Cirebon, Kampung Naga, Baduy, Pekalongan, Yogyakarta, Madura and Bali. All of this was done in between her work as a graphic designer for a private television station, a job she left as of this January.
Take a look at the 35 works. Aiko succeeds in putting the drying laundry in a context, like laundry drying against the wall of an ancient site in Cirebon, laundry with the sign Toko Obat Simson (Simson's Drug Store) in Palembang, and laundry on top of a cart carrying kerosene. Aiko has also successfully captured the activities of those washing and drying their clothes. Aiko has added captions, so that each picture seems to have its own sense of irony and humor. Like Yang Hidup dan Yang Mati (The Living and the Dead), a picture of laundry drying in a cemetery, and Jemuran dan Salib (Laundry and a Cross), a photo of a clothesline pole, which from a certain angle does resemble one.
According to the curator, Oscar Motuloh, Aiko's strength is actually in her simplicity. A simple theme can be taken when basic techniques have been mastered. Aiko, in his opinion, has gone beyond the basics of composition, lighting, speed, color and harmony. "Look at the rays of light she's produced in several pictures. We can see a photographer patiently waiting for the right light. She is serious and hardworking," says Oscar.
From her pictures it's obvious that Aiko had a hard time gaining access to the laundry of the upper classes. There are no scenes of laundry in the settings of fancy houses, apartments, palaces or elite hotels. "The laundry of the rich isn't interesting. They are embarrassed, so their laundry is hidden away," said Aiko.
However, Oscar considers this to just be an excuse. According to Oscar, the big test will be if Aiko can continue creatively with this laundry theme, like another episode in a series on laundry. "She can move towards the people, the bodies of the owners of the clothing, the family that owns the laundry. Maybe children, factory workers, or one village's drying laundry. So laundry that is always moving, just like life," he said.
We don't know whether Aiko will take on this test to continue with laundry, which would certainly require that she delve even deeper into the idea so that the element of surprise—which she has successfully shown this time—is not lost. But it's amusing, although thoroughly enjoyable, if we imagine Aiko traveling through the country, taking trains, boats and even horse carts: her eyes exploring the landscape, her hand unconsciously turning the lens of the camera. And her eyes will suddenly open wide when she finds her target: laundry spread out to dry. If she visits the front of the house, she will spy into the backyard. As she says her greetings at the front gate, she will crane her neck to see the laundry stretched out at the side of the house.
Aiko should also visit a prison, when the women inmates neatly hang their laundry in lines in their cells. Aha! Aiko will shout in her mind: There's laundry hanging out to dry! Bra straps, batik cloth, Gucci towels, I love laundry!
Kurie Suditomo