A Hell of a Zoo
The last remaining giraffe in the Surabaya Zoo died, with 20 kilograms of plastic trash found in its stomach. Foul play is suspected.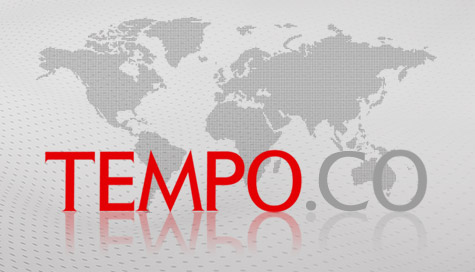 Kliwon did not die without a fight. The blood flowing in the veins of this male giraffe displayed the power of the African grasslands, where every day, beasts fight to survive. Going by his animal instincts, Kliwon attempted to stand upright during his final hours. This was after all, one way how giraffes attempt to fight off death in the African Savannah. Like other female giraffes, Kliwon's mother gave birth to him standing up. The giraffe would not just groom a newborn and teach it to stand up, it will stand over her calf and kick at predators.
On that particular Thursday, Kliwon no longer had the power to fight his unknown predator. He buckled under the weight of what was killing him. Last February, the giraffe finally collapsed, and died.
Had he been in his natural habitat, his life would have been short. Lions, hyenas and tigers are known to hunt giraffes. Predators have the ability to sniff out their prey. If they had smelled him out, he wouldn't have dared to fight them - he knew that would have made for a slow and painful death.
However, things are different at the Surabaya Zoo - any natural predator in question were locked up behind bars. And Kliwon's death was prolonged to the point of torture. One Thursday morning, around 7.45 am, Kliwon died after a 15-hour painful ordeal. The doctor failed to save the last remaining giraffe at the zoo, having nursed and fed him with bottles of liquid infused with RLD5, several doses of antibiotics and various vitamins.
During the prolonged ordeal, there were signs of hope. There were moments when Kliwon fought to be fed, and wanted to stand upright. "It seemed for a while, that the shine was back in his eyes," said 39-year-old veterinarian Rahmad Suharta, to Tempo. Rahmad said he was beside himself when Kliwon died. But that was not the last straw for the Gadjah Mada University graduate.
A postmortem autopsy was conducted on Kliwon, the night following his death. "We found 20 kilograms of plastic trash, smeared with food," he said. "It was all clumped up together and had blackened and yellowed in color," Rahmad said.
The death of Kliwon, which had come about after it had ingested kilograms of plastic smeared with food, became an international tragedy. Its death was reported worldwide by Reuters, The Associated Press, and UK's The Guardian, which reported that the Surabaya Zoo was a dangerous place for animals. Animal rights groups from overseas also enquired about Kliwon's death through faxed messages. "There was also a letter from the World Conservation Organization in Switzerland," said Hadi Prasetyo, who heads the caretaker team at the Surabaya Zoo.
The Wild Animals Conservation Forum (Foksi) in East Java claimed that Kliwon was a victim of infighting between those fighting for full control of the zoo's management. It is understood that the central government is aware of the horrendous conditions at the zoo, and believed it was a result of the Surabaya administration's refusal to appoint a professional management team.
The infighting has plagued the zoo since the 1980's, going back to when it boasted of having the most impressive collection of animals in Southeast Asia. Today, the zoo once known as Kebon Binatang Surabaya (Surabaya Zoo) is read as Kuburan Binatang Surabaya, or the Surabaya Animal Cemetery.
"All this fighting has resulted in the deaths of thousands of animals over the past five years," said Indra Harsaputra, the manager of the Foksi Program in East Java, a day after Kliwon died.
Hadi concedes that there have been a few deaths at the zoo and in his view, he understands why this has aroused suspicions. "There have been times when animals have died randomly overnight," said the Assistant of the Department of Economics and Development for the East Java Province. "Then the morning after, journalists are already at the scene because somehow they found out about the deaths."
He suspects these wild animals were intentionally being killed to tarnish the image of the caretaker team, which the previous management wanted to overthrow. The zoo's new team is a task force implemented by the Surabaya administration along with the Forestry Ministry two years ago. Their job is to clear up the conflict in KBS and to prepare the zoo to eventually be run by the Surabaya administration.
According to Hadi, the zoo can be a money-making machine. At the moment the zoo scoops up as much as Rp200-300 million from ticket sales and entertainment per year, even after covering costs for animal protection, upkeep of stables and their employees wages, which comes to about Rp 1 billion. What Hadi failed to explain was that the Forestry Ministry had become tired of the internal spats at the zoo and therefore chose to throw out the management and bring in a caretaker team. The city then reneged on an agreement with the ministry to appoint a third-party team of professionals to manage the zoo.
Instead, they wanted to set up a municipally-owned board or BUMN, to manage it. The Forestry Ministry then suggested that local officials be included in the caretaker team so that they could learn from ministry officers. But the Surabaya administration refused to follow up on that request.
"At the moment, the BUMD management of the KBS is still being deliberated by the Surabaya administration and the local legislature," said Hadi. What is not clear is when the debate will end.
This fact worries Indra. "More of the zoo's animals will die."
Tempo has discovered Indra's fears are very real. The zoo was found to be not just a place for conflict over zoo management, but a literal battle zone, between humans and animals. You don't need to be a camel in that zoo, which by the way has fallen a victim to this battle, to realize this.
An average camel spends its life in hot climate with a little bit of rain every now and then. The zoo's duty should be to prepare a stable to fit the animal's habitat. A worker at the zoo has instead modified the camel's shelter for his own selfish needs. Hadi confirmed this: "He [the worker in question] houses his second wife there."
The stable is in the process of being returned back to its original use, when Tempo visited the center last month. A bed was being moved out by four workers from the stable, which resembled a prayer hall with a white dome on top of it.
Another stable had also been taken over by street vendors and their stalls. According to Hadi, these food vendors could not be removed easily. "Most of these food stalls are owned by the zoo's workers" he said. "We tried moving them out, but the next day, we found an animal had died."
Last January, a wild boar was found dead, with cyanide was found in its stomach. "This case has already been reported to the police," said Hadi. Cyanide is normally used to kill rats. There is the possibility that the boar was fed with cyanide-laced food or drink. Going with this line of thought, the wads of plastic trash found in Kliwon's stomach, could have been laced with sweet food just like the boar could have consumed cyanide-laced food or drink.
Tempo visited the stable of Riko, a giraffe at Rangunan Zoo, Jakarta. "Riko doesn't eat plastic. Giraffe's don't eat plastic," said Riko's zookeeper, Iwan. "But plastic can accidentally be eaten if it's mixed with their food," he added.
The plastic found in Kliwon's stomach could also be small fibers of raffia knots that resembles grass. The giraffe then wouldn't have known it was plastic until he chewed and swallowed it. The plastic is believed to have remained in Kliwon's stomach for years. There are other reasons that also support this hypothesis.
According to Rahmad, the corpse of Kliwon's partner, who died in 2000, was also packed with plastic trash. "At that time, I had just joined the team," he said.
But Iwan is hesitant to presume that plastic was given to Kliwon deliberately. "How can a zookeeper kill the giraffe he has brought up and cared for so many years?" he asked.
The plastic might have come from other sources like food wrappers, blown by the wind and ending up in near a possibly hungry Kliwon. As the plastic still smells of food, Kliwon may have just eaten it. "I have seen him eat from the ground," said Hadi.
The giraffe's long neck is clearly not long enough to eat food from the ground. For a giraffe to eat that low it has to do the following: open its front legs wide, drop the neck and lift one of its back feet up in order to stay balanced. Doing this is quite difficult for a giraffe.
The plastic may have come from visitors who gave him food wrapped in plastic. "Kliwon's visitors can be generous and provide him with all types of food," said Hadi. Whatever the cause, according to Iwan, the plastic may have not been intended to kill the giraffe. "Even after its meal, it will keep eating and eating if it can."
For the giraffe, being smart with food is not that significant. Giraffes in Indonesian zoos are known to eat grass, carrots, tomatoes and bananas. Vegetables and fruit per kilogram are not expensive. The problem is, giraffes eat up all their food quickly, and constantly want more. "They eat around fifty kilograms per day," said Iwan. That means, with 20 kilograms of plastic in the stomach, Kliwon had already satisfied half the normal portion.
Hadi has no idea where this sort of diet may have come from. However, he said, Kliwon's death might not be a result from having plastic in the stomach.
At the moment there are around 60 animals from a number of species at this zoo who are waiting to die - because of sickness or old age. One of them is a female deer. Her body looks pregnant, but she is not. "I don't know what's in her."
Yosep Suprayogi, Budi Riza, Fatkhurrohman Taufiq, Anton William
---
Oh, Kliwon
The wads of plastic trash packing half of its stomach were not the only source of Kliwon's pain. Medical records show that the animal suffered from various health problems - from pneumonia, hepatitis, to enteritis. "This contributed 50 percent to its cause of death," said Hadi Prasetyo, who heads the Surabaya Zoo caretaker team. The following are the autopsy results of Kliwon, who died on March 1:
Body length: 4,6 meters
Front legs length: 3,10 meters
Hind legs length: 2,6 meters
Neck length: 1,9 meters
Chest circumference: 2,5 meters
Abdominal circumference: 2,1 meters
Tail length: 0,9 meters

Lungs

Supplies oxygen throughout the body. On average, a giraffe's lungs hold 55 liters of air.

Findings: The lungs have turned pale, with tubercles filled with purulence fluid. Some of the fluids have hardened.

Liver

Polygonal in shape, the liver produces blood and filters toxic substances in the body.

Findings: Burrows from a worm infection have caused deformation to the liver. This organ is still being studied at the Animal Hospital of Airlangga University in Surabaya.

Stomach

The place where food is chemically digested. Adult giraffes have an average stomach capacity of 50 kilograms.

Findings: A 20-kilogram (wet weight) wad of plastic trash mixed with food is found.

Intestines

This organ absorbs nutrients from food.

Findings: Numerous worms were found in the appendix.

Last Day on Earth
Since the middle of last year, the Surabaya Zoo caretaker management had included Kliwon in its list of animals that required special care due to its decreased appetite. On March 1, a Thursday, Kliwon was found lying on the ground, and died fifteen hours later. This is the chronology of his final hours:
07.45-08.10 am: Kliwon received RLD5 intravenous fluid for animals. It responded by secreting feces, which shows that the fluid had a positive effect.
08.10-08.59: Doctors mixed bone-strengthening medicines, as well as various vitamins in its fourth, fifth, and sixth doses of intravenous fluid.
08.59-09.05: Zoo officials helped Kliwon to stand up, but the attempt was unsuccessful because the giraffe's hind legs were too weak.
09.05-09.45: The seventh and eighth doses of intravenous liquid were administered along with vitamins, medicines and antibiotics.
09.45-10.45: Zoo officials repeated their efforts to help Kliwon stand on its feet, but its hind legs were still shaky. Kliwon could only sit on the ground. To lure the animal into standing upright, a number of its favorite foods, including vegetables, leaves, bananas, and papayas were hung in front of it. Kliwon attempted to reach the food, but it was unable to stand.
10.45-11.45: The ninth, tenth, and eleventh doses of intravenous liquid were administered along with the same medicine and vitamins. Kliwon's body received cold compresses and was covered up to shield the animal from the heat of the sun.
11.45-12.00: Again, Kliwon was urged to stand up, only to fail once more. Officials offered water, but the giraffe refused to drink.
12.00-15.00: A pulley wheel and rope were prepared to help Kliwon stand up.
15.00-16.30: The mechanical device turned out to be unable to handle Kliwon's body weight. As the pulley collapsed, Kliwon's neck was struck against the supporting column. Another dose of intravenous liquid was administered.
16.30-20.30: Kliwon sat down while receiving intravenous liquid. The giraffe was spoon-fed by the zoo officials. Its eyes began to brighten.
20.30-20-55: Kliwon attempted to stand up on its own, but he fell to the ground once again. At 20.55, Kliwon was declared dead by the doctors.
---
No Place for Animals
The Surabaya Zoo (KBS) at one time boasted the largest and the most impressive collection of animals in Southeast Asia. Spanning across 15 hectares, four hectares of it is reserved for parking space and building structures. The remainder is reserved for animal conservation. With its location smack in the middle of the city, the Surabaya Zoo is considered a favorite for locals during weekends. Years of infighting and mysterious deaths of animals - in the thousands - however plagues this zoo.
1916 - KBS was established under the name Soerabaiasche Planten-en Dierentuin [Surabaya Plants and Zoo] (H.F.K. Kommer). The founders and executives were animal lovers and donors.
1920 - The KBS site was designated at Wonokromo, thanks to the good offices of the (OJS) Railway Company
1970 - KBS boasted the best and the most complete collection of animals in Southeast Asia.
1981 - Conflicts within the organization began. Stany Soebakir was then elected as executive chairman.
1996 - There was a desire to relocate KBS to Jurang Kuping, West Surabaya.
1997 - Stany Soebakir resigned and was replaced by Moh. Said who was plenary chairman concurrently executive chairman.
In time, Moh Said was replaced by Kamilo Kalim as plenary chairman and I Komang as executive chairman. Then these two for a variety of reasons were forced to deal with the law.
2001 - Moh. Said came up with an idea to hand over these land assets to the Surabaya administration.
2001 - The animal organization granted the KBS site to the mayoralty.
2001 - The KBS site documents became the property of the local administration.
2003 - Stany Soebakir again took over the management through an extraordinary general members meeting.
July 18, 2009 An extraordinary general members meeting is again held and Basuki Rekso Wibowo is elected executive director.
February 15, 2010 - Stany Soebakir appointed R. Sadewo as chairman of board of patrons and Ki Soejatmiko as chairman of executive board.
Ever since then, the conflict led to physical violence and there were attempts to seize control of KBS by mobilizing thugs.
February 12, 2012 A second caretakers team is formed with Hadi Prasetyo as chairman and Tony Sumampou appointed as executive director. The management of this second team will work until the Surabaya administration sets up a regional-owned body to handle the KBS management.
March 2012 A total of 15 animals die.

Budi Riza, Fatkhurrohman Taufiq
(source: Sri Pentawati, Surabaya Zoo Curator Official; Anthan Warsito, Surabaya Zoo Spokesperson; Various Other Sources)