Jungle Thriller
Knives, alarm clocks, a bloodbath and Rio Dewanto appear in Joko Anwars latest psychological thriller set in the middle of a jungle.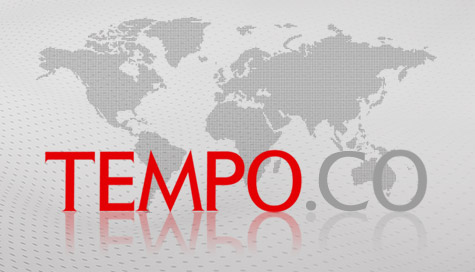 MODUS ANOMALI
Director and Screenwriter: Joko Anwar
Cast: Rio Dewanto, Hannah Alrashid, Surya Saputra, Marsha Timothy, Izzy Isman, Aridh Tritama, Jose Gamo, Sadha Triyudha Producer: Lifelike Pictures
Joko Anwar is a unique name in the new Indonesian Cinema menagerie (a group of movie enthusiasts making films after 1998). After Garin Nugroho in the early 90s, filmmakers such as Nan Achnas, Riri Riza, Nia Dinata, Rudi Soejarwo, and later followed by Hanung Bramantyo and Joko Anwar, surfacedeach with a fingerprint and style familiar to their audiences. Jokos distinct fingerprint: thrillers and terror.
Modus Anomali opens with a scene in a jungle, with sunlight streaming through hundreds of pine trees. Dewdrops bobbing on green leaveshome to praying mantis, salamanders and spidersseem to communicate a calm atmosphere, but only for a few seconds. Suddenly, a hand emerges from beneath the ground. The hand owners soiled body and head surface from the dirt mound, following a laborious effort. The man (played by Rio Dewanto) was buried alive. And unfortunately, he has forgotten his name, and knows nothing about the jungle where he has found himself buried.
Joko continues to build on this puzzle and to direct us through a number of clues. He hints to coax the audience into arriving at their own conclusions. The man finds a hut with a TV set airing a taped footage of his wife and children; he discovers scattered corpses surrounded by blood, knives, and daggers. In his search for his family and his identity, the man finds himself more than once the target of arrows. Injured and near broken, he keeps roaming around the jungle to discover the truth about himself. Until the end of the second scene, we are left clueless about what exactly this man is up against. All we know is that while the ill-fated mans being is overcome with bewilderment and fear, audiences learn that this jungle is no ordinary one, and looks more and more like hell.
The film, which relies heavily on suspense and story-telling, creates a feeling of discomfort not unlike Funny Games (Michael Hanneke, 1997 and 2007, Austrian and Hollywood versions) and The Game (David Fincher, 1997). There are elements of manipulation, the desire for masterminding each scene and the passion for control, and the most horrific: the torture and killing.
But Joko does not want to lay the story bare open, as the case was in Funny Games, which determines its black and white characters right from the beginning. In Modus Anomali, for the most part we are left with our own guesswork, without knowing who is evil and who the victims are. The black and whites are only divulged in the final scene. The clues and signs purposely placed in several parts may help us fit the pieces together, but in many instances even these are misleading.
The problem is how far can the audience patiently sit through, guess and gather all the pieces of the puzzle placed in Jokos film. Despite its duration of only 87 minutes, presenting a picture that relies on one actor, however attractive he may be, is a tough challenge (to the director, actor, and the audiences). With the camera (Gunnar Nimpuno) constantly following the man running in fright, out of breath, confused over his own identity, and then falling on his back yet once again, Joko deliberately places the audience in the middle of the jungle (with the help of an exceptional musical score), to make them feel the pain that Rio Dewantos character is feeling, and to also make them endure his suffering. The repetition and lengthy scenes can be exhausting, even when we realize that all of this has been taken into consideration by the director.
The third scene is when Joko strikes with his axe of terror. This actas the song Bogor Biru (Blue Bogor) by Sore group resonatesis the moment when Joko seems to worsen the wounds. It is at this moment when all the pieces are starting to fit in harmonywhen the lead character, Rio Dewanto, as well as the supporting cast, appear as clearly situated figures, when light is finally shed upon the obscurity. And we get even more frightened. Without Joko showing flashbacks, we are able to duly fit all the codes and bits, although unexcitedly. Is it true that Joko is that cruel toward his characters? This is why Joko is a unique filmmaker in Indonesian cinema. He wants no comfort for his audience. Leila S. Chudori

Filming Behind the Trees

The tourist forest of Mount Pancar in Sentul was abruptly turned into magical woodlands, its soaring trees adorned with 25 lanterns. In several directions, director Joko Anwar asked for artificial smoke to create an obscure and darkened atmosphere. That afternoon before sunset, Joko Anwar was preparing scenes for his film, Modus Anomali.

Today is the last shoot, said producer Sheila Timothy. The actors whose scenes were already completed, such as Surya Saputra, were sitting with crew members to join the final day's wrap party. Previously, according to Surya, they had been involved in bloody scenes. Now they were preparing the final scenes with Rio Dewanto as the sole performer.

Joko said the 87-minute film almost entirely consists, exclusively, of Rio Dewanto in this magical land. The other stars are also important, but Rio is the figure filling this film with emotions from the start to the end, said Joko.

It is the fourth widescreen film of Joko after Janji Joni (Joni's Promise, 2005), Kala (Time, 2007), and Pintu Terlarang (Forbidden Doors, 2008). Two of them have been selected as Tempo's Best Films: Janji Joni and Pintu Terlarang. By the standards of Indonesian movie enthusiasts, Joko is an unproductive filmmaker.

It may explain why I can't be rich, he said. Certainly Joko also wrote screenplays for other directors, such as Arisan (Lottery Savings, 2003), Jakarta Undercover (2007), and Fiksi (Fiction, 2008), and produced a musical show, Onrop (2010).

Joko also made commercials and appeared as a cameo in pictures directed by his peers. But film directing is his true passion. For Joko, as is with other maverick filmmakers, it is not easy to find producers who are after the same things as he is. If he fails to meet investors capable of understanding his vision, Joko prefers to delay the birth of his movies, rather than succumb to the market.

This time he collaboratesfor the second time after Pintu Terlarangwith Sheila Timothy from Lifelike Pictures. Sheila says she was interested in working with Joko again because of his original storytelliing approach.

Modus Anomali, according to Joko, began with a program called the Network of Asian Fantastic Films (NAFF) organized by the Puchhon International Fantastic Film Festival. It's a venue for filmmakers, investors, and distributors to interact, said Joko.

Joko wrote the screenplay of Modus Anomali with enthusiasm. It had been on my mind since 2006, he said. It was written in English because the script was entered in the international forum of NAFF. But Joko admitted his decision to use English as a medium was prompted by the story.

I want to manifest the feel of being unknown, he said.

In the forum, the screenplay of Modus Anomali won the Bucheon Award for Most Outstanding Project with a prize of US$10,000 (Rp 92 million) as the starting capital for the film.

But Sheila and I decided to seek local investors to avoid complications.

l l l

Producer Sheila Timothy said the total budget for Modus Anomali, was Rp 4 billion, which is fairly low compared to most films, including her first production, Pintu Terlarang, where the budget had reached Rp 7 billion. With the limited budget, Joko said, I was challenged.

For instance, he asked art designer Wencislaus to hang 25 lanterns in the Mount Pancar forest to replace conventional lighting equipment as part of his funding strategy. But the effect of light from the lanterns hung along the path passed by actor Rio Dewanto was magical. The light shining amid the trees even created a visually artistic view.

Those who have worked with Joko know very well that Joko plans each scene in detail and with accuracy. The fauna, which made an appearance as part of the ecosystem, were thought of in advance. Except for the spiders, which are already widely found in the forest, we brought along all the others from Jakarta: lady bugs, praying mantis and salamanders, he said, laughing.

Joko was overseeing the crew and artistic team digging a hole in the middle of the forest, while from time to time engaging himself in a conversation with Gunnar Nimpuno, the director of photography. Rio, about to put on a blue training suit, was ready to play his character. He's a talented actor, humble and not at all pampered. I love actors who behave properly rather than those acting like celebrities, Joko said of his leading star.

Joko gave directions to Rio while repeatedly making sure the actor's ears and nose were closed to prevent soil from entering while the scene was being shot.

Ready, sound, camera, action.

Rio plunged into the hole and very soon a sack of soil was poured over his body and face. There was no blood, but the cruelty was felt all the same because it looked as if the soil was suffocating a living soul.

Cut!

Crew members hurriedly lifted Rio from the earth fill while laughing, which seemed at odds with the horror scene they were shooting. The take was repeated until Joko felt it was satisfactory.

And finally, the words the crew had been waiting for: It's a wrap! Leila S. Chudori
---
Joko Anwar and Sheila Timothy

LifeLike Pictures founder and co-owner Sheila Timothy and director/screenwriter Joko Anwar spoke with Tempo's Kendisan Kusumaatmadja about Indonesian cinema and their latest film, Modus Anomali. Excerpts:

When did you start thinking, This is what I want to do? And when did you actually make your first film or video?

Joko Anwar: Ever since I was a kid, I would go home after watching a film and write the story of the film in my notebook. I didn't know at the time that films had directors or writers. I only realized this in middle school. I started writing plays for my school. I even adapted a Shakespeare play: The Merchant of Venice. I didn't own a camera until 2007. In college, I made videos with borrowed handycams.

Can you name films you saw in your youth that made a deep impression?

JA: Shaolin vs. Wu-Tang (laughter), a kung fu film, Cobra Attack, Bloody Ring, B movies mostly. I went to see all Jaka Sembung films at the theater.

Sheila Timothy: Marsha (Sheila's sister, actress Marsha Timothy) and I really loved Rano Karno films: Guruku Cantik Sekali (My Teacher is Very Beautiful), Gita Cinta dari SMA (High School Love Song)pretty much all of them. They were very story-driven and fun to watch.

Famous director Stanley Kubrik once complained that his work was often overanalyzed or over-intellectualized. Can you relate to this?

JA: I totally can relate to that (laughing). Here's the thing, I like to place puzzles in my films not to look intelligent, but because as a film buff I enjoy discovering clues or hints that are placed in films as a bonus. At the same time there are elements in my films that I put in to say, Hey, don't take this too seriously.

ST: One of the reviewers analyzed Forbidden Door from a Freudian point of view and we were like, OK, we never thought of that. (laughing) But this is what's fun about both our films. There are so many layers and dimensions to them, and the responses have been very varied. In a way, this is a kind of success.

Modus Anomali was screened at SXSW (South by Southwest Film) Festival. Do you find American viewers to be more or less critical than Indonesian viewers?

JA: They're pretty much the same. Our viewers are just as smart as American viewers, apparently. I didn't expect the Indonesian audience to be as accepting as they are of Modus Anomali, so I'm happy about that.

ST: Modus Anomali is our first film in the Twitter era. And the first review was immediately exposed here in Indonesia. The first viewer to tweet the film was a film buff, not a critic, and he was very disappointed in the film. But on the second day of screening, many critics came and they all loved it.

You once talked about your sadness over intolerance in Indonesia. Do you feel that artists and filmmakers have a responsibility to address this in their work?

JA: An artist has to open people's minds. This doesn't necessarily conflict with my desire to entertain the audience. We can't make movies that please everyone.

ST: I think the perfect artist has to be sensitive to other areas. He/she needs to have political, social dreams. These things make their work richer and sharper.

What about censorship? Do you find that it hampers your creative processes?

JA: So far I haven't had problems with censorship. My films are still there, and when people want to see it, they can go to the festivals to see ituncut.

ST: A little bit, because our main audience is in Indonesia, so we have to consider the vague LSF guidelines of what is appropriate. Since the guidelines are unclear, we kind of have to feel it out. But only a little bit was taken off Modus Anomali, so I guess it worked out.

What are your hopes for Indonesian cinema and its audience?

JA: For the audience, just to keep watching films. I hope for our films to always get watched.

ST: We could use more support from the government for the creative economytax breaks, for example. And more film schools so that there will be more competent human resources available. Creatively speaking, we're not inferior. There are many talented filmmakers, but again, funding is a problem. And this is often reflected in the final product. We need the audience to acknowledge this. And please, don't buy pirated DVDs.

*Modus Anomali received the Bucheon Award at the NAFF (Network of Asian Fantastic Films) event and premiered internationally in March 2012 at the South by Southwest Film Festival in Austin, Texas.