Sri Mulyani Indrawati, Finance Minister:
I want to build trust
SRI Mulyani Indrawati is the hero who came home. President Joko Widodo summoned her back, so she left her very senior position as managing director of the World Bank. Sri was made finance minister, a position she held under the presidency of Susilo Bambang Yudhoyono, during which she was billed as Asia's best finance minister by Emerging Markets magazine in 2006.
"When a head of state asks you to contribute (to the nation) and you feel that personally and professionally, your idealism is in sync (with his) then you just have to do it," said Sri in a special interview with Tempo last week.
Edition : Tuesday, August 23, 2016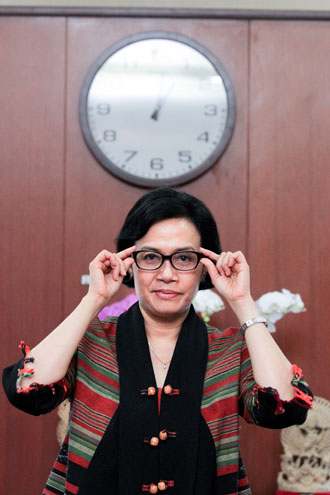 SRI Mulyani Indrawati is the hero who came home. President Joko Widodo summoned her back, so she left her very senior position as managing director of the World Bank. Sri was made finance minister, a position she held under the presidency of Susilo Bambang Yudhoyono, during which she was billed as Asia's best finance minister by Emerging Markets magazine in 2006.
"When a head of state asks you to contribute (to the nation) and you feel that personally and professionally, your idealism is in sync (with his) then you just have to do it," said Sri in a special interview with Tempo last week.
A week into her job, Sri slashed the state budget by Rp133.8 trillion, on top of the Rp50 trillion already cut in April this year. Unproductive allocations, like official travels and office building improvements, were slashed. "I cannot put the brakes on the economy, but I can ensure that the state budget goes a long way," she said.
Sri's hour-long interview with Tempo journalists Arif Zulkifli, Sapto Yunus, Yandhrie Arvian, Martha Warta Silaban, Akbar Tri Kurniawan, Andi Ibnu and Faiz Nashrillah took place at her office in south Jakarta. Excerpts:
W251bGwsIjIwMjEtMDYtMjMgMDg6NTI6NDkiXQ
* * *
What made you decide to come back?
President Joko Widodo asked me to join the government. I thought about it from the perspective of momentum and time, whether I could provide added value. Professionally, I felt I had achieved and contributed significantly at the World Bank, as its managing director under two different chiefs. So, I began asking myself: What's next in my life?
What exactly did you do following the President's request for you to join his cabinet?
I discussed it with my husband and children. My family said, if the added value is found more in Indonesia, why not take the job? I saw that the President pays extraordinary attention to Indonesia, and like the politics of other countries, we need a leader who is able to transform his ideas into action.
What conditions did you ask from the President?
I am an Indonesian citizen, holder of an Indonesian passport. If you were asked by your head of state to contribute something (to the nation) and you feel that personally or professionally and in terms of idealism, you click, you just have to do it. All this time, whenever I thought of work, the main question was whether I would be of any use in that position. It's not about what can you give me, what position will it be or what guarantees you can get. My parents never taught me to ask what I would get in return. You must think whether you are good for it, whether you can achieve something with it, because satisfaction doesn't come from your job title or the perks that go with it. It's about whether or not I can do good for the institution where I work and whether that institution has good intentions.
Reportedly, you were willing if you were free of political intervention.
That's what you think.
That's the information we got...
Please confirm it with your source. Personally, I get a lot of satisfaction in doing something for this republic of ours. I will never feel that I won or that I lost, nor do I feel of being put at a disadvantage or profit by it, so long as I don't betray my intelligence, my dignity and my integrity. I'm the same person, the same Sri Mulyani.
What did President Jokowi ask of you?
My job is to interpret the idea of reforms. I am aware that people regard the finance ministry as the center of corruption, with no credibility and no professionalism. Now, here's a President who wants to run 100 kilometers per hour or, if he could, at the speed of sound. But the economy must be structured and managed with existing policies. It's not about the bureaucracy, but there are institutional and professional changes that need time to adjust to. I have travelled around the world and I have seen how policies are made in developed, poor and emerging countries. In my view, we can do more and faster.
The President wants to run at a fast pace, yet the economy is slowing down which has led to our income being reduced. Is that the reason you slashed the budget?
The problem now is how to restructure the 2016 state budget. When I was first asked to join the government, I requested three days to study the budget with my colleagues at the ministry. I found irregularities and concluded that (if nothing is done) income for 2016 would be reduced by Rp219 trillion. To prevent that, my first instinct was to widen the deficit. But there was no way to dot his, given the existing legislation that placed a 3-percent cap on the deficit. If we don't go into debt, then spending must be reduced. The budget shouldn't be the only instrument because then it becomes destructive. So, it should be widened by using other instruments, like fiscal (policies), business, state-owned enterprises and local governments (policies), so that it's not dependent only on one engine. The cuts are part of an effort to equalize other instruments. The state budget becomes a more credible and sustainable instrument, not just to be referred to for one or two years, or it gets busted.
Is it true the budget was cut because the tax amnesty target failed to reach its target?
I will admit that revenues will not reach Rp219 trillion, because of the amnesty or other sources of income. The tax amnesty will be continued because Indonesia's tax ratio is still low (about 11 percent). I told finance ministers around the world and experts in public finance that if their country only has an 11-percent tax ratio, they wouldn't be able to go anywhere. So broadening the tax base through the tax amnesty is a must. I don't want to let this objective down. I will focus on that, not just for the credibility but also for the sustainability of the state budget, also to achieve two main objectives: reduce poverty and (income) disparity. On the topic of poverty and disparity, we can always provide direct assistance and create quality growth. Both of those objectives must be carried out and the state budget has a role to play in it. I think the tax amnesty as well as tax revenues must be continuously monitored. Let's keep an eye on it until the year's end. We must be ready to take additional steps if the target is not achieved.
A few months ago, Vice President Jusuf Kalla raised the need for a government regulation in lieu of law (Perppu) to enable the deficit to go beyond the 3 percent cap.
First, a few months ago I wasn't here, so I cannot comment on that. But secondly, the 3-percent deficit cap mandated by the Law on State Finances was created by the government and the House of Representatives (DPR) after the economic crisis. At that time, Indonesia's deficit as well as its debt exposure was high, forcing us to take steps which needed to be formalized, to lock fiscal policy commitments. That was done by Europe, yet it was violated and that's why they went through a crisis. So, I believe that at the level of fiscal policy, it's not how much the deficit should be but whether the narrative is credible or not. If you suddenly create a Perppu to raise the 3-percent deficit cap, this would jeopardize the state budget's credibility and that's not good. This is why the budget must be managed credibly, so the numbers can continue to be tested, and we can still maneuver around within that 3 percent. I feel that our role is how to manage state finances according to our mandate, which is how to make it effective, efficient by using all revenue instruments, spending and deficit in order to achieve our national economic objectives. That's all it is.
Won't the cutbacks deter economic growth?
The idea that the state budget pushes economic instruments is very correct, theoretically as well as empirically. This is because the budget is part of the demand aggregate. The more you spend, the higher the demand and the economy grows. But the economy must be managed from the two aspects. If we only see it from the demand side, with increased spending without looking at the offers, yes, growth will be fast. But it will only be temporary, because it will fall again and overheat. So the art in economic management is how to manage growth in a healthy and sustainable way. The state budget is one of the instruments, so if we want to absorb (funding) and considering the 2016 state budget, there is a possibility that the deficit will be 2.5 or 2.6 (percent), or revenue could be even lower, or bigger. The 3-percent deficit is expansive. I have looked at the ministries and institutions, and most of the spending is on items that will not lead to rapid growth or sustainability, like official travels and constructing new buildings. So what I'm doing now is making it efficient. It doesn't mean I'm putting the brakes on the economic engine, but I am ensuring that the state budget will be able to operate for a long time.
So infrastructure projects will keep on going?
Infrastructure (projects) will continue. None of them has been cut back. I spoke to the ministers of public works and agriculture, and they will set the necessary priorities. Say, they have a budget of 100, yet after eight months only 40 has been spent. Would it be possible to spend the remaining 60 in just four months' time? So the question is whether the ministries can spend that much by December. I was finance minister once, so I know the different capacities to spend. And it's not just about spending, but spending it well.
Does the potential Rp219 trillion deficit include the shortfall from the fax amnesty?
Yes. We now have a monthly mechanism, but come December, the frequency can be more often, every two or one week. We will continue to monitor the dynamics.
Was your decision to delay investigation on criminal tax cases aimed at pushing the tax amnesty program? Would that lure more people?
Yes, at least on a case-to-case basis. Tax offices everywhere are reporting that tax payers who were initially to be investigated have now joined the tax amnesty program. I don't have the aggregate numbers but the feedback from the tax offices indicate that it was a significant factor. To tax payers, especially the big ones, one thing is clear: "Rather than be investigated, better I join the tax amnesty program now." If they get investigated later, under the current laws, it would be far worse for them. To be honest, this is one of the more delicate aspects of the program, because we can lose big on this, because the most important instrument of the tax director-general is an investigation, even though the norm is to allow self-declared or self-assessed taxes.
Will the Rp165 trillion tax amnesty target be achieved?
That's a question that has been repeatedly asked of me.
So, is your calculation of Rp60 trillion a realistic target?
I have no calculations of my own. I came here to be a minister and the Law on the Tax Amnesty was already there. There's the Law on the State Budget that I need to work on. I believe that potential tax payers, who have so far avoided paying taxes or carried out tax planning, are very real. Otherwise, our tax ratio wouldn't be this low. So, we have much potential that up to now have not been garnered. With the tax amnesty, people ask: What will happen to the tax amnesty if Jokowi is no longer president? We have a law to address that, we can improve the institution and we can make it work. I want to build trust and the government should be part of the solution.
So far, how much has been gained from the tax amnesty?
As of this morning, it was Rp648 billion out of the redemptions from the Rp31.9 trillion declared so far.
What is the main problem?
There are many issues. The finance ministry's regulation on this is about individuals and big corporations. Their assets are not liquid, most are kept in shell companies, using all kinds of investment instruments. So, it will really be like taking an inventory of last year's tax filings. And institutionally, I set the bottom line, that it can be done by this week.
One of the tax payers' main worries is that after the tax amnesty is gone, they will have to pay multiple taxes.
Of course not. If they have declared their assets, they are clear of any tax responsibilities. The tax amnesty releases you from all kinds of administration or criminality, except for paying the 2 percent. After that, if you don't do anything, you don't pay any more taxes. This will not be repeated. It's a declaration. It's to 'purify' your assets, whether they're automobiles, cash or anything else.
The 2017 state budget will also be reduced but why is economic growth set at 5.3 percent?
First, I said that the deficit on the 2017 state budget will be 2.41 percent, while this year's is 2.35 percent. But the revenue outlook for the revised 2016 budget could be down by Rp219 trillion. So, if we later use the 2016 outlook, the deficit could be much higher than 2.35 percent. However, if this year it reaches 2.45 percent, it doesn't mean that it will be that much bigger. Perhaps it will bet he same or even lower. Secondly, from the perspective of the target, the deficit remains at 2.45 percent, if it is complemented by an ambitious but realistic tax revenue target. On the one hand, Indonesia must raise its tax ratio and I will go on intensifying tax revenues. Yet, if I communicated that publicly, the markets will become worried: What will this finance minister do next? And thirdly, I want to focus on improving governance and reforms, once again. People don't like to deal with officialdom, not just about taxes. So, institutionally, the quality of government must be improved. The state budget has three functions, and that is to collect taxes, to stimulate the economy by spending and restoring trust and credibility through institutional performance.
You would be a good president...
No. All I will look at is the state budget. I believe this is one area which as a professional and personally speaking, I can understand.
What if the people want you to be president?
This sounds like a question from the time of Pak Harto (laughs).
---
SRI MULYANI INDRAWATI
Place & Date of Birth: Tanjung Karang, Lampung-August 26, 1962 | Education: BSc in economics, University of Indonesia (1981-1986), MSc in economic policy, University of Illinois Urbana-Champaign, USA (1980-1990), PhD in economics, University of Illinois, (1990-1992) | Career: Lecturer, University of Indonesia (1986-to date), Finance Minister (2016-to date), Managing Director, the World Bank (2010-2016), Finance Minister (2005-2010), Coordinating Minister for the Economy (2008-2009), State Minister for National Development Planning (2004-2005)