Three Poets In Lekra
Agam Wispi, A.S. Dharta, and H.R. Bandaharo were leading Lekra poets. Their poetry gave voice to the people's resistance and color to the history of Indonesian literature. But their names and their work have simply vanished following the political upheaval of the 1960s.
Edition : Monday, October 9, 2017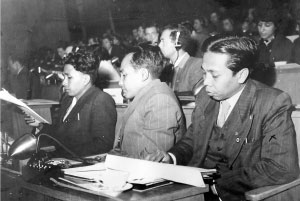 Poetry flourished in the Indonesia of the 1960s, and poets under Lekra (the Institute for People's Culturean organization affiliated with the Indonesian Communist Party) were among the country's most prolific people of letters. At the 1963 Lekra National Conference in Medan, North Sumatra, the organizationfounded on August 17, 1950reported that throughout the organization's 12-year cultural engagement, Lekra's men and women of letters were most productive as writers of poetry, compared to other forms of literature.
Their poems were frequently published in the Sunday edition of Harian Rakjat. The Indonesian Communist Party (PKI)-owned daily published selected works by leftist poets and Lekra members on a regular basis. In a single week, some 40 or so writers would diligently dash off their pieces to the newspaper. In 1957, the newspaper began publishing the best poetry, short stories, serialized novels, screenplays, essays and translated works in special annual editions.
Poetry received special attention in the Lekra sensibility, with poetry readings at major conferences. It seemed poetry was seen as an effective medium for communicating the party's ideas and Lekra's ideology, because its succinct form made ideas easily digestible to the lay public.
Among Lekra's esteemed poets were H.R. Bandaharo, Agam Wispi and A.S. Dharta, who are noted as the first generation of Lekra literary figures. The three had gained public acclaim even before joining the organization. "They were already accomplished poets before they joined Lekra," said Putu Oka Sukanta, 78, a Lekra poet and writer.
W251bGwsIjIwMjEtMDUtMDggMjE6Mjc6MzgiXQ
H.R. Bandaharo, born in Medan in 1917, had been writing poetry since he was a teenager. Many of the poet's literary works were published in Medan's local publications, among others Sarinah and I, a patriotic poem written in 1939, which drew literary attention. In the 1950s, the poem Tak Seorang Berniat Pulang, Walau Mati Menanti (No One Wishes to Return Home, Though Death Awaits) shot him to prominence. The poem became very popular and was a required poem in poetry recitation competitions in the 1960s.
After working as an editor for the daily newspaper Pendorong in Medan in 1962, Banda-short for Bandahara-was asked to move to Jakarta to lead the arts page in Harian Rakjat's Sunday edition. In Jakarta, he was a member of Lekra's Central Executive Board as well as the PKI Central Committee's cultural department. Banda was also at one time a member of the Constituent Assembly, along with A.S. Dharta.
Meanwhile, Agam Wispi became well-known in the 1950s for his poem Matinya Seorang Petani (Death of a Farmer), which the poet wrote after witnessing a protest by the Indonesian Farmers' Front (BTI) against the acquisition of land tilled by poor farmers in Tanjung Morawa, North Sumatra. Tanjung Morawa farmers stood against tractors owned by plantation owners. Agam saw a farmer shot dead.
Agam was born in 1930, in Pangkalan Susu, North Sumatra, and began his career as a reporter for the Medan newspapers Pendorong and Kerakjatan. Like Bandaharo, Agam was also invited to relocate to Jakarta in 1962, to serve as Harian Rakjat's Sunday edition as arts and culture editor.
When the September 1965 political upheaval broke out, Agam was in Beijing to attend the anniversary commemoration of the People's Republic of China and could not return home. For dozens of years, Agam roamed the world in political exile only finally becoming a Dutch citizen in 1988.
A.S. Dharta was born with the name Endang Rodji in 1924, in Cianjur, West Java. Before he helped establish Lekra and became the organization's general secretary, he engaged himself in both the Independence and the labor movements. For a spell, he worked as a journalist for Yogyakarta's Harian Boeroeh. Dharta led the Motorized Labor Organization, the Batik Labor Organization, the Seaport Labor Organization, and the All-Indonesia Federation of Labor Organizations. He also took part in pioneering the Masjarakat Seni Djakarta (Jakarta Art Society).
As a poet, Dharta wrote under a number of different names. Klara Akustia was one his more popular pen names. He also wrote under the pseudonyms Kelana Asmara, Jogaswara, Barmara Putra and Adi Sidharta. His more well-known poems include Rukmanda and Nyi Marsih. In 1965 he was imprisoned in the Kebonwaru Prison in Bandung, West Java, and was only released in 1978.
Bandaharo, Agam Wispi and Dharta were important literary figures whose poetry spoke out against all forms of oppression and injustice. Lekra writer, Hersri Setiawan, 81, believed that their poems expressed the spirit of their times. In terms of style, each poet had his own unique traits. "Bandaharo was always precise, Dharta was firm and hard, while Agam Wispi was romantic," said the Central Java Lekra member who was at one time selected to sit on the Afro-Asia Writers Committee.
Their poems were patriotic and inspiring, while at the same time lyrical-not simply point-black political propaganda like the poems written by PKI's leading figures D.N. Aidit, Njoto, Lukman and Sudisman. Matinya Seorang Petani by Agam Wispi, for example, is a long, suspenseful poem on the shooting of a farmer fighting for his land. But the poem was also touching and soulful:
he falls
collapses
one bullet
in his head
his memories have flown away
embraced by torment
but only torment
has taken his dead body
On one occasion, Agam Wispi expressed his regret that poetry written by Lekra activists were usually riddled with slogans. "In my opinion, a poem has to be held accountable in terms of its poetics and not for its politics," said the poet.
When conflict erupted within Lekra caused by differences in opinion regarding Lekra's relationship with PKI, Agam, Bandaharo and Dharta banded together with Lekra figures who refused their organization's subordination to the communist party. Njoto, a Lekra founder and a high ranking official in the PKI, was reportedly in vehement opposition of PKI Chairman D.N. Aidit's wish for Lekra to be an official PKI underling. Njoto wanted to safeguard Lekra from being turned 'red' by the PKI.
According to Lekra writer Martin Aleida, 73, Bandaharo was the only one among the three poets who dared defy D.N. Aidit when the communist leader sought to place Lekra under PKI. Bandaharo defied Aidit in a meeting prior to the National Revolutionary Literature and Arts Conference in 1964, a conference held as part of the effort to officially affiliate Lekra with the PKI.
In the meeting, Aidit called Lekra poets 'revisionists' who deviated from the revolution. Aidit was against revisionism, following the China-Soviet Union discord. "At the time, Bandaharo raised his hand and protested Aidit's statement," said Martin, who got the story directly from Bandaharo upon his release from detention in Buru.
The fractious atmosphere, said Martin, extended to Lekra's Headquarters on Jalan Cidurian 19, Central Jakarta. "When Aidit visited Cidurian, they would stay seated, but when Njoto came, they would immediately rise to show respect."
Nurdin Kalim, Prihandoko