The Tale of The Vaccine Rejecters
Social media has amplified the vaccination debate. Some reject vaccination for religious reasons, others doubt their efficacy and yet more others suspect conspiracy.
Edition : Monday, Desember 25, 2017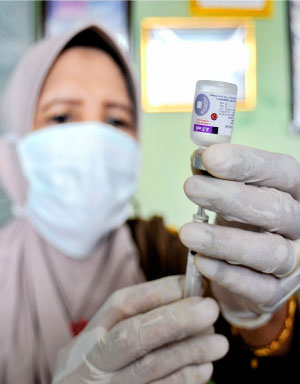 DEWI Hestyawatis cell phone rang more frequently after the health ministry launched an outbreak response immunization (ORI) to overcome diphtheria two weeks ago. Most callers asked how to care for children affected by post-vaccination fever.
Dewi, 53, is better known as Ummu Salamah, which she says is a "missionary name," which means "mother of safety." For almost a decade now vaccine doubters have gone to her for consultation.
Dewi once had an unpleasant experience related to vaccination. In 2007, before going on the hajj pilgrimage, she could do nothing as paramedics forced her to take a meningitis shot. Twenty minutes later Dewi became dizzy. "I had a stroke. My body went completely stiff," she told Tempo. She claimed she was able to recover through bekam (cupping), an ancient Middle Eastern therapy she has practiced since 2005.
The incident strengthened Dewi's belief that vaccines were dangerous. The Tarumanagara University law graduate then wrote the experience in Vaksinasi, Dampak, Konspirasi (Vaccination, Impact, Conspiracy), a book that delineates vaccines' non-halal properties and adverse effects, as well as a so-called conspiracy behind the practice of vaccination. The book, published and distributed independently since August 2008, has been reprinted eight times. She doesn't keep track of her book sales. "Five thousand volumes were printed each time," said Dewi, health personnel coordinator for the National Movement to Defend the Indonesian Ulama Council's Edicts.
W251bGwsIjIwMjEtMDUtMDggMTU6MDQ6MDYiXQ
One of Dewi's references is the website, Natural News. In February, 140 thousand pages on Natural News were deleted by Google for spreading hoaxes. "Whether or not something is a hoax depends on who evaluates it," argued Dewi.
Dewi runs an Islamic treatment clinic near her house in Pamulang, South Tangerang. She treats various ailments by cupping, or drawing blood to remove toxins. Her patients, which she claims to number over 10 thousand- are always recommended to avoid vaccination, citing the same reasons mentioned in her book. "Even if people feel healthy after vaccination, they would be healthier without vaccination," she said. Her reach was reduced after Facebook blocked her two accounts last year to follow up many reports of inappropriate content.
There are plenty of Facebook accounts owned by Indonesians that appeal to their readers to reject vaccination, including Dr. Henny Thalib's account. Henny refused Tempo's interview request because the magazine had referred to her as an anti-vaccine proponent. "We're a pro-choice community, favoring healthy methods as alternatives to vaccines," she wrote on her account. Although she calls herself a "breast milk consultant physician," the names Henny Thalib and Henny Zainal- as shown in her telephone contacts- are not found on the Indonesian Medical Counsel's website.
Like Henny, Dewi refuses to be called an anti-vaxxer, preferring to refer to herself as a vaccine victim who is recovering through an Islamic cure. "As a Muslim, I'm obliged to inform others of something good. It's up to them whether to accept or not," she said.
Whatever the story, anti-vaxxers seem to be growing in number. Health Minister Nila Djuwita Moeloek said two thirds of this year's around 700 diphtheria victims had zero immunity against the disease. "There has been great rejection of vaccines lately," said Nila. Bu no data is yet available to help determine the magnitude of the movement.
Most anti-vaxxers reject vaccines because they are considered haram (not halal). Erik Hamzah, 35, did not continue the immunization program for his two children, aged 5 and 1, after receiving news that their vaccines hadn't yet obtained a halal certification from the Indonesian Ulama Council (MUI). Erik and his wife Anita Puspitasari, residents of Bekasi, give their children a routine dose of honey. "Alhamdulillah (Thank God), so far we haven't had any health problems," he said.
While Erik did feel uneasy upon hearing of the recent diphtheria outbreak, Mariska Oktriana is convinced that a healthy lifestyle can ward off the disease affecting the upper respiratory airway. "It's important to maintain proper nutrition, exercise regularly, and avoid smoking, preservatives, food coloring and dried chili," said the 35-year-old woman.
Mariska's four children have not been vaccinated. Based on information found on the Internet, the housewife who lives in Pondok Kelapa, East Jakarta, relies on dates, honey and black caraway seeds to boost her children's immune system. "My children recovered from chickenpox after six days. Their vaccinated friends got sick for 14 days," she said.
Joserizal Jurnalis, a doctor and human rights activist, says there are three reasons why some people are reluctant to be vaccinated. First, there is the foggy halal status. The diphtheria vaccine, for instance, hasn't yet been certified by the Indonesian Ulama Council's (MUI) Food, Drug and Cosmetic Research Institute. Second, effectiveness. Rizal said the BCG vaccine was once said to prevent extrapulmonary tuberculosis. "It turned out, many of my patients who had already been BCG-vaccinated contracted back-bone, knee and waist-bone tuberculosis," said the orthopedic surgeon.
Finally, the third reason is an alleged foreign conspiracy. He brought up a statement made by Siti Fadilah Supari, Indonesia's health minister in 2004-2009, who cautioned against the United States and the World Health Organization's (WHO) attempt to spread avian flu in Indonesia to then sell its vaccine. "I'm not an anti-vaccine advocate, but vaccines shouldn't be turned into a business and a way to weaken a country," said Rizal, founder of the Medical Emergency Rescue Committee (Mer-C).
According to Piprim Basarah Yanuarso, a pediatrician known as a pro-vaccine activist, the debate surrounding vaccines emerged in Indonesia in 2011, along with growing social media use. He splits anti-vaxxers into two groups: hardliners and followers. The latter will usually join a vaccination program after they are invited for a discussion. "But in the case of the hardcore group, even our strongest scientific explanation is rejected," said Piprim.
The Padjadjaran University medical graduate feels disappointed that some of his colleagues have been encouraging the public to reject vaccines, as people tend to listen because of their medical titles.
Following the diphtheria outbreak, the Indonesian Doctors Association (IDI) is targeting physicians believed to be campaigning against vaccines. "There are two of them, female," said Ilham Oetama Marsis, IDI Central Board general chairman, without mentioning names. They are liable to a disciplinary action for an ethical code violation, for example for infringing IDI regulations. Sanctions may take the form of recommendation to revoke their practitioner's licenses. They may also be subjected to criminal charges. "Among others for spreading deception and libel."
On the other hand, Dewi believes that the requirement to be vaccinated has only made things worse. "Allow the public to choose. We should never use force," she said. Instead of vaccines, she suggested the health ministry distribute dates, honey and goat milk to boost children's immune systems.
n n n
Anti-vaccine movements are also found in other parts of the world. Last year, Heidi Larson, an anthropology researcher at the London School of Hygiene and Tropical Medicine, found that most anti-vaxxers are scattered accross Europe. France, Bosnia-Herzegovina, Russia, Ukraine, Greece, Armenia and Slovenia are European countries with the lowest degree of confidence in vaccines.
In France, 41 percent of Larson's respondents doubt the safety of vaccines and over 12 percent do not believe that vaccines are safe. "Europe is the most skeptical continent in regard to the safety of vaccines," said Larson, as reported by The Independent. Larson attributes the skepticism to the flood of information in the Internet era.
Larson's survey also shows that a particular region's level of religiosity is not always directly proportional to its people's rejection of vaccines. The survey found that Iran, the country of mullahs (Muslim scholars), has become the staunchest supporter of vaccines. Likewise, Mississippi, one of the most religious states in the U.S., has a vaccination coverage of almost 100 percent.
One of the reasons for rejecting vaccines is the allegation that vaccines may cause autism, as purported by Andrew Wakefield, a U.K. researcher who said the measles-mumps-rubella (MMR) vaccine may trigger autism. In April, measles again broke out in Minnesota, although the U.S. had been declared measles-free in 2000. The outbreak originated in Minnesota's Somali community.
Wakefield's deception was exposed by The Sunday Times London journalist Brian Deer. Two years before his research results were published in 1998, Wakefield was paid over Rp10 billion by Richard Barr, a British attorney, to discredit the company that produces MMR vaccines. "The main aim was to give undeniable evidence so that the court was convinced that the vaccine was dangerous," said Barr to Wakefield in a secret letter.
Wakefield's study was withdrawn from circulation, but its impact was unstoppable. Wakefield's medical license was revoked and he was banned from practicing in U.K. and U.S. Although anti-vaxxers often cites his research, Wakefield does not seem to feel responsible. "I was simply providing parents with information," he said.
Reza Maulana, Angelina Anjar, Adi Warsono (bekasi)