Nahum Situmorang: The Forgotten Lapo Tuak Songwriter
VERY few people know of Nahum Situmorang (1908-1969). A dire lack of scholarly research and literature on the songwriter is one of the reasons. Yet Nahum Situmorang is a legendary song composer. In his lifetime, he wrote around 200 songs, most of which were composed at lapo tuak, or roadside palm wine drinking stalls. To this day in Medan, his songs are still being sung in roadside stalls, though not many know who wrote them. The most popularly performed Batak songs were written by someone who is now practically forgotten. In 1928, one of Nahum's songs won second place in the competition to compose Indonesia's national anthem. Alas, Nahum's entry is now lost to the ages for not being filed and noted. To honor his achievements, a community of North Sumatran musician-artists celebrated Nahum Situmorang's 110th anniversary at the Taman Mini Indonesia Indah, Jakarta, in mid-February.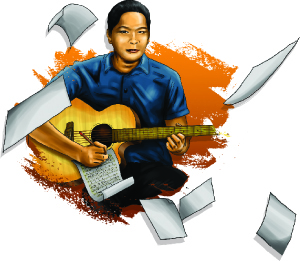 The sound of a man singing, coming from several loudspeakers hooked to a Compact Disc (CD) player, echoed around the 20x40-meter room. The Batak song had a cha-cha-cha rhythm. On the third Thursday of March, around 30 people at the Tarigan Lapo, a Batak eatery in Jalan T.B. Simatupang, Medan, North Sumatra, joined in the singing, occasionally pausing to take a sip of tuak (local palm wine). "Situmorang, Situmorang, Situmorang, Parrude-rude I Tahe,
...