Life As a Martian in the Utah Desert
An Indonesian citizen participated in a simulation of life on the Red Planet, held in a desert in Utah, United States. The simulation is meant to assess Mars' feasibility for permanent habitation.
Edition : Wednesday, June 20, 2018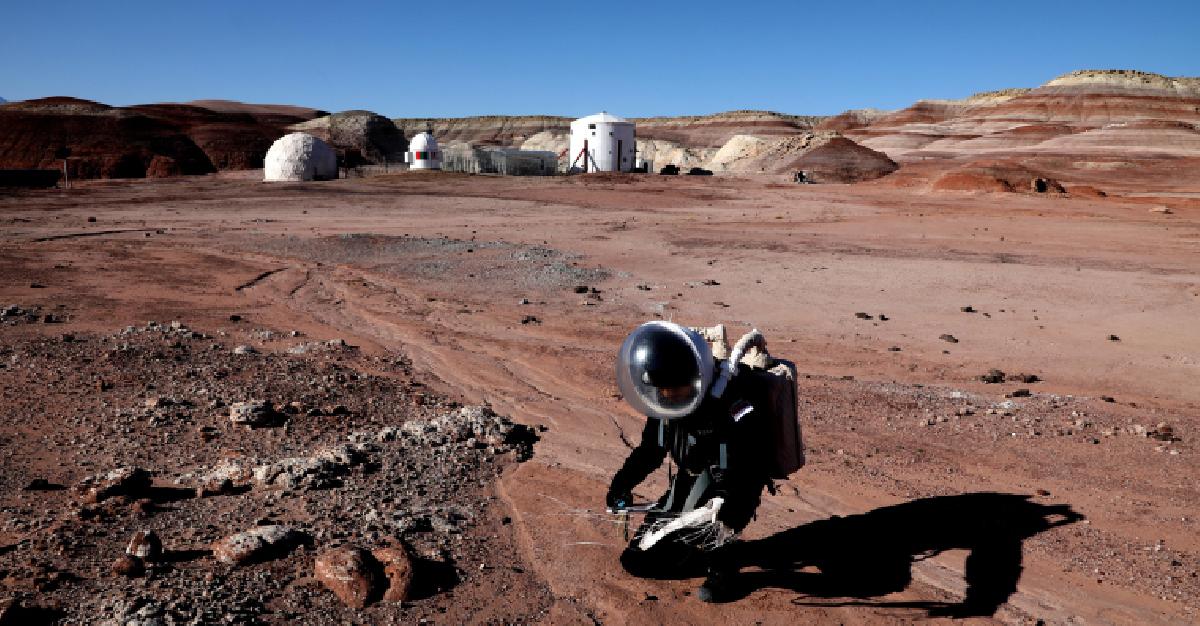 Vincensius Christiawan did not realize that he had forgotten to turn on his Global Positioning System (GPS). Venzha, as the artist is known, was on a mission to collect trash while exploring Marss sepia terrain. When he returned to camp, he was scolded by his commander and members of his team, Crew 191. Everyone has been lost at some point, but we were all taught how to use the GPS properly, said Venzha in early June.
Six other Crew 191 members reminded Venzha that he was endangering not only himself but also the teams mission. Venzha could have gotten lost and run out of oxygen in the uniform desert landscape with no markers. They showed me a map of the desert. Everything was brown, said Venzha in his art studio near Pojok Beteng Kulon, Yogyakarta.
Along with six people from Japan, Venzha participated in a simulation of life on Mars for one month, from March to April 2018, with semi-military training and super-strict rules in a desert environment. The simulation was held by the Mars Society, an influential space advocacy organization dedicated to human exploration and colony on Mars.
The organization was founded by Robert Zubrin in 1998 with the goal to inform the public, the media and the government on the benefits of exploring the Red Planet. Life-on-mars simulations have taken place 16 times with more than 1,200 participants since the first simulation was launched in 2001. Venzha was the first and only Indonesian participant in the simulation.
W251bGwsIjIwMjEtMDUtMTEgMTc6MzQ6MzgiXQ
The simulation is located in the desert near the city of Hanksville, Utah. Air temperature in the site can reach 42 degrees Celsius during the day and can drop to minus 20 degrees Celsius at night, said Venzha. On his first day, he went into delirium inside his spacesuit, both from the heat and cold.
The Mars Desert Research Station (MDRS) in Utah is considered to be most similar to Marss environment, with valleys and deserts. The air is very clean and almost untouched by humans. Six structures have been built at the MDRS: dome-shaped dwellings (Hab), the Robotic Observatory, the Musk Observatory, an aquaponics greenhouse, microbiology and geology laboratories as well as a Repair and Maintenance Module (RAMM).
Participants of the recent simulation came from diverse backgrounds. Venzha is an artist, while Yusuke Murakamicommander of Crew 191is an architect who once lived in Antarctica for 18 months. Others include biologist Kai Takeda, telecommunications expert Fumiei Morisawa, atmospheric measurement expert Wataru Okamoto, and NHK video journalist Makoto Kawamura. The only female participant was Miho Tsukishiro, a graphic designer.
They worked, ate, slept and held meetings in an eight-meter diameter Hab with shower, toilet and laundry accommodations. We slept really close to one another, said Venzha. One day, a problem caused division in the team. The water in a container used for everday needs was contaminated with chemicals, he said. Finally, they decided to create a water filter and continued on with their mission.
The crew also practiced aquaponics and grew vegetables such as tomatoeslike Matt Damon in the sci-fi film The Martian. While Damon uses human waste as fertilizer, the team used aridisols at the MDRS. Every day, their plants were watered using a limited amount of water.
All participants were required to be punctual, said Venzha. After waking up at 6am, they would shower using rationed water. Drinking water was also measured. After eating breakfast cereal, they would then work on their computers and notebooks. For lunch and dinner, they consumed special food packaged like toothpaste. Venzha showed us the package, written on with Cyrillic text.
Venzha was tasked with journaling all activities and operating two solar radiation detection devices for Crew 191. "I had built the device with Stephanus Yudianto Asmoro, a former informatics lecturer at the Sanata Dharma University."
Venzha joined the program because he wanted to test humans' preparedness for inhabiting Mars. He disagrees with sending human colonies to Mars because the planet has 22 types of potential natural disasters that may cause great fatalities, not to mention the deadly radiation. "The tornadoes are the size of Jakarta," he said.
According to Venzha, Mars is only suited to function as a science and technological exploration laboratory for the interests of humans. Astronauts must only be sent there to later return to Earth. "Sending people to Mars is suicide," he said.
Venzha is a member of BETA-UFO, a serious community for observing foreign objects in space. BETA-UFO Chair Nur Agustinus says Venzha has a strong passion and commitment to space, including UFO-related phenomena. "We plan to document UFOs in Indonesia," said Nur, who got to know Venzha when the latter organized the Search for Extra-Terrestrial Intelligence conference in Yogyakarta, in 2016 and 2017.
Shinta Maharani (Yogyakarta)
---
The UFO Hunter from Banyuwangi
Vincensius Christiawan keeps his 250 science fiction and superhero comics tidy in his art studio in Yogyakarta. Among them are Perdjalanan ke Mars (Journey to Mars) by Jack Thomas Scheers and Amanat dari Angkasa Luar (Mandate from Outer Space) by the prominent comic artist Hasmi.
These sci-fi comics, which he began collecting in kindergarten, led the dreadlocked artist to an interest in space science. The man from Banyuwangi, East Java, believes that intelligent life exists outside of Earth.
Venzha became even more passionate about studying space in 2011 and began to travel back and forth to the United States to learn more about the topic. He claims to have seen identified flying objects (UFOs) first-hand while in the US, in Area 51 in a Nevada desert and in New Mexico, as well as in Banyuwangi. The UFOs he saw were all shaped differently.
In 2013, in Area 51-which alien fans believe is a site for storing UFOs and extraterrestrials that crashed in Roswell in 1947-Venzha claimed to have witnessed a rapidly moving glowing object. But his most clear UFO sighting was in New Mexico at night in 2012, when he saw a moon-shaped sphere emitting changing color lights. He had time to photograph the mysterious object as well as the UFO he saw in Banyuwangi.
The Yogyakarta Institute of the Arts alumnus's love for the outer space is unstoppable. Venzha's works of art have been exhibited in several countries, including Taiwan and the United States. His work, shaped like a rocket, was exhibited at the Art Science Museum in Singapore along with items from NASA such as rockets and satellites in November 2016-March 2017.
Venzha's preoccupation with space has gained him a wide network. He is well-acquainted with South Korean Search for Extraterrestrial Intelligence (SETI) founder Rhee Myung-hyun and has met with SETI Research Center Director Seth Shostak as well as Preisdent and CEO of the SETI Institute Bill Diamond at their headquarters in California, United States.
Venzha has now completed 40 space-related art projects. A lighthouse, a work done in collaboration with South Korean SETI, was the principal work featured at Art Jog 2016. It was the 36-meter-tall lighthouse supporting a UFO that made Japan Mars Society founder Yusuke Murakami to invite him to join the life-on-Mars simulation. "I was also offered to join a simulation of life in the Antarctic on an isolated submarine in Japan, in February-March 2019," he said, showing us the invitation email.
Shinta Maharani