Second Choice at the Last Minute
e "Ulama Ijtima" group, Prabowo Subianto chose one of his own party cadres. The choice initially upset the Democrat Party. Their candidacy might not receive the support of the "212" Movement ulama group.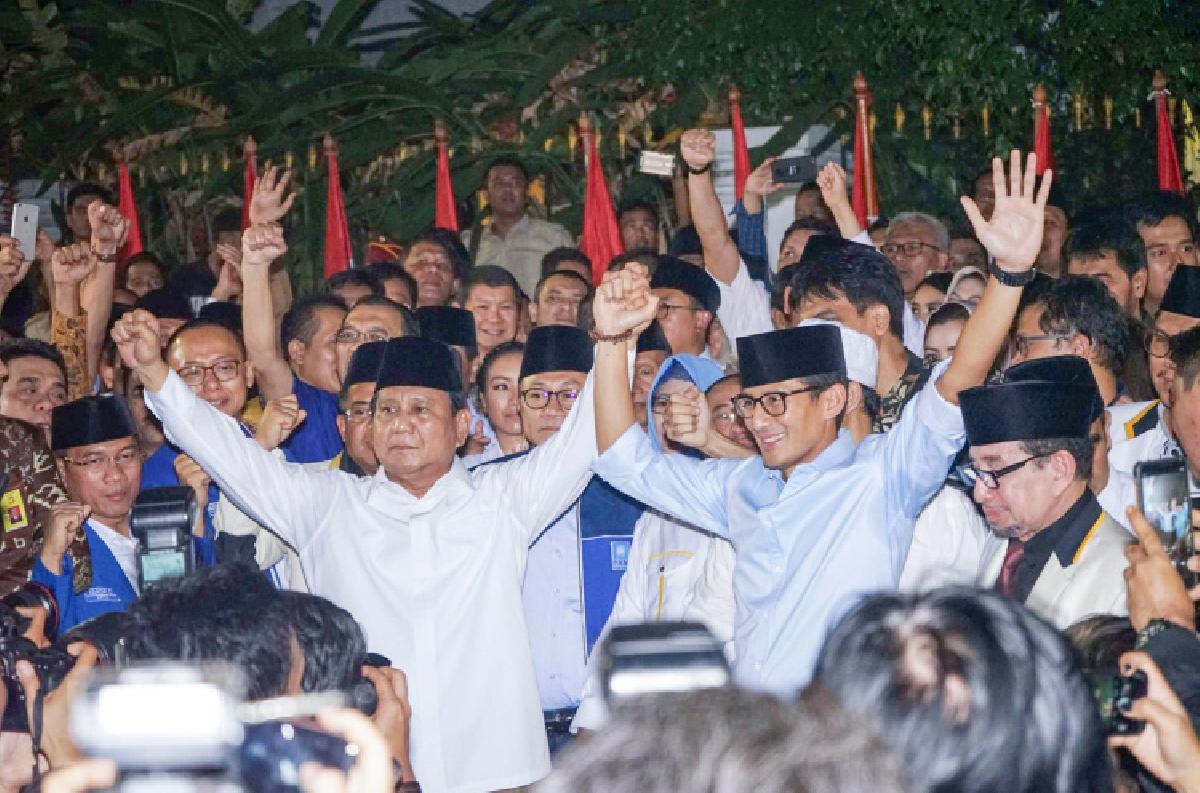 Tension was thick at the residence of Prabowo Subianto in Jalan Kertanegara, South Jakarta, on Thursday last week. That night, a group of ulama (Islamic scholars) belonging to the National Movement to Safeguard the Ulama Fatwa (GNPF) had requested for time to meet. "We wanted to give a recommendation for two new vice-presidential candidates," GNPF chair Muhammad Yusuf Martak told Tempo on Friday last week.
Yusuf began by explaining that the "Ulama Ijtima" (ulama meeting) event which was held by the GNPF at Hotel Peninsula, Jakarta, at the end of July, recommended Justice and Prosperity Party (PKS) Consultation Council chair Salim Segaf Al-Jufri and preacher Abdul Somad Batubara as potential running mates for Prabowo in the 2019 presidential election. After Somad declined to become a candidate, Yusuf asked why Prabowo dismissed Salim Segaf as a good choice.
One meeting participant described the mood in the room. According to this source, Prabowo said he had endeavoured to get the results of the Ulama Ijtima to be accepted by coalition partners. As it turned out, there was no unanimous support for either of them. Prabowo added, "They also had their hearts set on Sandiaga Uno as my running mate."
One member of the group said loudly: "This is not in line with the direction given by Habib Rizieq Syihab. You are not following his recommendation." A Prabowo supporter in the room reacted. "I am a witness that Prabowo had tried (to accomplish that)," he said.
The mood became even more tense when Islam Defenders Front (FPI) General Chair Sobri Lubis also raised his voice. "If this recommendation is not followed, the ulama will not support you," he said.
Pressured by his guests, Prabowo's response was no less stern. "It is alright if you do not support me. However, I will still fight for the interests of the Muslim community," said Prabowo.
The meeting ended without any agreement being reached. The figures from the "212" group-the movement which demanded that the then Governor of Jakarta, Basuki Tjahaja Purnama, be imprisoned on the charge of blasphemy-left the room. Outside the property, reporters swarmed Yusuf Martak.
The 212 ulama, said Yusuf, recommended two new names, Muhammad Arifin Ilham and Abdullah Gymnastiar, because they did not want Prabowo to lose another election. He scoffed at Prabowo for not taking a cue from his competitor, Joko Widodo, who chose Indonesian Council of Ulama (MUI) chair Ma'ruf Amin as his running mate. "Jokowi is smarter than us."
l l l
Top officials of the political parties supporting Prabowo were in a room at the residence of businessperson Maher Algadri in Kemang, South Jakarta, on Tuesday two weeks ago. There were so many people, some top coalition officials were forced to be squished together on some sofas. Senior National Mandate Party (PAN) politician Amien Rais sat on the same sofa as Prabowo. Gerindra Secretary-General Ahmad Muzani sat next to them in a chair.
Seated facing Prabowo and Amien were Salim Segaf Al-Jufri and PAN general chair Zulkifli Hasan, who sat flanking PKS politician Hidayat Nur Wahid. PKS President Mohamad Sohibul Iman and PAN Secretary-General Eddy Soeparno were seated next to one another. Across from them was Rachmawati Sukarnoputri, seated in a wheelchair. From an adjancent room, figures from the 212 group listened in on the conversation.
Later that night, Prabowo began the meeting by conveying the results of his meeting with Democrat Party General Chair Susilo Bambang Yudhoyono (SBY) a day earlier. "It looks like SBY still wants Agus Harimurti as my running mate," said Prabowo, as imitated by one person who was present.
Prabowo asked his guests what they thought about this. Zulkifli Hasan suggested that they jointly negotiate who becomes Prabowo's vice-presidential running mate. Salim Segaf reminded Prabowo about the results of the Ijtima Ulama, which recommended himself and Abdul Somad as potential running mates. "Please think about this recommendation," said Salim, as imitated by one meeting participant.
Salim Segaf's suggestion was criticized by Amien Rais. Raising his voice, Amien questioned the results of that recommendation and pointed out Salim Segaf's low electability. Amien also mentioned the internal PKS poll in which Salim did not come out on top.
This was despite the fact that Amien Rais has previously praised the results of the Ulama Ijtima reached by the GNPF. According to Amien, either Salim Segaf or Abdul Somad Batubara would make a good match if paired with Prabowo Subianto. "This is the best combination for saving the nation," he said.
Suhud Alynudin, Director of Presidential Nominations from the PKS, who attended the meeting, said that Amien's words made the mood tense at Maher's house. "Amien spoke with less than appealing language," said Suhud on Wednesday last week.
Hidayat Nur Wahid tried to calm down Amien Rais. Hidayat explained that the alliance between the PKS and Gerindra was not always based on electability. "(It is) cooperation which puts more emphasis on idealism." Moreover, said Hidayat as was imitated by one participant, if they referred to the polls, they should not have chosen Prabowo as a presidential candidate.
Hidayat Nur Wahid's statement only made things worse. Prabowo reacted by saying that some of the surveys which said he had low electability were paid for by certain parties. "I can also commission a survey," he said.
Gerindra Secretary-General Ahmad Muzani denied a heated debate took place at Maher Algadri's house. "It is common for there to be differences of opinion in a discussion," said Muzani. Zulkifli Hasan was reluctant to say what was discussed. "That is an old story," said this Speaker of the People's Consultative Assembly (MPR).
From the outset, Prabowo was not very enamored with the results of the GNPF's Ulama Ijtima which recommended Salim Segaf. A day after the meeting at Maher's house, Prabowo visited Salim Segaf at his house in Pejaten, South Jakarta. In this meeting, Prabowo once again stated his objection to running with that former Minister of Social Affairs.
A politician from one party in Prabowo's coalition said that the Gerindra general chair was concerned about Salim Segaf's profile, as he is often branded as a Wahabbi diehard. "If I run with you, I will surely lose," said Prabowo as was imitated by one Gerindra politician. Suhud Alyn-udin from Gerindra verified that meeting took place. "Something like that happened," said Suhud.
The recommendation from the ulama was not fully rejected by the coalition. PAN gave a signal they would accept it if Prabowo chose Abdul Somad. "Ustad (preacher) Abdul Somad is my friend. I have known him closely for a long time," said Zulkifli.
Suhud said that Abdul Somad was in fact willing to run with Prabowo. However, said Suhud, Somad did not want to compete with Salim Segaf, whom he considers his teacher. "In principle, he was ready to run as long as he did not have to compete against Ustad Salim," he said.
This signal was noticed by the coalition supporting Prabowo. For that reason, before the meeting at Maher's residence ended, they agreed to try a different tactic to lobby Somad. Amien Rais, for instance, was asked to persuade Somad through one of his religious teachers in Pekanbaru, Riau. Prabowo assigned Ansufri Idrus Sambo to lobby Somad.
That week Idrus Sambo flew to Pekanbaru. Once there he reassured Somad that the coalition supporting Prabowo had agreed to tout him as a vice-presidential candidate. Somad did not soften. "He declined, saying he wanted to focus on religious propagation," said Sambo.
Somad's refusal forced Prabowo to find someone else to become his running mate. They then considered Sandiaga Salahuddin Uno, deputy chair of Gerindra's Board of Patrons. Suhud Alynudin had long heard that Gerindra would likely encourage Sandiaga Uno to run. "However, only now was he being approached as an alternative choice," said Suhud.
l l l
PRABOWO informed Amien Rais on Friday two weeks ago that he was going to run with Sandiaga. Amien did not immediately agree. Speaking to Prabowo, Amien requested that Sandiaga meet him first. A day later, Sandiaga went to Amien's residence in Jalan Gandaria, South Jakarta.
In the end, Amien relented. However, he did set one condition: Sandiaga should resign from Gerindra and become a PAN cadre. When given this choice, Sandiaga hesitated.
PAN deputy general chair Hanafi Rais verified the news that his father met with Sandiaga and asked him to join PAN. Sandiaga, said Hanafi, said "I will think about it."
After meeting Amien Rais, Sandiaga headed towards his home in Kebayoran Baru, South Jakarta. Some people close to him were waiting to talk, including his older brother, Indra Uno. That night, Sandiaga listened to a presentation on a survey of public perceptions before the presidential election.
The survey found that the economy is one of the most pressing issues in the public eye. That survey also ranked the recognition level of some vice-presidential candidates. Sandiaga's popularity was not much different than that of Anies Baswedan and Agus Harimurti Yudhoyono, all hovering at around 60 percent.
The presentation made Sandiaga optimistic about considering running for vice president. Prior, he had only once been called upon by Prabowo, at the end of July. Sandiaga was with Jakarta Governor Anies Baswedan when they were called to Prabowo's Jalan Kertanegara residence. Prabowo first asked Anies to become his running mate. Anies turned him down. "At that point, Prabowo turned directly to me to get me to be his running mate," said Sandiaga.
Sandiaga began lobbying his potential supporting parties in earnest after Prabowo officially mentioned him as an alternative candidate. On Tuesday night last week, Sandiaga went to the PKS office in Jalan Simatupang, South Jakarta, with Jakarta Gerindra chair M. Taufik. "We want unity in the coalition," said Taufik.
PKS President Sohibul Iman said their party will exchange the position of vice-presidential candidate with the Jakarta deputy governor position being vacated by Sandiaga. "Because those who supported him came from two parties (Gerindra and PKS)," said Sohibul.
PAN Honorary Council deputy chair Drajad Wibowo said that one weakness in touting a Prabowo-Sandiaga ticket is that they are from the same party. For this reason, Drajad mentioned the possibility of making Sandiaga a cadre of PAN. "If an all-Gerindra ticket is too much for them," said Drajad. Prabowo had already asked Sandiaga to resign from the Gerindra Party. "He resigned in order to be accepted as an independent candidate," said Prabowo.
In addition to resigning from Gerindra, according to some politicians, Sandiaga promised to give Rp5 billion in campaign funds per seat in the House of Representatives (DPR) being targeted by PAN and PKS in order to be accepted by both those parties. The matter of this compensation was mentioned by Democrat Party Deputy Secretary-General Andi Arief. He claimed the information is accurate. "You can check my political career, that I have never lied," said Andi.
Sandiaga was unwilling to respond to the accusation of a political dowry being paid out in order to push through his candidacy. Zulkifli Hasan said that Andi Arief's claim was not worth consideration. "Something which does not exist has no need to be discussed," said Zulkifli.
Outside of PKS and PAN, Gerindra was still waiting for the support of the Democrat Party. On Wednesday night last week, Prabowo was ready to meet with Yudhoyono to inform him that PAN and PKS agreed to support Sandiaga. Andi Arief said the planned visit was rejected when the Democrat Party heard the rumor about the political payoff.
Democrat Party deputy general chair Sjarifuddin Hasan said their party rejected Sandiaga because his name never came up during the lobbying. He feels Prabowo was not transparent when negotiating because he communicated with many sides without his party's knowledge. The Democrat Party only softened up directly before the Prabowo-Sandiaga pair registered themselves at the General Election Commission (KPU).
After declaring his candidacy, Sandiaga bid leave from Jakarta governor, Anies Baswedan as he resigned from his position as vice governor. Sandiaga told him things had changed quickly and he had decided to run with Prabowo. "Bro, politics can change at any time. If things change, contact me again later," Sandiaga told Anies.
Wayan Agus Purnomo, Hussein Abri Yusuf, Budiarti Utami Putri, Yusuf Manurung