Breaking the Measles and Rubella Chain
Measles and rubella often come with complications. Both can be prevented through vaccination.
Edition : 25 September 2018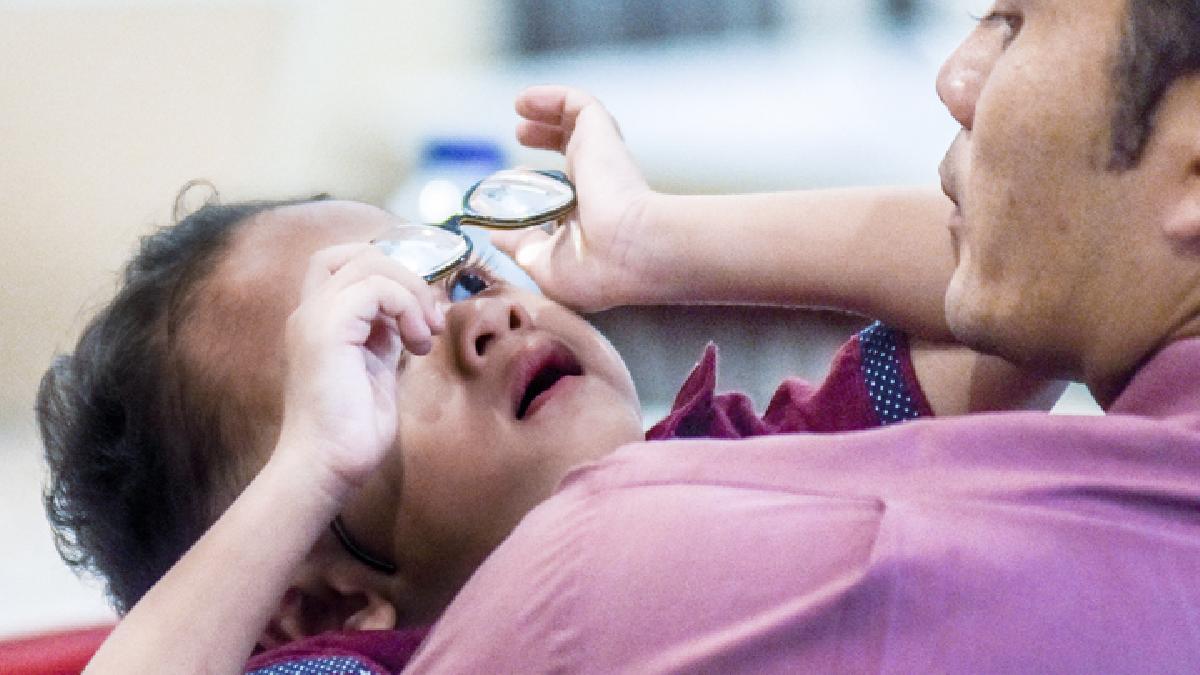 Amiryanto did not expect the fever that his wife had in the early stages of pregnancy 12 years ago to one day cause his child to suffer from serious hearing impairment. Syaheil, his child, now has to use hearing aid. "Actually, I once asked the doctor if her illness would impact the fetus. [The doctor] said no," said Amiryanto, 43, last Thursday.
But the virus, which only gave his wife a fever and rashes, left behind a greater mark. Syaheil is not only hard of hearing, her vision is also impared, so that she has had to wear glasses since a very young age. Furthermore, Syaheil suffers from heart leak regurgitation. Luckily, the condition was overcome. The doctor diagnosed her as having congenital rubella syndrome (CRS). "Because of her condition, we're sending her to a special needs school for the deaf," said the resident of Pondok Aren, South Tangerang.
Like Syaheil, Nadhif suffers from CRS. Because of rubella, Nadhif was also born with a leaky heart valve, a cataract in his left eye, serious hearing impairment, as well as a cerebral condition that causes slow motor development. Nadhif has been in and out of the hospital since he was born. "Now [he] is in fifth grade at the same school as Syaheil," said Yunellia Bhakti, Nadhif's mother, a resident of Cipete, South Jakarta.
Rubella more frequently infects children and young adults. In both groups, the virus causes fever, rashes, nausea, eye irritation, and swelling of the lymph node behind the ear. Its impacts are less severe compared to measles. But when the virus infects a pregnant mother, the outcome is a different story.
When it enters the body, the viral disease known as German measles will consume nutrition meant for fetal cells. These malnourished cells will eventually wither and the rubella will continue its search for living cells.
The fetal cells damaged by rubella are meant to form, among others, the eyes, heart, ears, and the brain. Because the rubella will cause a portion of these cells to perish, the fetal organs will not develop as they should. In many cases, the damage will cause a miscarriage, fetal death, and stillbirth.
If the infant survives until birth, the child may suffer from certain conditions. "If you want to see the impacts of rubella, at the special needs school almost 90 percent of the students have CRS. The deaf, the blind," said Sri Rezeki Hadinegoro, professor of child health at the University of Indonesia's medical school.
The problem is that no medicine can kill the virus once it is in the system. The only way to prevent transmission is by vaccinating. Rubella vaccine is usually given with other vaccines, for example for measles, in a combination known as the measles-rubella (MR) vaccine.
Both diseases result in serious impacts. The symptoms of measles are similar to rubella, but minus the swelling of the lymph node behind the neck. This disease also causes the flu-like symptoms and a runny nose.
What is worrying are the disease's complications. Measles can cause lung pneumonia—the number one cause of death for children under the age of five. "Some deaths due to lung inflammation are caused by measles," said pediatrician Hartono Gunardi. Measles may also cause inflammatory brain disease, which may result in death.
Another complication is chronic diarrhea. Measles virus that enters the body may attack the intestinal tract and cause a leak in protein, something that is needed for development, including for gaining weight and height. When there is a protein leak, a child may become emaciated. If the condition persists, the child may suffer from stunting or chronic malnutrition.
The disease is highly contagious. According to Hartono, a child with measles may infect 20 other children. "The 20 will infect [others] again and again," said the pediatrician.
An effective way to prevent the spread of measles and rubella is to vaccinate. A vaccine made from weakened virus will cause the body to create antibodies, meaning when measles or rubella strikes, the body is already trained and can overcome the virus. "The first injection will provide 85 percent immunity. It's repeated once to give full immunity," said Hartono.
Apart from protecting themselves, those who are immunized will protect those around them. People who are vaccinated will never be carriers of the virus, so that they cannot infect others. What this means is that the more people are vaccinated, the greater the herd, or community, immunity. "If 95 percent is immune, the remaining 5 percent will be protected by the herd immunity," said Health Minister Nila Djuwita Moeloek.
Both Amiryanto and Yunellia hopes that no more children will be born with CRS. They understand all too well the ups and downs of raising a child with special needs such as Syaheil and Nadhif. "This isn't a hoax. Rubella is real," said Amiryanto.
NUR ALFIYAH
In the Grip of Measles and Rubella
According to the World Health Organization (WHO), Indonesia is among the top 10 countries with the greatest prevalence of measles worldwide. The health ministry recorded 8,964 cases of measles and 5,737 cases of rubella between 2014 and July 2018. In over three quarters of these recorded cases, the victims were children under 15 years of age. Meanwhile, data from 12 hospitals point to at least 1,660 cases of Congenital Rubella Syndrome (CRS) in the past five years.
The Impacts of Measles
» 1 in 20 patients suffer from pneumonia
» 1 in 10,000 patients suffer from inflammatory brain disease
» 1 in 10 patients suffer from ear infection that leads to deafness
» 1 in 10 patients suffer from diarrhea
» Economic burden of measles (with no complications): Rp2.7 million per person
» Economic burden of measles (with complications): Rp13 million, minus expenditure for daily needs during treatment
The Impacts of Rubella
» Vision problems
» Deafness
» Heart condition
» Microcephaly
» Autism
» Diabetes Mellitus
» Cost of treatment for congenital rubella syndrome: Rp395 million per person for cochlear implant, heart surgery, and eye surgery. The figure does not take into account the economic burden for a lifetime of disability care. Professor Soewarta Kosen's analysis points to a macro loss of Rp1.09 trillion due to CRS.