Fertilizer For Farmers
Fertilizer supply was once a frequent issue for farmers in Boru Kedang, East Flores. The village administration then made the Tana Bojang Village Enterprise a fertilizer supplier.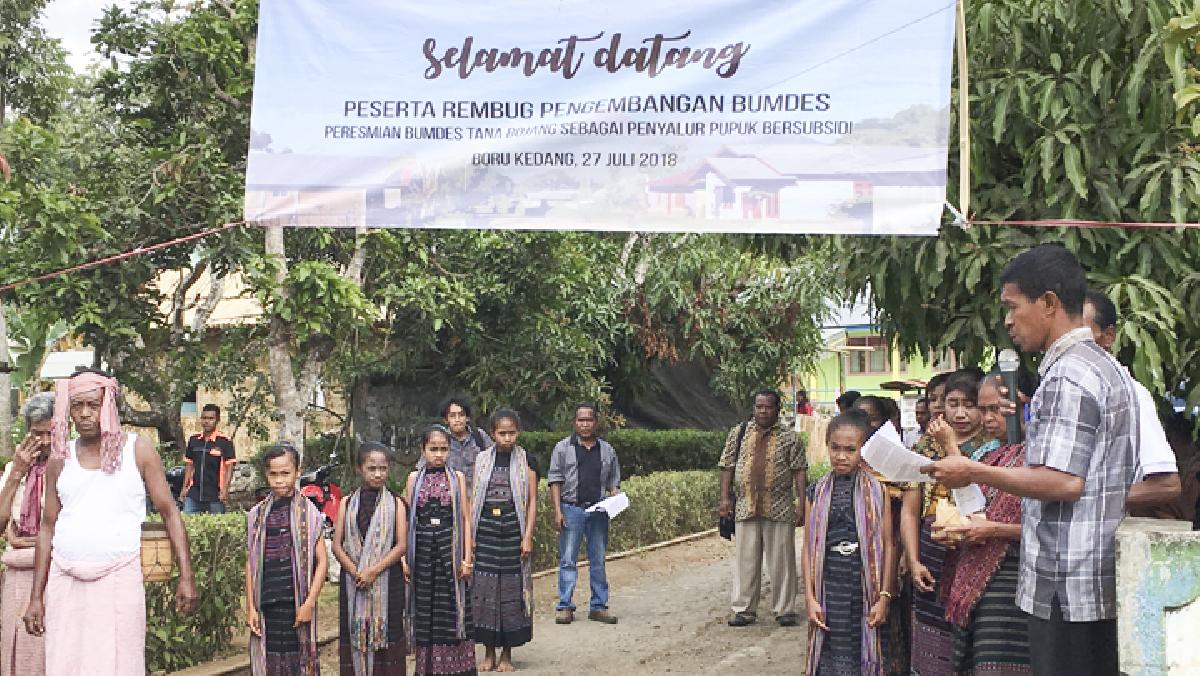 THIS year, farmers in the Boru Kedang village and surrounding areas can breathe easy as it is now easier to obtain fertilizer for their paddy fields. Tana Bojang, Boru Kedang's village enterprise (bumdes), began supplying fertilizer—mostly subsidized fertilizer.
"Now it's still in the RDKK (Definitive Plan for Group Needs) stage," said head of the Boru Kedang village, Darius Don Boruk, two weeks ago. "They're prepared to supply another 20 tons."
This was not the first time the supply of subsidized fertilizer was planned. Last April, for example, Bumdes Tana Bojang supplied fertilizer for the farmers of Boru Kedang and surrounding areas in the Wutanggitang subdistrict, East Flores, East Nusa Tenggara.
"We're grateful (to the bumdes) for working to supply fertilizer," said Imelda Sorgen, a woman farmer who attended Bumdes Tana Bojang's inauguration as a subsidized fertilizer supplier at the end of July.
Before Bumdes Tana Bojang became a fertilizer supplier, said Imelda, it was not easy for farmers, herself included, to get the fertilizer they needed. Fertilizer could only be obtained in Larantuka, East Flores's capital around 60 kilometers away, and in Maumere in the Sikka Regency around 70 kilometers from their village.
Maria Guneng Rotan supported Imelda's statement. The 56-year-old woman knows all too well how difficult it was for Boru Kedang's farmers to get the fertilizer they needed, especially when the farmers' group was not yet active. "When [attempting to obtain] fertilizer, individuals were not served," said the mother of two children, both of whom are high school graduates.
But even after the farmers' group was established, they did not automatically get the amount of fertilizer they needed. "Having spent money didn't mean we would get it," she said, adding that, sometimes, when the farmers' group sent a representative to pick up the fertilizer in Maumere, there would not be enough supply.
She claims that she can now enjoy the results of having fertilizer, particularly since joining the farmers' group. According to Maria, in the past she would only harvest 25 sacks, but after joining the farmers' group, she harvests around 40 sacks on average from her 0.5-hectare paddy field.
Head of the Apu Tantouu Farmers' Group, Fransisca Yulianti, seems to agree. According to the head of the farmers' group established in 2007, the group's workload became lighter because of the initiative to turn the bumdes into a subsidized fertilizer supplier. Before, they would have to travel to Larantuka to retrieve the fertilizer themselves, both subsidized fertilizer from the agricultural services as well as fertilizer purchased from the Ile Mandiri Village Cooperative Unit. The cost of picking up the fertilizer, including costs of transportation, food and manpower, said Fransiska, would come to around Rp700,000.
"So [the benefit that the] farmers' group feels the most is the reduced transportation cost," said the 48-year-old.
At first, the village enterprise owned by Tana Bojang was not meant to supply subsidized fertilizer. When it was established in 2014, the bumdes only prioritized three business units. "Credit, tourism and drinking water," said Darius Don Boruk, head of the Boru Kedang village.
But the bumdes' business activities only rolled into play last year. The village government took out around Rp600 million for capital from the village funds. But along the way, the tourism unit, which relied on a waterfall, failed to progress due to limited transportation infrastructure.
The village government and bumdes did not give up hope and continued to creatively develop efforts to improve the economy of the village with a majority of farmer residents. According to Darius, around 99 percent of his village's population are farmers.
"Around 60 percent of [the village's] land is protected forest, 25 percent dry soil, and the rest is wet soil," said the 50-year-old. On average, each farmer in Boru Kedang owns around half a hectare of paddy field.
Coincidentally, said Darius, during a discussion in the regency it was mentioned that East Flores' foodstuff production had continued to decline. Fertilizer shortage was among the causes for this decline.
The village administration, along with the local non-profit Ayu Tani Mandiri Foundation, assisted by the People's Coalition for Food Sufficiency (KRKP) and Oxfam in Indonesia that have helped them for awhile, performed an assessment of the problems endured by farmers in Boru Kedang and the surrounding. They found out, among others, that farmers were indeed faced with a fertilizer supply issue, which was causing non-optimal yields. "There was a lengthy distribution chain," said Darius.
Another issue, he added, was that although there was a supply of fertilizer in Larantuka, Maumere, and Sikka, the farmers could not immediately find out due to the distance. By the time the farmers went to the distributor, the fertilizer supply was already gone. Farmers would then sometimes try to buy non-subsidized fertilizer, despite the great price difference. Subsidized urea fertilizer, Darius said, was around Rp1,800 per kilogram, while non-subsidized fertilizer came to Rp4,200. "So that many ended up not using enough fertilizer, causing yields to drop."
In September last year when Darius attended an event in Jakarta, facilitated by the KRKP and Oxfam in Indonesia, he met with fertilizer producers. "It was then that the idea emerged to strengthen foodstuff [production] for the people by overcoming the scarcity of subsidized fertilizer," said Darius. "I thought about making the Bumdes a subsidized fertilizer supplier."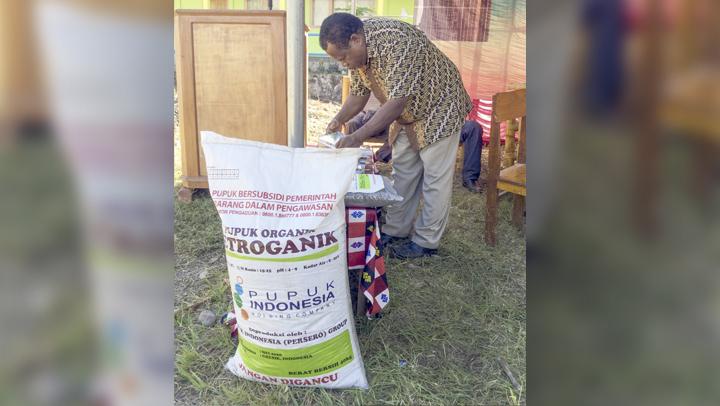 Darius Don Boruk, head of Boru Kedang village, East Flores. -TEMPO/Purwani Diyah Prabandari
In early 2018, facilitated again by the KRKP and Ayu Tani Foundation, Darius met with fertilizer producers, namely Pupuk Kaltim and Petro Kimia Gresik. The meeting ended with an agreement that Tana Bojang would supply subsidized fertilizer.
Initial negotiations were tough, as supplying subsidized fertilizer does not yield massive profits. "But for the sake of services, with some spiritual urgings, the Bumdes was willing," said Ayu Tani Foundation's director, Thomas Uran.
According to Bumdes Tana Bojang Manager, Wilhelmus Boruk, the Bumdes would reap around Rp26 in profit per kilogram. "So Rp3,000 per sack," said the 28-year-old.
Around April, Bumdes Tana Bojang began supplying subsidized fertilizer, not only for farmers in Boru Kedang and Boru, but also other farmers in over 10 villages in three East Flores subdistricits: Wulanggitang, Ilebura, and Titehena. They receive fertilizer in line with the RDKK recommended by the farmers' group based on the needs of its members. Tana Bojang would then submit the RDKK to distributors in Maumere, Sikka Regency, and Ende.
But Bumdes Tana Bojang does not only provide chemical fertilizer. Because of the East Flores Regency's vision to 'go organic', the bumdes also supplies non-subsidized organic fertilizer. According to Wilhelmus, however, farmers still prefer non-organic fertilizer. "They want fast," he explained.
Although the enterprise is in motion, Tana Bojang still faces a number of problems. Among others, "Capital," said Wilhelmus.
Additionally, the farmers' group is often late in submitting its RDKK, causing the bumdes to also submit its order late. As a result, the fertilizer would also arrive late.
Luckily, the village administration also gives its support. "This year, we're investing Rp143 million in the bumdes by building a fertilizer warehouse," said Darius. "Rp60 million in investment for capacity building and capital."
Furthermore, to ensure the success of the green agriculture program, Boru Kedang's village administration has began working with the Bogor Agricultural Institute to provide training for villagers on how to produce organic fertilizer. "Our hope is that in the future the bumdes will also sell this organic fertilizer," said Darius.
Meanwhile, the KRKP and Oxfam in Indonesia still assist the bumdes in, among others, improving data system that will be started next December. "This is key," said Wiwid Widyanto, Oxfam in Indonesia's Right to Food project manager. Wiwid says one day all data will be integrated with the village's information system. "There could possibly be e-RDKK (electronic RDKK)."
PURWANI DIYAH PRABANDARI (EAST FLORES)