The Last Guardians of Mentawai Tattoos
Mentawai's tattoo tradition is on the brink of extinction after the Arat Sabulungan indigenous belief was banned in the 60s-80s.
Edition : 13 November 2018
AMAN Gebek Kunen Sabagelet's uma (traditional Mentawai house) in the Madobak village, Mentawai Islands, West Sumatra, seems large compared to other homes in South Siberut. The 8 x 15-meter home, with a thatched roof made of sago leaves, stands next to small government-subsidized houses. Tens of pig skulls from the punen (customary celebrations) held at the house hang in a row at the entrance door. At an interior door one will find the skulls of dozens of other animals: monkeys, hornbills, and several deer with large antlers. "I hunted all of that when I still had the strength to go hunting in the forest," said 70-year-old Aman Gebak, laughing.
One might say Aman Gebak's uma is the only remnant of Mentawai's old traditions and culture in the Madobak village. We visited his home in mid-September with the Rimba Terakhir (last jungle) team—a collaboration between artists and NGOs formed by the Indonesian Forum for the Environment (WALHI).
When one enters Aman Gebak's uma, the house seems expansive and complete, with a hearth called the abut kelei at the center, made of rocks. The hearth's function is to illuminate the house at night and for heating the gajeuma (drums) when a sikerei (a traditional healer) is about to dance. It is also used in firewalking ceremonies when a new sikerei is anointed.
Aman Gebek Kunem is a sikerei. His body is full of tattoos, or titi in the Mentawai language—on his legs, arms, and neck. Aman Gebak's wife Bai Gebak Kunen Samapoupou, 65, also sports tattoos on her arms, legs, back, chest, neck and chin. She received her tattoos at the age of 10, done by a sipatiti (tattoo maker/artist). "In those days, many people still had tattoos, boys and girls, to show that we were Mentawai. If one reached adulthood without getting tattoos, it would have felt like being naked," said Bai Gebak.
Aman Gebak only received his tattoos as an adolescent, including a tattoo on his chest to signify his sikerei profession. To make his sikerei tattoo, he had to hold a ritual and give the sipatiti a substantial reward, such as pigs and chickens. But his tattoo was made in secret because there was a government ban on Arat Sabulungan, the Mentawai people's belief. The government involved the police in its attempt to stop all Arat Sabulungan activities. Among those banned were growing out hair for men, performing all rituals involving sikerei, sharpening teeth and tattooing.
W251bGwsIjIwMjEtMDMtMDEgMTE6NTA6MjAiXQ
Aman Gebak still remembers how, when he was a teenager in the 1960s-1970s, items used in Arat Sabulungan rituals in Mentawai were destroyed. Many sikerei and sipatiti were apprehended, taken to Muara Siberut, and detained for three days. "(Their) long hair was cut and (they) were punished to cleaning the streets," Aman Gebak reminisced.
Because of the ban, Arat Sabulungan—the heart of Mentawai's culture—began to fade. Of the four large inhabited islands in the Mentawai Islands—Siberut, Sipora, North Pagai and South Pagai—traces of Arat Sabulungan are only found on the Siberut Island.
The ban on Arat Sabulungan also impacted the development of Mentawai's tattoo tradition. Mentawai people had been known for their tattoo tradition for a long time. The research of Ady Rosa from Padang State University suggests that tattoo art was already known in Mentawai when the people of the islands arrived around 1,500 BCE and 500 BCE.
In his report titled The Functions and Meanings of Mentawai Tattoos (2000), Ady concluded that the Mentawai had three functions for their tattoos. First, to signify a person's territory and tribe, which were depicted in the primary tattoo—like a kind of identification. Second, to signify a person's social status and profession. The motif used would explain the wearer's profession: a sikerei (a healer or a 'shaman'), a hunter, or a layman. Third, as ornament or for aesthetic purposes. All of these functions are expressed through the sipatiti's quality and strength of expression contained in the resulting images.
But these traditional tattoos are on the brink of extinction. In the Madobak village itself, many still have these tattoos, but they are all from Aman Gebak's generation. "After us, no one else were tattooed because schoolchildren were prohibited from having tattoos by their teachers," said Aman Gebak.
Aman Gebak, his wife, and the Madobak residents of their generation will be the last people to have these traditional tattoos. Besides Madobak, one can still find older people with the traditional tattoos in the coastal region of Tiop, South Siberi. Seventy-year old Rosana, for example, has tattoos that are identical to those belonging to Bai Gebak Kunen in Madobak: on her chin, arms, chest, back, and legs.
"Back in the day, whenever the police came, we would run to the mountains. I would also run. Those who were caught were told to clean the streets, cut trees and clear shrubs, so that the police could easily access our village. But we didn't do it," she said. Rosana's children and grandchildren refused to get tattoos.
In North Siberut, where Mentawai traditions are also starting to die out, one can still find people with traditional tattoos, among them Taleku Sikaraja, 70, from Sikabaluan. There are tattoos with Mentawai motifs on the backs of his two hands, in faded blue. He is now the last tattooed person in Sikabaluan. "Before, tattoos were clothing and ornament for the Mentawai people, both men and women," he said. "Tattoos make us appear more beautiful."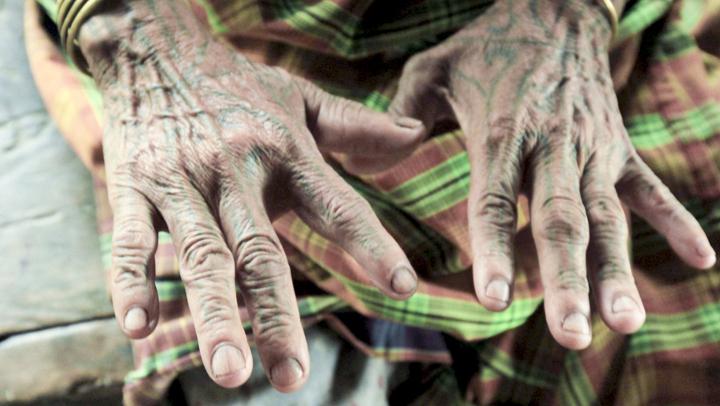 Tattos on Bai Gebak Kunen's hands -TEMPO/Febrianti
In the 1980s, the people began a strong resistance against the eradication of Mentawai culture. One of the most vocal opponents of the cultural purge is Aman Boroiogok, 60, a sikerei from Sakaliau, South Siberut. He is also a prominent cultural figure from Siberut.
According to Aman, when tourists began to pour into the depths of Siberut in the 1980s, the subdistrict office was still enforcing the ban on customary rituals. "Sikerei were banned, the culture was prohibited. People with tattoos were arrested, tudukat (tools used by the sikerei) were seized," said Aman.
He and several other sikerei were then taken by a guide from Bukittinggi to meet with the governor of West Sumatra. Aman no longer remember what year the event took place.
"We told the governor, why is our culture banned. They laughed and said they never banned our culture. Only the people here (in Siberut) had put the ban," Aman said. Based on their complaint, the governor then issued a letter instructing to end the ban on Mentawai customs because these traditions were a part of their faith.
Aman returned to Siberut feeling relieved. He then went to see Siberut's subdistrict officials. "You are only the twig of a tree. I've met the large tree's trunk in Padang and they're not prohibiting us (from carrying out traditions). After, there were no more bans," he said.
Since then, Aman began to take part in numerous Mentawai cultural events, including in Jakarta. "But these days children no longer want to be sikerei, they don't want to get tattoos. They go to school. And I can't force them to become sikerei because the requirements are tough. There are many restrictions," he explained.
The ban on Arat Sabulangan began to simmer after the fall of the New Order and the beginning of the Reformasi in Indonesia, and it even managed to come to an end when the Mentawai Islands became its own regency on October 4, 1999. With more foreign tourists visiting Siberut's interior reaches, the conservation of Mentawai's traditional lifestyle was then given a place in the Mentawai Islands Regency's tourism program.
Mentawai's tourism office now holds the annual Pesona Mentawai Festival, which also features the creation of Mentawai's traditional tattoos. This year's festival was held in Muntei, South Siberut, on November 1-4. Sikerei and Mentawai's last tattooed generation now have a platform to showcase Mentawai tattoos, their exquisite permanent garb.
FEBRIANTI (MENTAWAI)