Batik's Influence in Toraja
Several studies have found Toraja in South Sulawesi to be another home to batik.
Edition : 4 Desember 2018
AT a glance, nothing seemed out of the ordinary at the mid-September funeral ceremony in Malakari village, North Toraja Regency. During the ceremony, grieving family members spread a sheet of fabric on two bamboo sticks placed in front of tongkonan, the Toraja traditional home. The fabric is referred to as sarita.
To Torajans, the sarita is an important part of life. Although the fabric is made 'only' using the print technique, the sarita carries numerous symbols containing profound prayers. R.D. Yans Sulo Paganna, a cultural expert and researcher of Torajan symbols, explained that one of the symbols found on the sarita is the passora, a row of lines forming a pointed triangle. "The symbol is a sign of humans' greatest respect for God," said Yans.
Another symbol is the four patalinga (buffalo's ear) signifying instruction to always pay heed to good advice. Because of these symbols' profundity, the sarita is used only in special occasions. The fabric, 4-5 meters long and 25-30 centimeters wide, only makes an appearance in funeral and thanksgiving ceremonies.
Batik researcher William Kwan points out that the sarita is one among several types of traditional textiles in the Torajan culture. Another traditional textile is the ma'a, also called mawa, with a pakara (a row of circles) symbolizing the love for God. Mawa is said to have originated from India, while sarita, according to numerous literature, is, in fact, a type of batik. But the Torajan batik is distinct from what is found in Java. "We suspect that the patterns weren't made with a canting (wax pen), but rather using sharpened bamboo," said William.
According to William, only a handful of Torajans are aware that the sarita is a kind of batik—among others, Lukman U.S., a wood carver in the Rinding Batu village, North Toraja. Lukman, curious about the sarita and mawa, learned about both types of textile from a number of Torajan history experts and local elders.
W251bGwsIjIwMjEtMDMtMDUgMDg6NTE6NTYiXQ
Lukman has imitated and printed sarita and mawa since 1996, to preserve their motifs. In 2010, he submitted a proposal to the regency government, requesting to be sent to Solo, Central Java, to learn batik making. The North Toraja regency government approved his request. That same year, Lukman flew to Solo, where he learned batik-making techniques using the canting as well as natural dyeing.
Studying in Solo further inspired Lukman to revive Torajan batik. In 2011, he and several friends in his village took the initiative to organize a one-week batik training program. Batik artisans from Solo were recruited to assist.
The North Toraja's Office of Industry, Trade and Cooperatives facilitated the training program. Abed Nego, 39, was among those who participated. "Torajan batik's history is interesting to be studied further," said the resident of the Pantanakan Lolo village, North Toraja.
After learning batik making with a canting, Abed found that his strokes looked different from the sarita he was familiar with. This piqued his curiosity and motivated him to establish the Tonga Batik Group. With this group, Abed explored other batik-making tools. He tried using bamboo, beaten at the tip so that the tip becomes flattened to resemble a brush. This tool appears similar to what wood carvers use to stain wood.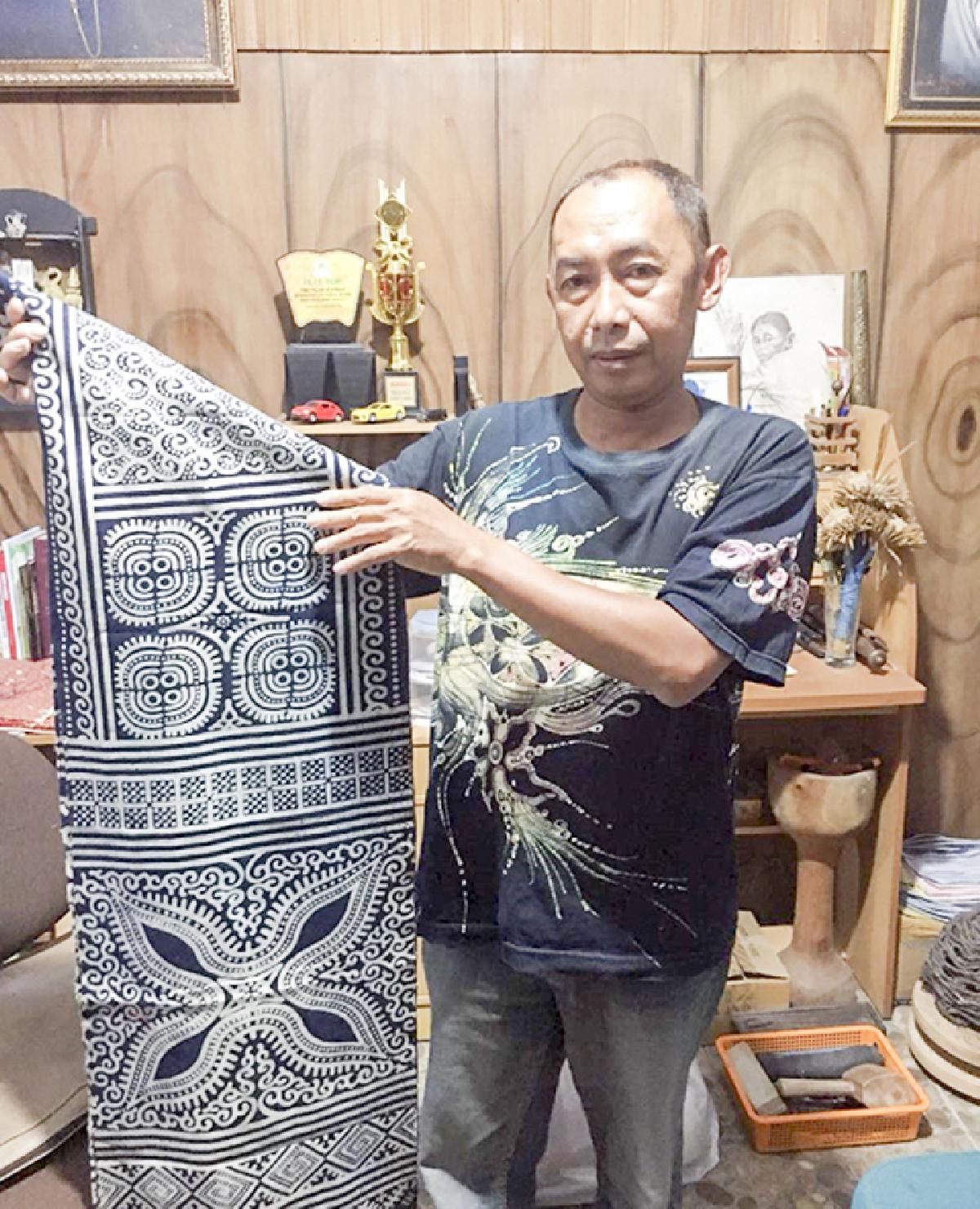 A Torajan batik made by Lukman's students. -Private Doc.
The technique, said Abed, creates strokes similar to the ones found on old sarita, with thicker lines forming simple curves. Meanwhile, the canting tends to create thinner lines.
He uses natural dyes for the textile, mango leaves for yellow and morinda roots for pink. "I gained this knowledge from training and my own experiments," he said. In the training program, he also learned how to produce motifs on both sides of a batik fabric.
Another member of Tonga Batik Group, Cornelius Tangkelayuk, also professed his enthusiasm for studying his region's batik. Even so, he cannot seem to dismiss his worry that marketing the textile would prove to be difficult, considering the high prices of his group's textile, from hundreds of thousands to millions of rupiah. "A far cry from print sarita, which is sold at Rp100,000 per sheet," said the 43-year-old man.
The expensive price is due to the difficulty in obtaining tools and other materials for producing Torajan batik, as these materials are shipped from Java. Not to mention the complicated and time-consuming process of making the sarita, which can take three to five days per sheet, depending on the complexity of the motifs. Furthermore, said Cornelius, Toraja's batik is hand drawn on both sides of the fabric, unlike stamp and print batik, which only occupies one side, has simpler motifs, and can be mass produced in one day.
To address the problem of sales, the Tonga Batik Group does not only produce textile for traditional ceremonies. They can also fulfill Torajan batik orders for certain motifs and colors. Meanwhile, their average regular yield of 10 sheets of fabric are made into shirts, purses, stoles and other accessories. These items are sold in Kete Kesu, a tourist destination in North Toraja.
To improve the popularity of Toraja's hand-drawn batik and spark the interest of locals, the Tonga Batik Group also initiated a movement called "Preserve Culture, Everyone Can Make Batik." Through this movement, Lukman and his colleagues introduce techniques for making Torajan motifs to elementary, middle and high school students, as well as Family Welfare Movement (PKK) members. Lukman says the movement has not only piqued the interest of local residents. "Many people from other regencies in South Sulawesi have come to our village to learn batik making," he said.
Yans Sulo Paganna commends the community's drive to revive their region's batik. "It's as if [they've] unearthed long lost knowledge," said Yans.
MULYA SARMONO | ISMA SAVITRI