Giving Strength to Victims of Violence
Wendelina Olin has never ceases to help and defend women and children subjected to violence in North Timor Tengah.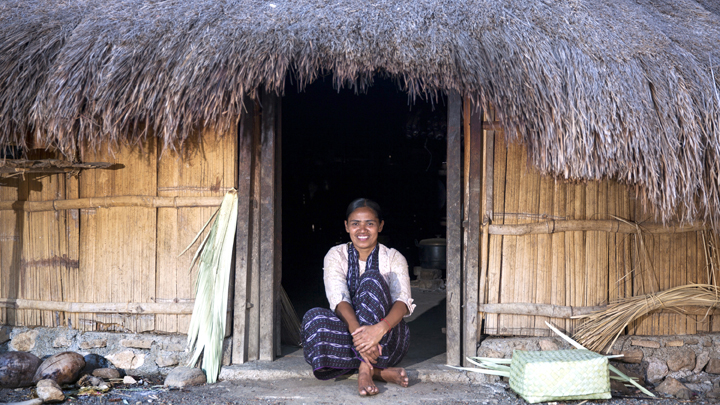 Wendelina Olin
Her own experience as survivor of abuse makes her capable of showing great empathy.
Rumors that a junior high school student was pregnant reached Wendelina Olin in April. Wendelina, the paralegal secretary at Yabiku (Yayasan Amnaut Bife Kuan/Women's Care Foundation) in Bijae Pasu, North Timor Tengah, reached out to the girl.
Wendelina, or Wendy as people call her, first talked to the girl's mother, who said that she was ill. But Wendy and the other paralegals noted the young girl looked pregnant. "So we talked to her slowly, and she finally opened up," Wendy recalled.
Wendy and the other paralegals asked who the father of the baby was. The girl, seven months pregnant, would not say and bursted into heavy sobs. When Wendy finally managed to calm her down, she named the man who had made her pregnant. "It was her own father. Of course we were all shocked," the 36-year-old woman said.
Throughout her time with the girl, Wendy hardly ever saw the father. He worked on a plantation five hours away on foot from the family's home in Bijaepasu. When rumors about his daughter spread, he threatened to kill anyone who meddled in his family's affairs. "We asked the police to help by arresting him," Wendy said.
It is cases like these that has kept Wendy working over the last six years as a paralegal for women and children who are victims of violence and abuse —something she never imagined she would do. Six years ago, the North Timor Tengah native did not even know what a paralegal was. A church administrator asked her three times to join the Yabiku paralegal team and enrol in the training sessions. It was during the training that Wendy realized a paralegal's duty is to accompany and provide counselling to victims during the process of resolving cases related to gender and child protection issues.
W251bGwsIjIwMjEtMDMtMDUgMDc6NTI6MjgiXQ
"As it turns out, this is a noble job. So I continue doing it to this day," said Wendy, who is also the chief of the Bijaepasu hamlet and secretary for her church's congregation.
Despite her busy schedule, Wendy is always ready to be there for the women and children who had been subjected to abuse and violence, and help them rise from the trauma and depression. Her desire to help stems from her own experience. Eleven years ago, Wendy was raped by her own neighbour.
At the time, there were no paralegals in North Timor Tengah. Every case of domestic violence or sexual abuse were handled by local customary heads or the village chief. Each time a case was being settled, 'table money' was required. That was the administration fee charged to victims or the families who made the report. The amount is Rp250,000. The people who filed the report had to also present the chiefs with two bottles of traditional spirits, called sopi.
Because of these requirements, victims were reluctant to report abuses. "They were already victimized, and they had to pay for help," Wendy said.
Wendy also reported her rape case through customary law. The rapist was "punished" by being ordered to pay a fine of Rp5 million and a cattle.
According to Wendy, the customary folks were not happy with the paralegal practice. But after holding discussions with them, and involving them in paralegal activities, their work is now accepted by the community and the indigenous elders.
The paralegal team also hold frequent activities at schools, churches, as well as village ceremonies and festivals to promote their services.
n n n
Most of the paralegals working in North Timor Tengah did not understand the law—much like Wendy in the beginning. Most had graduated from vocational high schools. This is why Wendy and the other volunteers were first given training sessions by Yabiku to obtain legal assistance skills.
Yabiku Coordinator Antonius Efi said they chose the paralegal approach because of the high rate of domestic violence in East Nusa Tenggara. Based on data from the Northern Central Timor District's Office for Women's Empowerment and Children's Protection, ibn 2017, 171 cases of violence against women and children had occurred. As of July 2018, there were 24 cases of violence, of which sexual abuse was the most dominant, followed by domestic abuse and cases of neglect or abandonment.
Meanwhile, assistance to victims was very minimal. "Through the presence of paralegals, we want to bring service to the victims," ​​Antonius said.
Yosefina Onda, Head of North Timor Tengah District's Office for Women's Empowerment and Children's Protection, said one of the causes for the high rates of domestic violence was the belis culture. Belis is the dowry given by a man's family to the family of the woman he marries. The dowry is usually traditional sarungs and farm animals such as pigs, cows, buffaloes and goats. The amount gets quite hefty and expensive, and often times burdens the finances of the groom's family.
The initial goal of belis was to "honor" the women. But this understanding later shifted, and belis came to be seen as the price for buying a wife. Thus, men often treat their wives like their property, and this leads to domestic violence.
Another factor causing the high rate of violence is prevalent poverty. The majority of residents in North Timor Tengah work as farmers, not earning enough to make ends meet. This lead to high levels of stress and emotional instability that can blow up into violent behaviour. "Many people have to live as single parents because their spouses leave to work overseas as a way to overcome poverty," Yosefina said.
The culture of sopi drinking s also another cause for violence. Sopi is considered a sacred drink that unites the community. But the sacredness has diminished as villagers drink the spirit almost daily. Excessive consumption of sopi has turned many men into drunks who cannot think clearly nor control their emotions. Women and children often become their victims.
Yosefina is grateful for the existence of Yabiku paralegals like Wendy. "The paralegals make it easier for victims to open up about what they are experiencing," Yosefina said.
Wendy carries out her duties with warmth.
"It is my sincere hope that the prevalence of violence against women and children will decrease," she said. "The next thing I wish for is that no more will there be women and men who become abusers."
LINDA TRIANITA
(This article is part of the Proyek Perempuan Tempo (Tempos' Women Project), made possible with the support from the European Journalism Centre – full story: https:investigasi.tempo.co/perempuan-berdaya).