Cut-Rate Import Tariffs at Tanjung Emas
The interception of garments being imported at a port in Semarang exposed a suspected practice of low import tax payments. It began with a report from another importer.
Edition : 4 February 2019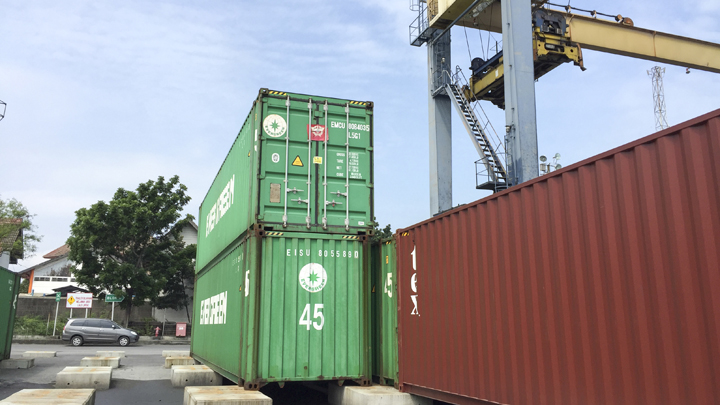 Hundreds of sacks were removed from 10 shipping containers received at Tanjung Emas Port, Semarang, Central Java, on January 14. There were large green sacks full of garments, cardboard boxes wrapped in sacks containing purses and wallets, and a box with "Mitsuyama" printed on it, with a warning label indicating it was filled with batteries.
These goods were sent from the Port of Shekou, China, by Shenzhen Xingyuan Import and Export on January 7 to Mitra Inti Perkasa, which has an office in Mangga Besar, Jakarta. Even though Mitra Inti has an office in Jakarta, these goods purchased from Haiyuan Trade (Hong Kong) Limited entered the country through the Semarang Tanjung Emas Port, not Tanjung Priok in Jakarta.
According to the imported goods notification documents, those shipping containers contained bags and wallets. When an inspection was carried out by the investigation inspectorate of the ministry of finance and the Tanjung Emas customs office, they found garments packaged in large green sacks. Tertja Karja Adil, chief of the office of supervision and service at the Tanjung Emas customs office, said that only one of the 10 containers contained garments. "Just one container. The contents of the nine others were in line with the notifications of imported goods," said Tertja at his office on Wednesday last week.
Tertja said that there were no lights in those shipping containers owned by Mitra Inti Perkasa. He also denied the news that there were garments in other shipping containers belonging to this company which has 'yellow track' import status. Lights and garments are in the import category of forbidden and/or restricted items. The goods of companies with yellow track status are not normally inspected when arriving in port. Tertja said that he inspected these Mitra Inti shipping containers based on a random selection.
According to him, some of Mitra Inti's shipping containers had been issued corrections on the amount of import tax to be paid on those goods. This means there was an underpayment of import tax which Mitra Inti must pay. He does not know the exact amount.
Heri Setiyono alias Heri Black, who runs the customs service business which took care of Mitra Inti Perkasa, said that there were 11 shipping containers sent from China. However, Global Logistics Ltd, a Chinese expedition company, entered the wrong container number and the documents for the garments was mistakenly exchanged for the documents for the bags. "All of the goods should have been correct. However, there was a mistake by those who handled the logistics when entering the data," said Heri Black.
---
Iming protested the crackdown on high-risk imports recently carried out by customs as a public image building effort.
---
Rumors about smuggling bypassing customs regulations at Tanjung Emas Port, Semarang, began to be heard after an importer, Mintarja alias Iming, sent a letter to the ministry of finance at the end of last year. In that letter, he protested the crackdown on high-risk imports recently carried out by customs as a public image building effort. In addition to being an importer in Semarang, he owns a bonded warehouse in Surabaya, East Java.
When the crackdown began, according to the letter, the import tariff on one type of good had reached Rp400 million per 40-foot container. However, at present, the import tax is just Rp100 million per container. "Where did the other Rp300 million go?" Iming asked.
According to Iming in his letter, after this public image effort was done, there is suspicion that a customs employee directed that those who agreed to go along with paying US$10,000 per container be given special treatment, namely all goods which are banned and/or restricted can pass by using a fake form and paying import tax just 20 percent of the actual tariff. Imitation goods, and even heavily banned items, could use the green and yellow tracks. This means that such goods could leave the customs area without being inspected.
This Maju Jaya Sakti Sejahtera owner, who obtained a bonded area from the ministry of finance, is also currently facing a customs problem. In early November last year, a team from the directorate-general of customs took action against two shipping containers belonging to Iming's company in Tanjung Perak Port, Surabaya, for containing hard liquor, while the notification for imported goods was for bicycle parts. This business owner who has a license to import bicycle parts then reported the customs officer who confiscated those two containers.
Tertja Karja Adil did not deny that Iming has sent such a letter. According to him, the number of reports from business owners such as Iming about such conspiracy have increased since he first became chief of that office in April 2017. "So far there have been no findings. It is common to receive such complaints," he said. Two sources in the customs head office verified that Iming sent a letter.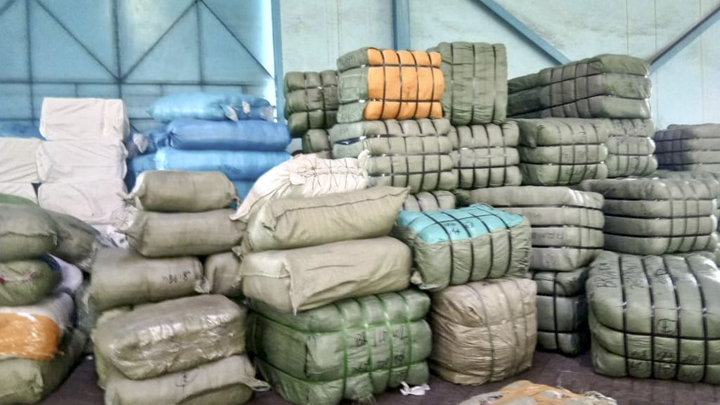 Mitra Inti Niaga's goods which are seized by the customs office in Tanjung Emas Port, Semarang./Special photo
Iming could not be reached to confirm his letter. When this businessman from Surabaya was contacted at his five cellular phone numbers, there was no reply. When Tempo visited Maju Jaya Sakti Sejahtera, at Jalan Margomulyo Permai III CC-12 in Surabaya, an employee there, Muhammad, said that his boss was not at the office. There was also no reply to a written interview request sent to Iming's lawyer, Vincent.
Iming's information about the tariff being just Rp100 million for each container matches the payment made by Mitra Inti Perkasa when importing those bags and garments. This company has had yellow track status since October 2018. Heri Setiyono alias Heri Black, who runs the customs service business which took care of Mitra Inti Perkasa, said that the import tax was based on the total invoice from the vendor in China. "We pay based on the invoice amount. However, to date it has never been less than Rp100 million," said Heri Black, on Friday last week.
For example, in Notification for Imported Goods (PIB) 2432, the import tax on two 45-foot shipping containers of bags and wallets was about Rp418 million. The import tax for PIB 2430, which listed two 45-foot shipping containers for handbags and wallets, was about Rp260 million. The average import tax for garments should be Rp400-700 million per container.
Based in the included invoice, the price of one backpack is US$1.30 or about Rp20,000. Handbags are priced at US$1.20 or about Rp18,000 per unit. There are also handbags which are priced at just US$0.82 or less than Rp15,000 per unit. The price of wallet was just US$0.18 or Rp1,500.
According to Heri Black, the price of those bags and wallets are so low because they are not premium goods. "Those bags usually sell in the market for Rp100,000-200,000," he said. Each month, Mitra Inti brings in 60-100 shipping containers on average, listed on 20 import notifications. An official at the ministry of finance said that listing item price far below their actual price is a common practice used by business owners. "To avoid high import taxes," they said.
Tertja Karja Adil, said that his team did find an underpayment of import taxes on those items. However, he does not know the exact amount. According to him, making such corrections is a normal occurrence at the customs office.
He assured that his team checked all of those goods belonging to Mitra Inti. At present, his team is waiting to hold a case review to determine whether or not this case falls under criminal law or administrative sanctions. After investigating the importer, said Tertja, it was found that a data input error had occurred. For that reason, he said, there is a good chance that the customs office will issue an administrative sanction, a 1,000 percent fine on the payment shortage.
Tertja denied the news that they took action against Mitra Inti after receiving information from Iming. He said that as of January 10 he has been focusing attention on the chief of enforcement and investigation of the Tanjung Emas customs office.
Tertja said that he received some information about an imported goods notification for bags being mixed in with other goods. "I ordered that it be investigated and checked, and then we issued an intelligence findings note. One container was found which contained different items," he said. Based on this finding, he submitted a proposal to the enforcement and investigation directorate of the customs office to change Mitra Inti's import status from yellow to red track (which would require a physical check of all goods).
Tertja said that the practice of a Rp100 million cut-rate per container imported, as was mentioned by Iming, was eradicated in 2017. "We are against such cut-rate importation," he said. The proof of this, said Tertja, is that the revenue of the Tanjung Emas customs office is always above target.
According to Tertja, in 2017, for example, the import tax revenue target was Rp2.045 trillion, but he and his team were able to bring in Rp2.143 trillion. In 2018, the Tanjung Emas customs office was given a target of Rp2.08 trillion, and their revenue was Rp2.127 trillion. "Before that the targets were never met. How could the targets possibly be met if cut-rates were still being charged? The figure given by Iming is too low," he said.
Heri Black denied paying cut-rates on import taxes. In fact, when he was questioned by the investigation inspectorate some time ago, he was asked about cut-rate import tariffs under Rp100 million. "That is all untrue," he said.
He claimed that he never brought goods through customs through a 'back door'. "I don't dare do anything like that," said Heri, adding that he has slowly built up his customs administration service business.
For the 10 years that he has been taking care of customs services, he said that this was the first time he has had any trouble. "This was clearly an error on the part of the logistics agency. I was the one who suffered losses," he said. He said in the past the matter was limited to a correction to the amount of import tax paid.
LINDA TRIANITA