The Bitter Pill to Cure Deficits
Bank Indonesia (BI) has no choice but to administer another bitter pill to Indonesia's economy. Instead of lowering the BI 7-Day Repo Rate, BI held it at six percent.
Edition : 26 February 2019
If only this benchmark rate had gone down, there could have been a series of positive effects to look forward to. Bank deposit and loan interest rates might be dragged down. Businesses could enjoy a cheaper cost of capital. Then eventually it would invigorate the economy.
Looking at the global perspective, the opportunity to lower interest is there. The Federal Reserve send out signals that it will not raise its interest rates. The Fed will also discontinue its balance sheet reduction that can tighten dollar liquidity. The combination of these two conditions can stimulate the financial markets of emerging economies and make room for BI to lower its interest rates.
Unfortunately, there is a bigger issue that is preventing BI from doing so: Indonesia's last year massive current account deficit which looks set to continue this year. So far, incoming dollars from portfolio investment have plugged that deficit. If BI's interest rates fall, the return on investment in Indonesia can also fall. The Indonesian market becomes unattractive. The flow of investment can be disrupted. Consequently, the current account deficit stays if not gets bigger.
The current account deficit is a problem in the real sector. The value of our goods and services imports are much bigger than our exports. The stopgap for that deficit is investment flow in the capital account, the domain of monetary sector. In order to keep the investment coming, BI must take monetary policies with detrimental side effects. Higher interest slows down economic growth.
So far, there is still no cure for the real sector that can halt the swelling of our current account deficits, let alone reduce it. In fact, Indonesia's current account deficit tended to widen in the last year, going from US$16.2 billion in 2017 to US$31 billion last year. Various government policies to cut down imports and boost exports have yet to show results.
Making things worse, the deficit has extended to our trade balance, instead of just being constrained to services account like in the past. Throughout 2018, Indonesia's trade balance shouldered a deficit of US$8.57 billion. And this trend of deficit continued in January 2019. In just one month, there was another trade deficit of US1.16 billion.
This is a worrying trend since there are still government policies that potentially would create a bigger trade deficit. One example is the domestic market obligation for the coal industry. They have to sell some part of their products to the State Electricity Company (PLN) with a fixed price. This policy does have its reasons, to prevent PLN from suffering overbearing losses. PLN even can lower its electricity price, starting next month, for the lowest household category, a popular policy indeed to attract voters in the coming general election.
However, it has a big impact on coal exports. Firms that cannot fulfill their obligation will have their production permits reduced. The coal industry estimates that between 90 to 100 million tons of coal for exports will be lost this year. If the average price of coal exports is US$60 per ton, for instance, that is a potential lost of six billion dollars of trade surplus.
As a result, the trade deficit and the current account deficit seems here to stay. We still need to depend on portfolio investment as a stopgap. On the other hand, should the deficit persist, the pressure on the rupiah surely will not abate. BI has to keep its interest high to defend the rupiah. And at the same time, the higher interest will prevent the economy from moving faster. These are the effects of the bitter pill that we must swallow for tackling our current account deficit.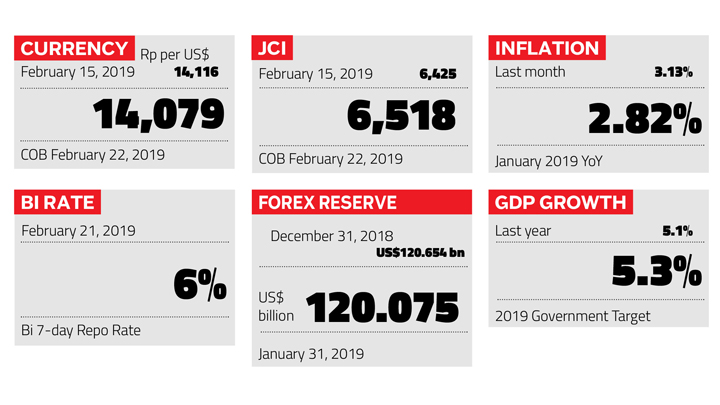 INFLATION
YOPIE HIDAYAT (CONTRIBUTOR)