From the Streets to Parliament
After two decades in the world of labor and human rights activism, including a failed attempt to set up a labor party, Surya Tjandra is currently running for a legislative seat through the Indonesian Solidarity Party. His campaigns focus on constituency funding and money politics.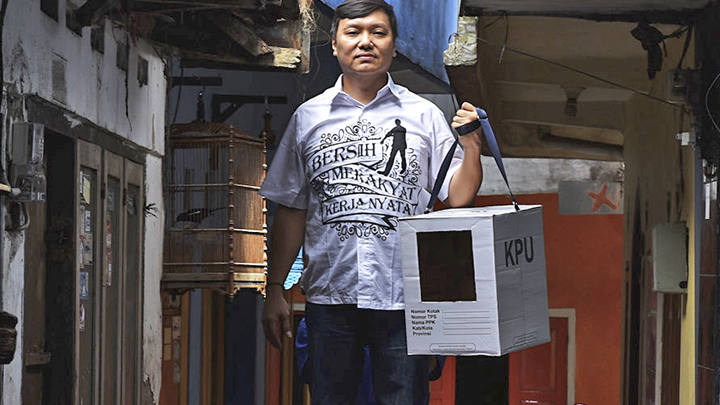 Surya Tjandra
Six women between the ages of 20 and 50 were intently listening to Surya Tjandra's short speech on Thursday last week at a house in Plalar hamlet in the Sukoanyar village in East Java's Malang regency. The Indonesian Solidarity Party (PSI) politician explained how the so-called aspiration funding—state funding for the regions channeled through parliament members—of between two and three billion rupiah could be used to support the women's working capital
That afternoon, Surya received the complaints of the small-scale seamstresses, who supply a number of Malang textile factories with their products. One of the women, Sumiati, said she was once invited by a local parliamentarian to take part in an online marketing training. "What we need instead is more capital," said the 50-year-old woman.
Surya promised the women that, should he be elected as a representative of their region in East Java, he would give all the aspiration funding to his constituents, including for added capital. He also vowed to fight for more social safety nets such as health insurance and old-age pension for these small entrepreneurs.
In Malang, Surya's campaign is assisted by Vero Yuni, an activist for small female entrepreneurs. Vero has taken Surya into villages that are the basis for micro businesses such as Sumiati's. Vero has also gone door-to-door to introduce Surya to communities, particularly entrepreneurs working out of their homes. "The party is then informed about results from our field work through an android App," she said.
Vero has known Surya since 2014. At that time, Surya was the director of the Trade Union Rights Centre. They both worked with home-grown entrepreneurs. Since Surya has put his name on the ballot, Vero has joined his volunteer campaign team together with 160 other people.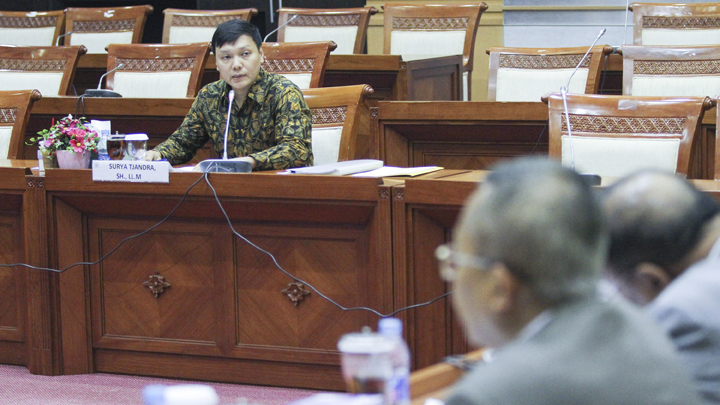 Surya Tjandra in the fit-and-proper test for KPK chairman at the House of Representatives, 2015./TEMPO/STR/Dhemas Reviyanto Atmodjo
Prior to entering politics, Surya was known as a human rights and labor activist. Even before graduating from the University of Indonesia's law faculty, he was already interning at Jakarta's Legal Aid Foundation (LBH) in 1994. During that period, he was arrested because he was demonstrating against the shutting down of the Tempo, Detik, and Editor magazines. "But I was only detained for one night, and fined Rp2,500," said Surya, 48.
He was with the LBH until 2003. For nine years Surya, the sixth child out of seven, handled complicated cases such as the demonstration at the Indonesian Democratic Party (PDI) headquarters which turned violent on July 27, 1997. He also stood by journalists persecuted during and after the New Order era.
After leaving the Jakarta LBH, Surya and a number of his colleagues formed the Trade Union Rights Centre (TURC), an organization supporting laborers. During his time at the LBH, Surya, whose father sold chickens at Jakarta's Jatinegara market, was a labor advocate. At TURC, Surya gained a phenomenal victory: he won a court case against the state.
Together with a number of labor unions, such as the Indonesian Confederation of Labor Unions under Said Iqbal, he sued the president, the vice president and eight institutions in 2011 for stalling to form social security agency BPJS in accordance with Law No. 40/2004, on national social security.
Through the Social Security Action Committee, consisting of a number of labor and community activists, Surya led this legal case in July 2011. At that time, the panel of judges at the Central Jakarta District Court assessed that the government was negligent in failing to form the BPJS within five years, as stated in chapter 52 of Law No. 40/2004. Four months later, the BPJS law was enacted.
TURC director Andriko Otang explained that initially workers had only aimed at the revision of Law No. 3/1992, regarding workers' social security, which they deemed to be problematic. Surya then saw a loophole in the social security law.
In order to convince workers, Andriko continued, Surya explained the difference between those two laws. "While Jamsostek is only for laborers themselves, the BPJS would also cover their families," he said. "And that understanding hit home." Due to the verdict, Andriko pointed out, almost 60 percent of Indonesians currently enjoy BPJS.
Surya's closeness to labor unions, including to Said Iqbal, has continued. A year after the BPJS was put into law, they worked side by side pressuring the government to increase minimum wage and abolish outsourcing. Surya urged the government to revise the manpower ministerial regulations No. 17/2005, about decent living standards which only consisted of 46 points.
Millions of workers staged strikes, demanding that the government revise the regulation. They took to the streets, crippling the Cikarang tollway. The government finally revised the regulation, replacing it with the manpower ministerial regulation No. 13/2012, which added the decent living standard points to 60. In the period between 2012 and 2013, minimum wage went up 60 percent.
In the run up to the 2014 elections, Surya and Said Iqbal parted ways because of different political affiliations. As a result, the labor movement was also divided. Surya said that the idea of setting up a labor party had failed. In fact, he said, Said Iqbal was slated to become the party's chairman. Since then, he has not been active in the labor union circles.
Said Iqbal confirmed the rift. Aside from political views, Iqbal said that Surya has the qualities to become an MP. "He is very special," he said. "A labor activist who is very concerned about advocacy and building up labor politics."
After leaving behind his labor activism days, Surya entered the legal world by signing up as a candidate for Corruption Eradication Commission (KPK) chairman in 2015. He went all the way to the fit-and-proper test at the parliamentary legal commission, but did not reach the finish line. "Maybe I was too young," he said, laughing.
While active in the labor movement, Surya continued to teach at Jakarta's Atma Jaya University. After obtaining his law degree at the University of Indonesia, Surya obtained a scholarship to continue his studies at the University of Warwick in the UK. He received his PhD in law from Leiden University in the Netherlands.
After failing to enter the KPK, PSI secretary-general Raja Juli Antoni called him and asked him to join the party as a parliamentary candidate. Surya said he was immediately drawn to the PSI because the party shared his vision and mission, including on topics such as anti corruption, defending the rights of minorities, and guarding pluralism. "I have also known Antoni for a long time," Surya said.
Antoni confirmed that he had asked Surya to join the party due to the latter's unblemished history. "I said to him 'be an MP candidate for the PSI, and then you can choose the KPK chairperson'," Antoni said, laughing. Surya became interested and joined in PSI's selection process for MP candidates.
If elected, Antoni said, Surya will be placed in a commission commensurate with his education and experience as a labor activist. Just like Antoni, Sumiati the seamstress in Malang hopes that Surya will be elected. "I will vote for Pak Surya," she said enthusiastically.
Surya Tjandra
Place and Date of Birth:
Jakarta, March 28, 1971
Education:
• Bachelor's degree, Law School, Universitas Indonesia
• Master's degree, University of Warwick, United Kingdom Phd, Universiteit Leiden, Nederland
Career:
• Trade Union Rights Centre (2004-2015)
• Jakarta Legal Aid Institute (1994-2003)
Party: Indonesian Solidarity Party
Electoral Region: East Java V
Ballot Number: 1