Guardian of Mollo's Marble Mountain
Spearheading the women's protest against mining companies, Aleta Kornelia Baun is now continuing her activism in politics. She hands out plant seeds during her campaigns.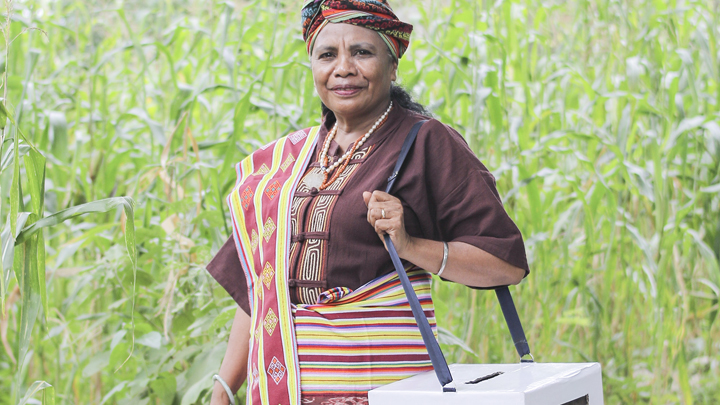 Aleta Kornelia Baun
One night in the middle of 1996, Aleta Kornelia Baun was awoken from her sleep. She was told that a marble company had offered a reward for anyone who could kill Aleta that night. In the dark, Aleta grabbed her baby and ran into the woods. Hiding there for days, she was saved from an assassination attempt.
Now 52, Aleta was terrorized for leading a protest against marble mining in the area around Mount Mutis in East Nusa Tenggara. She fought against it because the mining, ongoing since the 1980s, had damaged Mount Mutis' ecosystem, which is deemed holy by the local Mollo tribe. "I cried when I saw the rocks being cut and sliced, and then taken away from the village," Aleta told Tempo at the Hoi village in South Central Timor on Thursday last week.
Initially, Aleta asked two other women to organize resistance. The three of them went from house to house, which sometimes took six hours of traveling, to explain the dangers of marble mining. She told the Mollo women she met that Mount Mutis' sources of water, food and natural dyes needed for weaving would disappear due to the marble mining.
Aleta's reasons to protest the mining actually went beyond a water or food crisis. The Mollo people believe in a relationship between the spirit and nature. The Mollos treat nature like their own bodies. When a tree is cut, or a hill is carved, it as if a human body is mutilated. Nausus, one of the peaks of Mount Mutis, is believed to be the birth place of the Mollos.
Aleta's efforts were finally supported by the Mollo women. Starting out from three people, Aleta was able to rally some 150 women in 2006. They blocked access to the mining site while weaving in the middle of the street. That action carried on for a year. "Weaving is our way to protest mining, since all the material needed for weaving comes from nature," said this politician of the National Awakening Party (PKB).
A year after they started weaving on the streets, the marble mining activities at Mount Mutis was halted. However, Aleta said, the company only hauled its heavy machinery out of the mining area in 2010. Aleta's effort had won her numerous awards in environmental protection, such as the Goldman Environmental Prize in 2013.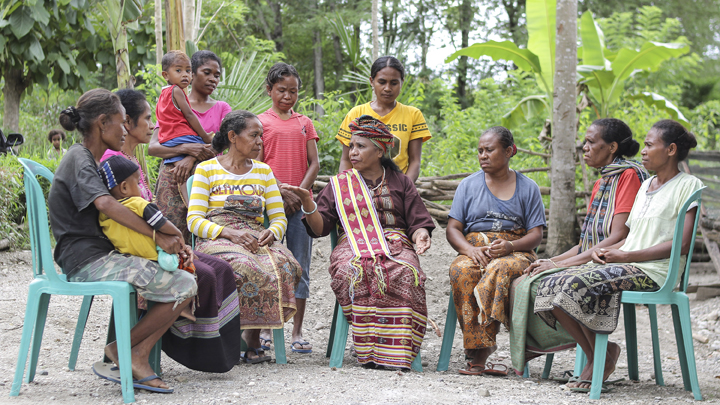 Aleta Kornelia Baun conversing with residents of Hoi village, Nikiniki, East Nusa Tenggara, last Thursday./ TEMPO/Muhammad Hidayat
One key reason which pushed women to the forefront of protesting the mines is the Mollo belief that women are the legitimate owners of the land. However, this does not mean that the action of Aleta and hundreds of other Mollo women is not supported by their men. When the women demonstrated, the men took over the task of cooking and childcare. "Having women at the forefront of this movement was also a strategy to suppress potential scuffles with the mine's security guards," Aleta said.
After the miners left, Aleta formed reforestation groups to rejuvenate the area which had been stripped of its vegetation by the miners. They opted for avocado, orange and sengon (Albizia chinensis) trees because of the economic value of their products. Aleta also formed communities for farming, raising cattle and weaving, which now number up to 2,300 groups. Together with those communities, Aleta has mapped out traditional forests to protect the environment from damage.
Aleta also continues to conduct training for members of these communities. For the farming group, for example, she has taught the use of organic fertilizers and planting horticultural products such as corn. The farming community has grown such that it is able to set up three food centres with an annual turnover of some Rp30 million.
In 2017 Aleta, who is also a member of the alliance of traditional communities, set up the Mama Aleta Fund, a non-profit organization for women to preserve the environment. Aleta donated almost the entire sum of her Goldman Environmental Prize of US$150,000, or about Rp2 billion, to that foundation. "The foundation's vision is to encourage more women to care about their environment," she said.
Aleta's efforts to guard the Mollo mountains has inspired local communities in different regions. For two years, starting in 2013, she went back and forth between Kupang and Malang to assist the people in Malang, East Java, to reject the construction of a hotel at a water source crucial for more than 500 households.
The former East Java director of the Indonesian forum for environment, Ony Mahardika, told that he was the one who asked Aleta to share her experiences in raising grassroots resistance with people living around Umbul Gemulo spring. "We applied the strategy mother Aleta used in Mollo for repelling the construction of a hotel in Malang," Ony Said.
She also stood by the Kendeng people in Rembang, Central Java, to counter the construction of a cement factory. According to Aleta, the PKB had asked her to share her experience, because the Mollos and the Kendeng farmers share the belief that nature is their source of existence. "She came to my house and we shared stories," said Gunretno, who coordinates the network of people care about the Kendeng mountain.
Aleta believes her contribution towards protecting the environment would be greater if she could influence legislation. In 2013, she decided to join the PKB and become a parliamentary candidate for East Nusa Tenggara province in the 2014 elections. She was elected with 3,997 votes. She was the PKB representative in the parliamentary commission dealing with welfare, before being shifted to another commission on finance.
During her time at the welfare commission, Aleta said she had initiated a number of regional regulations which supported the environment and traditional communities. "My conscience remains with environmental issues," she said.
This winner of the 2016 Yap Thiam Hien award is now vying for a parliamentary seat for the East Nusa Tenggara II region. In her campaigns, she has stayed true to her environmental and traditional community causes.
Whenever she meets her constituents, Aleta hands out plant seeds instead of envelopes with money. She has prepared some 600,000 sengon, avocado, jackfruit and fig seeds to disseminate to her supporters in 11 regencies and cities during her campaign.
Nevertheless, Aleta admits that the environment is not a popular issue among her constituents. They are more interested in welfare topics such as employment and cheap basic needs. However, Aleta marches on. The fact that people plant the seeds she gives them already makes her happy. "Without a green and sustainable environment, our existence will be under threat," she said.
Aleta Kornelia Baun
Place and date of birth:
Lelobatan, South Central Timor, East Nusa Tenggar, March 16, 1966
Education: Bachelor's degree, Law School, Universitas Tritunggal, Surabaya (2011)
Career: MP for the National Awakening Party PKB for East Nusa Tenggara (2014-2019)
Party: PKB
Region: East Nusa Tenggara II
Candidacy number: 2