Coffee In The Protected Forests
As many as 50 farmer groups in West Lampung have committed to safeguarding a protected forest.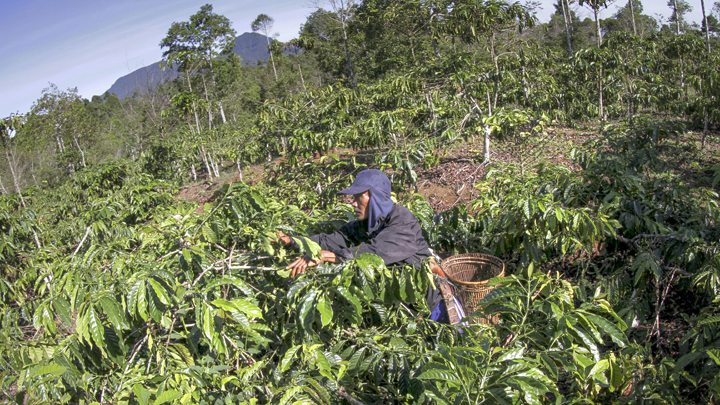 TODAY, coffee trees almost completely cover parts of Bukit Rigis (Rigis Hill), West Lampung—once nearly barren. From the crest of the hill one can see coffee trees are flourishing among other plants such as pine, spice, avocado, and durian, as though they were at one with other trees in the protected forest. In fact, these coffee trees are grown in a protected forest area assigned by the environment and forestry ministry as a community forest.
One of the locations is Register 45B Bukit Rigis, whose management the government has awarded to the farmer group Mitra Wana Lestari Sejahtera for an area of 260.7 hectares. Of the said area, Mitra Wana only makes use of 83 hectares of land divided among the group's 103 members. "This doesn't mean we are clearing new land. This is land that had already been cleared or planted before the reformasi (in 1998). No more trees are cut down," said Ahmad Erfan, Mitra Wana's member and mentor, when we met him last year.
In West Lampung, Sumatra, 50 farmer groups are recorded as having the permission of the forestry ministry to manage community forests located in protected forest areas with a total area of 24,790 hectares. The number of farmer groups have grown rapidly since the forestry ministry granted 35-year community forest management permits in 2007. At the time, Erfan and farmers from five farmer groups submitted permit applications with the assistance of two non-govermental groups.
Erfan, mentor of Mitra Wana Lestari Sejahtera group in West Lampung. TEMPO/Amston Probel
According to Erfan, community forestry has improved the welfare and economy of the people in West Lampung, whose primary skills are farming and plant cultivation. The problem was that 80 percent of land in West Lampung was made up of protected forest areas owned by the state. "[The people] could only plant. So if they are not allowed to make use of the protected forest, they're finished," said Erfan. The protected forest status also deterred members of farmer groups from felling trees. "No one dared to even chop fallen trees in the protected forest."
W251bGwsIjIwMjEtMDMtMDUgMDg6MTA6MTkiXQ
Agus Supriyatna, subdistrict head of Sumber Jaya, West Lampung, said the residents in his area rely on growing coffee in protected forest. He explained that people with other primary occupations, such as civil servants, traders, teachers, and members of the military also grow coffee. This is why the regional government estimates around 70 percent of West Lampung's coffee production comes from farmers working in protected forest areas. A farmer can harvest up to 100 kilograms of coffee on one hectare of land, with a selling price of Rp20,000-35,000 per kilogram. "If community forests are eliminated, Lampung coffee would perhaps also be eradicated," said Agus.
Hasan Basri, chief of the Forest Management Unit II Liwa, Lampung, said West Lampung's protected forests still hold great potentials. According to Hasan, a number of locations in the protected forest could make promising tourism sites, such as pine forests, waterfalls, and hill crests. But tourism in protected forests is still hampered by the lack of infrastructure, namely roads.
Hasan said fruit and coffee trees are still the most effective uses of protected forest management for the people of West Lampung. Even so, Hasan feels that the application of the community forest status is still met with hurdles, including monitoring. Although he said there has been no report or incident of illegal logging in protected forest areas, he has received numerous reports of farmers leasing their lands in the protected forest to others. This complicates monitoring and assistance because of the disparity between the regional government's data and reality.
"Community forests are more effective than reforestation programs. But we ask the farmers to not only plant coffee but also large trees that function as tree cover. Fact is, there are many who only plant coffee," said Hasan.
FRANSISCO ROSARIANS
---
Destroyed By An Armada of Elephants
SUROSO, member of the Mitra Wana Lestari Sejahtera farmer group, still vividly remembers his time in West Lampung in 1993-1998, when he and several other local residents would go up Bukit Rigis (Rigis Hill) to cut trees in the protected forest.
The people of West Lampung would cut trees in the protected forest to clear land for growing plants as land for cultivation was scarce in the region. They realized that they were engaging in a criminal act and were risking legal repercussions.
"We did not have a choice. We went up [into the forest to grow plants] when the government people (rangers, the military, and forestry officers) went away. Every time there was an inspection, we would come down," said Suroso, 70, when we met him at the end of 2018.
Suroso also told us about the bleak fate of farmers before the time to harvest coffee. According to Suroso, most farmers would repeatedly go up into the forest at around 1am and leave before 4am to avoid an ambush by forest rangers. Furthermore, coffee growers were often powerless when the government destroyed their coffee trees close to harvest time.
"The forest rangers used elephants to uproot coffee trees. [They would] cut down and burn," said Suroso. "Many suffered from stress and went half mad. The yields were their livelihood."
As many as 80 percent of producing land in West Lampung belong to protected forest areas, while the rest belong to customary land owned by West Lampung's indigenous people, the Semendau. Newcomers and those who did not own land were forced to clear forest areas to grow plants.
They were only given an official permit to manage the protected forest after the forestry ministry issued a community forest permit for 35 years in Register 45B, Bukit Rigis, West Lampung, in 2007. The permit has continued to develop until today, with permits issued to 50 farmer groups in West Lampung's six registers.
"The permit is actually a solution for reforestation programs. Before, reforestation did not succeed. The people were told to plant trees, but they may not have done it," said Ahmad Erfan, Mitra Wana's member and mentor. Today, however, previously barren areas are planted with coffees and shade trees. "The government doesn't need to do anything, the forests are planted."
According to Erfan, today the government no longer need to supply forest rangers to prevent logging in the protected forest. Erfan believes that each member of his farmer group supervises both himself and other members of the team. He claims that not one member of his farmer group would dare cut trees in the protected forest. "They don't want to lose the permit just because they are tempted to get timber from large trees," he said.
FRANSISCO ROSARIANS