Salt Imports through Allocation
The producers of miscellaneous food industry salt allegedly carried out a cartel. The Business Competition Supervisory Commission uncovered a proposal for an import quota and stock management and distribution previously agreed upon between them.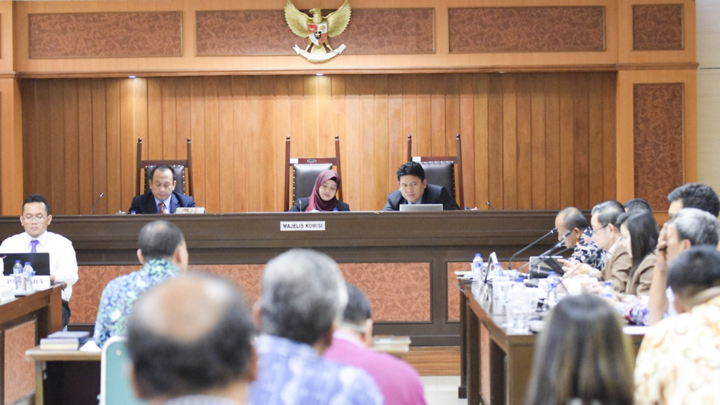 Unwilling to lose evidence from one of their key witnesses, the board for the investigation of an alleged salt cartel of the Business Competition Supervisory Commission (KPPU) decided to fly to Surabaya, East Java, Tuesday, March 19. There, the board investigated six witnesses from the producers of flavor enhancers and processed consumer salt between March 19-21 according to schedule.
Of the six witnesses, two hailed from Ajinomoto Indonesia. The two members of the board of directors of Ajinomoto requested the investigation be held at the KPPU Surabaya branch office, and not in Jakarta as before. KPPU main investigator Noor Rofiq complied to the request. He asked the Ajinomoto directors to give an explanation regarding supplies and the pricing of salt throughout 2015-2016. "In March 2015 there was no supply, yet Ajinomoto managed to obtain supplies though at a lesser volume," said Rofiq on Wednesday, March 27.
The commission has been holding hearings related to a suspected salt cartel since January. The commission suspects seven producers of miscellaneous food salt had made an agreement to determine production and marketing to influence pricing throughout 2015-2016. The seven companies are Garindo Sejahtera Abadi, Susanti Megah, Niaga Garam Cemerlang, Unichem Candi Indonesia, Cheetam Garam Indonesia, Budiono Madura Bangun Perkasa, and Sumatraco Langgeng Makmur. They are registered as salt importers.
The session on Wednesday, March 20, was the second hearing. Ajinomoto gave testimony to the investigation commission board. In mid-February, Ajinomoto through their department manager of general personnel at the Mojokerto factory, Mujibur Rokhman, described how the regular salt needs of the company reaches 70,000 tons a year. The salt is used as a basic ingredient to produce monosodium glutamate (MSG) at the factory in Mojokerto, East Java and Karawang, West Java.
To date, Ajinomoto's main supply comes from Unichem Candi Indonesia. The producer of flavor enhancers and cooking ingredients, a subsidiary of Ajinomoto Inc. of Japan, also obtains salt from Susanti Megah, Sumatraco, and Cheetam. In the first hearing, Mujibur revealed that for a while, some suppliers could not fulfill Ajinomoto's needs. Ajinomoto conveyed this gap to the Indonesian Food and Beverages Producers Association.
Further in their testimony, Ajinomoto stated the price of salt from the suppliers went up in January 2015. To Ajinomoto, suppliers said the price hike was the result of a weakening rupiah which had impacted salt import costs. Then in March 2015, suppliers declared there was a stock scarcity. "Suppliers argued they had no import permits for March," said Noor Rofiq.
Yet data from the industry ministry showed salt stocks were still available in May 2015. Only two importers started to file import requests in February 2015. This data was obtained from Muhammad Khayam, director of upstream chemicals industry of the industry ministry at the time. Khayam gave testimony at the end of January.
The seven salt importing producers held a meeting three months after the importers claimed a stock scarcity had happened in March 2015. The coordination meeting was led by Tony Tanduk, chair of the Indonesian Association of Salt User Industries (AIPGI). As a result, on June 8, 2015, the AIPGI issued a recommendation letter proposing allocation of for salt importation. "From the testimony of a witness from Saltindo Perkasa, they instead should have been competing to obtain an allocation," said Rofiq.
AIPGI Letter No. 36/AIPGI/6/2015 showed Garindo was recommended for 122,206 tons of salt. Sumatraco, Susanti Megah, and Cheetam were allocated the same amount, 55,000 tons. Unichem and Niaga Garam were to obtain 27,500 tons, while Budiono was given no allocation. The total amount was 397,208 tons. These figures far surpassed each company's allocation which were based on absorption figures.
The KPPU considers the act violated Trade Minister Regulation No. 58/M-DAG/PER/9/2012 because import requests should have been registered individually based on calculated needs. The seven companies allegedly violated Article 11 of Law No. 5/1999 on the Prohibition of Monopolistic Practice and Unhealthy Business Competition.
The allocation figures created by the AIPGI were almost the same as import quotas determined by the government. The government had set salt imports at 396,740 tons in July 2015. Then, in November, the price of salt again increased. Salt sold at Rp1,800-2,602 a kilogram from the base production price of Rp1,050-1,250 a kilogram. In early 2016, stock became scarce yet once again.
AIPGI chair Tony Tanduk said stock scarcity occurred because supplies fell both from local farmers and import stocks. Moreover, said Tony, local production is yet incapable of fulfilling the standard of miscellaneous food industry needs for salt with a NaCl minimum level of 97 percent. To him, producers also absorb a portion of farmer salt to maintain supplies while importation has not yet come through.
On the matter of the AIPGI import quota proposals, Tony said the meeting merely accommodated the grievances of the producers who were facing scarcity of imported salt in the first semester of 2015. Before proposing the import requests, Tony reviewed the absorption rates and needs of each company. "I simply referred to the absorption figures from the year before," he said when met on Friday, March 29.
The former director of basic chemicals industry of the trade ministry said each import quota also considered the needs in the purchasing order contracts of the companies and their users. Sales realization for each of the salt producer may differ from their import quota because it is sourced from local salt stocks. He denied there was a group agreement. "Users will always take the cheapest price and the smoothest supply," said Tony
Aside from finding a problem with the quota, the KPPU discovered an alleged miscellaneous food industry salt exchange of stock between the seven players. A consumer salt processing factory apparently took industry salt to resell to the producers of processed industry salt, causing sales realization to surpass the import quota. Garindo, for example, did not realize their imports in 2015. "Yet the other six companies were capable of selling above the import realization figures, making us suspect stock was still available and they used it to fill demand in March 2015," said Noor Rofiq.
Susanti Megah's legal counsel, Sutrisno, takes exception to KPPU's accusation. "It is not true that Susanti Megah practised an imported salt cartel in 2015-2016, because they never stockpiled imported salt," he said at the initial hearing on December 18, 2018.
The Ombudsman of the Republic of Indonesia also discovered import maladministration carried out by the government in 2018. That year, salt imports amounted to 3.7 million tons. The import was carried out without a recommendation from the minister of maritime and fisheries. Also, there appeared Government Regulation No. 9/2018, which reinstated the recommendation for industrial salt importation to the agriculture ministry, within three days. This import permit was then abused by Mitra Tunggal Swakarsa. "We request administrative reparation and calculation of the balance sheet, so that imports can decrease," said Ombudsman member, Ahmad Alamsyah Siregar.
PUTRI ADITYOWATI