Golkar's Graft
Bribery suspect Bowo Sidik Pangarso implicates a Golkar Party colleague, Nusron Wahid. The bribe is allegedly sourced from a minister and a CEO of a state-owned enterprise.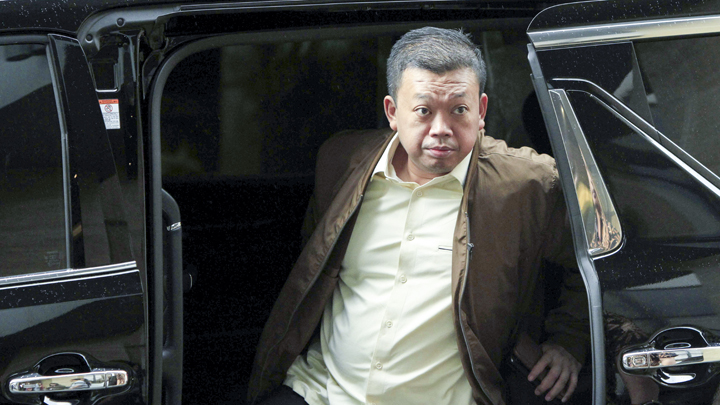 During his marathon interrogation from Tuesday, April 9, to Wednesday, April 10, Bowo Sidik Pangarso was very frank to his Corruption Eradication Commission (KPK) investigators. In his initial investigation as a bribe suspect concerning a cargo working venture between Pupuk Indonesia Logistik and Humpuss Transportasi Kimia, the Golkar Party politician gave explanation about the 400,000 envelopes in six safe deposit boxes in his consultancy office.
On March 28, investigators raided the office of Inersia Ampak Engineers in Jalan Salihara, South Jakarta. The thousands of white envelopes were stacked up neatly inside the six iron safes in the office. Some of the sealed envelopes bore a blue-colored stamp depicting a thumbs up sign.
The member of the House of Representatives' (DPR) Commission VI which handles trade, industry and state-owned enterprises, told investigators, the envelopes prepared for a 'dawn attack' (bribes for voters distributed in early morning of election day) were at the behest of the coordinator of Golkar Party's division for winning the election in Java and Kalimantan, Nusron Wahid. Bowo confirmed the matter after the investigation. "Pak Nusron had me prepare 400,000 envelopes," said Bowo post-investigation on Tuesday, April 9.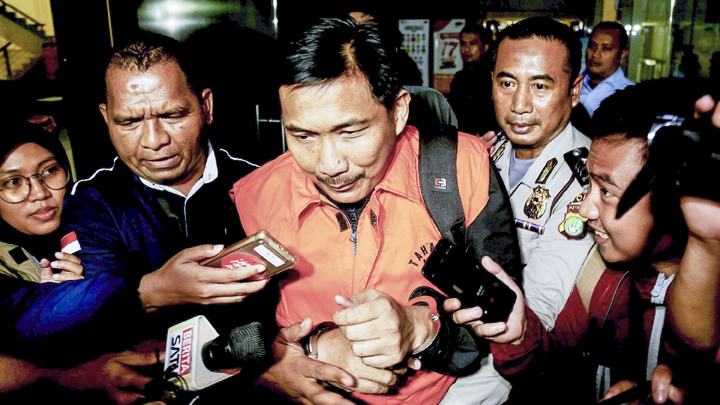 DPR member from the Golkar Faction, Bowo Sidik Pangarso, after questioning at the KPK building, Jakarta, March 28./TEMPO/M. Taufan Rengganis
Bowo is vying for reelection as legislator from the Golkar Party for the Central Java II region which encompasses the regencies of Jepara, Demak, and Kudus. Bowo is also chair of the election winning division in Central Java I of the Golkar Central Board. The KPK suspects the cash will be used by Bowo to conduct a 'dawn attack' to bolster his candidacy.
Nusron Wahid is also a Golkar legislator candidate from the same voting region. In 2014, the two became legislators in the DPR from the Central Java II constituency. Seven seats were being contested by 50 candidate legislators from eight parties in the same constituency. Golkar itself had touted seven candidates.
A day before confiscating the cash, a KPK team arrested a Inersia staff member who was also Bowo's right-hand person, Indung, and Asty Winasti from the marketing division of Humpuss Transportasi Kimia. During the arrest at the Humpuss office at Granadi Building, Jalan H.R. Rasuna Said, South Jakarta, Indung was receiving cash from Asty, totaling Rp89.4 million. "We suspect the cash submitted was the seventh disbursement," said KPK Deputy Chair Basaria Panjaitan.
The KPK team also caught other people red-handed, including Bowo, at dawn on Thursday, Maret 28. Bowo and Indung were arrested by the KPK as suspects for accepting a bribe. Asty Winasti was nabbed for allegedly giving the bribe.
Bowo admitted to investigators that Nusron Wahid instructed him to begin preparing the envelopes three months ago. "We should have one million envelopes readied, in case they will be needed," said Bowo echoing Nusron's words. Of the one million envelopes, Bowo was asked to prepare 400,000, while the remainder would be done by Nusron.
To pack the 'dawn attack' money, Bowo recruited day staff for the past three months. The staff stuffed in bills of Rp20,000 and Rp50,000. The money Bowo had readied totaled Rp8 billion. The sealed envelopes were then stamped with a thumbs up symbol.
According to Bowo's attorney, Saut Edward Rajagukguk, his client did know his action getting money for a 'dawn attack' violated general election regulations. But Bowo did it anyway at the instruction of Nusron Wahid, who is Golkar Party's coordinator for winning the election in the Java and Kalimantan areas. "In case they really need it, to reimburse transport costs of our constituents," he said.
Saut related that the cash did not only originate from Humpuss alone. "The Humpuss money was only Rp1.2 billion," he said. It was disbursed in installments over an eight month period.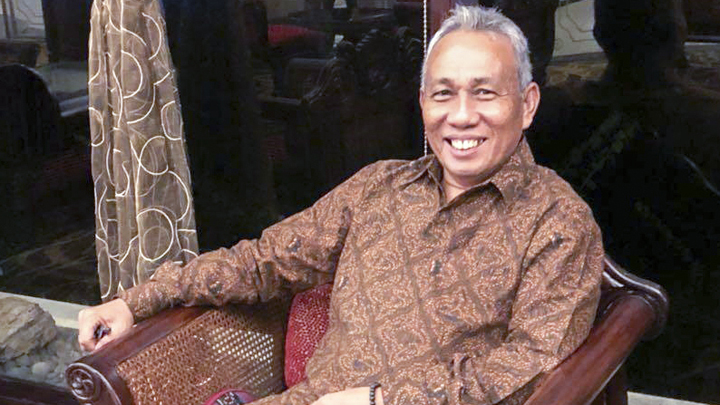 Saut Edward Rajagukguk/private doc.
The first instalment received by Bowo through Indung totaled US$24,572. The money was handed over at Gran Melia Hotel, Jalan H.R. Rasuna Said, South Jakarta, on August 14, 2018. The second disbursement of Rp221 million was given at the Pondok Indah Hospital, South Jakarta, on October 1. The third installment was again submitted at Gran Melia Hotel in December 20. In 2019, three more disbursements occurred at Gran Melia Hotel, and the last one was given at the Humpuss office, which ended up in the arrest.
Aside from the Humpuss cash, Bowo also accepted bribes from other parties. "Cash to shore up the amount to Rp8 billion in those envelopes are sourced from a minister in the present cabinet," said Saut.
Bowo had gotten himself ready to buy off the upcoming election from a while back. He told investigators that in September 2018 he had accepted Rp2 billion cash from a minister who is associated with the Commission VI. Bowo received the money from the minister's courier at the Mulia Hotel, South Jakarta. The money came in Singapore dollar bills. "The minister is a former Golkar politician," said a law enforcer in the know about the matter.
Aside from money from the minister, Bowo also received money from the CEO of a state-owned enterprise. "The SOE chief had been in several pickles during meetings with the Commission VI," said the same source. The bribe amount from this source totaled Rp2 billion.
Saut Edward Rajagukguk did not deny the monies from several sources to be used by Bowo to prepare his 'dawn attack'. "There were other donations, small amounts. Some money also came from Pak Bowo's own savings," he said.
According to Saut, side from being a DPR member, Bowo owns a consultancy business, Inersia Ampak Engineers. Some of the cash comes from Bowo's consultancy fees. Saut stated, the Humpuss money was Bowo's consultancy fee for a matter faced by the shipping transportation company with Pupuk Indonesia. "The money went to the consultancy firm. Hence it was taken by Indung," he said.
Saut understands that Bowo's position as a legislator and a consultant created bias. Because of this, Bowo freely admits he is at fault for accepting monies from his various colleagues. "Pak Bowo has revealed he never asked for it nor made demands. He said, if I am in the wrong then I take responsibility," said Saut.
KPK Spokesperson, Febri Diansyah, said the commission has obtained evidence of other receipts related to Bowo's position. But he would not reveal in detail the full sources of the Rp8 billion. "Investigators are still looking into this," he said. Febri made no comment on the matter of a minister and several high ranking SOE personnel related to Bowo's case. Febri stated that KPK suspects often blabber about other parties being involved.
To the KPK, said Febri, what is important is the information was given to investigators and they match other pieces of evidence. "A piece of information never stands alone," he said. According to Febri, investigators still need to make verification and study the other pieces of evidence. "Whether the evidence is strong or not," he said.
Nusron Wahid has denied giving instruction to Bowo Sidik Pangarso to prepare 400,000 envelopes for a 'dawn attack'. He also refutes the statement he has gotten ready 600,000 other envelopes. "This is not true. It is the individual's business. I have my own strategy," said Nusron, who is also chair of the National Board for Placement and Protection of Indonesian Workers (BNP2TKI).
When asked for confirmation about the sources of the cash being used by Bowo and his willingness to be called in by the KPK, Nusron refused to comment. "This is all I'm answering right now," he said.
Chair of the Golkar Central Board Ace Hasan Syadzily said his party has no knowledge about preparation for a 'dawn attack'. He is requesting Bowo to not drag other party cadres into the case. He is also wary of Bowo's statement. "Is it true? There is always a tendency for people caught red-handed to try to involve other people," said Ace.
He said Golkar never instructs the cadres to use money politics to garner votes. "Everybody has their own strategy in the field," said Ace.
LINDA TRIANITA