Mandiri Aims for the Top
The purchase of Bank Permata shares has entered due diligence process. Standard Chartered, Astra and Mandiri high-ranking officials met in Singapore to discuss the acquisition plan.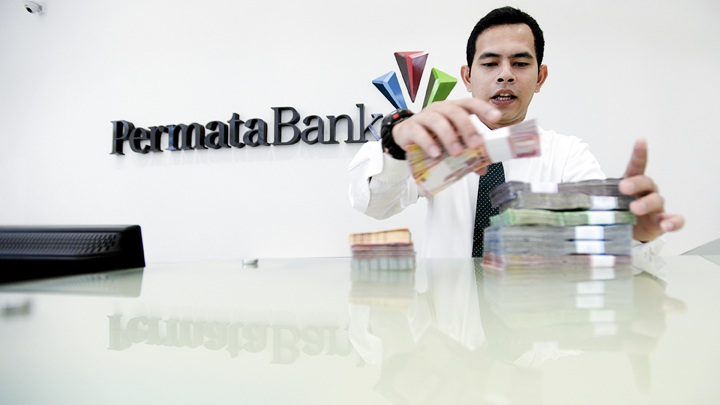 It took Kartika Wirjoatmodjo three months to admit that Bank Mandiri had begun the process of buying PT Bank Permata Tbk. After weeks of avoiding reporters' questions, the Mandiri CEO finally gave some details. On Monday night, April 8, he announced that the due diligence result will be revealed this month.
The statement Kartika—or Tiko, for short—gave confirmed the rumors that have been circulating. Since the beginning of 2019, there has been heresay that Mandiri, the nation's second largest bank in terms of assets, was planning to buy Permata. News are circulating that Mandiri has hired Morgan Stanley to carry out the due diligence for the acquisition.
Actually, Tiko had been giving hints since January. With a capital adequacy ratio of 21 percent, the state-owned bank had four percent of excess capital to spend, which is roughly between Rp30 trillion and Rp35 trillion. Mandiri had planned to use that money for expansion—setting their eyes on mid-size banks.
"If we take a bank with assets worth around Rp20 trillion, it wouldn't be significant," Tiko had said. He also mentioned that Mandiri was going to acquire a bank with business and product lines that are different from Mandiri's.
Mandiri's intention to buy shares in Permata surfaced amid news of Standard Chartered Bank's plan to sell their ownership in the bank. According to Soesilowati Asalim, the head of retail equity and branch coordinator at RHB Sekuritas Indonesia, this rumor first surfaced around three years ago. "In December 2018, the rumor started buzzing again," Soesilowati said on Thursday, April 18.
Standard Chartered PLC CEO Bill Winters said that Permata was suffering problems. He admitted he only started realizing the challenges of managing Permata after one year of leading the London-based bank.
"We spent one and a half years trying to aggressively clean up this bank," Bill said in November 2018.
Before the "clean-up" by Standard Chartered, Permata's finances were heavily battered. In 2016, the bank recorded a loss of Rp6.48 trillion, the biggest lost since the bank—a merge of five unhealthy banks—was first established in 2002 by the Indonesian Bank Restructuring Agency (IBRA). Standard Chartered and PT Astra International Tbk took over Permata in 2004, both owning 44.56 percent shares. Permata also has 10 percent of its shares owned by the public.
In 2016, the bank's gross non-performing loan (NPL) reached 8.8 percent, which placed them under the Financial Services Authority (OJK) monitoring for exceeding the allowed maximum NPL rate of 5 percent. The bank's net NPL stood at 2.24 percent. The figures showed increases compared to the year before, in 2015, when gross NPL was 2.74 percent and net NPL 1.40 percent.
From the Rp9.6 trillion bad principle loans in 2016, Permata allocated Rp7.2 trillion as reserve loss. Permata also sold some of its bad loans. This allowed the bank's gross NPL to drop to 4.36 percent at the end of 2018. Net NPL also declined to 1.73 percent.
However, these improvements were not very convincing to Standard Chartered. On February 26, 2019, Bill Winters announced that the bank has new priorities for 2019-2021. One of them is to "eliminate residual barriers to markets with low returns", such as Indonesia.
That statement was a very strong sign of letting Permata go. Especially since Standard Chartered is stuck with the OJK's rule that only allows foreign companies to have ownership in one Indonesian bank—a rule known as the single presence policy that the OJK placed in effect in 2017.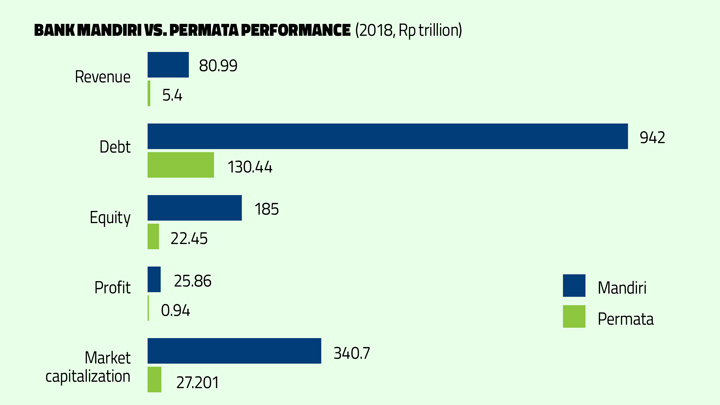 Bank Mandiri vs. Permata Performance
Foreign firms are left with three options: merging, divesting, or establishing a holding.
"All banks have submitted their plans to the OJK to fulfill that mandate," OJK's deputy commissioner for public relations and strategic management, Anto Prabowo, said on Friday, April 19. "How fast can they get investors—that depends of them," he said.
In its research, RHB Sekuritas predicted that Astra will follow in the footsteps of Standard Chartered. RHB is sure that Astra will sell their shares in Permata after they bought back the 25 percent shares of PT Astra Sedaya Finance (Astra Credit Companies) from Permata in 2018.
According to RHB, Astra would need a long time to gain the Rp9.6 trillion it invested in Permata. "In our view, Astra has more synergy with its financing subsidiaries, which can support their automotive business, compared to Permata," RHB's research stated on February 27.
Although Mandiri has only just admitted the acquisition plan in early April, a source who had learned about the process from the start said that the bank had obtained a Permata proposal since the end of 2018. In the third quarter of 2018, Standard Chartered Bank submitted a sales proposal.
Not long after, the source said, Mandiri received a proposal from the Australia and New Zealand (ANZ) Banking Group Limited. They offered to sell 38.82 percent of its shares in PT Bank Pan Indonesia (Panin) Tbk. ANZ shares are registered under Vontraint No 1103 PTY Ltd.
In September 2018, Bloomberg reported that ANZ had appointed Morgan Stanley to be the divestment advisor. "But Mandiri prioritized the Permata proposal," the source said. Just like Standard Chartered, the source continued, ANZ's sales proposal was based on the OJK's single-presence policy.
In mid-March, Tiko confirmed that Mandiri were looking into two mid-sized banks as prospective acquisition. He did not elaborate.
Negotiations with Standard Chartered and Astra turned serious since the beginning of April. According to the same source, in the first week of April, a top-level meeting was held in Singapore between Standard Chartered, Astra, and Mandiri officials. The meeting resulted in more serious negotiations, namely in-depth due diligence. Mandiri, said the source, wants to look into Permata's financial record before offering a price.
Bank Mandiri corporate secretary Rohan Hafas declined to comment on the gathering in Singapore. When asked about it repeatedly last week, Rohan only answered shortly: "I can't say anything yet."
The same response came from Standard Chartered Bank. "We cannot comment on the speculations that exist," Standard Chartered Bank's Corporate Affairs responded by e-mail.
IndoPacific Edelman's senior consultant Maretha Sambe, who assisted in communicating with Standard Chartered Bank, requested that the answer be attributed to Standard Chartered spokespersons anonymously.
Astra International's head of corporate communication Boy Kelana Soebroto gave the similar answer. "In the last years, we want to make sure that Permata is healthy,' he said on Saturday, April 20. Meanwhile, Permata's chief of corporate affairs Richele Maramis said that he could not respond to matters relating to shareholders. "The affairs of shareholders are not our domain," Richele said on Thursday, April 18.
How much is Permata's worth? RHB Sekuritas recorded that the valuation of mergers and acquisitions in the banking sector is in the range of 1.4-3 times of the price-to-book value (P/ BV). The widely-noticed transaction was the purchase of Bank Danamon from Temasek by Mitsubishi UFJ Financial Group, which had a value range of 2-2.3 times the P/BV in mid-2018. The figures meant that the agreed transaction price was 2.3 times the book value per share.
Referring to Permata's performances in 2018, the bank's book value is Rp800 per share. When referring to Permata's price of Rp985 per share on March 26, 2019, the bank's P/BV is only 1.2 times. RHB believes Permata's valuation is below that range because the bank's return of equity (RoE) is below the average of other banks, which is only 4 to 5 percent. Meanwhile, its gross NPL ratio is relatively high at 4.36 percent.
Tiko realized that he had to spend a lot to buy Permata. But if the acquisition pushes through, Mandiri will take over Bank Rakyat Indonesia's (BRI) place and become Indonesia's bank with the biggest assets.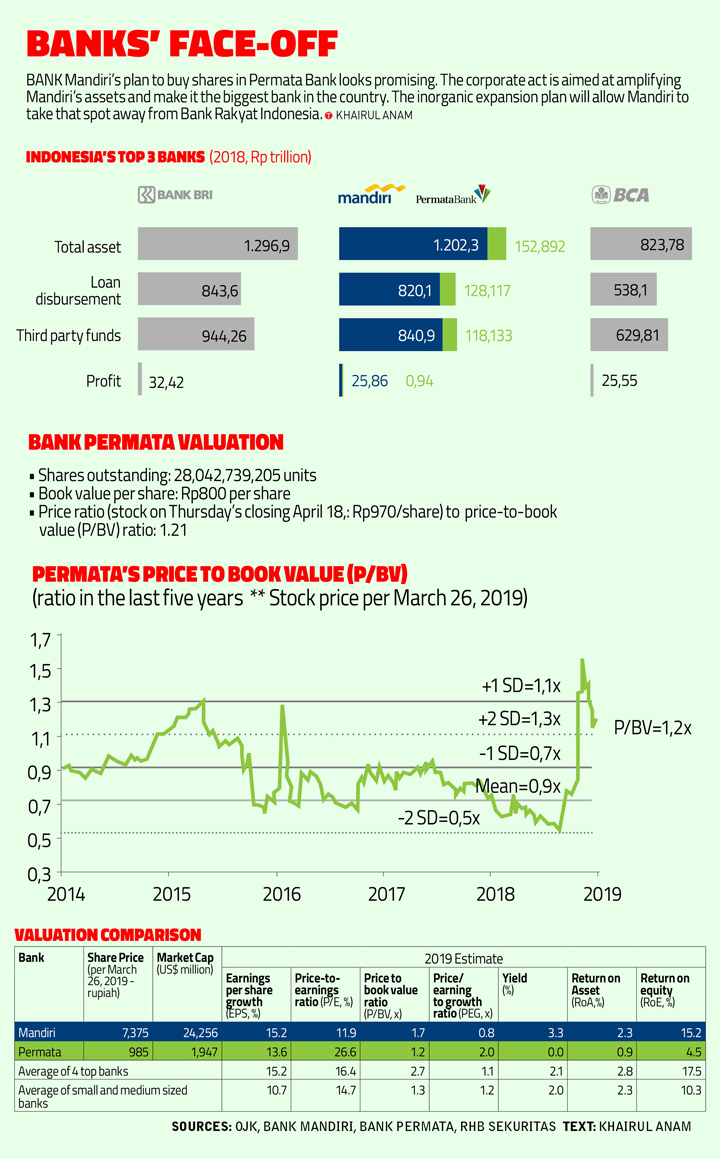 Banks' Face-off
KHAIRUL ANAM, PUTRI ADITYOWATI, GHOIDA RAHMA, DIAS PRASONGKO