Wisjnuprapto's Clarification
I am not a Tempo reader and I do not subscribe to this weekly magazine.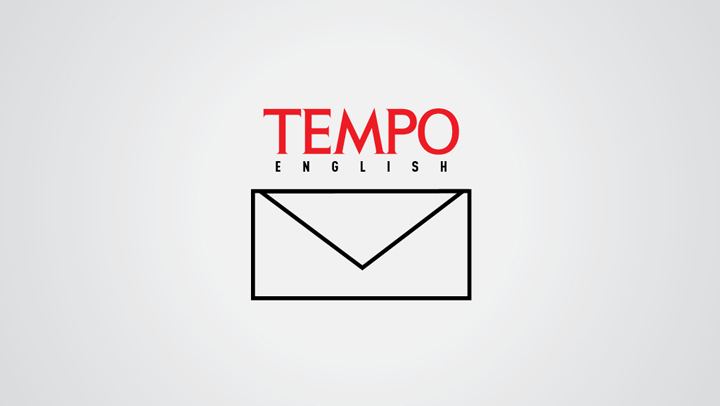 On Sunday, April 28, 2019, I was told by a friend to read Tempo magazine of the April 22-28, 2019 edition and he sent the magazine to me. After reading it, it turned out that the article titled The President of South Jakarta on page 22, left column line 13, read:
"At around 3:40pm, Wisjnuprapto, a professor at the Bandung Institute of Technology's civil and environmental engineering department, who sat next to Soenarko, reported that Prabowo-Sandiaga was ahead according to Kompas TV's quick count, which he was viewing on his cell phone."
The story is a big lie and considerably harms my good reputation, Wisjnuprapto, a (retired) professor at the Civil and Environment Engineering Faculty, Bandung Institute of Technology. I was not present at the meeting and have never known the address, Jalan Kertanegara No. 4, South Jakarta. I have never been engaged in politics and never had any relationship with whatever political group in the country. I do not know the names of writers of this article either (Hussein Abri Dongoran, Devy Ernis, Budiarti Utami Puteri, Ryan Dwiky Anggriawan). This makes me question the credibility of Tempo magazine that has failed to check and recheck the article published.
I herewith request the editor to account for the process that made the article appear and promptly correct it in several editions to come while restoring my good reputation in this matter. I also ask for an explanation how the article's writers could mention my name and position accurately in view of the fact that I am not a well-known figure. Thank you.
Wisjnuprapto
(Retired) professor, Civil and Environment Engineering
Faculty, Bandung Institute of Technology
The writer of the article, Hussein Abri Dongoran, met with you in the house on Jalan Kertanegara 4, South Jakarta, on April 17, 2019 at around 3pm. You were even introduced to him by several executives of the coalition parties supporting Prabowo Subianto-Sandiaga Uno—Ed.
---
Insurance Claim Already Paid
I would like to thank Tempo for publishing my letter in last week's edition. It is also necessary to inform you that I have been contacted by Prudential and the claim in the name of my sister was finally approved by Prudential and has already been disbursed. I also thank the Customer Service of Prudential for the follow-up to the letter.
Lidia Ahmad
lidiaa067@gmail.com
---
Banjarmasin-Pangkalan Bun flights Needed
AIR transportation is one of the modes with the efficiency of traveling within the shortest time. Planes are the primary means of transportation connecting different provinces in Kalimantan. But since five months ago, starting from December 2018, the Pangkalan Bun-Banjarmasin flight schedules have disappeared without any apparent reason.
This can certainly hamper people wishing to travel to other regions so that it is necessary to give a clear reason for the absence of the flight schedules. As it takes 12 hours to cover the distance of Banjarmasin-Pangkalan Bun by land, the flights plying the route should be reintroduced.
Muhammad Naufal
muhamma11naufal@gmail.com