Turning Trash to Gold
Bank Sampah Sakinah (Sakinah Trash Bank) has done more than manage trash produced by Batu Gadang residents in Padang City. The award-winning endeavor has also helped local residents earn more through recycling.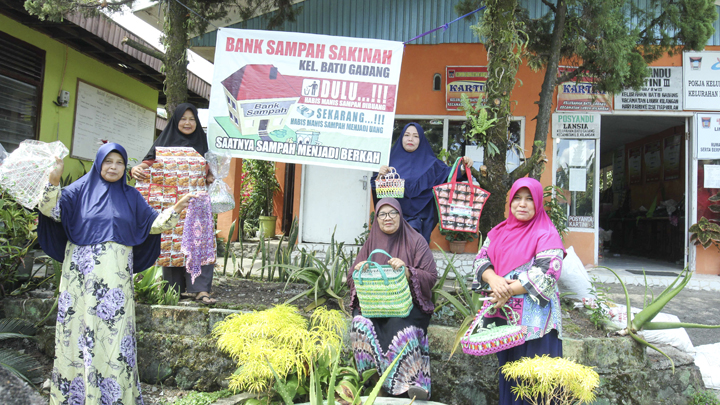 ASRI Astia Ningsih still vividly remembers her experience when she was still active at the Karang Putih Community Learning Center (PKBM) in the Batu Gadang administrative village, Padang City, West Sumatra. It was seven years ago when she went on a field study in Thailand. At the airport in Bangkok, the candy she was about to eat fell to the ground. She felt someone tapping her shoulder. "I was asked to pick it up. I was impressed," said the 53-year-old woman when we met her on Sunday, May 5. "The issue of trash is so important there."
That moment made her decide to establish a trash bank in her neighborhood in Batu Gadang. The previous year she had joined a trash management training program in Surabaya, East Java, where she had the opportunity to attend a talk by the city's Mayor Tri Rismaharini. She had also learn how to manage a trash bank in Malang, also in East Java, where the city's bank has produced handicraft from plastic and pulp trash.
Asri Astia Ningsih. Photos: Febrianti/Febrianti
Asri is known as an active person. She founded the Karang Putih PKBM in 2007. The learning center manages a kindergarten, an early learning center (PAUD), as well as elementary school, middle school and high school equivalency programs. The PKBM also manages a Posyandu (community healthcare center) and activities by women, such as batik making and weaving.
Upon her return from Thailand, Asri immediately met with Batu Gadang village head and asked him to work together in building a trash bank. "But the welcome was unenthusiastic. The village head didn't know what a trash bank was," she said in recollection.
W251bGwsIjIwMjEtMDMtMDUgMDc6MTU6MzciXQ
Asri refused to give up. That same year, she dared herself to establish Bank Sampah Sakinah, headquartered in one of the rooms where the Karang Putih PKBM's activities were held.
Now, six years later, Bank Sampah Sakinah has brought the residents of Batu Gadang and its surrounding areas many blessings. Nineteen people are working to turn trash into products to be sold.
Sri Ningsih, 48, counts among them. Besides making money from selling household trash, the woman who once only relied on her earnings from making desserts now make around Rp50,000 every day from her work as a trash 'seamstress' at Bank Sampah Sakinah. "I'm happy because every day I can gather with other women who also sew trash," said Sri Ningsih.
It is no wonder that the bank has received various awards. Two years ago in November, Bank Sampah Sakinah received the Platinum Award from the National Standardization Agency (BSNI) as part of the Indonesian CSR Award. Prior, Asri had received a gold pin from the ministry of environment and forestry for her efforts to recycle plastic.
"But I'm not yet satisfied because not all community members in my administrative village are involved. Only fifty percent of households are members of Bank Sampah Sakinah," said Asri. Now she continues to raise awareness about the trash bank concept in other administrative villages, in partnership with the Padang City office of environment.
When Bank Sampah Sakinah was just established, Asri had quite a tough journey. Apart from the unsupportive administrative village head, the community did not show interest. Asri then raised awareness among the parents of students at the kindergarten and Mutiara early learning center she manages. Asri asked them to bring plastic wrappings for drinks, spices, oil, and instant noodles that had been cleaned, offering to purchase the trash for Rp6,000 per kilogram—a much higher rate than offered by scavengers at Rp300 per kilogram. "But they seemed to mock me. Maybe I was seen as odd for soliciting trash," she said. Of a total of 60 parents, only five brought trash for her in a month.
After the failure to appeal to mothers, Asri chose a firmer method in the next semester. She created a stamped agreement letter for parents, requiring them to pay their children's tuition with trash. Failure to comply meant a fine. "It was likely that it would not have been successful if they hadn't been forced," said Asri.
In the end, all of the 60 parents of children managed to deposit trash every month to Bank Sampah Sakinah. At the time, Asri only had a capital of Rp200,000 to purchase trash.
She then transformed the various types of trash into aprons for kindergarten students and offered them to other kindergartens in Padang. Finally, the managements and teachers of these kindergartens began to order more aprons and gave her downpayments. Asri was able to purchase more trash using the money. From the Rp6,000 she used to purchase a kilogram of plastic trash, she was able to earn Rp100,000 from two aprons.
Wanting to achieve more, she promoted the endeaver with a prayer group. Orders began to pour in, especially after the government began encouraging people to recycle. Asri received orders from other regencies and cities in West Sumatra, for bags, folders and stationery cases.
Once, she had a funny experience during an exhibition in the city of Padang. "Before the exhibition, schools in Padang purchased our products. I was surprised during the exhibition that nearly 90 percent of the products were from Bank Sampah Sakinah," said Asri.
Asri then recruited women in her neighborhood to work at Sakinah. Now the bank as 19 workers and frequently receive orders from government offices, particularly for bags and folders. "This year's revenue has perhaps exceeded Rp100 million," said Asri.
Every month, Asri collects around 100 kilograms of plastic wrappings, apart from other types of plastic trash, such as bottles, which are shredded and sold to Medan.
A woman is sewing plastic trash to be turned into several products at the Sakinah Trash Bank. Photos: Febrianti/Febrianti
In 2017, the Padang City government appointed Bank Sampah Sakinah to function as a central trash bank that manages garbage from the Batu Gadang administrative village. Every day, people from Sakinah collect trash from 400 houses in the administrative village, to be sorted and recycled. But the trash collected is not purchased. Instead, Sakinah sets a rate of Rp20,000 per month for each house, and Rp700,000 for schools. "There's so much trash from schools, reaching up to 100 kilograms per day, and 90 percent of it is plastic," said Asri.
Meanwhile, the number of Bank Sampah Sakinah's 'customers' in Batu Gadang who deposit their trash to be sold independently have reached 301 individuals, while there are as many as 403 individuals from the administrative village's surrounding areas.
Since she began managing trash, Sakinah has also turned organic trash into compost. But the compost is not yet sold. She uses the product herself and gives it for free to the bank's customers who need it. Unsurprisingly, all kinds of vegetables, such as water spinach, onion, chili pepper, cauliflower and celery, flourish around the bank's headquarters, planted in used plastic detergent and cooking oil containers. "In the future, we will begin selling (the compost)," said Asri.
Zainul, Padang environmental office chief of facilities and partnerships, said trash banks are a way to attain a trash-free Padang City. Each administrative village community is hoped to be able to manage its own trash through a trash bank. "Only hazardous and toxic waste (should) end up in final trash processing facilities (TPA)," said Zainul.
Today, Padang City must manage 450-500 tons of trash every day, which are brought to processing facilities. Meanwhile, there are 13 trash banks in 13 administrative villages.
FEBRIANTI