Cultural and Religious Harmony at Kali Opak
Students at the Kali Opak Islamic School in Bantul take example from Sunan Kalijaga. Besides studying religion, students combine culture and the arts in their studies. The community is also involved.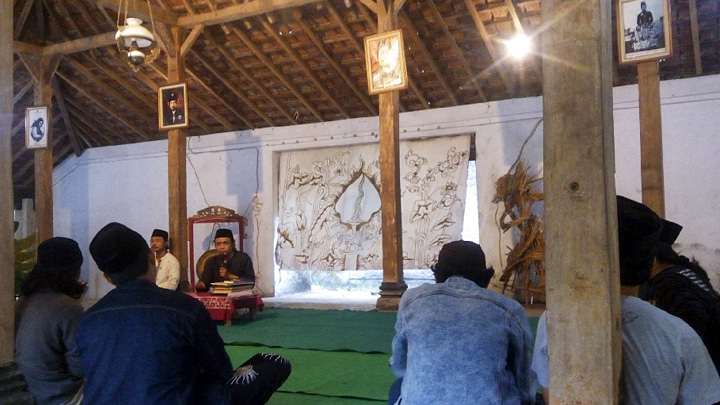 THE school is known to some as Pesantren Kalijaga (Kalijaga Islamic School). But students and those living around the pesantren by the Opak River in Bantul, Yogyakarta, prefer to call it by its proper name: Kali Opak Cultural Pesantren. "Turn right when you see a plumeria tree," said a local resident who pointed the way to the school to us on Wednesday afternoon, May 15.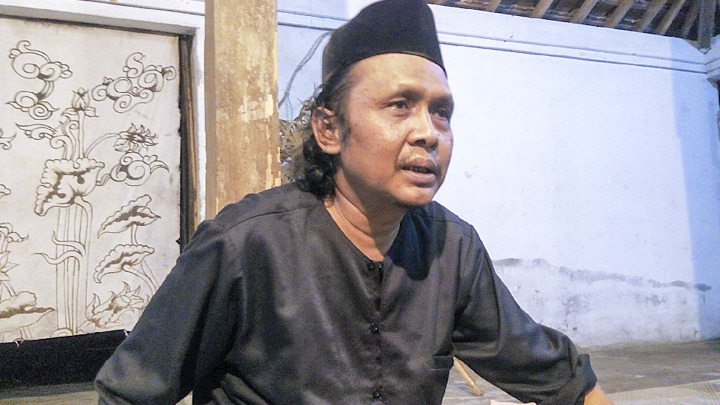 Cultural and Religious Harmony at Kali Opak/Photos: PITO AGUSTIN RUDIANA
In fact, there are those who feel that Pesantren Kalijaga is a rather appropriate designation because the school founded in 2006 does not study Islam by dissecting the Qur'an, Hadith (narration of an event from the life of Muhammad), or other Islamic texts like at other pesantren. Instead, they apply elements of traditional arts in teaching Islam, taking a page from Sunan Kalijaga's method in Java in the 16th century, as described in the book Serat Lokajaya. They also study texts written by Sufi clerics. "Because our nation had advanced civilization in the old days, traditional arts are a way to preach Islam," said the pesantren's caretaker, Jadul Maula.
It is no surprise that traditional forms of art performed at the school are instilled with Islamic values. The jatilan (horse dance), for example, contains prayer. Debus, a performance art that involves invulnerability to weapons is a form of submission to God. Wayang (shadow puppet) myths also include Sufi teachings. Meanwhile, macapat (Javanese song) contains a description of our life cycle, from birth to death. "Traditional arts are inherent to religion in Sufism, a way to perfect humans beings," said Jadul.
Not all forms of traditional arts are introduced at the Kali Opak Pesantren, rather those used by Sunan Kalijaga to spread Islam in Mataram. As it happens, the pesantren is located in an area people say was once visited by Sunan Kalijaga and his followers as they ushered the establishment of the Mataram Kingdom in Kotagede.
Because of the concern for culture, the pesantren's building is also constructed in such a way to serve as a place for studies as well as for self actualization. An two-story open plan building functions as a place for prayer as well as a venue for activities. The building is flanked by two structures made of wood and woven bamboo, meant as a relaxing place for students and overnight guests. There is also a closed hall for art exhibitions and rehearsals, such as gamelan (traditional Javanese orchestra) practice.
The school has a lush atmosphere, with various trees including bamboo, manggo and rambutan. There is also one Kalimasada tree (Cordia subcordata) brought by Jadul from the Karimunjawa Islands. The Kalimasada tree is believed to have been planted by Sunan Kalijaga, said Jadul. Now, the tree is an icon of the pesantren and is planted on the front yard.
There is one more open building often used for studying and receiving guests. The building is decorated with Dewa Ruci wayang and gongs.
Interestingly, the pesantren does not have a curriculum for teaching and those who come to study come from diverse backgrounds, such as university students, artists, and members of the general public. "Some can't yet read the Qur'an, some are bored of reading the Qur'an, and others are looking for peace. Can't generalize (into one type)," said Jadul.
One of the students, Abdul Rohim, is a history student at the Sunan Kalijaga State Islamic University in Yogyakarta. He became acquainted with Pondok Kali Opak in 2015, when his friend who was a student there invited him to join Lampah Latri, an event to commemorate Sunan Kalijaga's 500-year anniversary. The celebration involved walking from the pesantren to the Pathok Nagara Ad Darojat Mosque in Babadan, Bantul. The students walked from midnight until 3am.
"I thought it was odd. The pesantren in Pantura (Java northern coast) was not like this. So (this place) makes an impression," said Abdul Rohim, known as Dul Rohim. The 23-year-old man from Pati, Central Java, then looked for more information about Pondok Kali Opak. At the end of 2018, he decided to study at the pesantren led by Jadul. "I wanted to discover my identity," he said.
Dul moved to the pesantren, along with seven fellow university students. Although they live at the pesantren, they do not have to pay. Furthermore, they sometimes receive food, both from the pesantren's leaders and from the surrounding community, although the students occasionally collect contributions.
Amid his studies at the university, Dul participates in all of the pesantren's programs held every night after Isha (evening) prayer. On Monday, the pesantren schedules a rebana (a type of tambourine) session with the young people in the village. On Tuesday, a study of Dewa Ruci, a small god in the Mahabharata mythology that decorates the open hall's right side. The sculpture of the god is made from pieces of bamboo, with more pieces wrapped around his body. "The twisting (pieces of bamboo) represents a snake. The symbol of man controlled by lust," said Dul.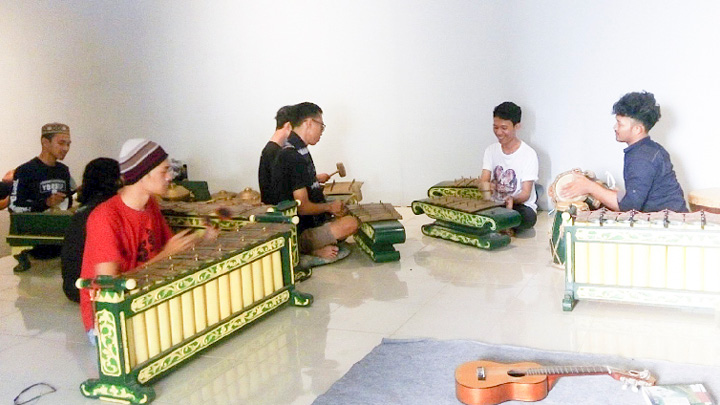 Cultural and Religious Harmony at Kali Opak/Photos: PITO AGUSTIN RUDIANA
Dewa Ruci is a wayang story told by Sunan Kalijaga about the process of human life. The pesantren's lessons on Dewa Ruci delve into the process that people go through in attaining humanity, based on three major credes: Jawa digawa (the Javanese identity is maintained), Arab digarap (what is from the Arab world is studied), and Barat diruwat (the West is selected). Meaning, said Dul, a Javanese must always cling to his identity as a Javanese. Meanwhile, (Islam from) the Arab world is a new religion in the archipelago as well as as the last religion, brought to the world by Prophet Muhammad as a guiding light that has been embraced as a belief. Lastly, the West is acknowledged as an axis of knowledge. All three elements are discussed.
On Wednesday, the pesantren organizes Ngaji Macapatan (learning Islam with Javanese songs). Mbah Kadi, 71 years old, is the instructor of Ngaji Macapatan as well as Emprak, a form of art that involves praying while playing the rebana. Macapatan is a Javanese-language tune made of 11 songs: Dandanggula, Sinom, Kinanti, Durmo, Asmarandana, Pocung, Gambuh, Maskumambang, Pangkur, Megatruh, and Wijil. "Macapat was how the Wali Sanga (the Nine saints) preached Islam, in the form of sung poetry," said Mbah Kadi, who is also a volunteer for the Javanese Cultural Institution.
On Monday, diba'an, or joint prayer, is held. Sundays are for discussions. And students have no nighttime activities on Tuesdays and Saturdays.
These activities are not held during the Ramadan fasting month. The pesantren instead holds Ngaji Posonan for 10 days, from May 15 to 26. The theme of the course is "Weaving the Wealth of the Archipelago." Thirty-five participants of the course come from various regions.
The study group begins in the afternoon, after Asr afternoon prayer. The activity begins with art appreciation, usually by discussing traditional arts as well as art performances. Lecturers include traditional artists as well as representatives from university students from the regions, who are studying in Yogyakarta.
After iftar—the evening meal to break the fast—and Tarawih (night) prayer, there is a study of texts related to Islam in the archipelago since the 13th century. Lecturers include those in pesantren circles, cultural experts and academicians. The class ends at midnight.
Close to early morning sahur breakfast, students cook, eat, and perform Fajr (daybreak) prayer together. After, they study Idhotun Nasyiin, a book by Hamzah Fansuri, containing messages for the young.
The goal of the pesantren's activities is simple. "The aim isn't to undergo a 10-day process and become a sufi," said Jadul. "At least a humanitarian drive can begin to grow."
PITO AGUSTIN RUDIANA