Quality Coverage and Crowd Funding
MEDIA business disruption does not always come from the Internet. Nor does it come from the other media competitors—the media are now collaborating for joint coverage to increase the impact of publication on public policies. Media business disruption this time has just come from the "piracy" of coverage contents so seriously produced.
Edition : Tuesday, June 18, 2019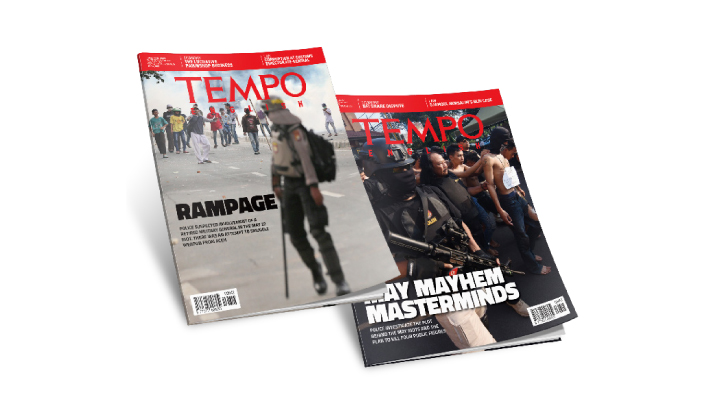 It was found in two editions of May 21-22, 2019 rioting published by Tempo over the last two weeks. We were surprised to find the portable document format (PDF) files of both issues circulating on Sunday morning in WhatsApp application conversation groups. The digital editions of Tempo appeared on Saturday evening and the printed version only came out on Monday morning.
Some Tempo Media Apps digital subscribers appreciated the coverage and then enthusiastically copied the magazine's contents and converted them into PDF files for further circulation. We believe that they had no ill intents: they only wanted the articles to be read by as many people as possible.
For journalists, the spread of their stories is certainly pleasurable. Writers everywhere always hope that their works will enjoy a wide readership. In the case of journalism, getting viral becomes important as in this way the articles will add some color to the public discourse.
On the other hand, we feel sad because we realize that a high quality journalism results from a long and militant effort. The investigative journalism we practice takes considerable time, coordination, responsibility, perseverance and also courage—constituting a big endeavor. The whole enterprise has a price. Therefore, Tempo, Tempo English weekly and Koran Tempo, apart from being printed, are digitally distributed in a paid format. The spread of the pirated version of both issues of Tempo magazine, besides a copyright breach, has harmed the interests of those buyers and subscribers of this weekly.
W251bGwsIjIwMjEtMDQtMjIgMDc6MTI6MjIiXQ
Information given for free tends to be dangerous in the era of distortion like today, as accentuated by historian Yuval Noah Harari. Paid information makes us—you and us—even more responsible in presenting and digesting news. It is because via the Internet and social media, everybody finds it easier to access information. However, as a consequence, disinformations sometimes appear faster than verified reports.
We want to keep providing such verified news amid the tsunami of information overwhelming us daily. But for this purpose, we are aware of the necessity to make adoption and adaptation to prevailing conditions, especially in providing the format of news in the digital era.
Tempo has experiments many times—through various applications and platforms—in presenting magazine and newspaper contents as well as long form articles. Such trials have not been easy, requiring patience, even conducting research and testing the market that occasionally changes very fast.
Over the last few months we have removed PDF files and only provided articles in the application format. Besides avoiding piracy, the format enables readers' easy access to each article. Digital Tempo does not only contain texts, but also voice messages, infographics and short videos.
We are gradually following the wave of digital revolution by innovating the news and its medium of conveyance. We feel pleased as a lot more people are aware that by spending less money on subscribing to Tempo products, they have become part of our production process through crowd funding.
The initiative has been widely supported. In the social media many readers and colleagues have voluntarily appealed to the public to end the distribution of the PDF files of both editions. The impact is strongly felt: in the last two weeks the number of Tempo Media apps visitors, in Android and Apple Store, has sharply risen by 900 percent. The support boosts our spirit to offer quality coverage contents to you all—also to Indonesia, the country we always defend and love.