A Home for Documentaries
Tonny Trimarasnto opened his home in Klaten, Central Java, to those interested in documentary film. Some of their works have made it into film festivals.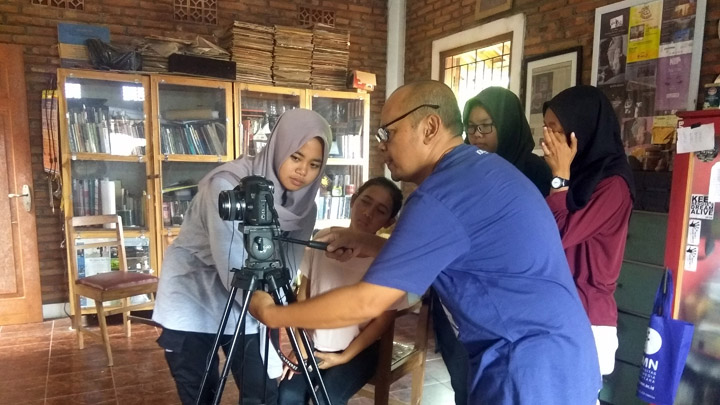 TONNY Trimarsanto asked AAI Sari Ning Gayatri, who was watching a film in the office of Rumah Dokumenter to join us. Tonny asked Sari, who goes by the nickname Gek, to record our conversation.
"So that this video interview can be shown to youths who want to intern here," said Tonny, founder of Rumah Dokumenter (Documentary House), which received a Citra Award for best full-length documentary film at the Indonesian Festival Film (FFI) in 2017.
Gek is not a relative of Tonny, nor an employee at Rumah Dokumenter. This woman who graduated from the State High School 3 of Denpasar, Bali, was staying at Tonny's house, which is also home to Rumah Dokumenter, in the Griya Prima Barat Housing Complex in Belang Wetan, Klaten Regency, Central Java.
"I arrived just this morning. The plan is to stay here for four days," said Gek, who will be studying history at Sanata Dharma University in Yogyakarta. "While waiting to finish up administrative matters at the campus, I can stay here for free while learning about documentary film."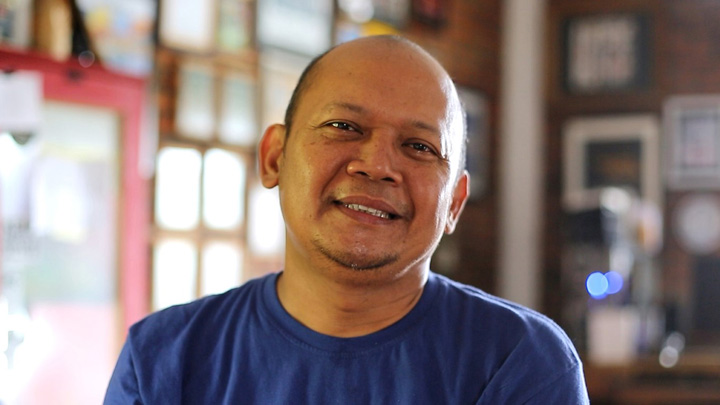 Tonny Trimarsanto. Dinda Leo Listy
W251bGwsIjIwMjEtMDMtMDUgMDc6MTk6MjEiXQ
Tonny's house is well-suited as a temporary haven for that 17-year-old who is interested in making documentary films. Her work entitled Penempa Bara recently became a finalist in the 2019 International Video Production Competition of The Organization of World Heritage Cities (OWHC) in the 14-17 age category. The 15-minute film, a portrait of the lives of the traditional keris dagger-makers in Bali, was screened at the 15th OWHC event in Krakow, Poland, on June 2-5.
Gek is just one of many school and university students from around Indonesia who chose to go to there to stay and learn. Rumah Dokumenter is encouraging network growth and appreciation for documentary films, and provides education about such movies.
However, this does not mean that it operates like a typical production house or official institution, where visitors are welcomed in air-conditioned rooms. "Rumah Dokumenter's office is on the Internet. The actual place is this house," said Tonny.
The uniquely-designed home of this 48-year-old man is a combination of Javanese architecture, with a large pavilion-like veranda for a guest room and a modern minimalist style for the central and rear areas. Tonny lives there with his wife and three children, and youths interested in documentary films are usually found in the lush front yard.
"There is no privacy in this house. Everyone is free to come and go, whether just as transit or sleeping over, and studying together to make documentary films. It is all free," said this former visual materials researcher and artistic designer for some films of director Garin Nugroho from 1992-2000. "However, the facilities are limited."
Rumah Dokumenter was established in 2002. It was initially a community of documentary film enthusiasts started by Tonny, Heru Mataya, Dani Cupluk, and some practitioners and academicians from the greater Solo area and Yogyakarta. Their mission was to popularize documentary film, in particular in the greater Solo area.
"We initially tried this because we were wondering why documentary films in Indonesia were not as popular as the fiction or animation films readily available on television or in commercial movie theatres," said Tonny.
In its early years, Rumah Dokumenter regularly showed films around the City of Solo. They also frequently held discussions, bringing in filmmakers as speakers. "Back then everyone pitched in funds, because there was no sponsorship," said Tonny.
Over time, less screenings were done because its founders became preoccupied with other activities. However, Tonny maintains screening films for free at his home. Today most of the films shown are the works of students who took part in the internship program at Rumah Dokumenter.
Rumah Dokumenter is open to anyone who wants to learn more about documentary film, not just students. "If you want to study here just contact me via WhatsApp or email to set up a meeting," said this man who also teaches at the Art Creation Master's Program at the Indonesian Art Institute (ISI) of Surakarta and the Yogyakarta Film Academy (AFY).
Because he does not charge anything from interns, amenities are few. "I just share my knowledge and experience, while the facilities are limited to the house, electricity and water," said Tonny.
Tonny does not set study times for students. However, he requires them to make a schedule of target achievements in order to monitor and measure their progress.
When people first begin to learn, Tonny shows them documentary films from a number of genres. Interns are then asked to analyze the films. "Then they will discuss the films. So in addition to studying films, they learn how to speak. They must be able to present what they believe."
After students learn the concepts related to documentary film, Tonny gradually adds more material: from coming up with ideas, fleshing them out through research, writing scripts, cinematography techniques, and editing. The students are then free to create documentary films in groups. Each group consists of three people: a director, cameraman, and editor.
Tonny almost never accompanies them in the field during this process. "The knowledge I pass on at this house is to be applied outside. I don't want to intervene in their creative processes," said Tonny.
During the editing process, he only tests the arguments of his students regarding their choice of technical measures. After a documentary film is complete, the students must organize a screening at Rumah Dokumenter. They are asked to invite as many people as possible, including their friends and teachers. "After the screening comes a presentation and discussion. I just observe," said Tonny.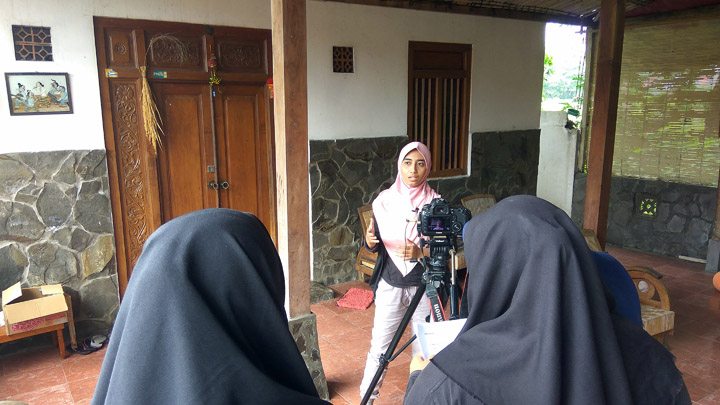 Three vocational high school students learn how to make a news video at Rumah Dokumenter. Dinda Leo Listy
Even though he does not interfere, some of the films made by interns at Rumah Dokumenter are quite impressive. One of them is a documentary made by students of the No. 1 State Vocational High School in Klaten entitled Tukik, a story about the conservation of turtles along the coast of the Bantul Regency in Yogyakarta. This film was one of 20 finalists at the 2017 Students Documentary Film Festival organized by the Film Development Center at the Ministry of Education and Culture, working in cooperation with the Coordinating Ministry for Maritime Affairs.
"During the internship at Rumah Dokumenter in 2017, a documentary film festival about maritime culture was being held. In addition to doing research in Bantul, we decided to go with a film about conservation of turtle hatchlings," said Erna, 17, one of Tukik's filmmakers.
Because her work was selected as a finalist, Erna and her two friends were invited to attend a workshop in Jakarta for 10 days. They were also mentored in the production of their documentary film.
Even though they are not as popular as fiction movies, Tonny is optimistic that documentary films will begin to shine in Indonesia because the current government is quite supportive.
Tonny agreed with the idea that documentary films are not huge money-makers and are only shown at film festivals. However, "If we can be consistent in making them, the results will be decent. Consistency is the greatest challenge."
DINDA LEO LISTY