Checks and Balances Would Be Difficult if Everyone's with the Government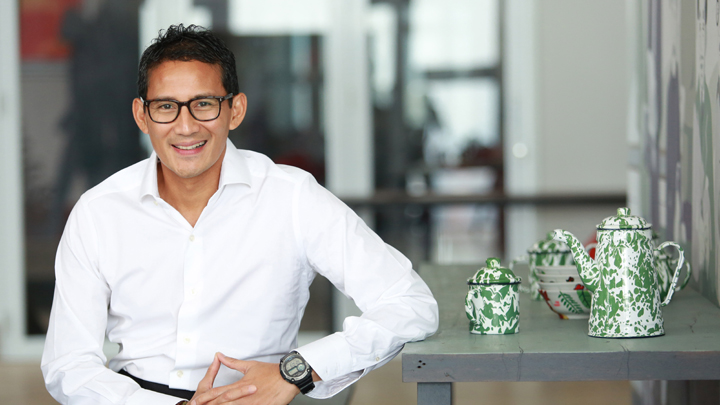 THE gathering went seven hours longer than expected. Hosts and guests at Prabowo Subianto's residence in Jalan Kertanegara, Kebayoran Baru, South Jakarta, thought that the Constitutional Court would announce its ruling on the electoral dispute on Thursday, June 27, at 2pm. But proceedings only concluded around 9pm.
Despite the delay, those present seemed to be in high spirits. Sandiaga Salahuddin Uno, Prabowo's running mate in the presidential election, said they had casual conversations. Guests laughed as their host told them jokes. "Pak Prabowo told all of his jokes, starting with the time he was in the military and in school," said Sandiaga in an interview with Tempo on Friday, June 29. The atmosphere was light although they had predicted that the Constitutional Court would reject their claims and automatically fortify the General Elections Commission's (KPU) decision to declare Joko Widodo and Ma'ruf Amin as the winning pair in the 2019 presidential election.
While the nine Constitutional Court judges took turns reading their 1,944-page verdict, Sandiaga said those present at Prabowo's house busied themselves with drafting Prabowo's address in response to the ruling. Dahnil Anzar Simanjuntak, Prabowo-Sandiaga's campaign team spokesperson, gave his input, along with National Mandate Party (PAN) General Chairman Zulkifli Hasan and Justice and Prosperity Party (PKS) President Mohamad Sohibul Iman. Food was offered at sunset for those who were observing the Monday-Thursday fast, including Sandiaga. Some, like Zulkifli, left first. The draft was completed at around 7pm.
Prabowo read his speech right after the ruling was announced. In his address, he said he would honor the Constitutional Court's decision, although he would still be looking for legal loopholes. Apparently, said Sandiaga, they had not reviewed the address with the legal team. "They were still at the Constitutional Court," said the 2017-2018 Jakarta deputy governor.
Sandiaga told Tempo journalists, Devy Ernis and Hussein Abri Dongoran, about the dynamics in the 02 presidential-vice presidential pair's camp after the election day—from their attitude toward quick count results, the Constitutional Court suit, and the plan to coalesce with Jokowi-Ma'ruf. The interview was performed on a video call as Sandiaga was in Magelang, Central Java. Right on his 50th birthday, the former businessman worth Rp5 trillion said he hoped the Constitutional Court decision would serve as a positive political learning process for the public.
The Constitutional Court rejected all of Prabowo Subianto-Sandiaga Uno's team's allegations. What are your thoughts?
I don't have the capacity to comment on the panel of judges' decision. From the start, we already agreed, Pak Prabowo and I, to leave everything to the legal team. In the next one or two days, (our) spokesperson and legal team will provide a response. Pak Prabowo and I are not law experts.
In his speech, Prabowo said he would honor the Constitutional Court's decision. Why use the word 'honor'?
I believe that honor is the loftiest word. That was what we agreed on. I think it gives respect to the process. Pak Prabowo himself chose the word and we all agreed.
Why did you not congratulate Joko Widodo-Ma'ruf Amin?
We have already frequently congratulated each other on the debate stage. During debate, we would meet and shake hands. Maybe there will be a time (for congratulations). Don't turn it into something it's not. After all, we're safeguarding democracy.
What is the meaning of "looking for legal loopholes" in Prabowo's speech?
When we drafted the speech, the legal team had not briefed us. They were at the Constitutional Court. Meanwhile, we wanted to immediately issue the statement. Pak Bambang Widjojanto and others in the legal team then gave the final briefing that this was the end point for the presidential election. So today we gathered at Kertanegara to receive input from coalition leaders because the presidential election process has concluded.
Meaning, there will be no other legal steps?
As of yesterday (Thursday, June 27), that was what Mas BW (Bambang Widjojanto) and Professor Denny Indrayana expressed at Kertanegara. Of course, we will make sure to move forward in line with the constitution and law. If future steps are possible, the legal team can let us know. I'm not the law expert.
Who drafted Prabowo's speech that night?
Pak Prabowo made the early draft with a voice recorder, and it was revised. Pak Dahnil Anzar gave input, and Pak Fadli Zon, Pak Sohibul, Pak Zulkifli Hasan, and of course myself. Pak Prabowo's aide transcribed (the speech). When the draft was finalized at around 7pm, Pak Amien Rais arrived. Pak Amien was very happy when he read the statement. After that, there were no more changes.
Initially, Prabowo was reluctant to file a suit at the Constitutional Court. Why was it done anyway?
Based on the presidential election experiences in 2009 and 2014, friends who were involved said it was such a waste of time. But when the KPU announced the presidential election's outcome on the morning of May 21, the public gave a great response. They enthusiastically spoke about violations and evidence of anomalies. So, there were two options: to take up their aspirations through the constitution, or to stop.
The evidence given by the public was what changed Prabowo's stance?
Before the KPU announced the result of the presidential election in early morning, I sat with Pak Prabowo. I said, "Pak, there are two possibilities. We see that the people have great enthusiasm in providing such a great amount of evidence." In essence, Pak Prabowo and I shared the same view: it would be very difficult at the Constitutional Court. But from there we could make an effort to improve the process of democratic contests. In the end, we appointed a legal team who fought to present the evidence, so that, God willing, it's not the win or lose that was being fought for, but an electoral system that is filled with truth and justice.
So you and Prabowo filing a suit only for presenting the evidence and did not expect to win at the trial?
Praise be to God, Mas BW, Professor Denny, and team had been able to present the findings. People could see by themselves the evidence, testimonies, and others. The judges also restated (the evidence) during the verdict reading. So we hoped it would become a lesson learned for future improvement. Perhaps, the KPU which administered a budget of Rp20 trillion managed to take some notes on how to arrange better election in the future.
Sandiaga Uno and Prabowo Subianto at the news conference on the Constitutional Court's verdict, in Jalan Kertanegara, Jakarta, June 27. TEMPO/Subekti
Because the loss had been predicted since the start?
I was the first person to hear Professor Denny's presentation, far ahead the decision to file the petition. At the time, the possibility of our going to the Constitutional Court was still very tiny. Pak Hashim Djojohadikusumo (Prabowo's brother) then received a mandate from me and Pak Prabowo to prepare a legal strategy. But since the start we already knew that (we) are facing the incumbent.
You mean, you knew that you would lose?
Yes, come on now. But we hoped for improvements. With such a result, hopefully the nation can learn.
When exactly did Prabowo decide to file a suit at the Constitutional Court?
I met Pak Prabowo twice, the night of May 20 and before. At the time, he had not yet made a decision but agreed with what I had to say. As soon as (the election's result) was announced on May 21, I had to hurry because we had to convene at 10am. I tried to convince the campaign team's officials and our supporting figures on May 22, but there was still a back and forth. Finally, we made a decision on the night of May 23, with the legal team assigned to the dispute to be led by Bambang Widjojanto.
Who disagreed with the decision?
Those who were not in agreement were already convinced by May 21 and 22. So there was plenty of discussion on both days. After, everyone was on board. We only had to finalize. As soon as Pak Prabowo made his decision, everyone agreed.
What was Prabowo's message?
That it was to improve the electoral process and for the sake of aspirations, particularly our supporters'. It is extraordinary when you look at it, because things that we had not imagined were exposed, such as the assumption that fraud is part of democracy or state apparatuses can be witnesses. These things would not have come up if not because of the Constitutional Court process. We're thankful that we had the opportunity to expose this to the public. Let the people decide. The panel of judges have made their decision and we honor it.
Were you involved in planning the lawsuit's material?
Pak BW received the full mandate. We were given several presentations, but as a whole Pak Prabowo and I left all of it to the legal team. I truly understand that it was not a quantitative but rather a qualitative approach, that there was a structured, systematic, and massive fraud. That was the basis of our petition.
Is it true that you met with Coordinating Minister for Maritime Affairs Luhut Binsar Pandjaitan and was persuaded to file a suit?
I never met with Pak LBP (Luhut Binsar Pandjaitan). I'm certain that our decision (to go to) the Constitutional Court was based on my and Pak Prabowo's thoughts, and those of (our supporting) figures for the advancement of our nation and democratic system.
Now that Constitutional Court proceedings have concluded, what developments have been made in regard to reconciliation?
We don't see ourselves as enemies. We are very open to discussing consolidation at any time. This is because I'm no longer in Gerindra. Now it's being discussed with friends in the coalition. If I was still part of Gerindra's leadership and had a position in the campaign team, I would certainly be giving my thoughts. Now friends at Kertanegara are discussing for the sake of bettering the nation. I feel that it would be respectable for us to keep fighting to realize the aspirations of the almost 70 million who voted for Prabowo-Sandi.
You mean, in the opposition camp?
Yes, as opposition is possible. There are, after all, various platforms. We're certain that in truth democracy requires governing parties and opposition parties. Checks and balances would be difficult if everyone is with the government. That's my personal opinion. But of course party officials will make the decision.
Has President Jokowi assigned people to meet with you and Prabowo?
There are always discussions. Especially because we're all connected. Before, during the campaign, we were not in communication. But after the election day on April 17, yes, communication was resumed. In essence, it all comes back to the hope to build Indonesia. God willing, Pak Prabowo and Pak Jokowi will be able to formulate future steps. Because, in my opinion, it is Pak Prabowo and Pak Jokowi who have the capacity to speak. They are the top leaders of the coalitions. The door is wide open to other parties to bridge them. But, in the end, decisions will be made at the top, by Pak Prabowo and Pak Jokowi. Soon they will be able to find a format and future steps. There is still time until October, the presidential and vice-presidential inauguration.
Is it true that Erick Thohir, Rosan Roeslani, Muhammad Zainul Majdi (Tuan Guru Bajang), and Preacher Yusuf Mansur contacted you?
Everyone contacted me: Ustad (preacher) Yusuf, Pak TGB (Tuan Guru Bajang), and especially my best friends, Pak Rosan and Erick Thohir. We communicated via telephone, WhatsApp, and so on. We have a good relationship.
Was reconciliation discussed?
We didn't speak about the details. I told them to only go through one door, Pak Prabowo, so that there aren't too many doors. Pak Prabowo always discusses the progress with me. Steps to build Indonesia through visits and discussions are very good, and of course, the outcome will be known on the D-day in October.
---
No. For what? If I was looking for power, I would go back to being deputy governor. This isn't always about power, but about how we live in a democracy.
---
Is it true that President Jokowi and Prabowo met in Thailand and agreed on ministerial seats in the cabinet?
There's no such thing.
Is there a plan to make you State-Owned Enterprises minister?
No. For what? If I was looking for power, I would go back to being deputy governor. This isn't always about power, but about how we live in a democracy.
Is there still a chance for you to return as Jakarta deputy governor?
It's already part of my past. I'm thankful that I was part of the Jakarta contest. I'm pleased that I had the opportunity with Mas Anies (Baswedan, Jakarta governor), to be involved in planning Jakarta's development based on (the principle) "The City Advances, the People are Happy." Thank God, there was plenty of experience in the 10 months there. But the decision I made was final. At the time, Pak Prabowo and I also agreed for Gerindra to have the PKS fill the deputy governor position.
The position is still vacant since you withdrew in August last year.
I didn't think it would take this long, until presidential election has been concluded (laughs). I believe politicians have to be more mature. Mas Anies is very busy. He has a lot of work and the deputy governor position must immediately be filled.
---
Sandiaga Salahuddin Uno
Place and date of birth: Pekanbaru, June 28, 1969
Education: Pangudi Luhur 1 High School, South Jakarta, class of 1987; Bachelor of Business Administration, Wichita State University, Kansas, United State of America, class of 1990; Master of Business Administration, George Washington University, Washington, DC, class of 1992
Career: Bank Summa employee, 1990-1991; NTI Resources Vice President, Canada, 1995-1997; founded PT Recapital Advisors, 1997; founded PT Saratoga Investama, 1998; Jakarta deputy governor, 2017-2018
Political party: Partai Gerindra (2015-2018)