A Blacksmith Resurfaces
A fugitive since 2003, Para Wijayanto, who is believed to be a leader of the Jamaah Islamiyah, is arrested. There is not yet any evidence that he is going to commit any acts of terror.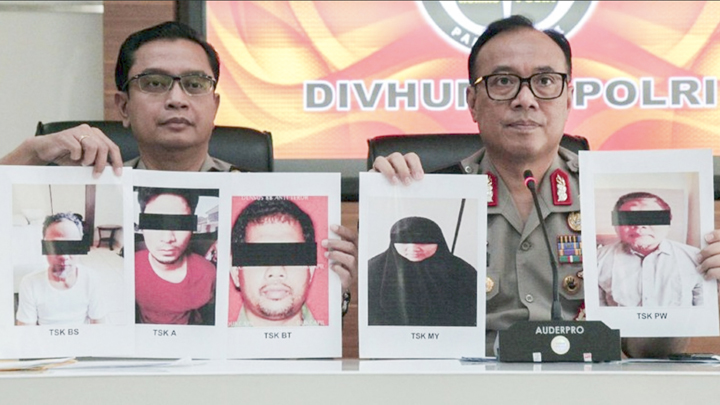 PARA Wijayanto shook hands with each person at the Friday congregational prayer when he arrived at Al-Ikhlas Mosque in Harapan Indah, Cibinong, Bogor Regency, West Java, on Friday, June 28. According to Hasan, the mosque's custodian, Para, usually shook hands with those who arrived early at the mosque. "But he never spoke with them," said Hasan on Friday, July 12.
That Friday was the last time Hasan saw Para at Al-Ikhlas. Hasan was aware of his presence as that 54-year-old man routinely prayed at this mosque located in the Pesona Telaga Cibinong housing complex. According to Hasan, Para always brought along his three sons to pray there.
After the Friday prayer was over, Para quickly returned to his home, located about 100 meters from the mosque. A housing complex security guard named Suaeb saw Para leave the complex driving a Toyota Innova. "He has not been back since leaving on that Friday," said Suaeb.
A day after Para left home, the police' Special Counterterrorism 88 Detachment arrested him at Hotel Adaya in Bekasi, West Java. The police also arrested Para's wife, Masitha Yasmin, 47. Brigadier Gen. Dedi Prasetyo, chief of police public information division, said that Para was apprehended because he is suspected of sending some Jamaah Islamiyah (JI) members to Syria. "He is also a fugitive in a number of terrorism cases from 2003," said Dedi.
Para's neighbors at the Pesona Telaga Cibinong housing complex did not know much about him. According to Hasan, people there knew him as Ahmad Muhtar. Suaeb knew him by the name Wijayanto. Some other residents knew him as Ahmad. "He went by four names, including Para," said Suaeb.
Isyahrul Syah, the neighborhood association head, said that Para lived in the housing complex for four years. He rented a two-story house, which is now cordoned off by a police line. According to Isyahrul, Para never provided a copy of his identity documents while living there.
Isyahrul said that when he was the neighborhood association's secretary, he urged the owner of the home being rented by Para to ask for a photocopy of the man's ID card. "Every time he was asked, Pak Para refused to give it," said Isyahrul. He also never paid the monthly neighborhood donation when he stayed there.
Para's quiet life at his residence is a polar opposite to his exploits in JI. Nasir Abbas, a former terrorist convict, said that Para underwent brief military-style training in Mindanao, the Philippines, in early 2000. Nasir was Para's mentor.
Staying in the Philippines for four months, Para studied intelligence, shooting skills, and making weapons. His engineering background enabled him to master rifle-making skills. "He was a blacksmith," said Nasir. This is what the JI called anyone with expertise in turning metal into weapons.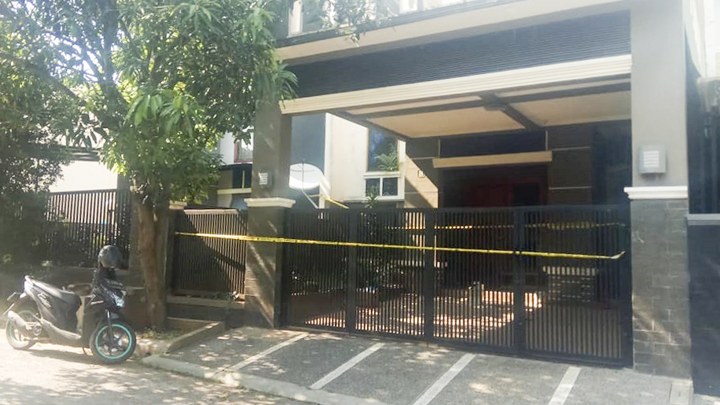 The house of suspected terrorist Para Wijayanto in Cibinong, Bogor, West Java. TEMPO/Sidik Permana
Nasir said that Para led JI after the police arrested Abu Bakar Ba'asyir, Abu Rusdan, Adung, and Zarkasih. According to Nasir, an amir or leader of the JI who is captured by the police automatically loses their leadership position, and will be immediately replaced by another figure deemed suitable by the remaining members of the organization. "From the aspects of seniority and battle experience, Para met the conditions to become the leader of JI," said Nasir.
After Para was put on the wanted list in 2003, he went undetected for a full 10 years. In a trial for a case of running a weapons workshop, defendant Muhammad Choirul Anam alias Bravo said that JI sent some its members to Syria for a month. According to Anam in the trial records, that order come from someone considered to be the leader of JI.
At that time, five JI members were chosen to be sent to Syria. According to Anam in court, those people were sent to look into the Islamic State of Iraq and Syria (ISIS) group which was growing there, in order to determine JI's stance regarding that organization. After returning to Indonesia, they reported that there were deviations in 'the struggle', such as attacking fellow mujahideen or Islamist guerrilla fighters. This report led Para, who was the acting leader of the JI in Indonesia, to stop sending JI members to Syria.
Later, the police were able to discover that Para had sent JI members to Syria. Brigadier Gen. Dedi Prasetyo said that they found out about Para's involvement from two of 18 Indonesian ISIS sympathizers who were deported from Syria. "From 2012, Para sent at least 60 people to Syria," said Dedi.
Despite the South Jakarta District Court declared it as an outlawed organization in 2008, the activities of JI did not fully cease. Nasir Abbas, a former chairman of JI's Mantiqi III, a region encompassing Mindanao, Sabah, East Kalimantan, and Sulawesi, said that the remaining figures in the organization, including Para Wijayanto, formed a new structure. "They made the organization simpler," said Nasir.
When Abu Bakar Ba'asyir led JI, the organizational elements consisted of markaziyah, manthiqiyah, wakalah, and khatibah. Markaziyah consisted of the central leaders led by Ba'asyir, while the khatibah was the smallest unit, covering a single city. At the central level, the amir of JI is accompanied by a military wing called the asykari and some smaller divisions, such as regional advisors and an executive chairman. Encep Nurjaman alias Hambali, who is currently detained in the Guantanamo Bay Prison in Cuba, was said to have ever been an advisor.
Back then, the organization obtained its funds from several sources. One of them was from the Al Qaeda terrorist group led by Osama bin Laden. During the trial of Umar Patek in the West Jakarta District Court in March 2012, for instance, Ali Imron and Mohammad Ikhsan, both former JI members, testified that Osama transferred at least US$30,000 in several stages. In addition to relying on funds from the Al Qaeda, JI members ran small businesses and committed robberies, such as robbing a jewelry store in Serang, Banten, in 2002.
Nasir Abbas said that the organization's structure and funding model have changed. According to him, Para might have changed the organization's pattern because JI had been exposed to the public. "Para wanted to return to and safeguard the principle of tandzim sirri among the JI members," said Nasir. Tandzim sirri refers to the understanding to protect the secrecy of the organization.
Para has been amir since 2008. His JI standing was discovered from a copy of a verdict made in the East Jakarta District Court against Suyata alias Salim, who was convicted in Tentena bombing in Poso, Central Sulawesi, in 2005. In those records, Para is said to be the amir majhul of JI. Beneath Para, the lower JI structure consisted of amir, bithonah, khodimah, and isobah.
Bithonah in the new structure is equivalent to manthiqiyah in the old JI. The difference is that there used to be four manthiqiyah, as now there is only a single bithonah, led by Muhammad Choirul Anam, who was arrested in Mojokerto, East Java, in 2015. A judge at the East Jakarta District Court sentenced Anam to six years and eight months imprisonment in a case of running a weapons workshop in Klaten.
Anam, who was said to be a qoid bithonah or regional leader, was in charge of two khodimah, equivalent to a wakalah in the old structure, covering the west and east. The western khodimah covered Medan to Salatiga and Klaten, while the eastern khodimah covered Boyolali to Sulawesi.
"This streamlined organization enabled Para to control the activity of his members," said Ade Bhakti, executive director of the Center for Radicalism and Deradicalization Studies, which researched JI's structure since the organization was disbanded by the court in 2008.
Para simplified JI's structure due to decreasing membership. Hundreds of JI members were arrested by the police. Some of its key figures formed spin-off organizations, such as Jamaah Ansharut Tauhid, Jamaah Ansharud Daulah, and Jamaah Khatibul Iman. Those three are affiliated with ISIS, not with Al Qaeda like JI. The Jamaah Khatibul Iman is led by Abu Husna, Para's in-law.
Para also began to change the organization's mode of funding. Ade Bhakti, who collected transcripts from the trial of Anam alias Bravo during 2016, said that Anam explained to the judges that JI's operational funds were obtained from member donations, which was 5 percent of their monthly income. Anam, on the same occasion, said that the organization could raise up to Rp150 million per month from member contributions.
Brigadier Gen. Dedi Prasetyo said that Para also developed JI's economic capacity by running oil palm plantations in Sumatra and Kalimantan. Two former JI members familiar with Para's exploits said he did not only run oil palm plantations but also had a cacao plantation in Sulawesi. He could pay his men Rp10-15 million per month out of those businesses. Even so, the police have not yet found those plantations. "We are currently looking for their exact locations," said Dedi.
Nasir Abbas said that business activity among JI members is nothing new. When he was still active in the organization, JI had a special economic division. According to Nasir, the division which handled the organization's finances and investment was formed in 1993. "JI members already have a lot of business experience," he said.
Achmad Michdan, a coordinator for the Muslim Lawyers Team, who claimed that Para's family has asked him to represent them, said that the arrest of his client is connected with activities in a series of terrorist attacks in the early 2000s. As for the sending of people to Syria, Michdan said that activity was done as humanitarian assistance.
"I will look into JI organization's business materials after I can meet with Para," he said regarding the oil palm business the police say was used to fund JI's resurgence.
RAYMUNDUS RIKANG, PRAMONO (JAKARTA), ADI WARSONO (BEKASI), SUJATMIKO (LAMONGAN), SIDIK PERMANA (BOGOR), HISYAM LUTHFIANA (SUBANG), AHMAD RAFIQ (SOLO)