Losing Markets to Digital Dominance
Hero is making another round of shutdown of its Giant supermarkets. The buildings are converted into IKEA stores.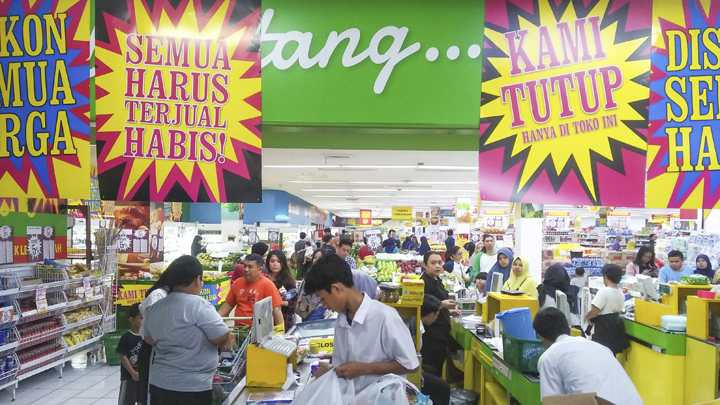 Beauty products were scattered in a disorganized display box at a Giant Ekstra store in Cibubur, West Java. There was no store clerk to tidy things up—there was not even a person attending the cosmetics section. On Tuesday, July 9, shoppers took whatever they wanted to buy, some even opening the packaging boxes, trying on the products, just to toss them back on the shelves if they did not like them.
The store is closing at the end of this month, and so they are selling everything with a discount of up to 50 percent. "Everything must go. Only in this shop," a banner located near an escalator said.
Giant Ekstra Cibubur is one of six Hero Group outlets that would close on July 28. Five other outlets are Cinere Mall Express Giant, Mampang Giant Express, Pondok Timur Tambun Giant Express, Jatimakmur Giant Extra and Wisma Asri Giant Ekstra. All of those stores are located in Jakarta, Bogor, Depok, Tangerang and Bekasi. The Giant Ekstra at Maspion Square, Surabaya, East Java, will also stop operating at the end of August.
"We are conducting a business transformation to be able to compete effectively in the food retail business in Indonesia," Hero Supermarket director Hadrianus Wahyu Trikusumo said in a written explanation on Thursday, July 11. According to Hadrianus, competition in food retail has increased in recent years due to changes in shoppers' behavior. "This challenge is not only experienced by Hero, but also other retailers."
The company did a strategic review last year and decided it is necessary to make immediate changes to the food business. "Realizing this challenge and the need to respond to changes in customer demand, we rearranged the food business that affected our 2018 report," he said.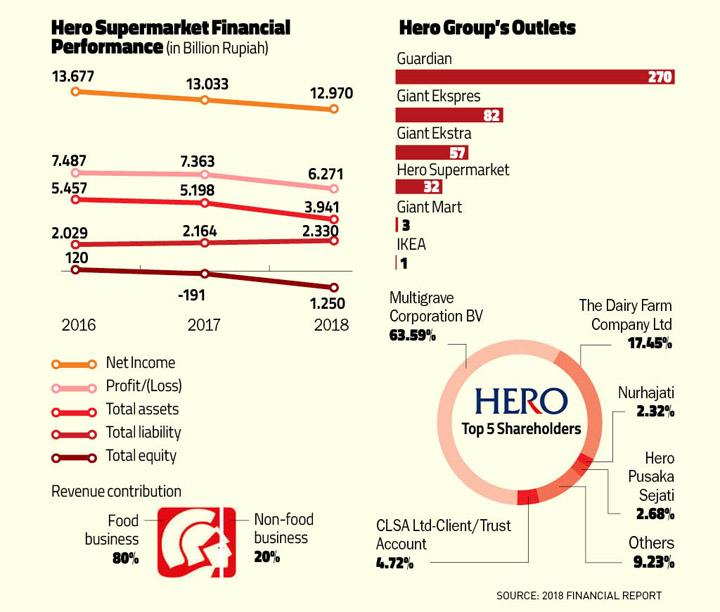 Hero Supermarket Financial Performance
Hero performed quite poorly over the past few years with two consecutive net losses posted. At the end of 2018, the net loss was Rp1.25 trillion, a deep plunge from December 2017's loss of Rp191 billion. In 2016, Hero still managed to net a profit of Rp120 billion. In 2018, Hero's net income fell 0.5 percent to Rp12.97 trillion, due to a 5.0 percent decline in food sales to Rp10.34 trillion.
Hero CEO Patrik Lindvall said in the company's 2018 financial report that Giant supermarkets and hypermarkets posted lower sales and higher losses. On the contrary, Hero Supermarkets contributed positively as the segment raised the standard quality, freshness and availability.
Hero Group develops three types of Giant stores. There is Giant Ekstra with the hypermarket format—offering wide varieties of food and daily necessities. There is also Giant Ekspres, which runs with a supermarket concept. The last is Giant Mart, which is a minimarket. The last two models also offer food products and daily necessities, but with less varieties and the stores are far smaller than a Giant Extra. Hero Group also has another food business outlet, which is Hero Supermarket.
In the non-food industry, Hero has Guardian Health & Beauty and IKEA outlets. These businesses are still making contributions to the company. Overall, sales grew 21 percent to Rp2.63 trillion, mainly driven by strong promotions in the beauty category within the health and beauty business. Additionally, visits to IKEA furniture stores have increased and the company also saw higher contributions from its e-commerce businesses.
Lindvall is optimistic that Guardian's health and beauty business will grow significantly. The company will continue to expand and develop the health and beauty business format in Indonesia. The same is with investment in the IKEA business, which will be continued by accelerating network growth. "We have renewed and relaunched the IKEA online platform," he said.
Today, the group is constructing the second IKEA store in Jakarta Garden City. They will also develop a store in Bandung, West Java. They are also planning to converting a Giant hypermarket into an IKEA store. This will be a pilot project to 'recycle' the locations of poorly performing stores as a way to fast-tracking IKEA's business development.
It is not the first time for Hero to close their stores. In 2018, Hero closed at least 26 Giant outlets. At that time, management identified declines in the food business. The retail sector was pressured—not only by competition in the industry, but also by online players. As of May, there were 125 Giant outlets still operating.
Tjahya Widayanti, director general of domestic trade at the trade ministry, said consumers nowadays prefer to shop at minimarkets that also sell fast-moving consumer goods (FMCG). In addition to its proximity to residential areas, minimarkets also offer practicality due to its smaller size, allowing shoppers to buy goods quickly without looking through many racks in long isles within a large shopping area.
This, Tjahya said, was reflected in the results of a Nielsen survey. It revealed that FMCG consumption in modern retailers grew 6.6 percent overall—minimarket grew 12.1 percent, while supermarkets and hypermarkets declined by 6.8 percent.
Retail sector analyst from Mirae Asset Sekuritas, Christine Natasya, said that the concept of huge hypermarkets causes less productivity. "Too big, and they sell too many items that are not quite a necessity," she said. Moreover, people prefer to shop online because it is cheaper, or buy at nearby convenience stores.
Other retailers such as Sarinah and Trans Retail Indonesia—the manager of Carrefour Indonesia and Transmart—acknowledged the increasing competition. Trans Retail spokesman Satria Hamid Ahmadi said the company had predicted the change in shopping behavior from offline to online, five to seven years ago. Even so, he believes that the retail sector will never go out, because people will continue to need consumer goods. The key, he said, is to keep innovating and creating. "We must create a store atmosphere that will keep consumers coming. If we only sale retails, [the business] would perhaps be over by now."
Sarinah opts to cooperate with a number of online retailers with established platforms, such as Shopee and Bukalapak.
Investa Saham Mandiri's director and analyst Hans Kwee reminded that businesses must keep up with millennials' trends. These generation group, he said, will be the retail industry's main market in the future, and a reference to where the business will go.
Meanwhile, Hero is planning a transformation with a main focus on the supermarket and hypermarket businesses. IKEA, on the other hand, will focus on strategies to improve access and comfort by developing online businesses and adding store networks.
RETNO SULISTYOWATI, EKO WAHYUDI,
FRANCISCA CHRISTY ROSANA