The Coveted SOEs Minister's Seat
The race for the post of SOEs minister is heating. The post requires someone who has the President's trust.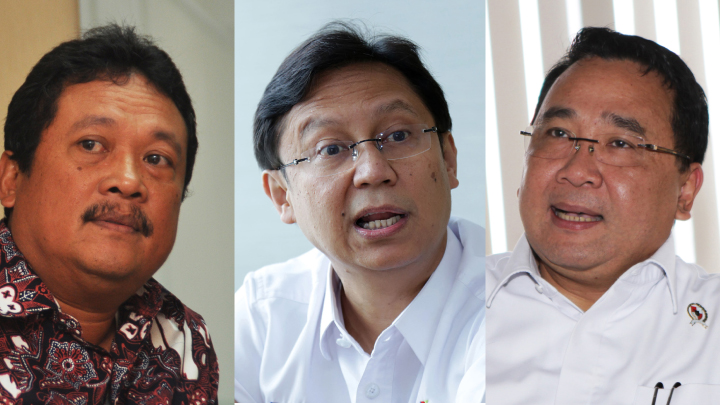 PRESIDENT Joko Widodo is quite used to openly criticizing his cabinet ministers, like he did in the cabinet meeting at the Bogor Palace on Monday, July 8. This time the criticism was directed at Energy and Mineral Resources Minister Ignasius Jonan and State-Owned Enterprises (SOEs) Minister Rini Soemarno. That day, Jokowi reminded both ministers of the country's high oil and gas imports.
The two sectors were one of the causes for a deficit of US$2.14 billion in the January-May trade balance. Jonan heads the ministry reponsible for managing energy affairs; meanwhile, the SOEs ministry under Rini oversees Pertamina, the largest oil and gas importer. "The President didn't personally attack (them). Coincidentally, the two ministers are in charge of the ministries," said Minister of Villages, Disadvantaged Regions and Transmigration Eko Putro Sandjojo in Jakarta, Wednesday, July 17.
Amid the cabinet reshuffle plan for Jokowi's second term as president, the criticism opened the door to rumors surrounding Minister Rini's replacement—a topic that had already fallen under the spotlight before. Rini was among those considered to be replaced in a cabinet reshuffle on August 12, 2015. She was also rumored to be replaced in the second cabinet reshuffle on July 27, 2016.
This time, Rini's position is more vulnerable after the problems plaguing several SOEs, such as Garuda's problematic financial report and briberies at several SOEs. Economist Faisal Basri believes that Rini is among ministers that should be replaced in Jokowi's second term.
With a total asset of Rp8,207 trillion at the end of 2018 for all SOEs, the SOEs Ministry has always been under the spotlight. The minister's seat has grown even more crucial as Rini is now planning an institutional transformations, from a ministry to a superholding, like Malaysia's Khazanah Nasional or Singapore's Temasek Holdings. If the plan to form a superholding is realized, the SOEs ministry would be disbanded. The ministerial position would also be eliminated, replaced by the superholding's chief executive officer, who would then answer directly to the President.
In every cabinet reshuffle plan, Wahyu Sakti Trenggono has always been mentioned as Rini's potential successor, including in the cabinet reshuffle for Jokowi's second term in office. Trenggono is the king of telecommunication towers under the banners of Tower Bersama Infrastructure and Teknologi Riset Global Investama. In the recent presidential campaign, Trenggono was the treasurer of Joko Widodo-Ma'ruf Amin's campaign team.
Two Indonesian Democratic Party of Struggle (PDI-P) officials say Trenggono's name has always been considered due to his close relationship with Hasto Kristiyanto, the party's secretary-general. "Mas Hasto has recommended Trenggono since 2014," they said.
Trenggono and Hasto have been close since 2014, when they were both joined under the Jokowi-Jusuf Kalla Transition House after the pair won the 2014 election. Prior, Mas Treng—as Trenggono is known—was the treasurer of the National Mandate Party (PAN) in 2009-2014. Trenggono is also known as being close to Jokowi, having supported him since the former Jakarta governor was the mayor of Surakarto.
According to the two party officials, this time Hasto is again attempting to propose Trenggono's name to Teuku Umar, where PDI-P General Chairperson Megawati Soekarnoputri lives, so that he could become a minister from the PDI-P. "But Ibu (Megawati) is not yet comfortable (with the idea)," they said.
Hasto refused to comment on the individuals said to be considered for ministerial seats. "I don't know whether his name is included or not," said Hasto in Menteng, Jakarta, on Friday, July 19. "That's all the affair of the President and General Chairperson Megawati Soekarnoputri." So far, the PDI-P has only discussed the management design for the SOEs ministry in Jokowi's second term.
But after having his name considered several times as a potential SOEs minister, Trenggono chooses to withdraw, saying that the SOEs ministry in Jokowi's second term is better led by a current SOE CEO. After completing his duties as part of Jokowi-Ma'ruf's campaign team, Trenggono returned to the business world. He assures that his close relationship with Hasto has nothing to do with the SOE seat. "That's a different affair," he said, laughing, when we contacted him on Friday, July 19.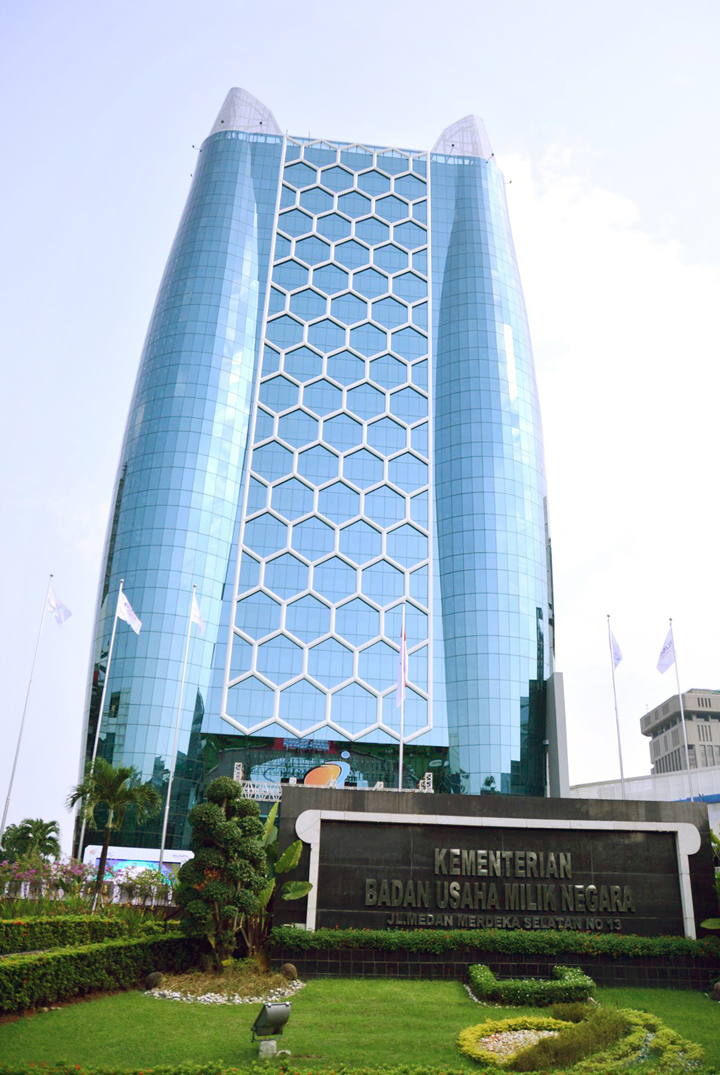 SOEs Ministry building in Jalan Medan Merdeka Selatan, Jakarta. http://bumn.go.id
Besides Trenggono, Eko Putro Sandjojo has frequently been mentioned as a potential SOEs minister for Jokowi's second term. The National Awakening Party (PKB) treasurer has been in the Working Cabinet since July 27, 2016, when he replaced his colleague from the PKB, Marwan Ja'far.
Despite being a party member, he has had a long career as a professional in the poultry industry under the Sierad Produce banner since 1997. Eko joined when the company was still called Anwar Sierad and became its CEO. He has also led Humpuss.
According to an official, Coordinating Minister for Maritime Affairs Luhur Binsar Pandjaitan proposed Eko directly to the President. Eko himself claims he has only heard rumors but is unaware of the details of Luhur's recommendation. "I don't even know if Pak Luhut is part of the team appointed by the President to recommend ministers," said Eko in Jakarta on Wednesday, July 17.
Eko has his doubts that the President would assign the post of SOEs minister to a partisan. The SOEs ministry, said Eko, must be given to non-party people so that the minister would not be burdened. "If it's given to someone from a party, there will be a burden, such as being antagonized by other parties," he said. Especially because the PKB was not a 'winning' party such as the PDI-P.
Luhut denied reports that he recommended Eko as a candidate for SOEs minister to succeed Rini Soemarno. "I'm unaware of cabinet lineup affairs," said Luhut at his office in Jakarta on Wednesday, July 17.
Besides Trenggono and Eko, Budi Gunadi Sadikin, CEO of Indonesia Asahan Aluminium—a holding mining SOEs—has also been mentioned. The former CEO of Bank Mandiri does not belong to a political party and has spent over half of his professional life in the banking industry.
Budi's status as a nonpartisan has given him plenty of support from members of government-supporting parties, including the United Development Party (PPP). "I can't say whether the coalition would accept him. But I, who happen to be a coalition member, would," said Suharso Monoarfa, PPP general chairperson, in Jakarta on Thursday, July 18.
The trouble is, the PDI-P already views Budi as Rini's trusted person. It is no secret that PDI-P's relationship with Rini has taken a turn for the worse. The PDI-P has tried to expel Rini from the cabinet since 2015, among others through the Pelindo II special committee.
Budi refuses to comment on the 'competition' for the SOEs ministerial seat. "Ministerial positions are entirely the President's right."
Like Budi, Suharso feels that the cabinet lineup—including seats for coalition parties—are like the replacement of characters in wayang (shadow puppet) theater. Anyone can recommend candidates, but the decision still lies with the President—especially for the seat of SOEs minister, who runs over 150 state-owned companies .
KHAIRUL ANAM, RETNU SULISTIYOWATI, PUTRI ADITYOWATI