Traffic Project Frequent Partner
The company that won a procurement tender for 1,200cc motorcycles and other projects worth billions of rupiah from the Traffic Corps is headquartered in a small shophouse. Its winning in the police cruiser motorcycle tender was questioned.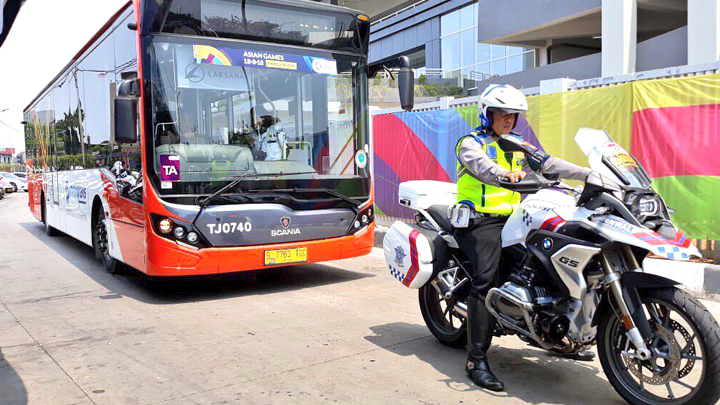 COVERED in tarpaulin, wooden panels used as floor padding for shipping containers were piled up in front of the office of Graha Qinthar Abadi at Graha Mas Pemuda Shophouse Complex, Block AC No. 1 in Pulogadung, East Jakarta. Upon entering the four-story brown building, guests were shown to a reception lounge around 8 square meters wide. On Friday, August 23, there were only two persons in the building. Anshar, the building's guard, said his boss, Pandji Hariyono, was currently not in office. "He rarely comes by," said Anshar on Friday, August 23.
Graha Qintar Abadi won the procurement tender for 250 units of 1,200 cubic centimeters (cc) motorcycles from the National Police Traffic Corps in May 2018. This project, worth Rp149.95 billion, was funded using non-tax state budget. During the tender process, the police traffic corps procurement services unit was sued by another bidder, Digital Praja Makayasa.
In its lawsuit, filed to the State Administrative Court (PTUN) by the end of July 2018, Digital Praja Makayasa Director, Hendrik, requested that the police traffic corps procurement services unit cancel the minutes of auction stating Graha Qinthar Abadi as winner of the tender. They also proposed a re-evaluation towards the tender process. Digital Praja Makyasa felt cheated in said tender process, which started around May 2018.
At the time, there were three bidders that submitted documents of their offers: Digital Praja Makayasa, Graha Qinthar Abadi, and Kalimaya Beutong Kramatsindo. During administration evaluation, the traffic corps procurement services unit declared that only two bidders may proceed to the next stage, namely Graha Qinthar with a proposed bid value of Rp149.95 billion and Digital Praja, which did not state their bid value.
During technical evaluation, Digital Praja was disqualified due to lack of support letter from importer to provider and support letter from brand-holder sole distributor for the primary choice of brand (BMW) on offer. As for the second (Triumph) and third (Ducati) choices of brand, the traffic corps procurement services unit said technical specifications proposed by Digital Praja did not meet the requirements in the procurement document. Even though selection data sheet in the procurement document only required bidders to show support letter from importer to provider and support letter from brand-holder sole distributor.
Therefore, the traffic corps procurement services unit declared Graha Qinthar Abadi as the winning bidder. Digital Praja Makayasa filed a protest against that decision on June 2, 2018. In its protest and lawsuit, Digital Praja underlined several issues.
Digital Praja believed that the traffic corps had made additions or changes to the requirements criteria previously stated in the procurement document regarding support letter from importer to provider and support letter from brand-holder sole distributor. Digital Praja claimed to have delivered a support letter from Garda Andalan Selaras Triumph Motorcycles Distributor Indonesia, Garasindo Euro Sports, and Prioritas Autotech International.
Digital Praja accused the bidding process as containing procedural flaws because the requirements point to a certain brand of product. They said, by not questioning the lack of support letter from BMW brand importer or brand-holder sole distributor, the tender committee had steered the specification requirement towards a certain product. Other than that, the engine, dimensions, and frame technical specification in the item name column allegedly match that of BMW 1,200cc motorcycles.
Digital Praja Makayasa also questioned the very large disparity between its bid value and the competitor's. This disparity amounted to Rp4.887 billion. Digital Praja offered a bid value of Rp145 billion, while Graha Qinthar Abadi submitted Rp149,95 billion. The traffic corps procurement services unit was accused of not taking this difference of bid value into account when making decision.
After a six-month trial led by presiding judge Oenen Pratiwi and two panel members Tri Cahya Indra Permana and M. Arief Pratomo, Digital Praja Makayasa's lawsuit was dismissed. In its verdict on January 30, the judge dismissed all claims. The judge also rejected a request to postpone realization of the project. Regarding the verdict, a staff member of Jakarta PTUN said Digital Praja Makayasa did not file an appeal. "Case settlement has also been completed in May," said the staff.
Tempo came to the address of Digital Praja Makayasa as stated in its lawsuit document to the PTUN, at Jalan Kebayoran Lama 16G, South Jakarta. However, the office was found to be tightly shut. Some occupants of neighboring shophouses said that office has been closed for a long time. When Tempo twice visited Hendrik's house in North Kedoya, Kebon Jeruk, West Jakarta, this company's owner was never home.
Digital Praja was actually not a new player for the traffic corps procurement services unit. In the National Police Electronic Goods and Services Procurement (LPSE) system, the company is said to often participate in bids organized by the traffic corps. However, Graha Qinthar Abadi is recorded as a frequent winner in the bids.
In Januari 2018, for example, Graha Qinthar won a tender for maintenance and care worth Rp33.9 billion. This work involves the observation, evaluation, maintenance, repair, to archiving of hardware, software, and other components used in the Police's National Traffic Management Centre support system.
In October 2018, Graha Qinthar won another tender worth Rp78 billion for procurement of 1,600 to 1,700cc motorcycles. That same year, it won a tender for the procurement, installment, and personnel training for 75 units of speed camera worth Rp78.7 billion. Then, in 2019, Graha Qinthar won yet another maintenance and care tender worth Rp36 billion, along with 1,200cc motorcycles procurement of Rp66 billion. In 2017, this company won four tenders with a total value of Rp245.79 billion. Meanwhile, Digital Praja Makayasa won a tender worth Rp62.7 billion.
Document of justice and human rights minister decree on ratification of the establishment of limited liability companies states that Graha Qinthar Abadi was founded on August 18, 2014 by Pandji Hariyono along with two business partners. The initial capital was Rp500 million. Tempo's request for interview has not been answered by the company's management.
The tender for 150 units of 1,200cc motorcycles was held during the era of Traffic Corps Chief Insp. Gen. Royke Lumowa. Royke was reluctant to comment on the irregularities of the tender's process. "The one with the competence to answer is the traffic corps," he said. Royke has been transferred as Maluku Regional police chief since August 2018.
Current Traffic Corps Chief, Insp. Gen. Refdi Andri, did not respond to messages and letters for confirmation from Tempo. National Police Spokesperson Brig. Gen. Dedy Prasetyo said he has no knowledge of the tender. "I do not know about that," he said.
LINDA TRIANITA, ANTON APRIANTO