Saut Situmorang, Deputy Chair, Corruption Eradication Commission: Find clean and ferocious 'cats'
THE leadership selection process at the Corruption Eradication Commission (KPK) is under scrutiny following the selection committee's announcement of 20 shortlisted candidates last Friday for the agency's top seats.
Edition : 2 September 2019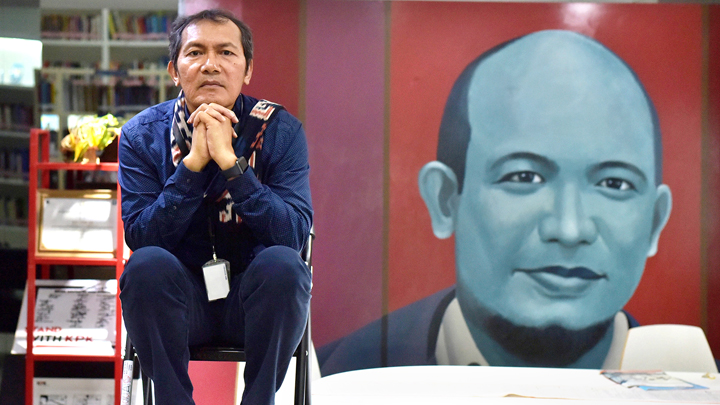 ANTI-CORRUPTION activists questioned the presence of individuals with unfavorable backgrounds among the candidates, with offences varying from non-compliance with the requirement to declare assets to ethics violation during their service with the KPK.
The selection committee is currently choosing 10 prospective candidates to be proposed to President Joko Widodo. During the protest held in front of the KPK building last Friday, the activists joined under Civil Society Coalition for KPK Emergency and the KPK employee organization asked President Jokowi to erase the candidates of proven lack of quality and integrity from the list.
The KPK itself has already given input to the selection committee as regards the candidates' track record. KPK's Deputy Chair Saut Situmorang said that his agency had marked the candidates in red and black inks for the selection committee. "It means they need to pay attention to the red ones, of course," Saut, 60, said in a special interview with Tempo last Wednesday, August 30.
Interviewed by Tempo's Mustafa Silalahi, Ricky Ferdianto, Linda Trianita and Aisha Shaidra, Saut explained about KPK's recommendations to the selection committee as well as his decision to not register as a candidate for another term. "I think I can do a lot more outside the KPK," he said.
The KPK leadership selection process this time drew criticism. The selection committee is viewed as not heeding the input including from the KPK.
Other than giving guidance, we cannot interfere with the committee's work. That's why it's important that civil societies must also give input. Say the KPK data is not valid, then there should be other data to support, to help, if we all want Indonesia to be better. At this time, everyone agrees that the KPK is good in terms of function, supervision, coordination or monitoring, as the law dictates it to be. I think the selection committee must really be able to find demi-gods; really clean and ferocious 'cats'.
Is it true that there is a political mission (by some sides) to 'occupy' the KPK through this selection?
I didn't hear of any political agenda. If there is, I don't believe it will work in the KPK. Trust me, after four years with the KPK, (I can say) that things like that don't work. KPK investigators are very independent.
During the public evaluation, one of the candidates, Insp. Gen. Firli Bahuri, said that his meeting with Muhammad Zainul Majdi did not violate code of ethics.
KPK advisor, Muhammad Tsani Annafari, who is part of the employee advisory board (DPP), has already said that it was a serious violation, hasn't he? Pak Tsani said, "The bottom line is if he's in, I'm out." I don't know who he referred to. I don't want to point the finger (at anyone).
(During the public evaluation on August 27, Firli denied having violated the code of ethics when he was KPK's deputy for enforcement. In May 2018, Firli met with Muhammad Zainul Majdi, West Nusa Tenggara Governor that time, familiarly known as Tuan Guru Bajang, when the KPK was investigating suspected corruption in Newmont's share divestment. Firli said that the KPK had approved the meeting.)
What is your opinion?
This is just like when I first joined the KPK and many people suspected me. It means, proven quality is indeed critical. If, for example, the selection committee has chosen, please let's not be bothered about whether the 'cat' has scabies or not. The question is whether it can catch mice or not. If it turns out that he cannot, he will face backlash here (within the KPK). Here, we have a clear oversight system and investigators are very independent. Anyone who attempts but fails to meet the nine KPK values will not last long.
If anyone with such a criterion passes through the selection, won't KPK's performance be disrupted?
Investigators are highly independent. I guess noises will have effects but not on KPK's performance. We have a clear performance target: to work on at least 200 cases a year. Perhaps there may be preferences towards certain cases. Investigators themselves will evaluate them. So, if people ask if we trust the selection team to find the right people for the KPK or not, the KPK has indicated to them the candidates that need to be considered. We marked each dossier with red and black inks.
What color does Firli get?
Ask the selection committee.
What do red and black colors signify?
Red means it needs attention.
Is black safe?
Not really but we consider it to be better. We didn't order (the markings). Our colleagues at the internal supervisory unit typed them (in different ink colors). I said, "Well, Ok, just send them over. No need to change the colors again."
Was the list sent to the committee complete?
Some of the files are not complete. The KPK also has its limitations. Not everything could be spelled out in details. For example, their past, say previous work history. Some people's information is indicated in points. Our data may be good in our opinions but the public's data is more exhaustive. That's why we asked the public to assist us by giving input so that we could have a complete picture. When it comes to integrity, it will not change. That in my opinion is a given.
Was it presented before the selection committee?
No. We conveyed to them via email which only me and Pak Agus (KPK Chair Agus Rahardjo) saw. Since three other leaders re-registered themselves for the next term, we decided there could be conflict of interest if they read it.
Of the proposed names, how many received red ink?
Many but I forgot the number.
Ethically, is deputy for enforcement allowed to meet with party executives and those who were involved in KPK cases?
It is forbidden to meet with those involved in cases that are being handled. There wasn't any such case.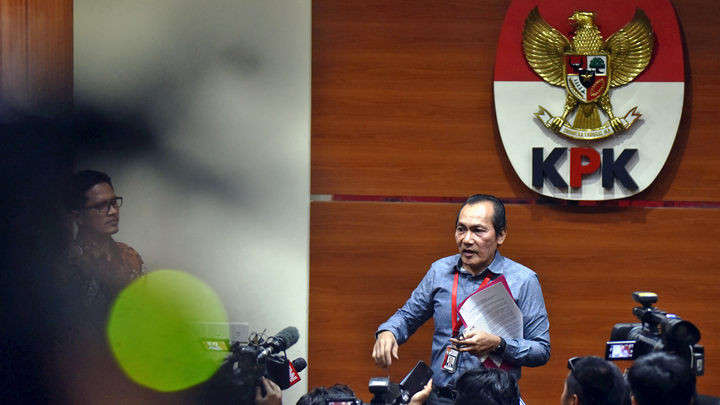 Saut Situmorang at the KPK building, Jakarta, last March. /TEMPO/Imam Sukamto
So, it was a material for the internal oversight division only?
Yes, it issued a warning only.
So, his record of violation only stopped there? Wasn't it handed over to the police when the person involved was transferred back there?
No. That's our code of ethics, right?
Did it not become the record for further action at his original institution?
No, perhaps because they (the police) did not see any issue about him seeing anyone any time anywhere.
Since the KPK has deputy for internal supervisory

and oublic complaints, why didn't the employees advisory board hold a hearing?
They haven't given us the result. Recommendations are given to us if the person involved is still here, okay? He has returned to his base and the case is considered close.
Was he summoned back or sent back?
Summoned back. We never send people back. If we did, it means we were wrong because the case was still open that time.
One of the candidates among the 20 is Insp. Gen. Antam Novambar, who allegedly have threatened a KPK investigator. If he is selected, will his presence not disturb KPK's performance?
The article 3 (of the KPK law No. 30/2002) clearly stipulates that the KPK must be independent and must not be influenced by any power. Well, now, you have to find candidates based on that criteria. Find people that cannot be influenced by any power. If the selection committee is not capable of finding them, I can teach them.
(In February, 2015, Antam asked Endang to testify as a witness at the pre-trial hearing challenging the naming of Budi Gunawan as a graft suspect by the KPK. They met at a McDonald restaurant in Ciledug, Banten, and Endang was asked to testify that the establishment of the House of Representatives (DPR)-approved National Police chief candidate as suspect, was pushed forward by KPK chair Abraham Samad and his deputy, Bambang Widjojanto. Antam was said to have coerced Endang into testifying. Antam denied this when asked for confirmation. "There was no threat. We even shook hands and hugged," he said.)
Are there any such candidates now?
When I got through to the top 10 KPK leader candidates in 2007, people had problems with my background with the State Intelligence Agency. Observer Andrinof Chaniago said that I got the highest score. Even after my score was reduced for my background, my overall score still remained the highest. From my experience, being good isn't enough. Even good candidates don't necessarily pass screenings, and even more so mediocre ones. That's why you have to keep looking for the best from among good ones. Look for people who are really in the clear. My name was once scratched off albeit the highest score.
Aren't you worried that Firli Bahuri and Antam Novambar may be selected to become KPK commissioners?
That is beyond our power. If they are elected and endorsed by the DPR, they have to adhere to the nine KPK values. Otherwise, they won't survive.
Will they leave on their own or via the internal oversight division?
They will leave on their own if they don't perform. They will face public criticism. Don't doubt that. Even though people in the oversight division may change, the spirit is there. I think our media friends also criticize us and keep us in check. If you don't, we might also fall asleep.
Now it seems care towards the KPK is waning.
Well, hopefully, it is not due to our (poor) performance or lack of trust in us. If we have many weaknesses, the next leadership must be able to fix them. It's up to the selection committee now, whether they feel the moral burden or not. Find leaders better than Agus Rahardjo, Saut, Alexander Marwata, Laode M. Syarif and Basaria Panjaitan.
Why didn't you try for another term?
I think I can do a lot more if I'm outside the KPK.
The new KPK leadership will be announced on October 30 although the current leadership's term will end only in December.
I don't know. They will work after they are elected and sworn in. There was an idea that once the decision has been made, it is also great if they go through a long induction period.
Will the induction period affect KPK's performance?
Of course not. For us, the sooner the induction is, the better. When we first joined the KPK, for almost a month, the five of us sat at the round table at Pak Agus's office. Every day. We moved into our own offices only after we found a certain rhythm (among ourselves). So, the sooner they meet one another, the quicker they can give input. Whoever or whatever cats they are.
Why do you always use the word 'cat'?
DPR people always say "the important thing is to catch mice."
In the public evaluation of the leadership candidates, people always raised the issues of internal conflicts as well as perceived ineffective corruption eradication measures albeit powerful sting operations. Your response?
We've closed all loopholes in the licensing sector. We know that a lot of bribe giving and taking take place in that sector. If one says we're ineffective in that area, I can only dare to say that it's a just matter of 'economies of scale'. Imagine that 30 percent of 7,000 permits issued has the potential for corruption. If 30 percent is multiplied by two (there are a given and a taken in a bribery) and then again multiplied for the year, the KPK has to imprison 10 people daily. In the end, we give priority to cases with more solid evidence.
Cherry picking cases, then?
Yes, whether we like it or not. Some also have brief trial sessions, right?
Even the President said that focus should be on prevention...
During the period 2016-2017, sting operations doubled but the corruption perception index did not go up remaining at 37. We evaluated our performance and stepped up on both prevention and action. Other countries also prioritize action.
In your opinion, the government actually supports the KPK or not?
Based on my experience, the first indicator of support is non-interference. Well, there is no interference. As regards the budget, other countries allotted up to 0.02 percent of their state budgets for their anti-corruption drives. We were given Rp800 million to watch over Rp2,500 trillion.
In a condition like right now, is it effective to have a five-person KPK leadership team?
I am more interested in replacing the article in the KPK law changing the leadership of five to just one, directly appointed by the president. With five leaders, sometimes it is hard to make decisions. They must vote to decide on something making the process lengthy. Learn from other countries. They are led by one leader. Just revise the article. But the selection committee must find a truly godly person.
After KPK, where will you go?
Perhaps to farming. I've sold my car to buy land, you see. Perhaps open a members-only cafe. Is it scary? Snobbish? (Laughing)...
---
THONY SAUT SITUMORANG
Place and date of birth: Medan, March 20, 1959 | Education: Bachelor in Physics, Padjadjaran University, Bandung (in 1985), Master in Management, Krisnadwipayana University, Jakarta (2004), PhD in Human Development Management, Persada University, Indonesia, Jakarta (2014) | Career: Third Secretary, Indonesian Embassy in Singapura (1997-2001), Post-graduate Lecturer, Strategic Intelligence Studies, University of Indonesia in Defense Study Program (2004), Director of Monitoring and Surveillance, State Intelligence Agency (2011-2014), Director, Indonesia Cipta Investama, Special Staffer of the Chief of BIN, Commissioner, KPK 2015-2019.
W251bGwsIjIwMjEtMDMtMDUgMDg6MjI6NTciXQ