Muhammad Jusuf Kalla, Vice President: President Needs Ministers Who Can Do Their Job Well
THERE is no such thing as a retirement preparation period (MPP) for Vice President Muhammad Jusuf Kalla. His workload has not ebbed even as his tenure is going to end in just two months. The 77-year- old native of Watapone, South Sulawesi is still occupied with meetings and working visits to various regions.
Edition : 10 September 2019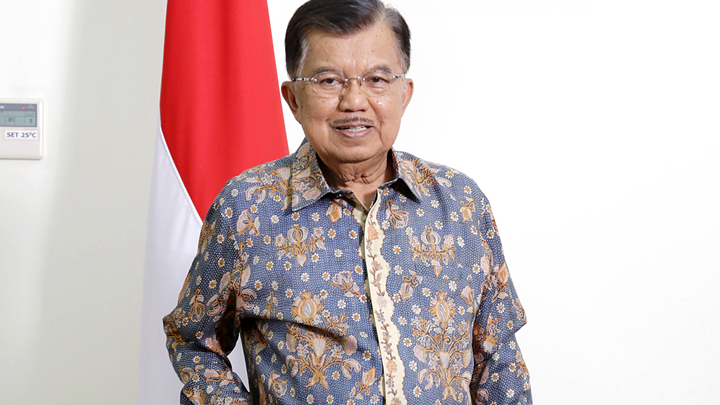 KALLA still gives speeches at various forums up to four or five times a week. Occasionally, he accompanies President Joko Widodo to events and also to meetings with ministers. "I'm still the vice president, right? So, everything still goes on as usual. There's no MPP," Kalla said in a special interview with Tempo at the Vice President's office in Central Jakarta on Wednesday, August 15.
But Kalla has a series of plans lined up for his life after October's retirement. Besides vacationing with the family, he sees himself busy with a myriad of activities including speaking at business development forums. "Traveling and doing social, religious and educational activities gives me happiness," enthused the chairman of the Indonesian Red Cross Society.
Jusuf Kalla is the first Vice President of the Republic of Indonesia to hold the post for two terms. Before he served alongside President Jokowi, Kalla was President Susilo Bambang Yudhoyono's (SBY) deputy for the term 2004-2009. Kalla shared to Tempo's Sapto Yunus, Anton Septian, Raymundus Rikang, Gabriel Wahyu Titiyoga, Nur Alfiyah and Aisha Shaidra his experiences as the sidekick of the two presidents. He also talked about his evaluation of the working cabinet as well as criteria for new cabinet members. Excerpts:
After working with President Jokowi for five years, what are the government's achievements in your opinion?
In the past five years, the government has focused on the infrastructure development. The government's contribution to the economic progress is only 18 percent. The rest is by the business world, investment and export. Therefore, the government has built principle aspects to support the business world and community development.
Does that support the continued focus of the next cabinet?
That's the reason why the government is building infrastructure, power plants. These elements support the next focus which is human resource development. A state plays the biggest role in the country's economic development by boosting the private sector and facilitating the business world. That's the essence of a country's development programs.
Which of the programs for the period 2014-2019 did not go well?
We did not achieve the 7 percent economic growth targeted for the end of the 2018-2019 period. So, that will be the 'homework' for the next cabinet. Our current growth is only 5.1 percent, which, however, is still not bad compared with those of other ASEAN countries. Ours is indeed lower than Vietnam's but still higher than Singapore which only reached 2 percent.
(The Central Statistics Agency recorded the year-over-year growth of only 5.05 percent in the second quarter of 2019, a slide from that of the same period last year which stood at 5.27 percent.)
What is the ideal growth for our economy?
The ideal percentage to alleviate poverty and unemployment is 7. The core development targets are to reduce poverty and increase employment. We aren't going very far with only 5 percent.
How was the calculation done in 2014 that gave the 7 percent target?
High commodity prices during 2012-2013 were the bases (for the calculation). But the prices have since gone down. It means, when commodity prices fall, the income of the people in the regions also fall. Automatically, tax revenues also drop. Internally, we acknowledge our slow growth strategy. Indonesia has just finished a framework for cooperation with Australia. We have yet to move on to Generalized System of Preferences with the United States, then with the Europe and then South Korea. So, there are both internal and external factors.
Under the circumstances, isn't it too optimistic to target 7 percent growth?
We are slowed down by certain supporting factors, for example, the education system that cannot hone human resources capabilities better. We are still exporting cheap labor instead of skilled workers. There are also other factors such as policy implementations that need to be expedited.
What are effects of internal factors?
Different decision-making speeds within the bureaucracy. Next to it is the very strict law enforcement, particularly the anti-corruption drive which in the beginning only raised caution but later caused extraordinary fear among officials because they could be busted even for a small violation.
For example?
The government views many cases differently from the Corruption Eradication Commission (KPK) and the prosecutors' office. An execution of a given program that does not violate the law still scares everyone that they want legal protection. It in turns hampers the program.
What is the solution?
We asked the KPK to set boundaries as regards activities that cause state losses. We should not go so far as to instill fear. Look at the government offices. Everyone now wants to be protected. No one dares to exercise discretion. Almost everyone wants legal basis without which activities are left in limbo.
Has the issue been discussed with the KPK?
Repeatedly. We don't want to evade or obstruct corruption eradication efforts. But don't let these efforts incite fear within the bureaucracy which in fact can end up causing state losses. Budget absorption in the regions are still low as of last July.
The government, the KPK and the prosecutor's office have coordinated many times but why is it still slow?
We don't need to coordinate for cases although people are still haunted by certain cases. For example, the case that befell former Pertamina CEO Karen Agustiawan. She acted in accordance with the business policy and she was given eight years for that. Likewise, the case involving former State Electricity Company CEO Nur Pamudji. Richard Joost Lino (former CEO of Pelindo II) was accused of corruption after he bought three cranes at low prices. The case has stalled until today. There are many cases like these.
(In July, 2015, the Crime Investigation Unit of the National Police named former Nur Pamudji, the former PLN CEO, as a graft suspect in the procurement of industrial solar oil from Trans Pacific Petrochemical Indotama in 2010. In December, 2015, the KPK accused Richard Joost Lino of corruption in the quay container crane procurement.)
Seeing the stagnant economic growth and the increasingly fierce global competition, what type of ministers does President Jokowi need in the coming cabinet?
For sure, ministers who have the mastery of their respective fields, who can work and take prompt decisions. The buzzword is 'professionals in their fields'. That would also include professionals from political parties. Non-party candidates also must truly be experts in their domains.
Are the current cabinet members not speedy enough in executing programs?
The ministers do work for sure. Working means executing (programs), right? Ministers take decisions and directors-general put them into actions. The cabinet has to be harmonious, consists of people of various parties and faiths. We also need to consider regional representation albeit only one or two. To find people with a combination of all these elements coupled with professional capability takes time.
Has President Jokowi asked for your input as regards prospective candidates?
Not yet. We haven't discussed that yet but we often discuss as to how a good cabinet should be formed.
Are there any parties that pushed forward names through you?
No. I'll be no longer in the new cabinet. I don't have the wish, let alone the authority, to discuss new ministers. That's the prerogative of the president and the vice-president-elect.
Will there be a reshuffle before the current cabinet's term is over?
Of course not. It's less than two months to go. How come a reshuffle just before setting up a new cabinet.
Some say that the reshuffled cabinet will continue as the new cabinet?
The word 'reshuffle' sounds as if some of them are incapable, doesn't it? We don't want to hurt the feelings of the minister who've worked well and for quite a period of time in the cabinet. Don't assume that there are problems just because of a reshuffle.
Some members of the House of Representatives (DPR) did talk about the possibility of the cabinet shuffle...
The president's office is closer to mine than to the DPR.
What should be the priorities of the new cabinet?
People measure progress mostly with economic indicators, among others, economic growth, reduction of unemployment, investment and export. These are the main indicators that we use in every discussion. We need a strong platform to achieve these targets. We need political stability, security, law enforcement and justice.
Is your role as a vice president more central in the United Indonesia Cabinet or in the Working Cabinet?
These are two different leaderships. With Pak SBY, we agreed that the he would be in charge of the general administration whereas I would dedicate my special attention to economy and welfare matters. But, in general, we worked together. Under President Jokowi, all the issues are discussed together in meetings. Ministers must attend meetings in line with their fields.
How about the work distribution between yourself and President Jokowi?
There is no job distribution. We deliberate everything together. In the past (during President Yudhoyono's era), economic issues were discussed in my office and the results were reported to the president. Of course, there were also important issues that we discussed together.
In terms of policies, who is a better policy maker?
Both are good. I can't say who's good or bad. Both uphold different principles. I enjoy them all.
What changes have you seen between the two periods?
In the past, I had meetings from morning till evening. I was the most 'respected' man in Indonesia during SBY's time. I was given 'respect' up to 16 times in a day.
The number of 'respects' decreased during this term?
(Laughs)...true. That time, I had one-on-one meeting with each minister. So many decisions to make. That made me the one who had the most meetings. I attended almost 452 meetings during that five years' period, 90 meetings a year in average. And we're only talking about formal meetings. Well, now, I can relax a bit.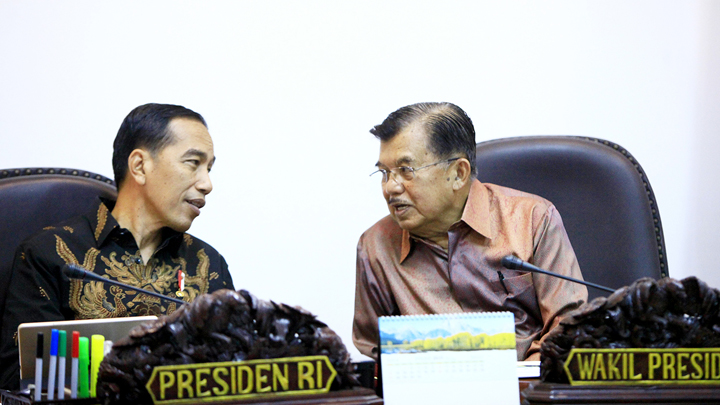 Muhammad Jusuf Kalla, Vice President: President Needs Ministers Who Can Do Their Job Well /TEMPO/Subekti
When the Jokowi-Kalla pair was elected in 2014, the support from political parties at the DPR was not as strong as now. Did the political issues cause a slow start for the government that time?
At the beginning, we only had 40 percent vote from the parties at the DPR. A strong support at the parliament can smooth things out if the government lands in troubles at the DPR. Now it's safer with 60 percent.
Then there are a series of demonstrations that distracted the government...
The political conditions did not disrupt the government that much as we use a presidential system unless there's a major problem that could topple the government. But that did not happen. The political situation has been stable except during the elections.
Did the threat of division following the demonstrations take up the government's attention?
Oh, no. That was just politics and only occurred in Jakarta, at the national monument. The incident did not affect anything else. It got loud because of the mainstream social media that discussed and debated it every day as if that was the only problem of the country although it was not.
What is your opinion about the heated Jakarta regional heads election in 2017 given your great track record in conflict resolution?
Everyone knows that I backed Anies Baswedan, right? I proposed Anies to contest the Jakarta gubernatorial election. Me and Pak Joko Widodo had different views on that.
How often do you disagree with Pak Jokowi?
As regards political issues, we both have different views. Certainly, it's not possible to be of one mind and agree on everything. Not to mention the cabinet of 34 people, even husband and wife can have differing opinions. That is a dynamic of a government. It is a leader's job to mediate the differences. That's the purpose of meetings.
You disagree with the president on the relocation of the capital...
Basically, I don't disagree. I just wanted the plan to be more thorough and perfect. It's okay to relocate the capital but it is a huge undertaking. So, I've asked the chief of the national development planning agency to have a more exhaustive study. One has to carefully check the land even when buying a house. So, it's not about agreeing or disagreeing.
Do you have doubts about the four years' target for the relocation?
It cannot be possibly done within four years. What percentage of the Bandung-Jakarta rail project that consumed Rp60 trillion has been completed in five years? So, imagine the construction of a capital which will need hundred folds of that budget.
Have you received any offer to assist the next cabinet as the Working Cabinet will end soon?
(Laughs)...We never discussed that. Even though I always reiterate that given my extensive experience, I am ready to contribute my views if I'm asked to although I'm no longer in the structure.
We got information that you were offered to sit in the presidential advisory board?
Not yet. President has not spoken to me about it.
Is there any personal target that you haven't achieved during this term?
I don't have any personal target. All the targets are joint targets drawn up together in meetings, budget formulation. Everything is reflected in there. Perhaps my wish to see the country more advanced and the 7 percent economic growth are the ones that have not been realized.
Will you continue being active in politics after retirement?
No, definitely not.
What will you do?
Traveling, doing social, religious and educational activities give me happiness. These are the charities that continue to provide benefits continuously.
Will you not help prepare cadres for 2024?
That will come on its own. Cadres must exhibit good performance first. The year 2024 will be interesting because there will be no more incumbent. Institutions will be more objective.
What is your vacation plan?
I've once taken my kids and grandkids on a bus tour of Sulawesi in 2005. We've talked about touring Sumatra. Sometimes, we go abroad for a change. Sometimes it's not convenient to vacation in the country because people recognize you and ask to take photograph with you and so on.
The security detail will be smaller?
For sure. Now I am escorted by 20-30 members. I am entitled to security service for life. But I will only take two or three personnel.
---
Muhammad Jusuf Kalla
Date and place of birth: Watampone, South Sulawesi, May 15, 1942 | Education: Faculty of Economy, Hasanuddin University, Makassar (1967); The European Institute of Business Administration, Fontainebleau, France (1977) | Government Career: Vice President of the Republic of Indonesia (2004-2009, 2014-2019), Coordinating Minister for Public Welfare (2001-2004), Minister of Industry and Trade (1999-2000) | Party: Chairman, Central Executive Board, Golkar (2004-2009) | Legislative Institution: Member, People's Consultative Assembly (1982-1987, 1987-1992 and 1997-1999), Member, House of Representatives for South Sulawesi (1965-1968)
W251bGwsIjIwMjEtMDMtMDEgMTE6NDc6MzciXQ