A Rerun of the Forest Fires
Forest fires ravage Indonesia's regions yet again. The environment and forestry ministry has sealed the properties of 52 companies affected by the fires, some of which were implicated in the major forest fires in 2015. The fires are partly due to wanting peatland restoration efforts. Although warned about the potential for fires since February, the government was late in anticipating the disaster.
Edition : 23 September 2019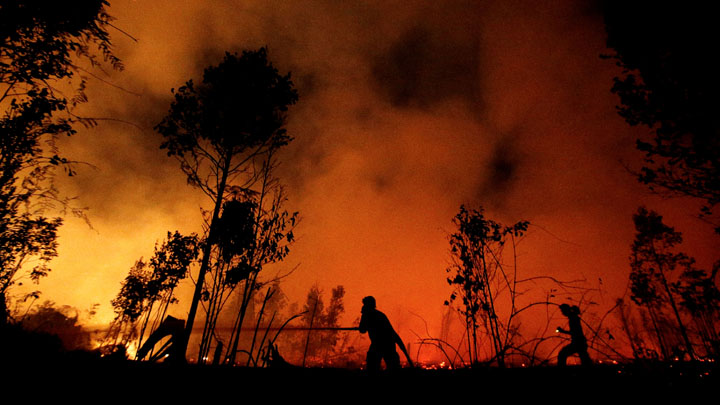 ON Wednesday, September 18, black soot blanketed parts of Teguhkarsa Wanalestari's land in Buantan Besar village, Riau. Leafless branches of fallen trees covered the soil and the smell of burnt grass pervaded the oil palm plantation area.
Fires ravaged the area in mid-August. "Residents were forced to evacuate," said Sudirman Ritonga, 39 years old, who lives near the land. His hut and land, less than 50 meters away from the area, is still intact but far from safe. Sudirman and other local residents, whom we met, did not know where the fire came from. "All of a sudden the fire had already grown."
Head of a community concerned with fires in the Bunga Raya Regency, Ucu Sukarto, says he was contacted by a local resident when the fire grew. According to Ucu, the team of firefighters could not quell the fire in the peatland area because there was no access to a water source, like a river or a canal. Residents helped by pouring water from trenches, using buckets and hoses. "We put out what we could," he said. But fire grew faster on peatland.
The fire began to subside after artificial rain came down twice in the last two weeks. But when we arrived, the sky over Buantan Besar still seemed gray, with the wind carrying dust that burned the eye. In one location where the peatland had cooled was a three-meter long yellow ribbon from the environment and forestry ministry.
Teguhkarsa Wanalestari's charred land in Buantan Besar village, Siak Regency, Riau, in September. TEMPO/Hilman Faturahman W
The ministry's Law Enforcement Director-General, Rasio Ridho Sani, says a yellow ribbon is a sign that a property has been sealed. "We're still investigating whether a criminal act was involved in the fire," said Rasio. As of last Friday, the law enforcement directorate-general had sealed land owned by 52 companies and one individual in Sumatra and Kalimantan. According to Rasio, the number may grow.
The environment ministry records 328,000 hectares of forest and land areas have been ravaged by fire this year. As a result, the haze has spread to other regions, even as far as Singapore, Malaysia, and Thailand. Haze from the fires has caused schools in a number of provinces as well as flights to be canceled. Meanwhile, over 9,000 hectares of concession land have caught on fire.
A similar disaster occurred in Indonesia in 2015, when around 2.6 million hectares of forest and land burned. According to a World Bank study released in February 2016, the losses amounted to US$16.1 billion, or around Rp221 trillion. The environment ministry sanctioned 63 companies responsible for the fires. Three of these companies had their permits revoked. The ministry also filed civil suits against 17 companies. Cases implicating nine companies have reached final verdicts, and these companies are required to pay Rp3.9 trillion in compensation.
But such sanctions have not had a deterrent effect. Director of the Indonesian Forum for the Environment (Walhi) in Riau, Riko Kurniawan, says hot spots appear around the same companies. Monitoring by another environmental organization, Auriga Nusantara, has led to a similar discovery. Based on satellite monitoring from 2016 to September 2019, hotspots have always occurred at over 300 companies. "We're monitoring hotspots with a level of confidence of over 80 percent," said Auriga researcher, Syahrul Fitra. According to Syahrul, many of these companies are major companies.
Riau Andalan Pulp and Paper (RAPP) is among them. In 2014, there were 360 hotspots on land owned by RAPP. The next year, there were 107 hotspots. The number declined to 23 and two hotspots in the following two years. Last year, there were no hotspots left at the company owned by tycoon Sukanto Tanoto, who was listed by Forbes as the 25th richest person in 2018. But this year, 19 hotspots were monitored there. Based on the environment and forestry ministry data that Tempo obtained, around 50 hectares of land on the company's land in Siak were on fire.
Agung Laksamana, corporate affairs director for the Asia Pacific Resources International Limited (APRIL) Group, RAPP's parent company, says the fires on RAPP's concession land are occurring on land occupied and worked on by surrounding residents. "The fire spread from outside the concession area," he said. Agung claims that his company has attempted to anticipate fires. According to him, APRIL Group allocated US$9 million to prevent fires, among others, for two helicopters, a monitoring tower, water pumps, and firefighting training in 39 villages in Riau. "We also have 260 professional firefighters."
Another company affiliated with RAPP, Sumatera Riang Lestari, is also detected as producing hotspots. In 2014, there were 549 hot spots and 99 hot spots in the following year. At the end of 2015, the environment ministry announced that Sumatera Riang's permit was suspended because of the forest fires. Even so, the number of hotspots on the land of the company whose deed says it is owned by Polar Yanto Tanoto—Sukanto's brother—has risen to 200. Since 2015, there has been over 900 hot spots on Sumatera Riang's land. Based on the ministry's data, as much as 700 hectares of Sumatera Riang land have been on fire this year.
Rasio Ridho Sani. TEMPO/Nurdiansah
Sumatera Riang Lestari spokesperson Abdul Hadi claims that his company has, in fact, been actively preventing forest fires by creating a program for fire-free villages around its concession land. "Furthermore, we have never planted oil palm on areas that have caught on fire," said Abdul Hadi.
Rasio Ridho Sani, says he was unaware of the hotspots in Sumatera Riang territory that appeared after the company was frozen. Rasio says it is possible that the suspension was terminated after the company had fulfilled its obligation. The ministry has sealed Sumatera Riang land areas that have caught on fire. According to Rasio, hotspots do not necessarily mean that the company is guilty of causing the fires. "There's preliminary investigation, investigation, and naming of suspects. It will be proven in court," said Rasio.
For this year's fires, the environment and forestry ministry has named five companies as suspects, among others, Arrtu Borneo Perkebunan and Arrtu Borneo Resources. Both companies are subsidiaries of Eagle High Plantations, a company owned by Rajawali Corpora—whose shares belong to Peter Sondakh—and Felda, a Malaysian company. Based on Auriga Nusantara's mapping, there were 143 hot spots on Arrtu Energie Resources.
Peter did not answer our questions. Neither did Eagles High Plantations Corporate Secretary Satrija Budi Wibawa. Indonesian Oil Palm Association (GAPKI) Deputy Chairman, Togar Sitanggang, denies news that members of the association is involved in the fires. "Why would we burn our own investments?" he said.
Togar blames residents living around the plantation for frequently clearing land by burning. According to him, the fires then spread to plantations owned by companies. "With a long dry season and strong winds, in the end there are fires. Oil palm companies are easy to blame." But Rasio Ridho Sani says it is possible that companies burn their own land. "That's indeed the alibi, impossible to burn their own land. But it may be that they burn to replace plants with bad quality."
National Disaster Mitigation Agency (BNPB) Chief Doni Monardo says almost all forest fires are deliberate, 99 percent of forest fires are caused by humans and the remaining 1 percent by natural causes. "The majority of the perpetrators receive payment," said Doni. Like Doni, the environment and forestry ministry's Director of Forest Fire Mitigation, Raffles B. Panjaitan, says it is possible that companies have been paying people to burn their land before enjoying the results. "Usually, after burning, (the land) is planted with oil palm or turned into residential areas."
Tempo met with a perpetrator who claims to have repented. Abdul—not his real name—a resident of Ukui subdistrict, Pelalawan Regency, Riau—says he would always use a mosquito coil drenched in kerosene or gasoline. When no one was around, he would place the mosquito coil on dry peatland. By the time the fire had consumed the peat and surrounding organic material, he would already be home.
The method is a relatively quick and cheap way to clear land. Renting heavy machinery, said Abdul, would cost Rp600,000 per hour or Rp7 million per hectare. According to him, this method is often done by farmers as well as those who work for oil palm companies.
  
The Meteorology, Climatology, and Geophysics Agency (BMKG) had already warned of the potential for forest fires in February. At the time, it had been monitoring the meager rainfall and the emergence of hotspots in a number of regions. One month later, BNPB's Doni Monardo, also reminded that El Nino—the warming of ocean surface temperatures in central to eastern Pacific Ocean—would raise the potential for forest fire. If that happens, said Doni in Bandung, West Java, the BNPB would have trouble putting out the fires, especially on peatlands.
After the great fires of 2015, the government placed peatland ecosystem protection and restoration as a priority. The government then formed a Peatland Restoration Agency (BRG) in January 2016. Companies that have been utilizing peatland are required to restore damaged peatland areas. But peatland fires still occur every year. Of the 328,000 hectares of forest and land burned, almost 90,000 are peatland areas.
Several environmental organizations we met, namely Auriga Nusantara, Greenpeace, Walhi, and the Riau Forest Defender Work Network, all believe that the peat restoration program amounts to nothing more than rhetorics. Riau Walhi, World Wildlife Fund (WWF) and Jikalahari found that three companies are still planting acacia and oil palm on peatland that caught on fire in 2018. Meanwhile, according to the BRG and environment ministry regulation, the area should have been restored and not planted with industrial plants.
BRG Chairman Nazir Foead says efforts to restore peatlands have not been at their maximum. According to Nazir, the BRG can only monitor restoration outside of concession areas. The problem is, restoration takes a long time. "In Japan, it took 10 years to restore 300 hectares so that the peatlands would become moist again," said Nazir. It requires hundreds of years to again grow plants on such lands. Meanwhile, it only takes a blink of an eye to burn peatlands. Peat, said Nazir, easily catches on fire even without burning, such as when there is excessive heat, which is why plants are needed to cover peat areas.
Thick haze in Tuah Indrapura village, Siak, Riau, September 18. TEMPO/Hilman Faturahman W
Environmental activists do not only criticize peatland restoration efforts, but also the government's slow move in anticipating forest fires. "With a long dry season such as now, central and regional governments should have been more ready to anticipate fires," said Riau Walhi Director Riko Kurniawan.
In fact, there was plenty of opportunity to prevent the forest fires. On March 22, 2017, the Palangka Raya District Court decided that the government must take legal action in response to the fires on 2.6 hectares of forest and land areas in 2015. The court asked the government to, among others, issue a regulation to enforce Law No. 32/2009 on the protection and management of the environment. This regulation is important for preventing and mitigating fires.
Instead, the government filed an appeal and a cassation in response to the suit filed by the people. At these two levels, the panels of judges also found the government to be in the wrong. But instead of executing the verdict, the government filed for a review in July this year.
Environment ministry's Raffles B. Panjaitan says his institution had anticipated the forest fires since February, among others by preparing helicopters to fight fire in Riau, an area believed to have fire potential. "At the time, the fires could immediately be extinguished because the draught wasn't like today," said Raffles, who explained that the fires spread quickly, among others, because the regional government was late in releasing an alert status.
Riau BNPB's Head of Emergency Division, Jim Gofur, denies that his region was late in issuing an alert status, saying that it was done in February. "Several cases of fires already occurred at the beginning of this year," said Jim. He says firefighting helicopters from the government came late. "More helicopters were added only after the fires grew worse in July-August," he added.
In a limited meeting in Pekanbaru, Riau, on Monday, September 16, President Joko Widodo said he regretted that regional and central government institutions were not functioning at an optimum level. "We were negligent, causing the haze to spread," said the President.
Pramono, Devy Ernis, Andita Rahma (Jakarta), Raymundus Rikang (Siak, Pekanbaru)