Amarzan, Sokotra is Who Knows Where
THE life and times of Amarzan Loebis was much like a long, winding road. From Tanjungbalai, Asahan, North Sumatra, he landed in Jakarta with an aim to continue his studies. But Amarzan, at the time just 23 and already known as a poet under the moniker Amarzan Ismail Hamid, was drawn to being reporter for the daily, Harian Rakyat Minggu, instead. At the newspaper, which happened to be affiliated with the Indonesian Communist Party (PKI), Amarzan edited the culture page.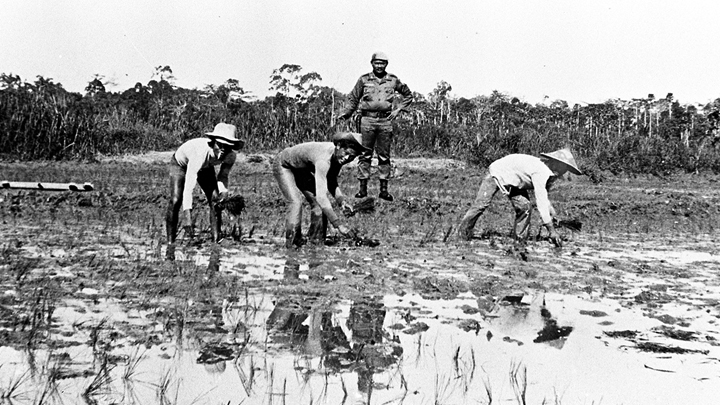 When the PKI established the People's Culture Institute, better known as Lekra, Amarzan was one of a long line of artists who lent their support to the initiative. This involvement ended up with the New Order regime detaining him and finally throwing him to Buru Island after the political melee of 1965, without a trial. In 1979, after being released and returning to Jakarta, he began working for Tempo. After a year or so struggling with his stroke, the poet breathed his last on September 2 at the age of 78 years.
A POEM, a poet, never emerges from a vacuum.  One time, somewhere, a conversation occurs; then another time, in another place, another conversation occurs—appearing to contain the same drift, but something becomes different.
Not long after Amarzan Loebis died on September 2, I received a collection of poetry he had written. Since the late 1950s up to the first decades of the 21st century, his poetry consistently ring a pure sound, never jarring, never dissonant, with not a single awkward sentence. Yet, in one instant, within them, something changed.
In 1958 he wrote this poem, telling of his birthplace in North Sumatra:
ASAHAN
W251bGwsIjIwMjEtMDMtMDEgMTE6NTU6MDMiXQ
I
blue the color of the ocean
darkness paints life
the marshes of the lowlands 
the huts of malaria
II
here our souls
here our hearts 
love cannot be postponed
so long as our blood is as red as the kesumba
 III
night as black as soot
poison spreads to each swamp
wishes have turned to stone
prayers lop off in ossification    
IV
chant the hum of a single note
treachery grows ever dense 
but life will never succumb
while dawn is as red as blood 
V
asahan, thatched palm jungles with chocolate bogs
yet here conviction congeals
asahan, your bitter question I answer with certainty
this dawn is soon to come
VI
asahan, asahan grey jungle
asahan struggle has petrified
in face of the expectant look of a new world.
This poem conveys a blatant firm conviction—the belief of a 'socialist realism'. It starts with the description of destitution ('darkness', 'huts of malaria', 'poison spreads to each swamp'). But, in the mid-section is a contrasting statement: "…life will never succumb/while dawn is as red as blood." Through this process of thesis and antithesis, the movement of 'struggle petrified', solidifies, and 'conviction congeals' with the certainty: "this dawn is soon to come."
The dialectic ends with optimism, of course. Optimism: the central idea of 'socialist realism'.
Since the 1920s in the Soviet Union, when the doctrine was drawn up in the First Soviet Union Literary Persons Congress in 1934, the bedrock was a certainty about the triumph of socialism. As held by the followers of communism, the phases of history as described by Karl Marx would be the result of scientific analysis, no mere pipe dream, showing how capitalism will fall and humanity will be liberated. The 1917 Socialist Revolution in Russia was looked upon as the pathway towards that liberation. The 20th century will replace the one before it, which, in the words of Maxim Gorky, one of the founders of 'Socialist Realism', was a "century of pessimism."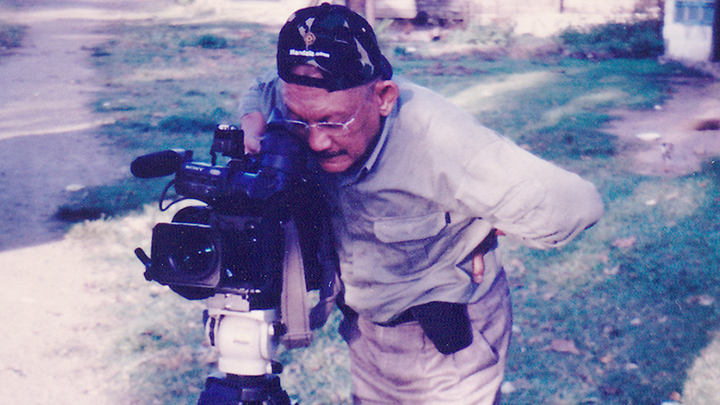 Amarzan Loebis in Buru island, 2006./Family doc.
There was another reason: 'optimism' obviously was part of the Soviet Union Communist Party, when Stalin, the leader, mobilized all elements of society to partake in the 'First Five Year Development Plan' (1928-1932). The future was all: a modern nation arising from the quagmire of backwardness, a fate that was drastically being turned around, a conviction (to borrow the words from Amarzan's poem), "in face of the expectant look of a new world."
For this 'new world' everything could be sacrificed. And so collective farms, steel factories, power plants, and many other things were rapidly constructed, either with enthusiasm or under coercion. The Five Year Plan was a huge success, but tens of thousands died, from exhaustion, from the cold, or from being shot dead in the name of Stalin. Many things were lost, among them literary freedom. 'Socialist Realism' was ordained as the path to adapt creativity to the freedom that was now curtailed.
Yet even before Stalin, Lenin, who had led the Revolution, had described the need to postpone (but not eliminate) freedom. In 1905, Lenin had said, with a bit of over-statement, literary freedom could only exist after capitalist society had shut down. Before that, no. Because of it, literature had to be part of the struggle for liberation—by complying to the Party line. The spirit of partlinost, obedience to the Party, had to be instilled. Mikhail Sholokhov, a novelist, winner of the Nobel Prize for Literature in 1965, verified that this obedience was not a harness. He said, in the manner of an apologist: "Each of us write following the behest of our hearts, but all our hearts belong to the Party…"
There is some partlinost too in Asahan. Amarzan was not a Party member; but there was a connection between the People's Culture Institute (Lekra), which he had joined, and the Indonesian Communist Party (PKI). The PKI was its patron and its guiding board.
And then, as did a lot of things in the severe seism of Indonesia's history, the situation changed. With trauma.
After 1965, after the Party led by Aidit became trapped in the fatal mistake named the September 30 Movement (G30S)—and hundreds of thousands of its cadres were mowed down by the forces of the 'New Order'—I noted how Amarzan reminisced about the Party with a disappointment that ran deep.
Yet despite this, I felt there remained a sense of dignity, an integrity, and a wisdom in Amarzan's attitude, things that did not allow him to flaunt that disappointment. At least in his conversations with me. Only once every so often would I hear him railing against the PKI.
Indeed, he held no respect for Aidit. As was the case with many Lekra members, he loved Njoto, the number two man in the Politbiro. This was understandable: Njoto was a man of letters and an admirable thinker—also the patron and the exemplar of the Lekra literary who could not take a dogmatic stand for 'socialist realism'. In 1965, Njoto too was murdered by soldiers, even though, according to Amarzan, the PKI leader was not involved in Aidit's plan for G30S. This loss was a deep abiding wound, one that I too could feel.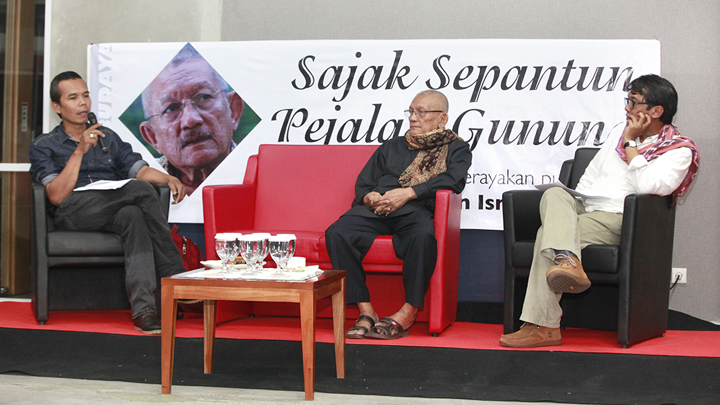 TEMPO doc./Wahyurizal Hermanuaji
I have deduced that in this period, Amarzan's poetry experienced a shift, both apparent in those he wrote while in exile on Buru Island, and in the ones after. 
KAYELI BAY MANTRA
Ru Isle of Buru
The screech and cry of the owl
The dark creep of sago jungle 
The glint of tangled latap
Hum!
Li-li Kayeli
A steamship comes this morn
Away with you, kole-kole canoes
Go choose Arumbaey
Hah!
(veiled by mist
blanketed by drizzle 
Mount Kepala Madang weeps
lamenting the mangrove swamps
— Sanleko Beach
when the thousand clamped
were marched toward the pier)
Ti-ti Towuti
A steamship comes this morn
No cakalele dance no mating dance 
A thousand chained
Descend the steps with chili faces 
Carrying rucksacks oh, you rambate
Far from wife and child
A thousand soldiers all dolled up
Shiny shoes shiny firearms
Only brave against their fellow countrymen 
Cis!
Amarzan wrote this poem not long after being dumped on the island along with thousands of other detainees. For me, this is the most heartrending piece of writing of that time—more poignant to me compared to the collected notes of Pramoedya Ananta Toer in Nyanyi Sunyi Seorang Bisu (The Mute's Soliloquy). 
In Mantra, nature so ancient and mysterious is present. In its depths we find repeated sounds, half echo-like, half a stutter, or at times much like the expression of little children playing with rhyming sounds: 'Ru Isle of Buru', 'Li-li Kayeli', 'Ti-ti Towuti'.
At the same time, we can feel the loneliness and complete sense of alienation.
Amarzan was always sensitive to the sound of words; in several stanzas, we quickly find the echoes of 'i', 'u', and 'é'. This last is very seldom found in Indonesian, but here it appears, and we feel, too, the locality of the scene, in Kayeli Bay on Buru Island, Maluku—when thousands of political detainees arrived on a steamship at Sanleko Beach, herded together, trekking the cliff face.
A sense of 'gladness' in the play on sound in the poem in fact highlights the contrast of the feel of the surrounding oppression: a dark creeping sago forest, 'a thousand soldiers' showing off their arms and uniforms. In face of their might, the 'people chained' bow low.
But not all are bowing low. There is a slur: 'cis', these soldiers only dare act towards 'their own people' who are powerless.
This poem is alive not only because of its message of protest. Within it we find more images, more pictorial sensibilities, compared to in Asahan. In Asahan, color were symbols, but ones no longer fresh; 'red' in "dawn as red as blood" are only common representations of the concepts for 'bravery' and 'leftist'. In Mantra, 'owl, 'mangrove swamps', 'drizzle', and 'sago jungles' emerge in our imagination in all their innocence, supporting no other meaning. 
(L-R) Amarzan Loebis, Goenawan Mohamad, and Djoko Pekik at the latter's home in the Sembungan hamlet.TEMPO/Arif Zulkifli
IN 'socialist realism' literature something is highlighted: ideinost, where idea needs to exist, as an element, or a supporting device, for ideology.
And thus, each word has needs for meaning. They must direct us; 'red' cannot be left as a pigment absorbed by the eye, but also as a receptacle for an idea. In literature given the duty of bearing a message, words are not free of what poet Sutardji Calzoum Bachri said is "the burden of meaning."
And so, poetry becomes discourse: a march of words stressing an opinion—generally always ready for use, indeed we even expect this beforehand. Yet, at the same time, this is where poetry loses 'the other' from itself: loses a quiet, which in fact always haunts it like a ghost.
For, the poem maker installs themselves within us, and becomes a poetic force that touches, not a line of words that stun, but the quiet found in the gaps. There is something non-transparent in a line, in a verse, and we feel it; we are invited to respond to it.
In Amarzan's poetry, this poetic force is most strong when it appears in short phrases, which are as if followed by silence:
the crows 
from the north 
arrived this early dawn 
looked patiently at the fading
city lights
approaching dusk 
Here images—concrete scenes—once again emerge: crows, the sky nearing dusk, city lights…
They are not items laid out in symbolic order like traffic lights which are imbued with a definite purpose. They allow us to enjoy their presence, between distinct and indistinct, with surprises that bubble up without being marked by capital letters. Everything almost looks unfinished. Everything hides a blurry ghost.
In that place, ideonost has no power.
COULD it be Amarzan's poetry changed because the guardian of the ideonost, the Party, was no longer? Could it be because the famous holler, 'Politics as the Commander' no longer held up as the Party's inevitable role—and Amarzan no longer believed, like Mikhail Sholokhov existing in the embrace of the Soviet Union Communist Party, that "all our hearts belong to the Party?"
There is one Amarzan poem that drew my attention, initially because of its title, About GM:
after day has passed 
even birds fly off
seeking nests—in a lost country
we never really go home— 
never
from one packing up to the next packing up 
the hand that writes is never done 
until the lights go out
the city loses direction 
you put a mark on a map
but the sea has long forgotten 
about the stars and the compass points
and the doves we release
seeking Sokotra
get lost in the horizon of nothingness.
I would like to think the 'GM' in the title is myself. That Amarzan secretly wrote this poem—and only later did I discover it—makes it feel even more sonorous to me how invaluable our friendship was.
Surely there is an ambiguity in the word 'about' in the title. Did he want to talk about me? Or to me? It could be both. The poem says 'we', and 'you', and for me, it is a conversation: an imaginary conversation, about a matter that feels larger than each of our personal lives but is not separate from the world we experienced, together, for a few decades long, in a nation wounded, tainted, but one which we could not let go of.
A dismal mood encompasses: a country lost, where birds seek their nests. Something feels inconclusive, did not reach the finish line. The both of us never really go home. We are always packing up, always ready to go off again. Our hand continues to write, not for ourselves, but with no direction. At poem's end, the futility reaches a climax: 
and the doves we release 
seeking Sokotra
get lost in the horizon of nothingness.
'Sokotra', a word that for the first time surfaces in an Indonesian poem, appears to point to a place, an ancient Island in the Indian Ocean, south of Yemen. For centuries the island was isolated, with a population separated from Africa, and very few people know it exists.
There is no indication it symbolizes paradise. If Amarzan's poem says the "doves we release" sought for that island and got lost "in the horizon of nothingness," it would seem this is an allegory for a search that no longer knows the meaning of 'arriving', nor the meaning of getting 'lost'. Possibly our tales—call it the history of humanity—are a search with no direction, no end, no utopia.
Amarzan passed, had this poem delivered, and I have no way now to discuss with him about this Sokotra—an island special only because of its geographical isolation, between being remembered and otherwise.
As I see it, no longer is there 'a dense conviction' and an answer with 'certainty' as in the poem Asahan.
Amarzan it would seem had closed a chapter in his life as a poet: socialist realism was an exquisite inspiration in its time, but in the end, history showed none of its goals were achieved, nor the communist society they fantasized about. 
If it so happened that so many were sacrificed for that, also liberation, also the life of an Amarzan, this poem reminds us: the future has no map. Or has no need of one. "The sea…has long forgotten/about the stars and the compass points." If there is a future, it is enmeshed in the here and now.
I have never asked Amarzan what his final view was of the dead end of Marxism-Leninism, which once held such a definitive design about the future. I did not wish to see him being reminded that the Lenin, Stalin, Mao project, maybe also the Castro one, had failed and had turned into mere nostalgia.
I can only assume, or hope: we shared our views, that although literature had never stopped playing its role in the emancipation for the demos, for those shunted aside, 'politics' as the Commander did not have to be synonymous with the Party as the Commander. Politics as in la politique according to Rancière: liberation can never end, because the world can never be perfect, because Sokotra can never be distinct. "The hand that writes is never done," even though have faded "the lights of/the city that loses direction." 
Jakarta, September 10, 2019.
Goenawan Mohamad